The

Québec maritime Blog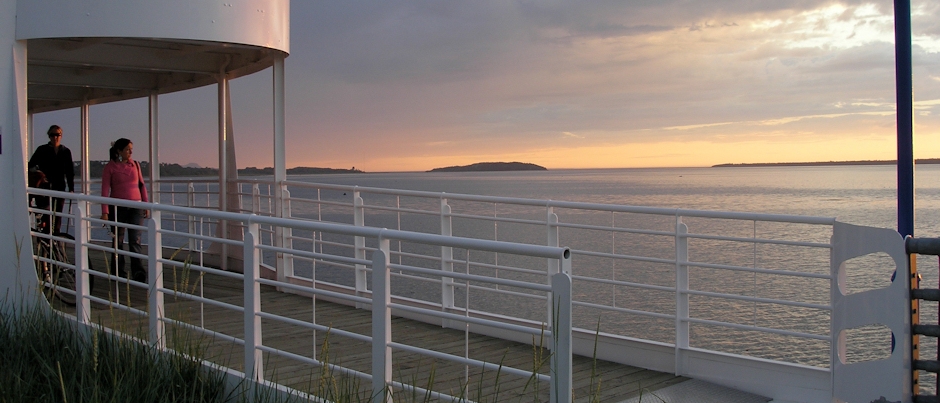 Tourisme Rimouski
Rimouski promenade
48 Hours… in Rimouski
Dynamic and festive, Rimouski offers all the attractions of a big city along with a tranquil natural setting and friendly local residents. This means that nature and the sea are never far from services, boutiques and entertainment options. Is it any surprise that Rimouski residents are the happiest people in Québec? (In 2013, people in Rimouski rated themselves highest in the province on the Leger Happiness Index for the second year in a row.)
Before you arrive: Visit Le Bic
There's so much to do in the Rimouski area that I recommend you arrive on Friday evening and spend the night in the charming village of Le Bic. Savour a delicious meal and a good night's sleep at Auberge du Mange Grenouille. New this year, you can enjoy à la carte meals in the dining room, with a view of the Bic Islands. If you want to camp instead, then Camping Rimouski & Motel de l'Anse is what you're looking for. And if you want to get a head start the next day, you can either camp at Parc national du Bic in your own tent or opt for one of their "ready-to-camp" options and stay in a yurt or glamping tent.
Day 1 (AM): Connect with nature
As the saying goes, the early bird catches the worm, so be sure to get up bright and early and head over to Parc national du Bic first thing (if you haven't already spent the night there). An extensive range of activities awaits you in this coastal park.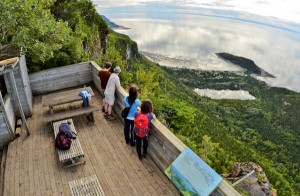 Pic Champlain lookout in Parc national du Bic © Marc Loiselle
Nature lovers will be delighted by the park's 25 km (16 mi.) of hiking trails, 15 km (9 mi.) of bike trails and scenic lookouts over stunning bays. You can also take advantage of the park's coastal waters to go sea kayaking. Wildlife enthusiasts will want to go bird watching: thousands of seabirds inhabit this area, including the common eider. You may even encounter white-tailed deer or spot seals sunning themselves on the rocks. Feeling a bit peckish? The Rioux Farm sells light meals (sandwiches, salads and beverages), which you can enjoy while admiring the surrounding scenery before heading to downtown Rimouski.
Day 1 (PM): Discover downtown Rimouski
Downtown Rimouski teems with restaurants, cafés, bars and boutiques of all kinds, selling regional products, clothing, jewellery, decorative objects and more. You can browse the shops for several hours then head to the boardwalk that runs along the St. Lawrence where you can go for a stroll or cycle the bike path alongside it. Be sure to stop at the scenic lookout at Avenue de la Cathédrale, where you can admire the Tide Tower, which follows the rising and falling tides in real time.
Located near the cathedral, the Musée régional de Rimouski features exhibits on regional history, science and contemporary art. Housed in Eastern Québec's oldest stone church, the museum invites you to discover the cultural heritage of this region.
Day 1 (evening)
After checking into your room at Hôtel Rimouski, you can enjoy a fine meal either in the hotel dining room or in a local restaurant. In addition to offering you a view of the sea, this hotel is within walking distance of downtown Rimouski. I recommend that you end your evening on the boardwalk, where you can admire one of the most beautiful sunsets in Québec!
On the other hand, if you're looking for somewhere to stay that's further outside the city, Motel de la Pointe, which is part of Place Lemieux, is a good option. You can also savour delicious freshly caught fish and seafood at the restaurant next door.
Day 2 (AM): Rimouski, as seen from the St. Lawrence
When you arrived in Rimouski, you undoubtedly noticed nearby Saint-Barnabé Island, which is your destination this morning. Starting at 9 a.m., excursions depart every half hour from the Rimouski marina. This island offers you not only a unique view of Rimouski, but also 20 km (13 mi.) of hiking trails and an opportunity to observe wildlife (harbour seals and over 70 species of birds, including the great blue heron). The island is also of historical significance, as it was once inhabited by the hermit Toussaint Cartier. Return trips to the marina are also every half hour, with the last departure at 6:15 p.m.
Day 2 (PM): Step back in time
A few kilometres east of Rimouski, the Pointe-au-Père Maritime Historic Site takes you back in time to the era of the lighthouse keepers in the early 20th century.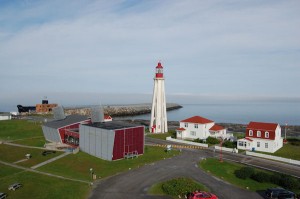 © Pointe-au-Père Maritime Historic Site
Climb the 128 steps to the top of one of the highest lighthouses in the country to admire a magnificent view of the surrounding area. You can then visit the lightkeeper's house and the foghorn shed to find out more about Canadian maritime history and navigational aids. This site is also famous for having witnessed the worst maritime tragedy in Canadian history: in 1914, the ocean liner Empress of Ireland sank off Pointe-au-Père, killing 1012 people. A museum presents the history of this ship, from its construction to its tragic sinking and features a collection of period photos, eyewitness accounts and artefacts from the wreck, along with a multimedia show. Finally, your visit would not be complete without a tour of the Onondaga submarine, Canada's only submarine open to the public. Listen to the excellent audioguide as you explore this 90-metre (300-foot) submarine, where 70 men lived and worked. From the stern to the torpedo room, you will be plunged into a fascinating and little-known world. To really immerse yourself in the life of a submariner, spend a night onboard!
Events
Lots of fun things happen in Rimouski at this time of year! Music fans can fill their ears with pop tunes during the Grandes Fêtes du St-Laurent, which feature local and international artists. If you're a jazz aficionado, you won't want to miss the Rimouski Festi Jazz International, during which renowned and up-and-coming artists perform in the theatres, bars and streets of Rimouski. If chamber music is more to your liking, you will enjoy the "Concerts aux Îles du Bic" Chamber Music Festival, which takes place in a pastoral setting.
But Rimouski offers more than musical events! Sports lovers will want to attend the Tour de la relève international de Rimouski, a cycling race that brings together young athletes from all over Canada, the United States and Europe.
Prolong your stay…
If you have more than 48 hours to spend in Rimouski, I recommend three day trips a few kilometres outside the city. In Saint-Narcisse de Rimouski, the Canyon des Portes de l'Enfer (Hell's Gate Canyon) awaits you in the heart of a majestic forest.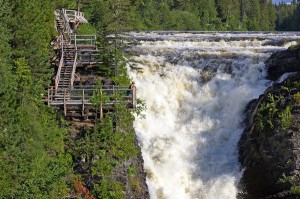 Grand Saut lookout at Canyon des Portes de l'Enfer © Armand Dubé/Tourisme Rimouski
Hiking trails give you access to spectacular panoramic views as well as several attractions, including a site that pays tribute to the log drivers of old; Les Portes d'Oniria, an enchanted trail; the Grand Sault Falls; and Descent to Hell's Gate, a 300-step staircase that takes you down to the level of the Rimouski River. Be brave and cross the highest suspension footbridge in the province of Québec, which is 63 metres (207 feet) high! In Grand-Métis, the Reford Gardens are a paradise of natural beauty, where some 3000 species and varieties of plants offer a colourful and fragrant spectacle. Finally, in Saint-Gabriel-de-Rimouski, Domaine Valga welcomes you to Eastern Québec's largest log inn. To get your adrenaline pumping, why not try out the treetop challenges in the nearby aerial park called "Forêt de Maître Corbeau."
Good news for visitors who live more than 200 km (125 mi.) from Rimouski! By providing your licence plate details and a proof of residence at the tourism information office, you will be given a parking sticker that allows you to park in downtown Rimouski for free for the duration of your stay!
Ready for some fresh sea air in the city? Plan your trip to Rimouski now!
For more information:
Tourism Information Office – Rimouski
50, rue Saint-Germain Ouest, Rimouski, G5L 4B5
Telephone: 418-723-2322
Toll-free (Canada & U.S.): 1-800-756-6875
tourismerimouski.com
If you liked this article, you might also like...