Home »
Blog »
My Weekend in the Îles de la Madeleine: An Amazing View of the Sea at Château Madelinot
The

Québec maritime Blog
My Weekend in the Îles de la Madeleine: An Amazing View of the Sea at Château Madelinot
Here I am in the Îles de la Madeleine for a short stay to finally get to know the islands and the Madelinots a little better. On the agenda: visiting attractions (art galleries, parks, beaches, local producers and craftspeople) while on a road trip on Route 199 that goes through the islands. My goal is to maximize my time there to see as many things as possible (don't do as I did; plan at least three full days to visit the Maggies!)
After a busy day, I make it to Château Madelinot just before sunset. I drop off my luggage and go for a walk on the beach. Hotel guests enjoy a direct access to the beach. The first section of it is mostly pebbles, but heading north, I quickly reach Plage de la Pointe, a beautiful sandy beach. The views are really beautiful; the sea stretching to the horizon, Havre aux Maisons and Grande Entrée islands visible in the distance, and the setting sun casting shades of red, pink and orange on the landscape.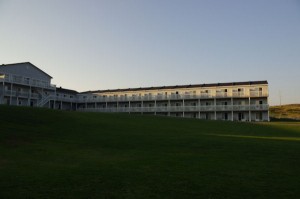 Château Madelinot's inner court
© Le Québec maritime
Château Madelinot is located in Fatima, close to Havre-aux-Maisons. It's the largest hotel in the archipelago, boasting 120 rooms, a restaurant, an indoor pool and a laundromat. Some units even have a kitchenette. The rooms are comfortable and offer all the amenities to ensure an enjoyable stay, including wireless Internet connection. Moreover, all the units have a shared or private area to relax outside.
Château Madelinot is built in a U shape, so all the rooms in the inner court have a view of the sea. The weather is beautiful for the season; I sit outside comfortably to read. Looking around, I realize I'm not the only one who had that idea. Many guests take advantage of the mild evening to enjoy a book, while others have an apéritif. People talk about their day, their discoveries and their favourites in the Îles de la Madeleine. I can tell that all of them are having a good time during their vacation.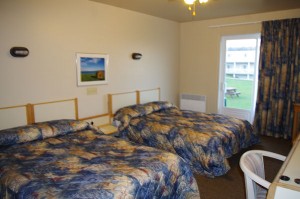 My room at Château Madelinot
© Le Québec maritime
I decide to leave my door slightly open during the night to let in the sea breeze and the murmur of the waves. No one would complain about being lulled by the sweet sound of the sea while enjoying a natural air conditioning!
I have great memories of my stay at Château Madelinot. If you are looking for accommodations that are centrally located and offer a wide range of amenities, Château Madelinot is a good choice that I recommend.
---
For more details:
Château Madelinot
485, rue Principale
Cap-aux-Meules (Quebec) Canada
G4T 1E4
Phone: 418-986-2211
Toll free: 1-800-661-4537
www.quebecmaritime.ca/madelinot
If you liked this article, you might also like...