The

Québec maritime Blog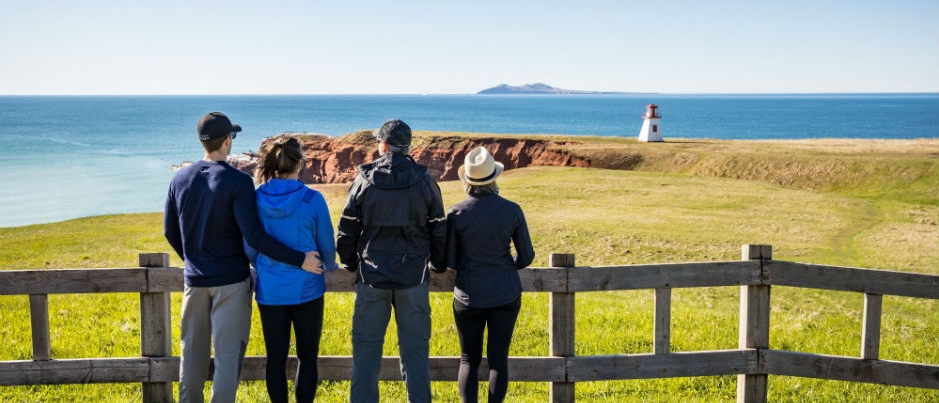 The Îles de la Madeleine: A Destination by the Sea
Located in the middle of the Gulf of St. Lawrence, the Îles de la Madeleine archipelago is a vacation paradise. Popular among travellers looking for a change of pace and scenery, the Islands are a dream destination offering colourful seascapes made up of beaches, cliffs and hills to explore… not to mention a rich maritime heritage and a warm and friendly welcome! See what's in store for you during a trip to this destination by the sea!
How to get there
Since it's not possible to drive all the way to the Îles de la Madeleine, you must either fly or take a boat to get there. Several airlines (including PAL Airlines) offer flights to the Islands departing from various towns and cities in Eastern Canada. If you choose to travel by sea, a ferry runs year-round between Souris, Prince Edward Island, and Cap-aux-Meules. Would you like to discover the archipelago by bus? Autobus Les Sillons offers various guided tours that will allow you to admire the surrounding scenery and discover many of the Islands' attractions!
What to see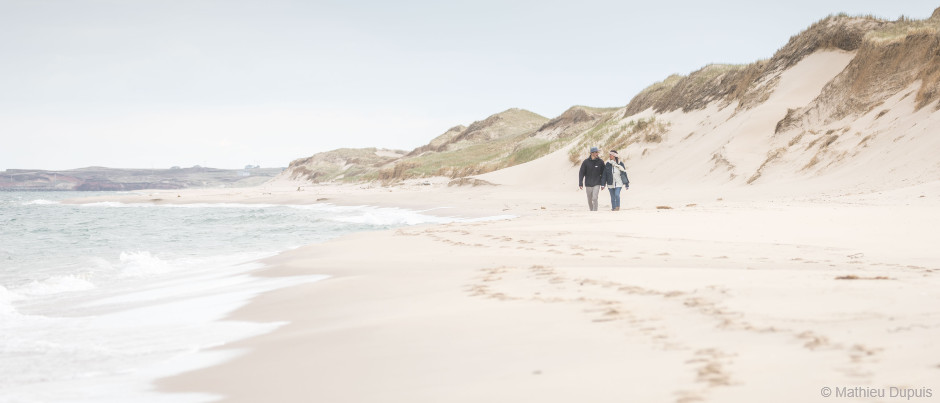 Whether you fly or arrive by sea, you'll fall under the spell of the archipelago at first sight! For starters, the Islands offer 300 km (190 mi.) of long, white-sand beaches, each with its own charm. Time to relax by the sea!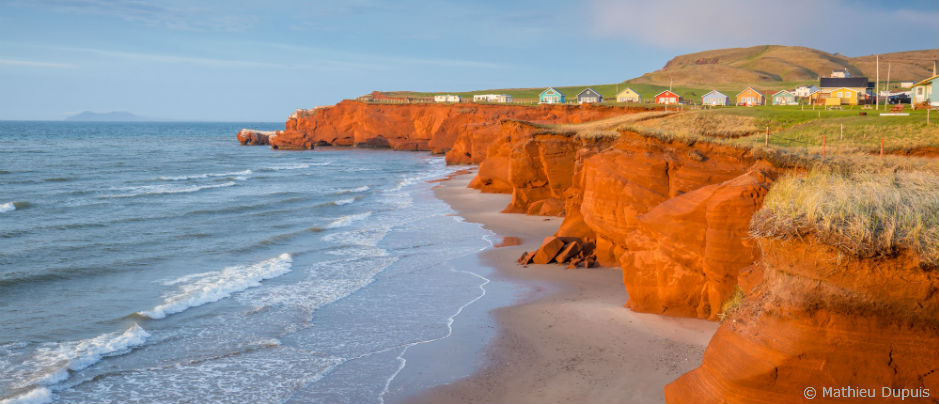 Another eye-catching feature of the Islands is the red sandstone cliffs. Their striking colour is created by sedimentary rock made of quartz covered in iron oxide. The wind, waves, tides and spring thaw constantly erode these cliffs and sculpt them into sometimes surprising shapes.
You'll also notice that the Islands feature rolling green hills. There are several on Entry Island, the only inhabited island that's not connected to the rest of the archipelago. Hike up Big Hill, the highest point in the region, to admire an extraordinary panoramic view.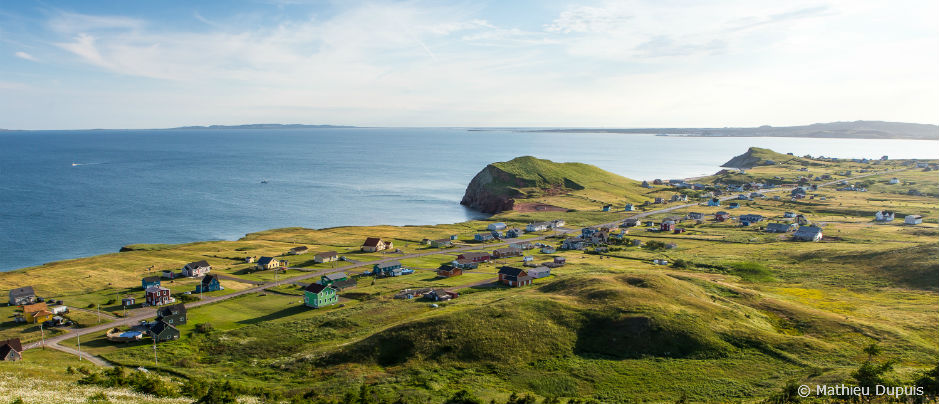 Brightly coloured houses, which are typical of the archipelago, add to this palette of colours. Red, blue, green, orange, purple or yellow, they undeniably contribute to the charm of the Islands. They're said to have been painted in this way to make it easier for fishermen to find their way home. You'll find them especially on Havre aux Maisons and Cap aux Meules islands.
What to do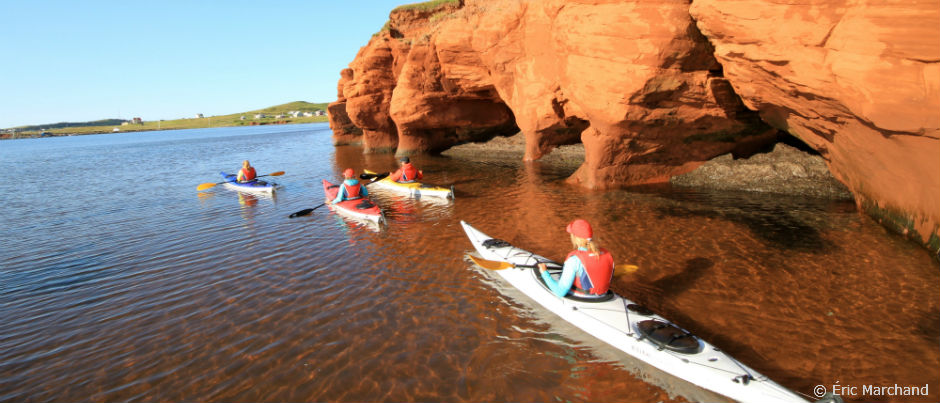 The sea is much more than an ever-present feature of the landscape on the Islands, it's also an immense natural playground! Participate in sea excursions in a Zodiac or sightseeing boat to admire the archipelago's beauty from a completely different angle. Outdoor enthusiasts will also love exploring the Islands' mysterious caves and huge lagoons by sea kayak. Inquire about the guided outings offered by Auberge La Salicorne and Parc de Gros-Cap. Ready for a sea adventure? You can also go caving in a wetsuit with Auberge La Salicorne! Whatever sea activity you choose, keep your eyes peeled: you never know when you'll spot seals or seabirds!
Being surrounded by the sea means sea breezes! You'll notice that the wind is ever-present on the archipelago, much to the delight of wind sports enthusiasts. In fact, the Îles de la Madeleine are a kitesurfing paradise! The Islands offer a multitude of sites to enjoy this sport, including warm and shallow lagoons, which are a perfect place to try out this activity for the first time!
The archipelago's diverse terrain makes it an ideal region for hiking. Why not explore the Sentiers entre Vents et Marées? These marked and safe trails are divided into 13 sections that range in length from 9 km (6 mi.) to 28 km (18 mi.) and vary in levels of difficulty. Discover natural and groomed trails, back roads and long stretches of beach for a physical, cultural and spiritual experience.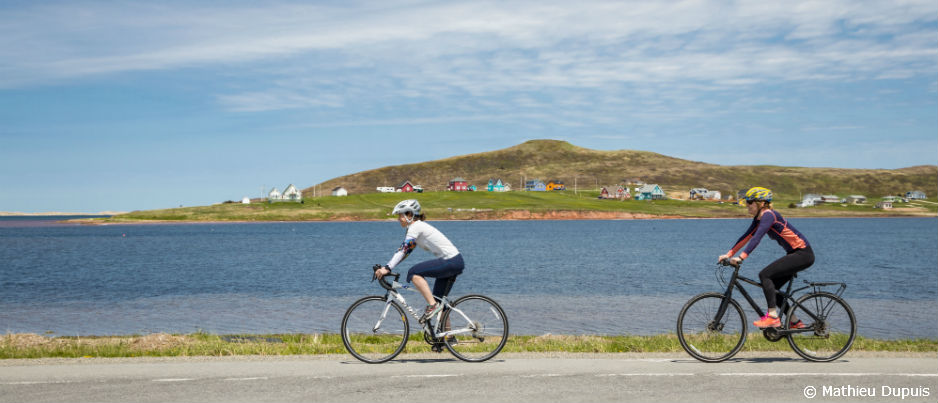 The region can also be explored from one end to the other by bicycle along Route 199. The Route Verte bike route runs along part of this road, which connects the islands of the archipelago. Other bike paths also give you access to sensational views.
What to discover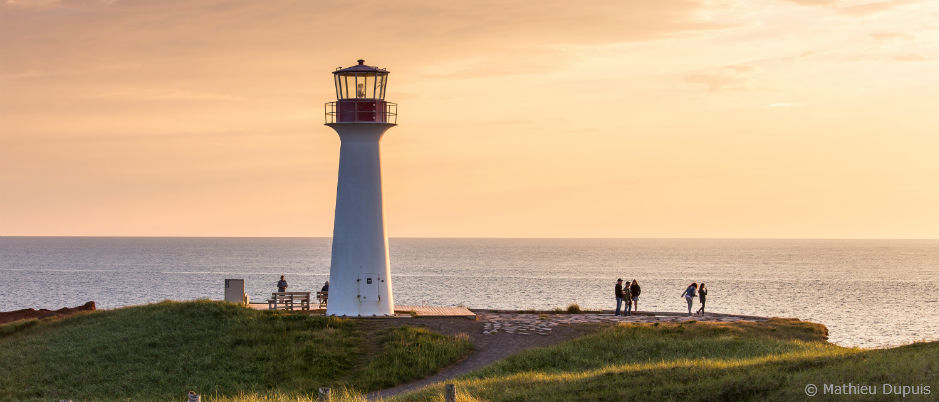 The lighthouses of the region watch over the coastline and act as landmarks for sailors and fishermen. The Islands are home to six such sentinels, four of which are accessible to the public. One of the most impressive and photo-worthy is undoubtedly the Borgot Lighthouse, in L'Étang-du-Nord, which you'll want to admire at sunset. To learn more about the history of lighthouses in the region, visit the William-Cormier heritage park, which faces the Anse-à-la-Cabane Lighthouse on Havre Aubert Island.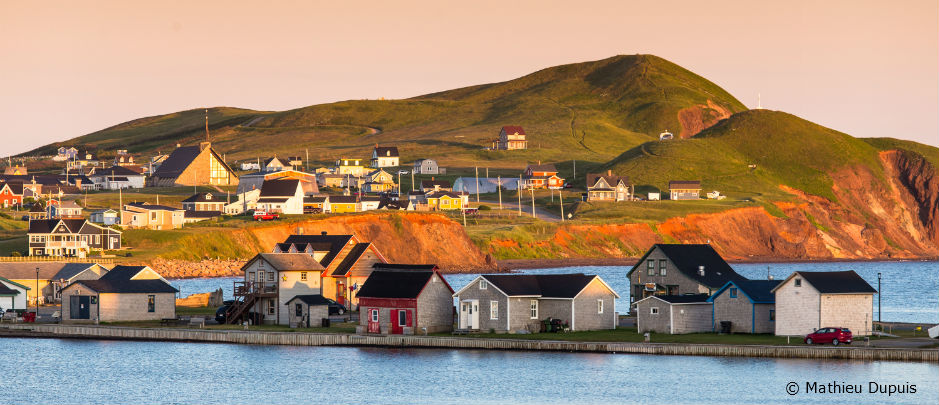 You can also learn more about the Islands' maritime heritage by visiting the La Grave heritage site on Havre Aubert Island. For nearly two centuries, this site was a fishing hub. Today, it retains much of its early architectural flavour and remains a gathering place for locals and visitors alike. Discover the wooden buildings built in the 19th and 20th centuries that now house restaurants, cafés, shops, artists' studios and more. Visit the Musée de la Mer (maritime museum) to better understand the culture of this island people.
The Islands are also a great source of inspiration for local artists and artisans. In fact, many of them depict the surrounding seascapes in their work or use elements of nature in their creations. For example, the artists at Atelier Côtier (located at La Grave) transform sand and other materials into sculptures of all kinds. If you're interested in meeting local artists and artisans, be sure to follow the art tour. And why not bring back a unique souvenir of your trip?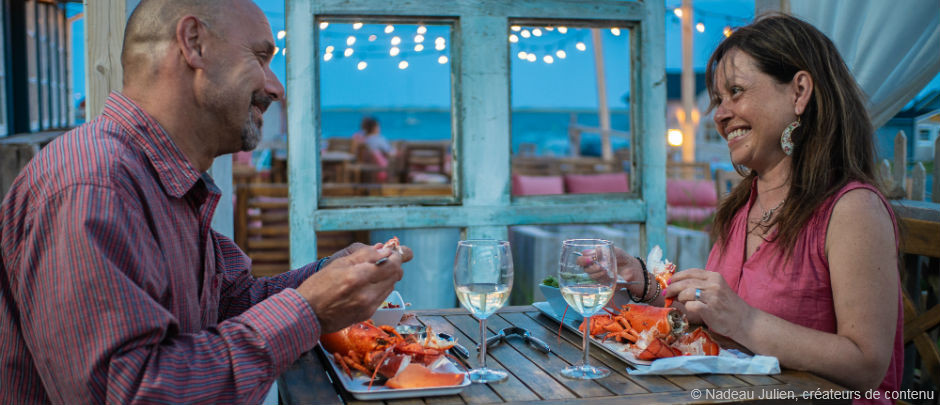 Your stay in the Îles de la Madeleine wouldn't be complete without tasting succulent local seafood, including the famous Island lobster! You'll find it on the menus of most good restaurants as well as in fish markets throughout the region. To cap off your day, stop by the À l'Abri de la Tempête microbrewery where you can enjoy craft beers inspired by the sea.
After all these adventures, you'll probably say goodbye to the Islands with a heavy heart, but you'll never forget your seaside experiences steeped in sea breezes, charming accents and unique discoveries!
If you liked this article, you might also like...