The

Québec maritime Blog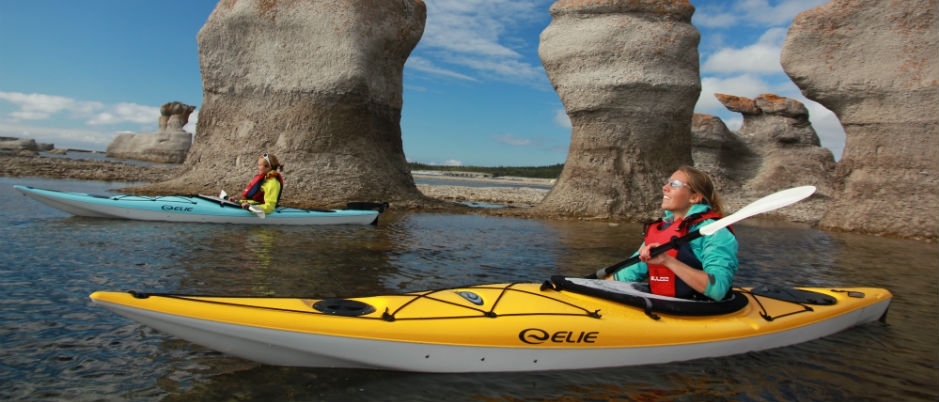 Mingan Archipelago National Park Reserve
Éric Marchand
National Parks and Natural Sites: 5 Experiences Not to Miss!
Are you planning to visit a national park or natural site during your next trip to the maritime regions of Québec? Here are five experiences you won't want to miss!
1. Sleeping on an island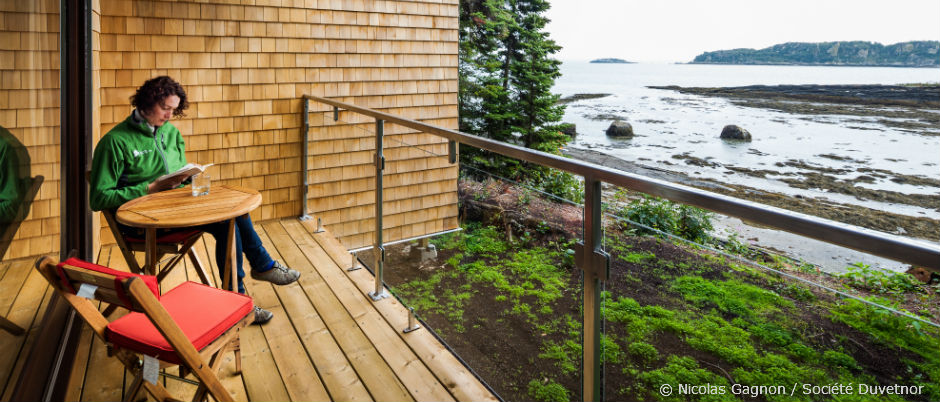 As you travel along the coast in Bas-Saint-Laurent, you'll notice the many islands dotting the St. Lawrence. Several of them are open to the public and offer a range of activities, but did you know that you can spend the night on some of them? For example, Île aux Lièvres (Hare Island), off Rivière-du-Loup, offers camping as well as 9 rooms in an inn and 6 modern cottages. Right next door, you can sleep in the lighthouse on Île du Pot à l'Eau-de-Vie (Brandy Pot Island), which offers 3 rooms furnished in the spirit of the 19th century. You can also stay in one of the 9 rooms in the lightkeeper's and assistant lightkeeper's houses on Île Verte, which is home to the oldest lighthouse on the St. Lawrence. Finally, further east, off Rimouski, you can camp on Saint-Barnabé Island in one of 12 campsites.
2. Seeing Percé from another angle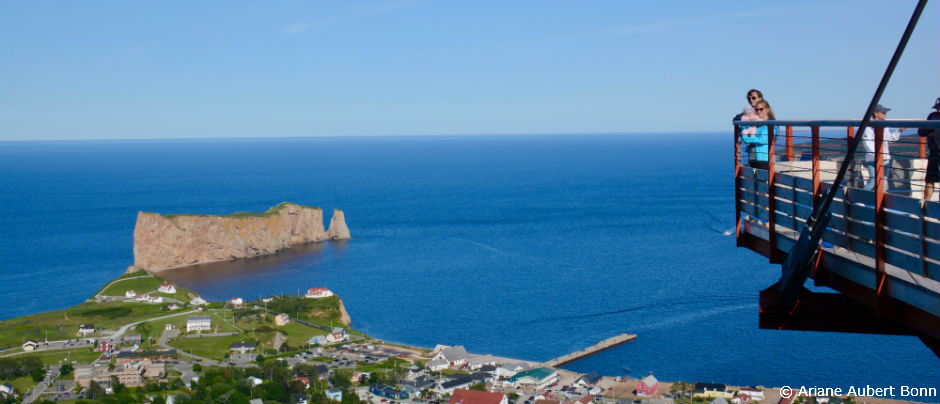 The Percé UNESCO Global Geopark, in Gaspésie, offers you the opportunity to discover 500 million years of history through various activities. Enjoy Tektonic, an interactive multimedia show; participate in a guided or self-guided hike to 26 geosites and several lookouts; and admire a stunning view of the village and legendary Percé Rock from a glass platform suspended 200 metres (660 feet) above the ground! Other activities (including ziplining) are offered on site in the first UNESCO Global Geopark in Québec.
3. Waking up to the blow of the whales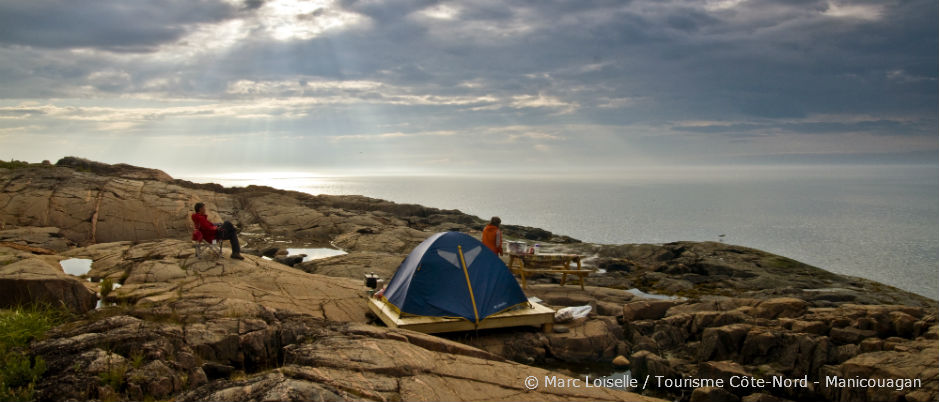 Côte-Nord is one of the best places in the world to observe marine mammals. During your next trip to the region, immerse yourself fully in the experience by opting for a seaside campsite in one of two campgrounds in Les Bergeronnes where the sound of the whales will wake you up in the morning! Your first option is Paradis Marin, which offers 148 campsites, including several with stunning views of the St. Lawrence. You can also opt for Mer et Monde Écotours, where you can choose from 37 campsites, 4 glamping ("ready-to-camp") tents and 7 rustic shelters with large windows. Wherever you decide to stay, you'll only have to gaze out at the water to see the majestic whales!
4. Walking among giant monoliths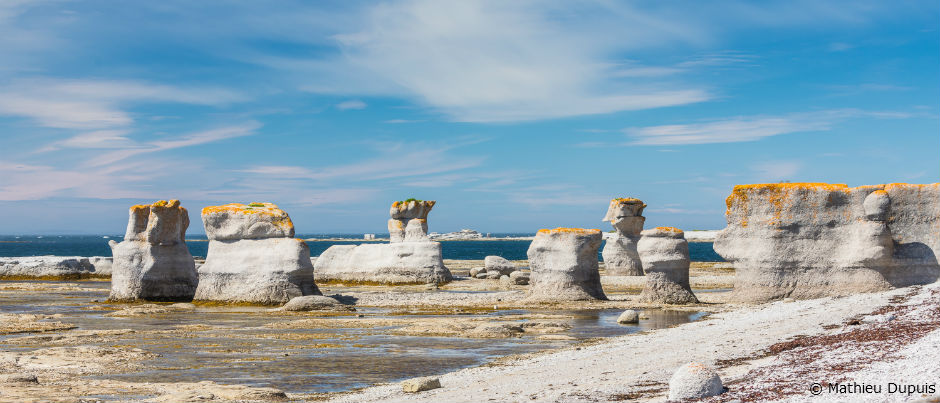 An impressive and unusual sight awaits you in the Mingan Archipelago National Park Reserve, in Côte-Nord: mysterious limestone monoliths sculpted by the sea. On Île Nue de Mingan as well as on Quarry and Niapiskau islands, you can have fun trying to identify their shapes: owl, crocodile, eagle, etc. Participate in a hike with a Parks Canada interpreter, who will explain how these strange rock monuments were formed. You will also learn about the archipelago's vegetation as well as its unique history and cultural heritage. Your guide will be happy to answer all your questions!
5. Exploring caves and cliffs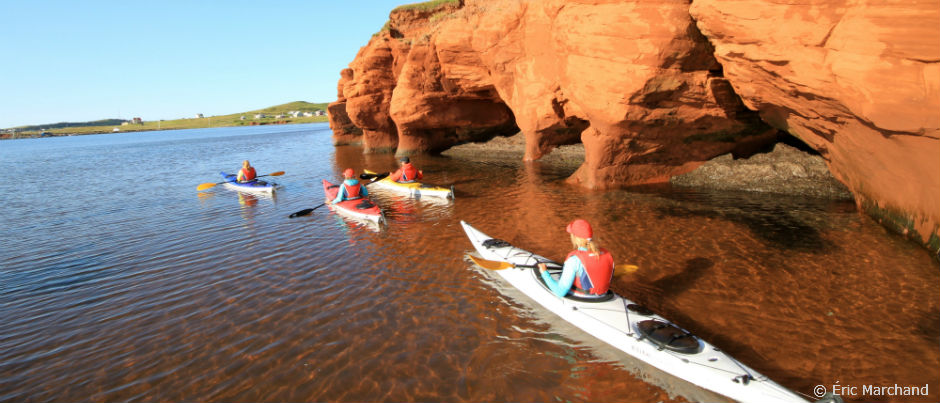 As soon as you set foot in the Îles de la Madeleine, you will marvel at the beauty of the red cliffs that surround the archipelago. Made of sandstone, they contain iron oxide, which gives them their reddish colour. In some places, the sea has eroded these rocks, creating fascinating caves. One of the best ways to explore these caves is via the sea, during a guided excursion! You have several options: you can participate in a sea excursion, go sea kayaking or wade into the caves during a caving activity, wearing a wetsuit and life jacket. Happy exploring!
Do you want to enjoy these five park experiences this summer? Visit our National Parks and Natural Sites page to start planning your trip today!
If you liked this article, you might also like...