The

Québec maritime Blog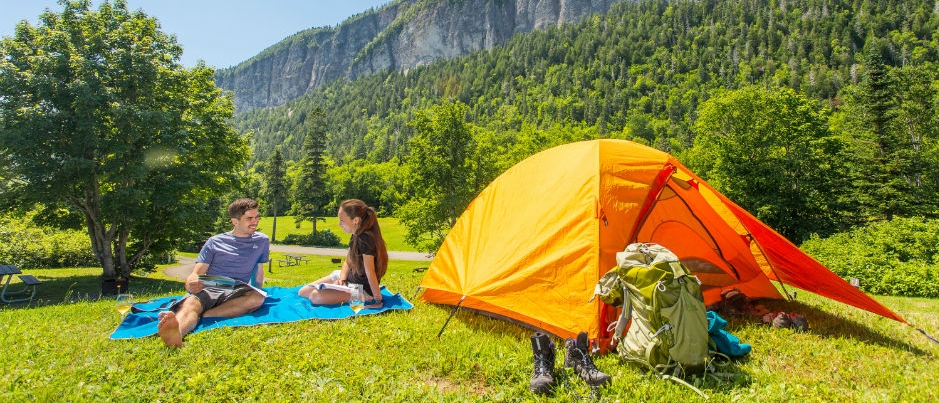 Camping in Forillon National Park
Mathieu Dupuis
Camping Out in the Maritime Regions of Québec
Without a doubt, camping is synonymous with vacation. And the maritime regions of Québec are an exceptional destination for campers, with campgrounds offering a wide range of services and amenities to suit everyone's tastes. Here's an overview of the various options for campers visiting our regions.
A island experience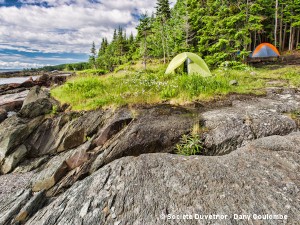 Camping in Île aux Lièvres near Rivière-du-Loup
For a truly maritime experience, nothing beats an overnight stay on one of the many islands of the St. Lawrence River and the Gulf of St. Lawrence. Société Duvetnor gives you a unique opportunity to pitch your tent on Île aux Lièvres, right in the middle of the St. Lawrence Estuary, off the city of Rivière-du-Loup. Some sites are located near the landing stage, while access to others requires a longer hike (4 km or 11 km), which is well worth the effort.
Further east, in the Rimouski area, you can explore Île Saint-Barnabé, located 3 km off the mainland. Boasting a network of well-maintained hiking trails, the island has 12 campsites facing the open sea, where you can relax while watching the sunset after a busy day hiking around.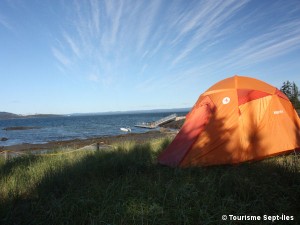 Camping at Ile Grande Basque, Sept-Iles
In the Côte-Nord region, the Mingan Archipelago National Park Reserve offers 42 wilderness campsites, spread over six islands, for you to experience an unforgettable stay in an unbelievably peaceful environment, among the islands' famous monoliths. During a stopover in Sept-Îles, on your way to Mingan, you can also spend the night on Grande Basque Island, which is part of Sept Îles Archipelago. In both cases, private boat companies offer shuttle services between the mainland and the islands.
Camping Parc de Gros-Cap, Îles de la Madeleine
You love islands, but would prefer something a little less rustic? There are two great camping options for you on Îles de la Madeleine. With over 100 sites, half of which have full services to accommodate RVs, Parc de Gros-Cap is located near Cap-aux-Meules and the ferry dock. It boasts a panoramic view and a direct access to the beach.
In Grande-Entrée, the northernmost area of the Îles de la Madeleine, Auberge La Salicorne has 23 campsites, including seven with services. More than just an inn, it's also a resort centre offering a complete program of activities, for fun-filled days throughout your stay.
Resorts
Lake Pohénégamook at sunset
You like to do many different sport activities and want to get a quick and easy access to them during your vacations? In the Bas-Saint-Laurent region, Pohénégamook Santé Plein Air has 55 semi-serviced sites, perfect for RVs or tents, most of which are located on the lake. You can also rent various types of boats and equipment to fully enjoy the lake and the many activities on site.
If you prefer rivers to lakes, CIME Aventure, in the Gaspésie region, is located right on one of the clearest rivers in Canada: the Bonaventure River. Relax in the 112-site campground located in the woods, after a guided or self-guided canoeing or rafting trip on the river.
In the Côte-Nord region, the Ferme 5 Étoiles holiday resort also offers a wide range of activities, oriented on a close contact with nature (the resort is also a wildlife refuge). Its 14 campsites – some with services, some without – promise to please campers in RVs as well as those in tents.
Pets
If you are travelling with Fido, you'll be happy to know that many campgrounds accept pets. Domaine des Dunes, just outside the picturesque village of Tadoussac, in the Côte-Nord region, is one of them. Nestled in a birch woodland, it has a total of 49 sites: 37 with no services for tents, 10 with three services for RVs, as well as two glamping tents with all the conveniences you need.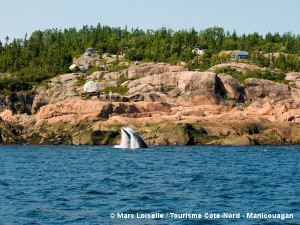 Camping Mer et Monde Ecotours, Les Bergeronnes
Some 30 km further east, in Les Bergeronnes, the Paradis Marin and Mer et Monde Écotours campgrounds boast a very special asset, besides being pet-friendly: you can watch whales right from the shore. The 25 sites at Mer et Monde Écotours are wilderness-oriented, and you'll find 33 sites with services and 115 without services at Paradis Marin.
Pets are also welcome at Camping Rimouski, located less than 5 km from downtown Rimouski, in Bas-Saint-Laurent. Offering 40 basic sites and 84 with services, it's the perfect base camp to enjoy the region's attractions.
In the Gaspésie region, the campground at Hôtel-Motel Le Panorama de Percé accepts pets too. You can choose from 30 sites, all of which offer an unrestricted view of Percé Rock, and then sit back and relax or enjoy the heated and supervised pool.
National parks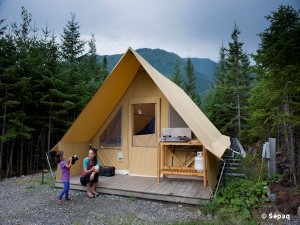 "Ready-to-camp", parc national de la Gaspésie
You might be surprised to know that dogs are permitted at Forillon National Park. With three campgrounds, the park has a total of 368 sites, most of which with basic or no services. There's also a very interesting option: the "ready-to-camp" oTENTik tents that give you the opportunity to enjoy a full-on camping experience without the inconvenience of carrying all the gear.
The SÉPAQ national parks located in the maritime regions of Québec, namely Gaspésie, Bic, Lac-Témiscouata and Fjord-du-Saguenay, also offer a large number of sites to please everyone – serviced or basic, for RVs or tents – as well as their own ready-to-camp tents.
Cycle touring
If you're a cyclist, you'll be delighted to know that all four of the SÉPAQ parks listed above have set up Welcome Cyclists campsites. These sites are available exclusively to touring cyclists at a lower price, without advance booking.
By the way, if you were planning to visit our regions by bike, you should also know that there are three wilderness campgrounds along the Petit Témis Interprovincial Park that can each accommodate up to five tents. They will definitely please touring cyclists of all levels.
Whether you camp in a RV or tent, whether you are a sea lover, cycle-touring enthusiast, golfer or pet owner, you'll find a campground that suits your needs in the maritime regions of Québec. Come and see for yourself: start planning your vacation today!
If you liked this article, you might also like...