The

Québec maritime Blog
Recommendations for Snowmobilers from our Hoteliers
We asked several hotel owners who welcome snowmobilers in their establishments every winter to recommend trails or sectors worth visiting in their areas. They called on local experts to help them out and here are their suggestions:
Ferme 5 Étoiles holiday resort, Sacré-Coeur, Côte-Nord
Ambassador: Angelo Bouchard, outdoor guide at Ferme 5 Étoiles
Recommendation: Cap Sainte-Marguerite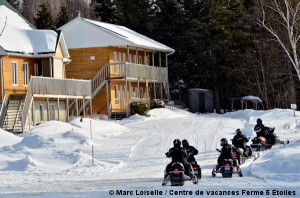 Located 15 minutes from the Ferme 5 Étoiles holiday resort, Cap Sainte-Marguerite is accessible via a forest trail and offers one of the best views of the Saguenay Fjord. As Angelo says, "It's a really beautiful spot. When you arrive at the top, you can't help but think, 'Wow! It's magnificent!' as you perceive the true beauty and grandeur of this majestic fjord and finally understand what a fjord really is."
Are you planning to explore the trails around the Saguenay Fjord? Plan your stay at the Ferme 5 Étoiles holiday resort.
Château Fraser Hotel, Témiscouata-sur-le-Lac, Bas-Saint-Laurent
Ambassador: Jean-Eudes Bouchard
Recommendation: Trans-Québec trail #85 (TQ85) between Cabano and Dégelis
Snowmobile enthusiast Jean-Eudes Bouchard has been president of the Témiscouata snowmobile club for a number of years and is responsible for grooming several kilometres of trails in this area. Although he knows these trails very well, he is still amazed by their beauty. One segment of TQ85 along Lake Témiscouata between Cabano and Dégelis offers some of the best panoramic views, according to him, especially at the three trestle bridges, with their open views of the lake and its rocky shores.
Hôtel Universel, Rivière-du-Loup, Bas-Saint-Laurent
Ambassador: Joanna Lortie
Recommendation: The trails of Rivière-du-Loup
What stands out about the Rivière-du-Loup trails is how wide and well-maintained they are—every year, visitors make positive comments to that effect. In addition, there are so many trails to explore in this area that you can spend several days at a hotel without ever riding the same trail twice. Two diehard snowmobilers, Oneil Dupont and André Beaulieu, from the Les Aventuriers snowmobile club in Saint-Antonin, designed these loops. Everyone who uses these trails is indebted to them!

Are you planning to ride the trails of Bas-Saint-Laurent? Find out about staying at Hôtel Universel.
If you liked this article, you might also like...