The

Québec maritime Blog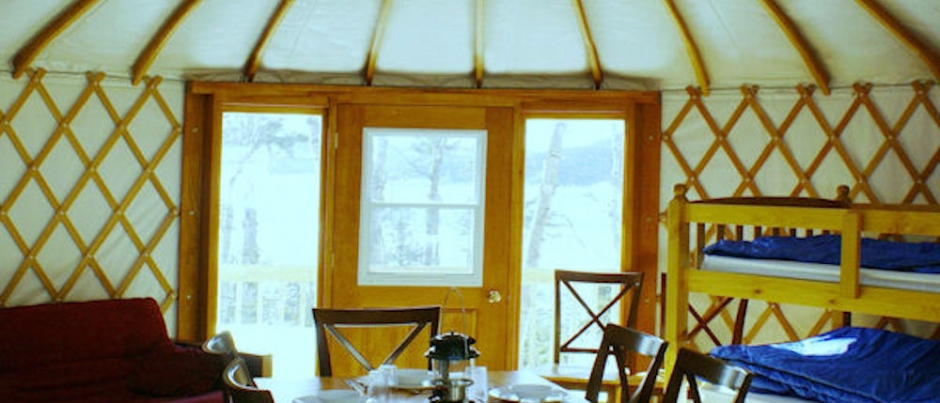 Ferme 5 Étoiles holiday resort
Unusual Lodging in the Maritime Regions of Québec: An Unforgettable Experience!
Vacations are a time to enjoy nature, relaxation and a complete change of pace. You want to unplug and be present to the moment. Several unusual lodging options offered in the maritime regions of Québec will help you unwind and step outside your comfort zone. Having said that, opting for unusual lodging doesn't mean sacrificing comfort! Read on to find out more.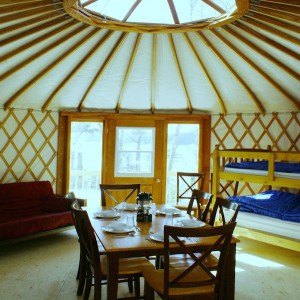 Inside one of the Ferme 5 Étoiles yurts
© Ferme 5 Étoiles
In the Mongolian tradition: Yurts
Yurts are the traditional dwelling of Mongolian nomads. This round tent-like structure has canvas walls and a hardwood floor. Each yurt is fully furnished (table and chairs, beds, counter space for meal preparation, etc.) and includes a woodstove for your comfort. Since various sites in the maritime regions of Québec offer this type of dwelling, the equipment and services included vary from one site to the next.
Located in Bic Harbour along the St. Lawrence coast, the yurts in Parc national du Bic (Bas-Saint-Laurent) give you a front-row view of the surrounding scenery. They are fully equipped and include a fridge and stove. Cime Aventure in Gaspésie offers similar amenities in its "festive yurt" (fridge, wood stove, etc.).
The yurts at the Ferme 5 Étoiles holiday resort in Côte-Nord include everything you need for a comfortable stay but are not equipped with electricity. They contain either a wood or propane stove for you to prepare your meals.
In the Indigenous tradition: Teepees
Several sites in the maritime regions of Québec offer you the option of staying in a teepee, a traditional Indigenous dwelling. Note that not all Indigenous peoples lived in teepees—the Innu, for example, lived in dwellings called shaputuan instead. Teepees, which were traditionally made with wooden poles and animal skins (now replaced with canvas), can reach impressive heights, depending on their circumference and the materials used. All the teepees mentioned in this post are set up on wooden platforms for your increased comfort.
At the Ferme 5 Étoiles holiday resort, the teepees are set up near a lake and each has access to a fire pit.
In the maritime tradition: Lighthouses
The lighthouses of our regions are proud witnesses to our maritime heritage. Today, about 30 are open to the public; however, for the ultimate lighthouse experience, you must spend the night in either the lighthouse itself or the lightkeeper's house. You can read more about your options in this blog post about lighthouse stays.
In the "Canadian" tradition: Log and wood cabins
Traditional log cabins are associated with the settlement of New France and the coureurs de bois, fur traders who explored the North American wilderness. However, contrary to what you might think, this type of dwelling didn't originate in the New World but rather in Europe! Still, staying in a log cabin is a popular and authentic Québec experience.
The Ferme 5 Étoiles holiday resort offers what they call a trapper's camp or Canadian cabin, a log cabin that can accommodate up to 4 people. It includes everything you need for your stay (bedding, towels, kitchen equipment, etc.). There's no electricity, so you'll be spending your evenings by oil lamp and candlelight, just like in the olden days!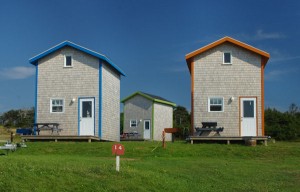 Wood cabins in Parc de Gros-Cap
© Le Québec maritime
The wood cabins available in Parc de Gros-Cap (Îles de la Madeleine) combine some modern amenities with rustic charm. They are designed to resemble fishermen's cabins (called salines) where the fish was cured downstairs while the fishermen lived upstairs during the fishing season. Each cabin includes electric lighting and an electric mini-fridge, as well as furnishings for 4 people and a propane stove to prepare your meals.
In the tradition of childhood fancy: Treetop cabins
There's something magical about treehouses, which bring out the kid in you. The best part is that the grownup version comes fully equipped with beds, washroom with hot water (dry or flush toilet), kitchen nook and patio. If you stay in the treetop cabins at Canopée Lit (Côte-Nord), you can also treat yourself to picnic baskets delivered to your door. Request a cabin with a dome window over the bed so you can watch the stars while snuggling under the covers. Your other option is the family sized cabins at Cime Aventure—you'll hardly believe these luxurious accommodations are in the middle of the forest! In addition to the amenities previously mentioned, these come equipped with a fridge, microwave oven and even air conditioning! The winding boardwalk that connects the ecolodges only adds to the magic of the experience.
In the glamping tradition: "Ready-to-camp" options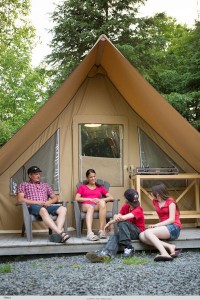 Glamping in Parc national de la Gaspésie
© Mathieu Dupuis/SÉPAQ
To make camping accessible to all and ensure everyone can benefit from the beauty of our natural environment, more and more national parks and other sites are offering "ready-to-camp" options. These are great for people who want to avoid lugging camping gear with them. Combining the best of camping and comfort, these glamping options generally include a wooden floor and beds.
Four national parks in the maritime regions of Québec offer glamping tents: Parc national du Fjord-du-Saguenay (Côte-Nord), Parc national du Lac-Témiscouata (Bas-Saint-Laurent), Parc national du Bic (Bas-Saint-Laurent) and Parc national de la Gaspésie. All you need to bring with you is bedding, towels and food!
Forillon National Park (Gaspésie) also offers a glamping option: oTENTik tents. Read all about this option here. Several units are also available in the Mingan Archipelago National Park Reserve (Côte-Nord).
Imagine the memories, photos and stories you'll take home with you after sleeping in a fully equipped yurt or wood cabin in the woods! Whichever type of lodging you choose, you can be sure you'll enjoy the best views of the maritime regions of Québec and will only want to come back for more!
If you liked this article, you might also like...