The

Québec maritime Blog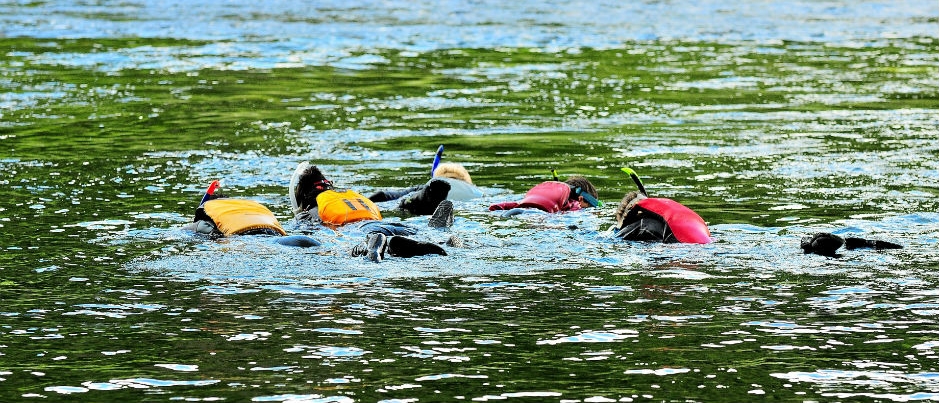 Snorkelling with salmon in Gaspésie
Nature Aventure
Snorkelling with Salmon: A Unique Vacation Experience!
Since I'm from the region of Matapédia – Les Plateaux in Gaspésie, I grew up near salmon rivers, where I used to swim, canoe and kayak. I know these rivers, or at least I thought I did! Spending a day with Jesse Alain of Nature Aventure was an eye-opener: I realized just how rich these ecosystems are. There's so much to learn about salmon behaviour and habitat, which is exactly why you should go snorkelling with Nature Aventure as I did!
Getting ready for adventure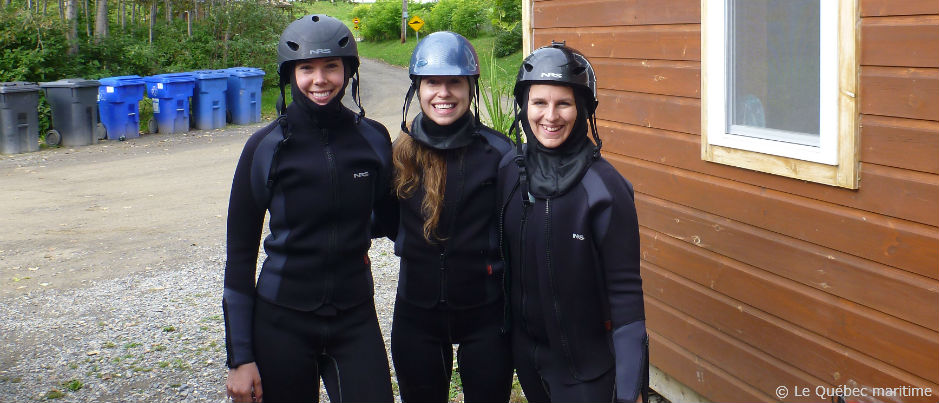 I arrived at 8 a.m. on the dot with butterflies in my stomach. The first to greet me was Jesse Alain, who has owned Nature Aventure for the past 10 years with his partner, Geneviève Labonté. I then met two other women, who were as excited as I was by the prospect of spending the day on the river. Jesse, who was going to be our guide for the day, found us wetsuits in the right sizes and provided us with masks, gloves, shoes, life jackets and helmets. As I struggled to put on my wetsuit, I wondered if snorkelling was going to be as challenging… Once we'd suited up and assembled our gear, Jesse went over the program of the day and we set off for adventure in the shuttle.
Salmon pools in the Assemetquagan River
We drove about 20 km (12 mi.) to the departure point for our snorkelling adventure: the Assemetquagan River. Several salmon pools are accessible from this river; in fact, a fisherman was already fishing in one of them when we arrived. We unloaded the kayak, canoes and gear from the shuttle, much of which we left on the bank as we swam looking for salmon. Before we set off, Jesse gave us homemade protein bars to recharge our batteries as he went over the safety instructions. Finally, it was time to get wet: we leapt into the river from the top of a boulder!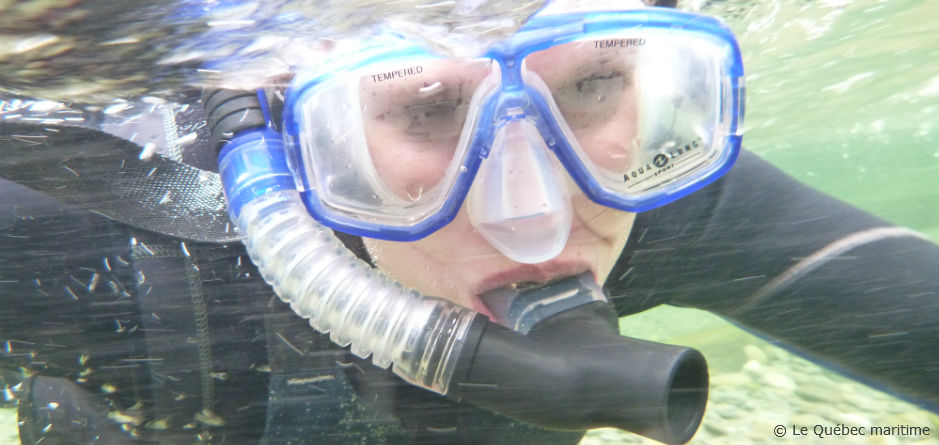 Thanks to our wetsuits, the water didn't seem too cold. We got the hang of our snorkels and masks, and Jesse spotted a salmon in no time. He indicated that we should approach it slowly, without any sudden movements. Even though it had rained the day before, the water was clear enough for us to see the salmon. It was a male; their lower jaws are more prominent and hook-shaped. Wow! In the end, we saw about 20 salmon of all sizes, as well as trout and even a river eel! It was a thrill to swim above salmon and watch their movements.
After staying quite still in the water for some time so as not to scare off the salmon, we started to get cold. It was time for a more vigorous activity! We set off with the river current back to our gear and I couldn't help grinning from ear to ear: I felt like a kid in a fair ride! The strength of the current was remarkable. Once back on dry land, Jesse gave us tea to help us warm up, which really hit the spot!
We then climbed into our watercrafts: the two women shared a canoe, Jesse had his own with the gear and I was in the kayak. We had a great time talking about our swimming experience while paddling on the Matapédia River.
Lunch on the Moulin River
With all this excitement, we'd built up an appetite! Nature Aventure had a surprise for us for lunch, but to get to it, we first had to go for a short hike through the forest. We hauled our watercrafts out of the water and followed Jesse for a few minutes through the trees to a dream site for a picnic: next to the waterfall in the Moulin River. We settled on a pebbly islet in the middle of the river to savour a delicious lunch featuring local products: vegetables, deli meats, cheese, bread, nuts, etc. We laughed and chatted as if we'd known each other for days. It was perfect!
Jesse then suggested that we explore the waterfall. Like children, we dared each other to dive in and swim to the other side of the wall of water. It was so much fun!
Perfecting our technique on the Matapédia River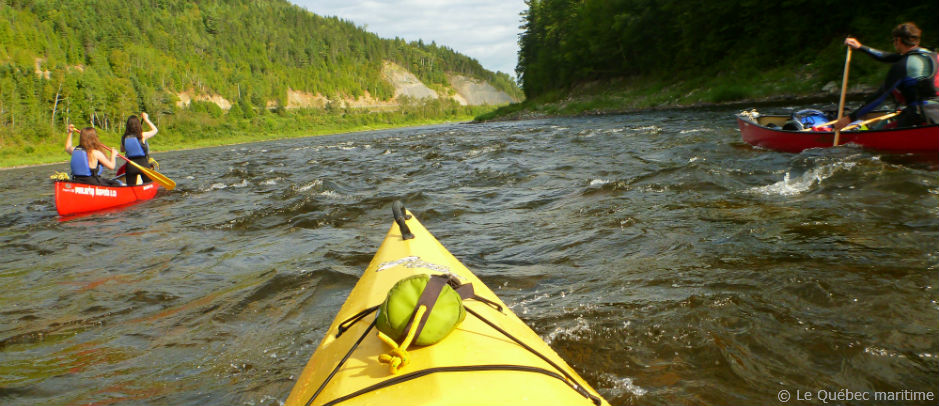 Time was passing, so we returned to our watercrafts and the Matapédia River. Jesse then taught us a few tricks to improve our paddling technique. We learned all kinds of strokes and maneuvers and had fun in the rapids. This was also an opportunity to find out more about the wildlife and birds that could be seen along the river's edge. We followed several ducks and even saw an impressive bald-headed eagle perched at the top of a tree.
It was already late afternoon by then so we docked our boats and were met by a Nature Aventure team member, who was waiting for us with the shuttle and trailer. We packed up the gear and took one last photo to capture this beautiful day in nature.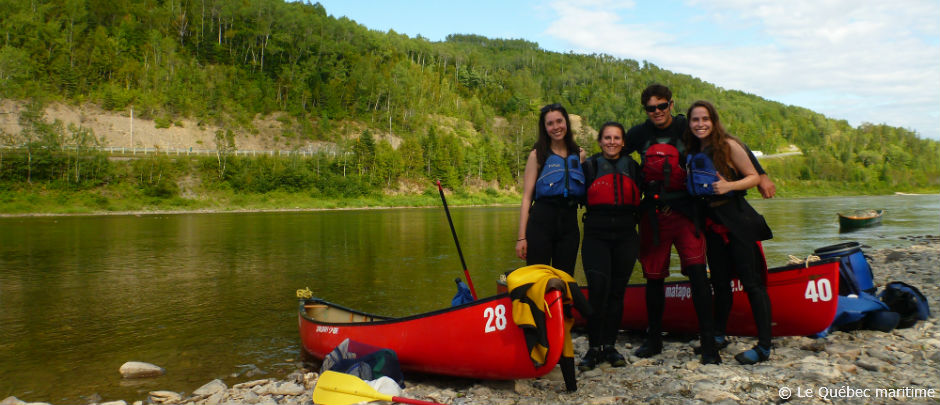 I know I'll always remember this snorkelling experience with Jesse and his team: I'll remember how excited I was to see my first salmon, our enthusiastic and knowledgeable guide and how much fun we had together that day!
Does this blog post make you want to explore the rivers of the Matapédia Valley? Contact Nature Aventure for more information! They offer a variety of packages to suit your needs!