The

Québec maritime Blog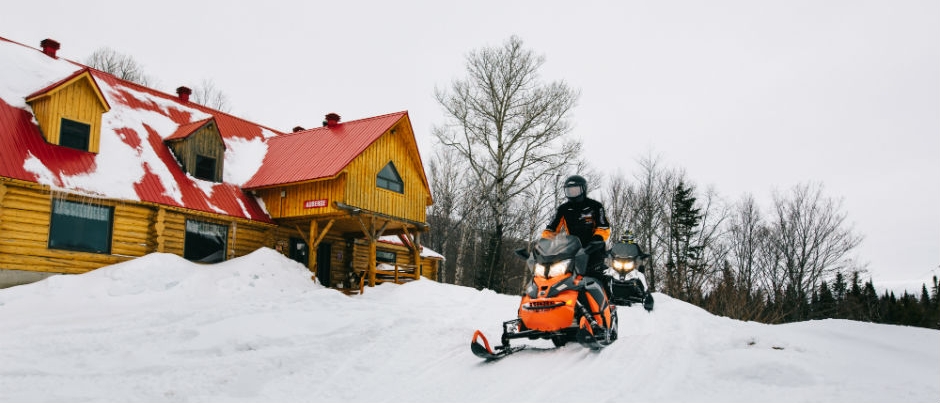 Domaine Valga, Rimouski
5Mphotographie
Snowmobiling in Bas-Saint-Laurent: By the Sea or Inland
Offering abundant snow, well-marked and groomed trails as well as both sea and forest scenery, Bas-Saint-Laurent is a popular snowmobiling destination. By accessing the region from the west, you can choose between two Trans-Québec trails that will provide you with very different snowmobile experiences. Read on to find out more about snowmobiling in Bas-Saint-Laurent.
Snowmobiling by the Sea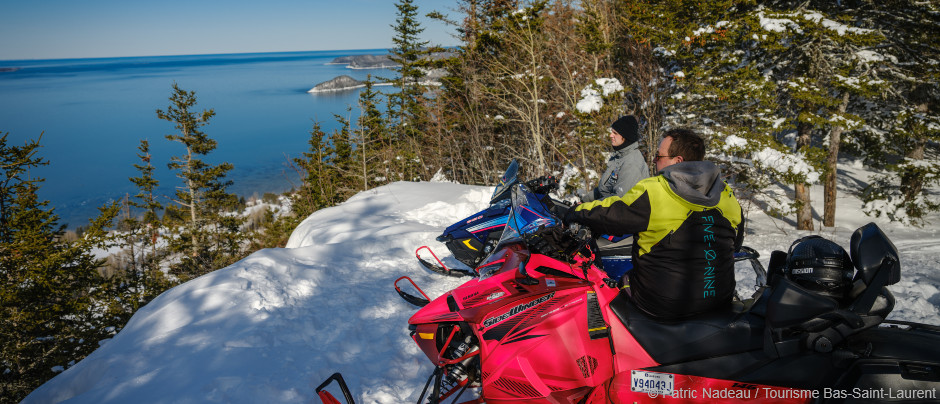 While travelling on relatively flat terrain along Trans-Québec trail #5 (TQ5), you'll have many opportunities to admire the St. Lawrence along the way. Here are some areas not to be missed as you ride eastward across the region:
Saint-Onésime-d'Ixworth: This village's picturesque covered bridge, which was built in 1920 and restored in 2008, bears witness to the region's rich heritage. Take the time to read the interpretive panels!
Local trails between Saint-André and Notre-Dame-du-Portage: These low-traffic trails, which give you the opportunity to ride along the St. Lawrence over several kilometres, are unanimously recommended by snowmobilers. The views are even more impressive if you're there at sunset!
Ice bridge in L'Isle-Verte: When the ice is solid enough, this bridge will take you across the frozen St. Lawrence to Île Verte (Green Island), a truly extraordinary experience! The island is home to the oldest lighthouse on the St. Lawrence. To get to the village of L'Isle-Verte, take regional trail #567.
Trois-Pistoles area: Be sure to visit the lookout on trail #571 for a panoramic view of Trois-Pistoles, with the sea on the horizon. When you leave this area, take trail #518, which is renowned for its impressive width!
Saint-Fabien area: Enjoy a magnificent view of the St. Lawrence, the coastline and the Bic Islands from the Saint-Fabien lookout. From TQ5, take regional trail #518, then a local trail to the lookout. You'll want to take photos of the spectacular panoramic view, so don't forget your camera or smartphone!
Snowmobiling Inland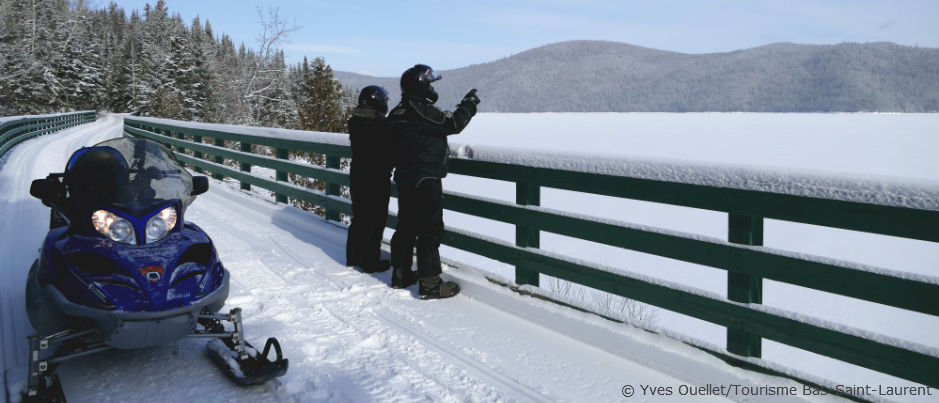 By following Trans-Québec trail #35 (TQ35), you'll see a very different side of Bas-Saint-Laurent, featuring forests, lakes, hills and mountains. (The Appalachian mountain chain crosses the interior of this region.) Here are some areas not to be missed as you head east:
Kamouraska area: TQ35 follows the old Monk railway line all the way to Pohénégamook. You'll particularly appreciate the flat terrain and wide curves along this segment of the trail.
Pohénégamook area: In this area, you'll ride alongside Lake Pohénégamook for several kilometres and even right across it in some places! The view of the mountains will leave you speechless, and you'll be impressed by the sight of white-tailed deer (up to 500!), which come to feed in this area in the winter.
Lake Témiscouata: TQ35 bypasses Lake Témiscouata between Saint-Louis-du-Ha! Ha! and Squatec, but you can detour onto Trans-Québec trail #85 (and then trail #571) to ride alongside the lake. This wide and very straight segment of TQ85 will give you several opportunities to admire this majestic body of water, which is the second largest lake south of the St. Lawrence.
Notre-Dame Mountains: Travel through this mountain range that is about 200 million years old! You'll ride through snow-covered forests as well as several villages and maple groves. There are also a few deer wintering areas in these mountains, such as in Trinité-des-Monts and along the river in Saint-Narcisse-de-Rimouski. Take a moment to observe these beautiful animals, while taking care not to disturb their environment.
So, what you think? Which trail will you follow during your snowmobile expedition in Bas-Saint-Laurent? To plan your trip, order the trail map and be sure to book your accommodations in advance. Happy travels!
If you liked this article, you might also like...