The

Québec maritime Blog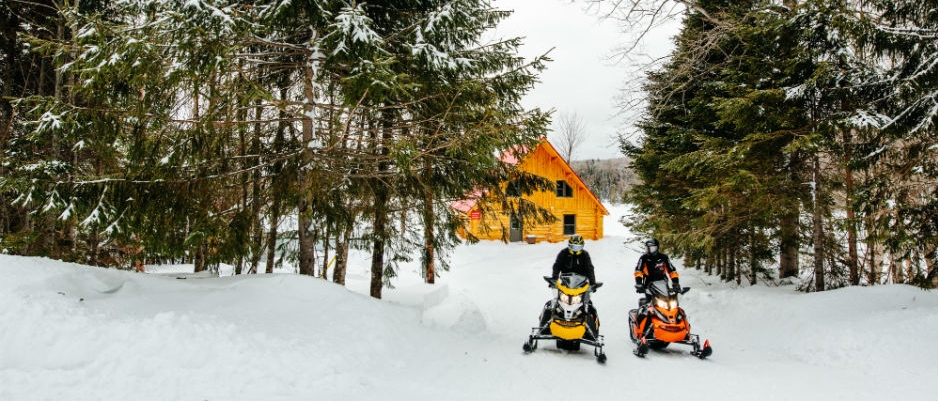 Bas-Saint-Laurent offers a wide range of scenery
5Mphotographie
Snowmobile-Friendly Lodging in Bas-Saint-Laurent
Add Comfort and Amenities to Your Itinerary!
From Kamouraska to Rimouski via Rivière-du-Loup and the interior, Bas-Saint-Laurent offers a wide range of scenery, from the islands in the St. Lawrence to coniferous forests and frozen lakes. Explore the region along the Bas-Saint-Laurent – Gaspésie Snowmobile Tour or find a home base and ride on loop trails. Here are four establishments you may want to add to your itinerary.
Hôtel Universel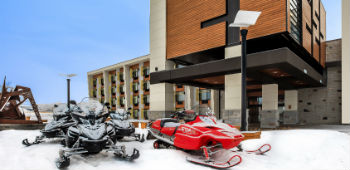 After a fun day out, enjoy a restful stay at Hôtel Universel © Hôtel Universel
This 4-star hotel in Rivière-du-Loup is a great place for snowmobilers to stay as it provides secure parking in a locked garage or outdoor parking lot under video surveillance. Located close to trail #526, the hotel offers 220 recently renovated rooms and suites, two restaurants and many amenities. In the evening, relax in the indoor pool or Nordic spa or treat yourself to a spa treatment. Several packages are available.
Domaine Lac St-Mathieu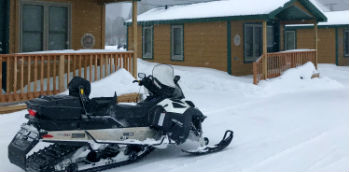 Enjoy a hearty dinner and stay in a deluxe cabin!© Domaine Lac St-Mathieu
Located in Saint-Mathieu-de-Rioux, this resort is easily accessible via Trans-Québec trail #5 and trail #518. It offers quality lodging in one of 5 wooden chalets (accommodating 6 people) or one of 6 deluxe cabins (accommodating 4 or 6 people). Wherever you opt to stay, you'll have an amazing view of a snowy mountain or frozen lake. After a long day of snowmobiling, enjoy a tasty meal at the restaurant. The site also offers a service station adapted for snowmobiles.
Hôtel Rimouski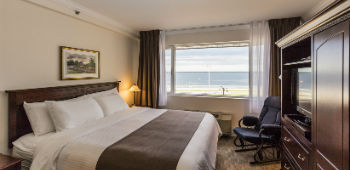 Hôtel Rimouski provides a warm and friendly welcome© Hôtel Rimouski
This 4-star hotel facing the St. Lawrence in Rimouski offers 185 modern rooms, including 52 suites. To get there, take Trans-Québec trail #5 and then a local trail. Park your snowmobile in the parking lot under video surveillance, then treat yourself to a gourmet meal at the hotel's bistro or restaurant. For the perfect end to your day, take advantage of the indoor pool, sauna or spa where you can enjoy massage therapy. Inquire about the various packages available.
Domaine Valga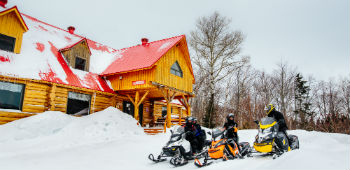 Domaine Valga is a little corner of paradise in the forest© 5Mphotographie
Located inland in Saint-Gabriel-de-Rimouski, Domaine Valga is accessible via trail #579. You have two options: you can stay in one of the 9 rooms in Eastern Québec's largest log inn or you can rent one of three chalets, each of which can accommodate up to 9 people. Breakfast and lunch are served daily from mid-January to mid-March to snowmobilers; dinner is available upon reservation. A warm welcome awaits you here!
What are you waiting for? Start planning your snowmobile trip in Bas-Saint-Laurent now!
Visit our Snowmobiling section to find out more about what our regions have to offer!