The

Québec maritime Blog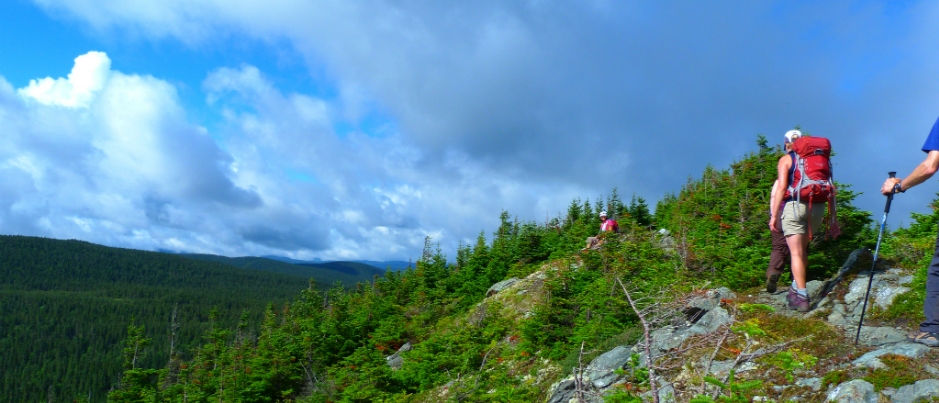 IAT offers numerous hiking and backpacking options
Eric Lapointe
The International Appalachian Trail (IAT): World-Class Backpacking
Backpacking is your thing? If so, the International Appalachian Trail (IAT) in Québec criss-crossing the Gaspé Peninsula will undoubtedly arouse your interest. Some 650-km long, it starts in the town of Matapedia, goes up the Matapedia Valley to Amqui and through Réserve faunique de Matane and Parc national de la Gaspésie, then reaches the St. Lawrence Estuary in the town of Mont-Saint-Pierre and extends all the way to Cape Gaspé, in Forillon National Park. You hear the call? Here are some tips to help you make the most of your trip!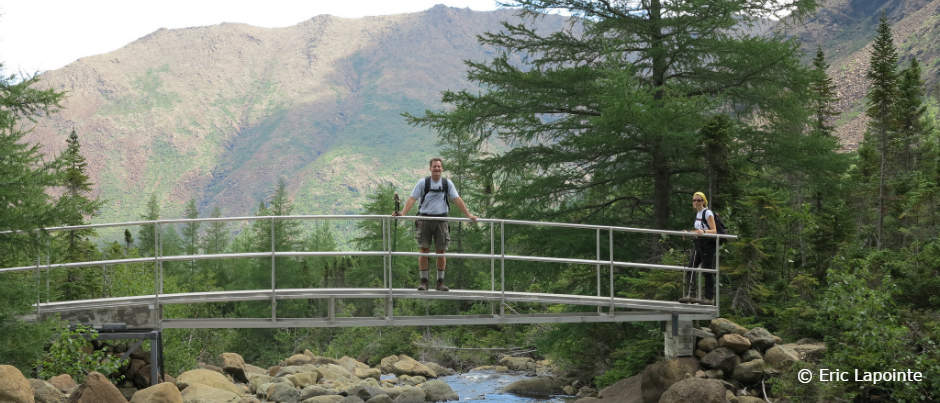 To begin with, you must know that the IAT is the first trail to get the GR designation in North America. And what's that, you might ask? The GR designation, which stands for grande randonnée or "backpacking" in French, refers to a backpacking route supported by a network of trails and recognized by the Fédération française de la randonnée pédestre (or French Backpacking Federation). The IAT gained its designation in October 2015 and, because it was the first in North America, its official designation is GR A1.
Thanks to its impressive length, the IAT offers numerous hiking and backpacking options, from a two-hour-long stroll in the woods or along the shoreline, to the full-on 40-day-long trip. Trail access is free, but hikers and backpackers must register before taking off.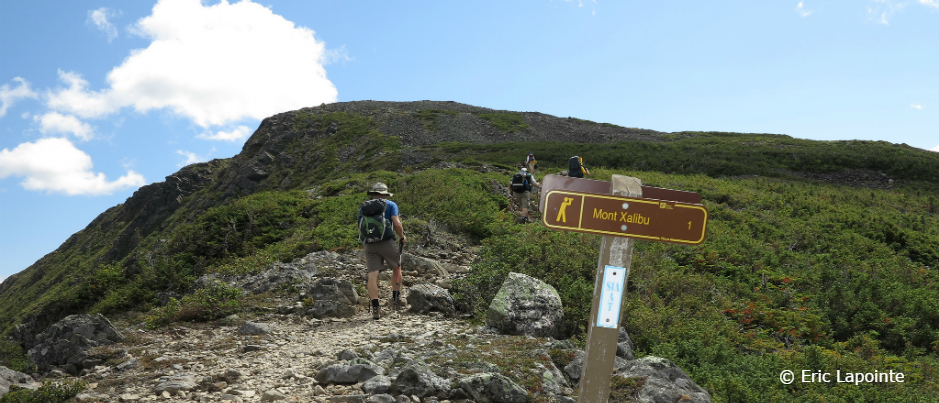 Several lodging options are offered to backpackers all along the trail. The organization managing the trail has set-up a series of primitive campgrounds, lean-to shelters and huts. On top of that, in sections going through national parks, backpackers can use park facilities. Note that reservations are required. Obviously, when the trail crosses towns and villages, it's also possible to stay at private campgrounds, motels, etc.
And what should you bring to make the most of your backpacking trip on the IAT?
First of all, a good pair of hiking/backpacking boots. Some may prefer shoes. In any case, the first criterion is to have stiff soles to prevent awkward movements of your feet. Boots have the advantage to hold your ankle much better, reducing the risk of injury.
A good backpack, of a substantial volume, without being too big. Because you will probably fill it up to its capacity anyway. And if it's too big, when full, it will also be too heavy. Choose a backpack of a suitable format for your size and take the time to properly adjust the harness system (shoulder straps and hip belt) to your body to prevent aches and injuries.
Hiking clothes ideally made of synthetic fibres so they dry faster. Choose shirts with long sleeves and pants with long legs for a better protection against thorns, mosquitoes, and tall grass and fern, which are often wet in the morning. Zip-leg pants are a convenient option, allowing you to adapt to variable conditions without carrying extra weight. Gaiters will keep your lower leg dry and prevent mud and debris to get in your boots. Bring changing clothes to make yourself comfortable (and dry) at the end of the day when you get to the campground or hut.
Waterproof-breathable GORE-TEX-type jacket and pant. Because the rain will most likely find you at some point…
A hat, sunscreen and bug repellent, to protect you against the elements.
A tent (unless you are planning to stay exclusively in huts and shelters). Choose a model with a vestibule on the side rather than at the end: it provides you with more space to store your gear (which is often wet, humid or mud-covered) away from the rain, without messing up your tent.
Whether you stay in a tent, shelters or huts: a good sleeping pad (a good night sleep is key to a successful backpacking trip) and an appropriate sleeping bag. It can be cold at higher elevation. Look for a sleeping bag rated +5 °C or even colder if you get cold easily.
A camping stove, gas, rainproof matches or a lighter, cookware, toilet paper, a first-aid kit.
Food: avoid cans. They are heavy and bulky, even when empty and crushed. Dry food divided in waterproof zip-lock bags is perfect. Get rid of extra packaging as much as possible before taking off. There are food-drop boxes in Matane Wildlife Reserve. You can store your food there yourself beforehand or take advantage of the food dropping service (for $45).
A water treatment system. It can be a purifier (filter) or purifying tablets. Water from sources near the campgrounds, huts and shelters is not drinkable. Moreover, with a good water treatment system, you can refill your bottles pretty much anywhere.
If it's your first backpacking experience, make sure to test your gear before your trip. Fill up your backpack as you would for your trip, put on your boots and go for a walk in your neighborhood or in a park nearby for a couple of hours to make sure you can bear the weight. Make any change or adjustment required.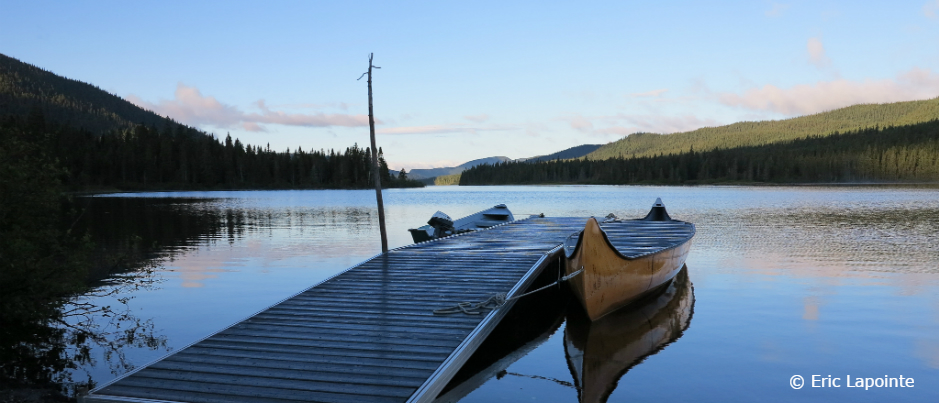 Some sections of the trail are ready by mid-May, but the entire length of the trail is generally accessible from mid-June to the end of October. By the way, September is especially interesting with the autumn colours making the scenery even more spectacular. Put on your boots and come explore the IAT!
If you liked this article, you might also like...