The

Québec maritime Blog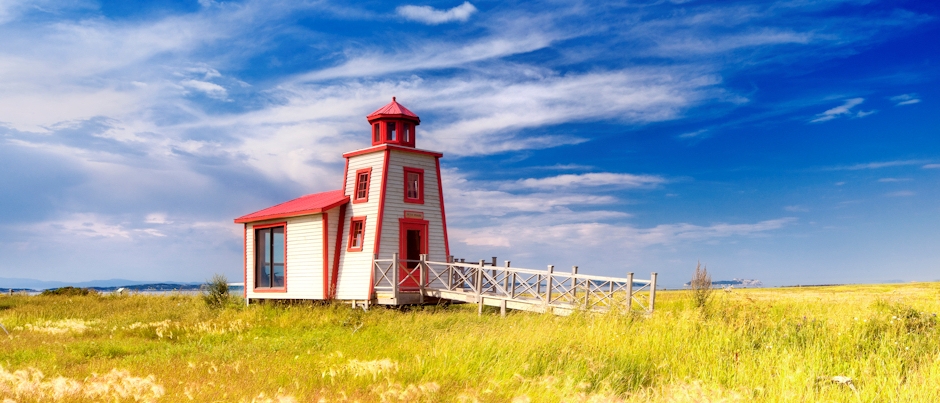 Lighthouse in Saint-André-de-Kamouraska
Pietro Canali
Two Foodies in Kamouraska
Since we share a passion for good food and beautiful objects, we'd been planning a girls' road trip to Kamouraska, in the Bas-Saint-Laurent region, for a long time. Finally, on a nice sunny day, we hit the road and drove on Route 132 along the St. Lawrence River, wearing our sunglasses and grinning from ear to ear as we soaked up the stunning scenery. After driving through several picturesque villages, we reached our final destination: Kamouraska.
The village of Kamouraska is located in the Kamouraska area, which includes several other towns and villages. Because we only had a day, we decided to focus on the village itself this time around. We parked our car and spent the day exploring the area on foot. With architecture typical of 19th-century resort towns, Kamouraska has an incredible charm. It's known as one of the most beautiful villages in Québec, which we can confirm is true! The main street was bustling with vacationers and locals doing their shopping, visiting various attractions or just browsing and enjoying a lovely afternoon. Here, people are living the good life!
A series of discoveries
Our first stop was at Quai des Bulles. This lovely artisan soapmaker will delight you with its hundreds of fragrant soaps of various colours. You'll find an amazing variety of soaps made from rice bran oil, as well as many other body care products made from natural ingredients. There's something for everyone, whatever their tastes and needs.
Not too far from Quai des Bulles, we found Boulangerie Niemand, a bakery located in a pretty cream-coloured house. Walking through an archway and a lovely garden in bloom, we could smell the fresh-baked bread. As we stepped inside, we saw an array of delicious-looking baked goods: baguettes, round loaves, brioches and many types of pastries, blending European traditions and local flavours. The earlier you arrive, the more options you'll have, because at Boulangerie Niemand, everything sells like hotcakes!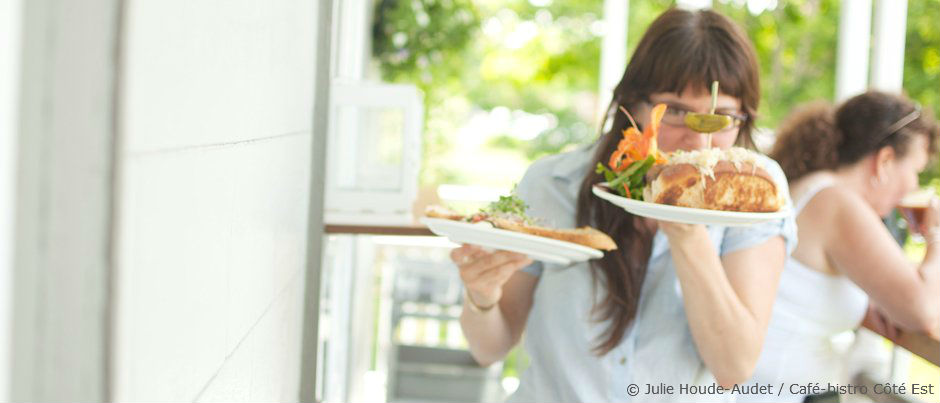 With all these mouth-watering aromas, we were starting to get hungry—it was time to look for somewhere to eat. Trust us when we say that when it comes to finding a good restaurant in Kamouraska, you'll be spoiled for choice! We finally settled on the Côté Est café-bistro where we grabbed a table on the beautiful terrace overlooking the sea. It was hard to choose from the platters of locally-made deli meats and cheeses, colourful salads, gourmet burgers, fresh fish and more. In the end, we opted for grilled cheese sandwiches made with Tomme du Kamouraska, which were simply delicious! We'll definitely be back at some point to try other dishes on the menu… especially since they change regularly, based on the availability of seasonal products.
Now that we were happily full, we were ready to browse the local shops and galeries. We started at Le Fil Bleu, a boutique located in the same building as the restaurant. They sell all kinds of local souvenirs: jewellery, ceramics, photos, clothes, etc. Our stroll along the main street took us into a variety of artisan workshops, art galleries and boutiques. There's so much talent in this region—including among food producers. A quick exploration of the gourmet and fish shops confirms this. We stocked up on various items at Le Jardin du Bedeau and the Magasin Général (general store).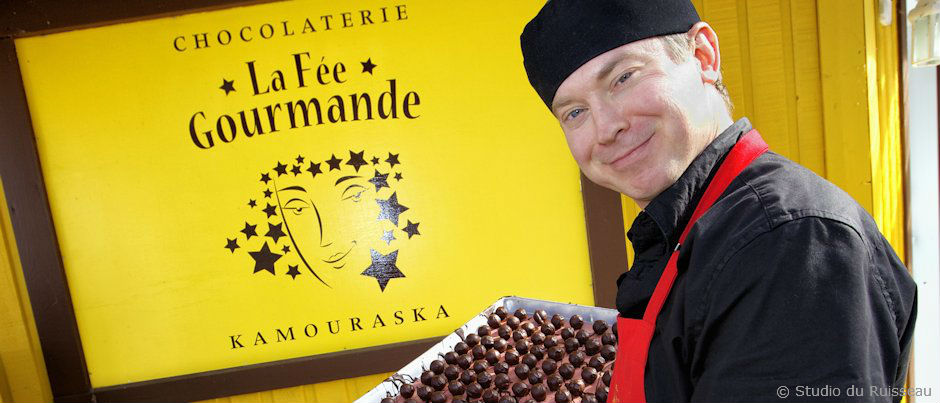 We ended our day at the La Fée Gourmande chocolate shop. If you have a sweet tooth, you're bound to find something to delight your taste buds from the wide selection of treats on offer here: various types of chocolates and caramels, nougat, spreads, gelato and sorbets. Everything is made on site. We quickly gave in to temptation (actually, we didn't even try to resist!) and sampled some spicy and fruit-flavoured chocolates!
Planning our next trip…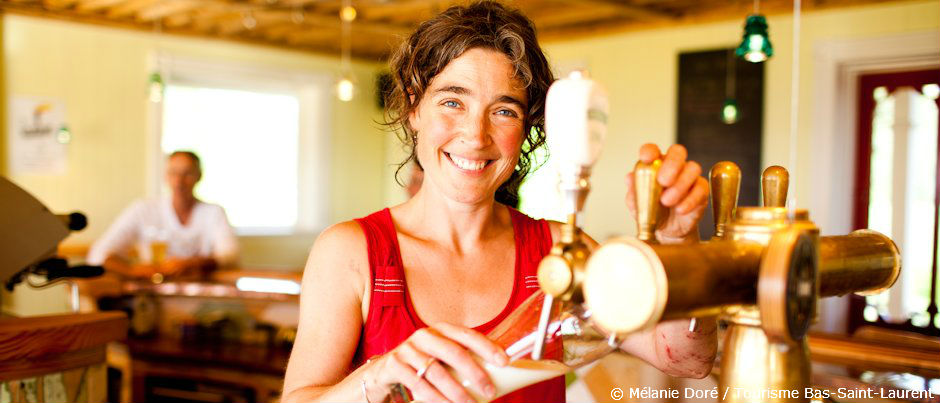 There's so much to see in the Kamouraska area! We quickly realized that we'd have to come back to explore it properly. So here's our bucket list for next summer:
Fromagerie Le Mouton Blanc (La Pocatière): This cheese factory is where Tomme du Kamouraska is made (which we savoured in our grilled cheese sandwiches at lunch). And we absolutely want to discover their other cheeses. They are the only cheesemaker of their kind in Bas-Saint-Laurent, making distinctive cheeses using raw sheep's milk.
Boucherie Rossignol (La Pocatière): We heard that this butcher shop makes traditional smoked ham that's truly worth the trip! And we're also intrigued by their meat cellar where their steaks are air-aged...
Ferme Cybèle (La Pocatière): We plan to visit this farm to buy berries or even pick them ourselves!
Pêcheries Ouellet and Poissonnerie Lauzier (Kamouraska): Both of these fish markets are go-to places to buy seafood and fish, including eel… which you can try fresh, smoked or marinated!
Le Comptoir Gourmand (Kamouraska): This café and boutique is another good place to stock up on local gourmet products.
Tête d'Allumette microbrewery (Saint-André): Who can resist craft beer brewed on site from local crops? We've also been told that the terrace offers spectacular views of the St. Lawrence, which makes this place a must!
Le Jardin des Pèlerins (Saint-André): This certified organic vegetable farm offers fresh produce and berries as well as specialty salts.
As you can see, there are lots of places to visit in the Kamouraska area that will appeal to all your senses! During your trip in Bas-Saint-Laurent, take the time to discover these places and try their tasty products. Just thinking about going back makes our mouths water!
If you liked this article, you might also like...