The

Québec maritime Blog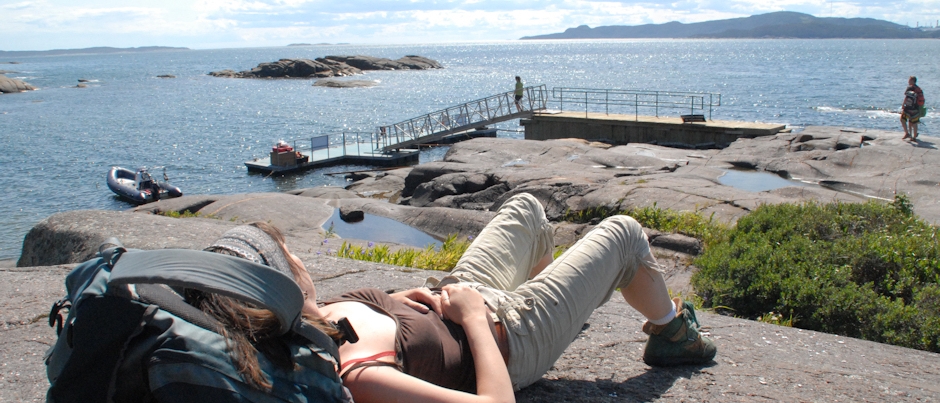 Grande Basque Island
Tourisme Sept-Îles
What to Do in Sept-Îles: Recommendations from Anne Michelle Dérose
Seven years ago, when she was a flight attendant, Anne Michelle Dérose, originally from Toronto, would never have guessed that she'd eventually settle in Sept-Îles in Côte-Nord. And yet after meeting her partner on a flight, she eventually decided to follow him to Sept-Îles and start a family there. For the past year, she's been working for Tourisme Sept-Îles and enjoys introducing visitors to the city's many attractions. Since she's also still discovering this area, her fresh perspective means that she's on the same wavelength as the tourists who come to her for information. When asked what she enjoys about working with tourists, she replied: "I love welcoming people to our city. I especially appreciate it when they come back to see us to tell us about their adventures further east in Côte-Nord."
Can you recommend a good place to…?
Eat a lobster, shrimp or crab guédille (roll): Casse-Croûte du Pêcheur
Located on the wharf, right where fresh fish and seafood are brought in from the sea, this snack bar is really a "French fry shack" where you can order your food and then take it to go or eat on site, either at a picnic table on the patio overlooking Sept-Îles Bay, or in the unique covered and heated eating area shaped like a giant lobster trap, which is perfect for cooler or overcast days.
Savour a hearty meal: Tartines et Babeurre and Blanc Bistro
For breakfast or brunch, head to Tartines et Babeurre, a friendly restaurant with a tasteful decor. It even has a reading corner with a community bookcase. You can lounge there for hours and even take a new book home, as long as you leave one behind in exchange! For dinner, Blanc Bistro is where it's at! This restaurant offers gourmet bistro food featuring local ingredients and products. The menu is seasonal and you can also head there for happy hour, where you can enjoy the DJ, beer and tapas!
Go hiking: Grande Basque Island in the Sept Îles Archipelago
Only 15 minutes by Zodiac from downtown Sept-Îles, the archipelago offers a complete change of pace. You can explore the whole island on 12 kilometres (7 miles) of trails, climb up to natural lookouts to admire the bay, or walk a short distance and relax on one of the island's beaches.
Observe wildlife: Parc Aylmer-Whittom
Locals call this Squirrel Park, because all you need is a few peanuts in your pockets to attract some furry friends! Located only 7 km (4 mi.) west of the city, this park is easily accessible by car; you can also cycle there along the "Sentiers de la Nature" bike trail, where you can admire local artist Jean-Pier Synnott's animal sculptures made of scrap metal all along the path.
Read: The beach!
In the morning, pack a thermos of tea and a good book and head to the beach until lunchtime. What bliss! With 30 km (19 mi.) of uninterrupted beach, you're almost sure to have a long stretch of sand to yourself. Peace and quiet are guaranteed!
Admire a gorgeous view of the city: Lookout at Lake Daigle
The lookout gives you a great view of the city from east to west. You can even admire the Sept Îles Archipelago and the boats in the bay.
Take beautiful photos: Vieux-Quai (Old Wharf)
Head to the wharf at sunset. You'll enjoy the experience even more if you treat yourself to ice cream!
Go see a show: Under the yellow tent in Parc du Vieux-Quai
This is where locals congregate in the summer! And with free shows almost every night, there's something for everyone.
Name…
One of the region's best-kept secrets
For a family outing, you can go pick your own wild berries, which are very abundant in our region. You can make really good jams with red berries or delicious blueberry pies. Inquire about where to go berry picking at the tourist information office.
An outdoor activity you can enjoy in Sept-Îles
In the winter, go cross-country skiing along the shores of the St. Lawrence, and in the summer try surfing. I hear that we have excellent surfing conditions—it's certainly true that we have great waves!
A unique souvenir
Shells collected on one of our many white-sand beaches and the smiles of the local residents!
An experience not to be missed
The Innu Nikamu festival. It's a unique event in Canada and attracts tourists from all over the world. It's Florent Vollant's festival [of Kashtin fame]. During the festival, you can enjoy live music as well as visit the Innu community of Mani-Utenam and discover Aboriginal arts and crafts.
A local product worth savouring
Cloudberry jam and fresh seafood, of course! They're available at gift shops in the regional tourism association network, at the Côte-Nord regional museum and in some grocery stores.
One of the region's natural treasures
The Sept Îles Archipelago and its seabird sanctuary. The archipelago can be visited by Zodiac, and it's a fascinating environment to observe, especially if you're a bird lover. You can see razorbills, common murres and many other species!
When you are next in Côte-Nord, be sure to visit Sept-Îles to take advantage of Anne Michelle's recommendations. You can also consult our "Sept-Îles Getaway Ideas" page for more suggestions.
If you liked this article, you might also like...