The

Québec maritime Blog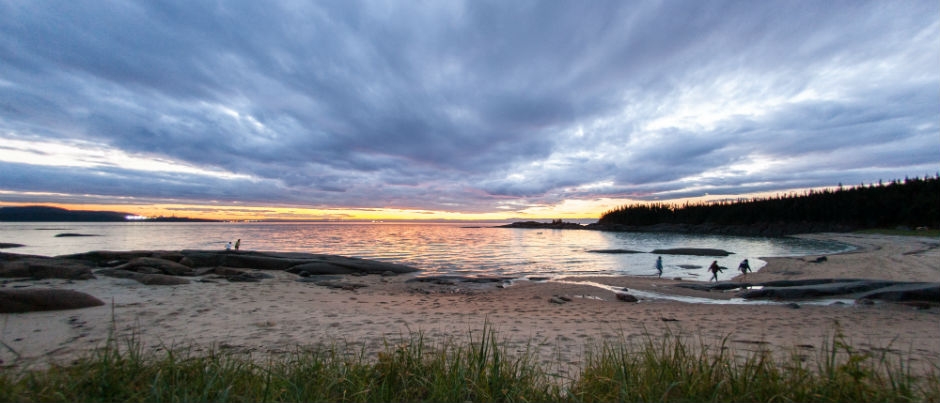 Sept-Îles is a destination you won't want to miss!
Optik 360 / Tourisme Côte-Nord
What to See and Do on Vacation in Sept-Îles
Sept-Îles, which is the regional capital of Côte-Nord, is surrounded by dense boreal forest as far as the eye can see, sprinkled with lakes, rivers and wetlands that are pink with rhododendrons in the spring. Tucked around a bay and protected by an archipelago full of seabirds, the city looks towards the sea from the Promenade du Vieux-Quai, a boardwalk along the water that is a popular destination among residents and visitors alike.
Wildlife Observation
So many seabirds…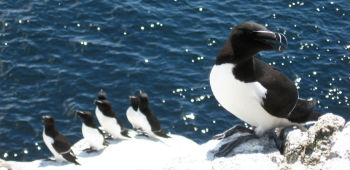 Razorbills© Raphaël Lavoie
A profusion of double-crested cormorants, black guillemots and common murres are found in this area, as is an impressive colony of razorbills, which look elegant in their black and white plumage. Although relatively quiet birds, razorbills fly with active wingbeats and propel themselves underwater by beating their wings rapidly as they fish for sand lance, capelin and herring. About 1% of the world population of these birds nests on Corossol Island in the Sept Îles Archipelago; you can observe them as they dive during a boat excursion that will take you around this bird sanctuary.
National Parks and Natural Sites
A day at the beach…
In some ways, the opening of the Lac des Rapides outdoor recreation centre was a story of citizens reclaiming a magnificent beach that is only a stone's throw away from downtown Sept-Îles. The centre provides canoes, kayaks, pedal boats, stand-up paddle (SUP) boards and certified lifeguards—everything you need to spend a fun day with your family in the water, on the beach or hiking the trails to admire the immense lake from the hills that surround it.
Seven islands…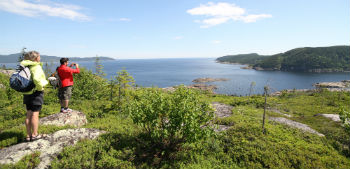 Grande Basque Island© Éric Marchand
Grande Basque, Petite Basque, Petite Boule, Grosse Boule, Manowin and Corossol islands as well as the De Quen islets make up the Sept Îles Archipelago (which literally means "Archipelago of the Seven Islands") where flocks of seabirds have been nesting since the beginning of time. In actual fact, this rocky formation is some 565 million years old. Later, whales appeared in the waters surrounding these islands and then birds began nesting in the cliffsides. Humans were also drawn to this area teeming with life: Aboriginal peoples hunted and fished in this area, the Basque hunted whales for their blubber, and Jacques Cartier was amazed by the natural wonders he found on this "new" continent. Now it's your turn to fall under the spell of this archipelago! To discover this area, go hiking, set off on a boat or sea kayaking excursion, observe birds and marine mammals, and more!
Culture and Discoveries
Fur trading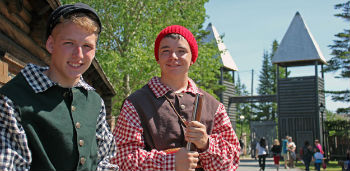 At the Old Trading Post© Sylvain Allard/Tourisme Sept-Îles
Since Côte-Nord is such a game-rich region, it's not surprising that the fur trade flourished here. The Old Trading Post is a reconstructed site that presents daily life in the 19th century. The trading post and an Innu camp evoke the meeting of the Innu and European cultures. Theme exhibits and a guided walking trail are also available on site.
Fish and seafood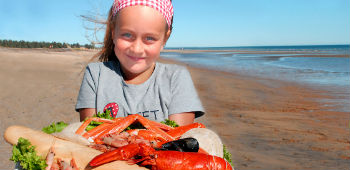 Delicious fish and seafood!© Tourisme Sept-Îles
April is the time for snow crab and shrimp; May, for lobster; and from May to October, it's turbot and halibut season! And that's not all: you can also savour scallops, whelk, cod and more. Cooked simply so you can really taste their flavours, these seafood delicacies are available in many restaurants, including Chez Omer, a lively restaurant/bar, and the Casse-Croûte du Pêcheur, which is located on the boardwalk, facing the bay.
To get to Sept-Îles, take Route 138, a stretch of which is known as the Chemin du Roy, or King's Road. Sept-Îles is 900 km (560 mi.) from Montréal or 640 km (400 mi.) from Québec City. This trip is an opportunity to drive along the St. Lawrence River and Estuary, breathe in the sea air and soak up this immense territory. You can also get to Sept-Îles by taking the ferry from Rimouski on the south shore of the St. Lawrence (and then driving northeast from Forestville). In addition, Sept-Îles can be your departure point for a cruise on the St. Lawrence all the way to the eastern end of the Lower North Shore.
Whether you love the outdoors or the sea, are a seafood enthusiast or want to find out more about the history of the New World, Sept-Îles is a destination you won't want to miss!
If you liked this article, you might also like...