The

Québec maritime Blog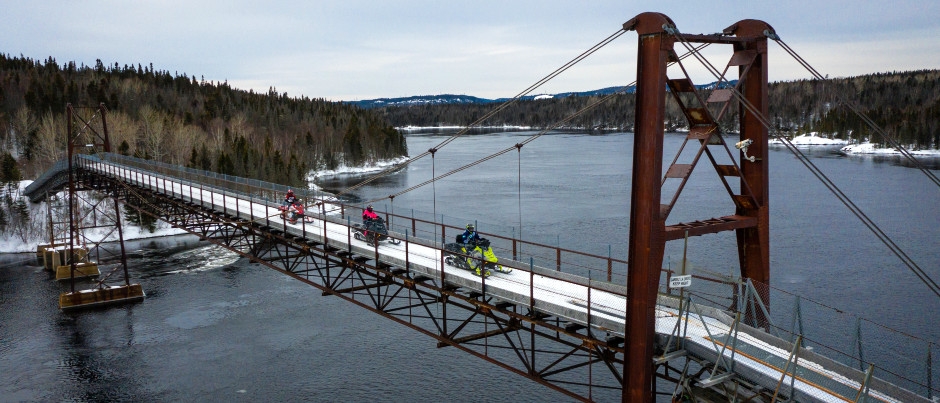 The bridge is located on Trans-Québec trail #3 (TQ3)
JB Film Production/Tourisme Côte-Nord
What to See by Snowmobile in Eastern Québec: The Manicouagan Bridge
Known for its vast and spectacular landscapes, Côte-Nord is a feast for the eyes for anyone who rides their snowmobile through this region. So it's not that surprising that the region is home to the highest snowmobile bridge in the world! Find out more about the bridge over the Manicouagan River, which is such a thrill to ride across.
Some info
The bridge is an impressive 27.4 metres (90 feet) high and 213 metres long (700 feet), which gives it the added distinction of being the longest snowmobile bridge in North America! This structure also happens to cross one of the region's most famous rivers, the Manicouagan, which flows south from the Manicouagan Reservoir into the St. Lawrence. This mighty waterway is harnessed for hydroelectric power, supplying both the Manic-2 and Manic-5 hydroelectric facilities.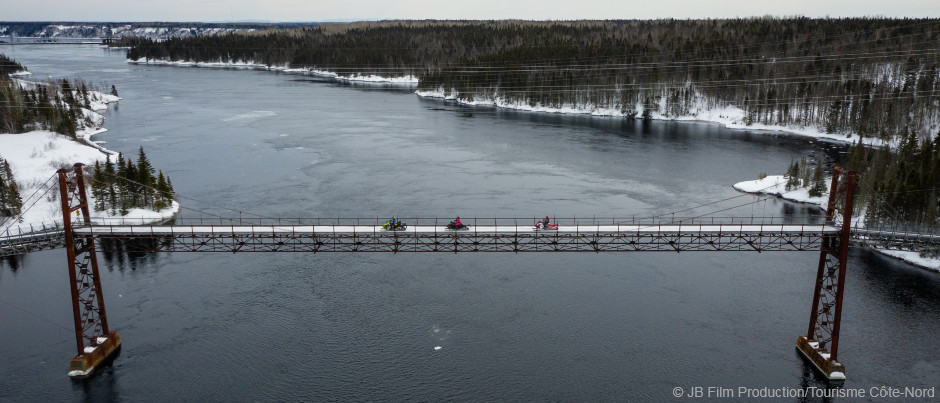 Logging was a major economic driver in this region and even led to the founding of several towns, including Baie-Comeau. At the time, the Manicouagan River was used for log driving. A log flume was built in 1937 to supply the area's pulp and paper mill. Part of this structure was modified to become the Manicouagan bridge, which is now used by snowmobiles and ATVs, and explains why the bridge is so high.
How to get there
The bridge is located on Trans-Québec trail #3 (TQ3), about halfway between Chute-aux-Outardes and Baie-Comeau. Several snowmobile-friendly services are available nearby.
For more information, download the map of snowmobile trails in Côte-Nord (PDF).
In addition to the magnificent view you'll enjoy and the thrill of crossing the Manicouagan River, you now know that this bridge represents an important piece of local history! And don't forget that there are several other snowmobile bridges worth discovering in Côte-Nord!
If you liked this article, you might also like...