The

Québec maritime Blog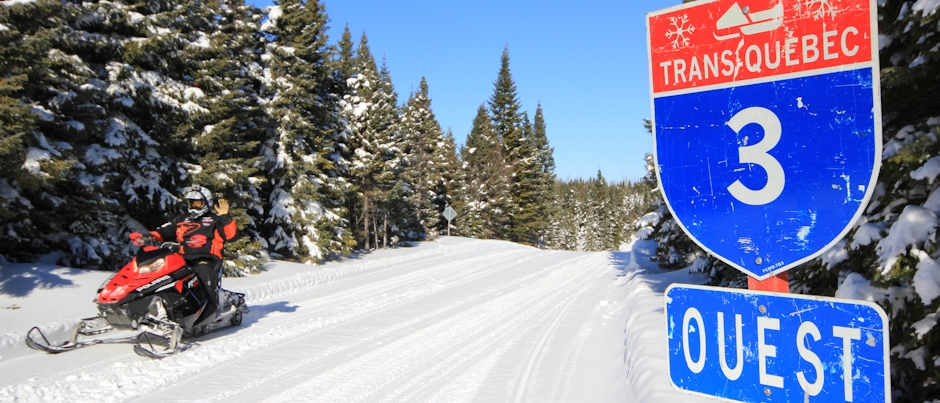 The TQ3 in Côte-Nord
Éric Marchand
Côte-Nord: 6 Things to Do and See by Snowmobile
Snowmobiling in Côte-Nord will give you the opportunity to admire seascapes and forests for over 1600 kilometres (1000 miles) and marvel at the beauty of the surrounding scenery. From Tadoussac to Blanc-Sablon, an unforgettable trip awaits you!
To help you plan a snowmobile trip in Côte-Nord, I asked seasoned riders to give me tips about their favourite spots. This is what they had to recommend:
1. Snowmobiling by boat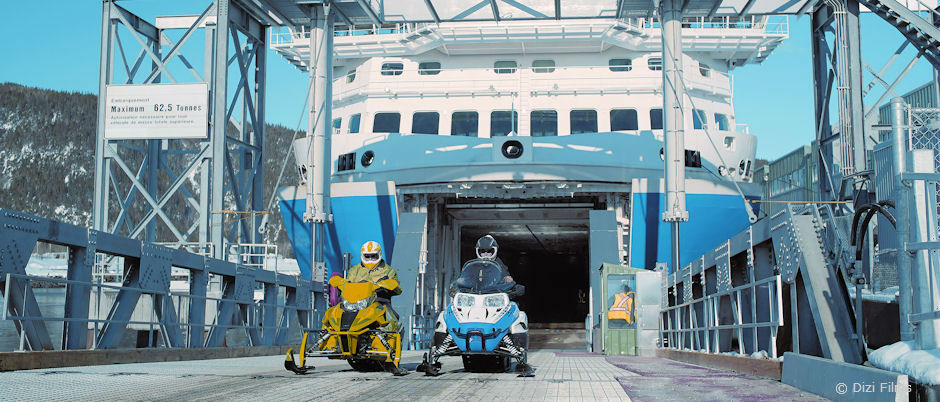 Each year, hundreds of snowmobilers take a ferry to travel between Baie-Comeau or Godbout (Côte-Nord) and Matane (Gaspésie). From what I've been told, boarding the boat by snowmobile and crossing the St. Lawrence River dotted with ice is an experience not to be missed! This is also the ideal option for those who wish to experience both the Bas-Saint-Laurent – Gaspésie Snowmobile Tour and the Northern Trail in one trip. If you are interested, consult the route of the St. Lawrence Tour, which combines sections of these two self-guided tours.
You are strongly advised to book your crossing in advance as the ferry is often full and you don't want to miss the boat!
2. The longest snowmobile bridge in North America!
It's impossible to talk about a snowmobile trip in Côte-Nord without mentioning the bridge that crosses the Manicouagan River near Baie-Comeau. Its reputation extends beyond borders, and even people who have not yet visited the region have heard of it. About 700 feet long and over 90 feet above the river, the structure is very impressive—you'll want to take a picture to show all your friends!
3. Betsiamites: another well appreciated bridge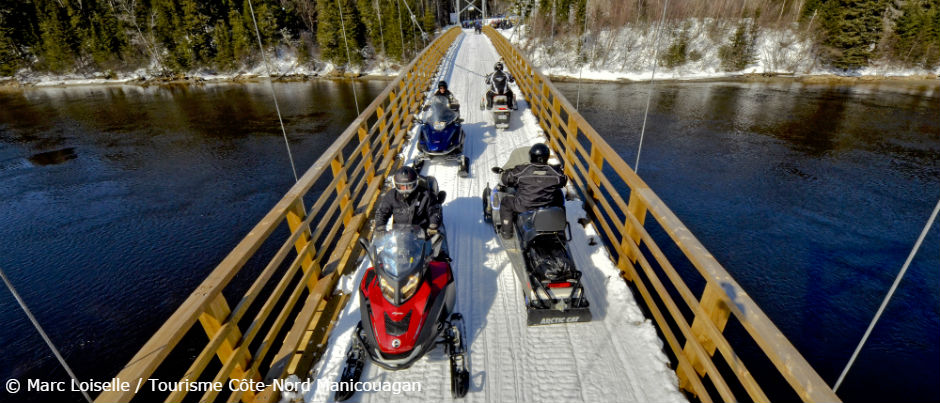 Many snowmobilers have spoken to me enthusiastically about the Betsiamites Bridge. Located between Colombier and Papinachois, it was inaugurated at the end of the 2011 season. Up until then, the only way to cross the river by snowmobile was by shuttle via Route 138. The new bridge has been very well received by snowmobilers and greatly simplifies travel!
4. Very wide trails between Rivière-Pentecôte and Sept-Îles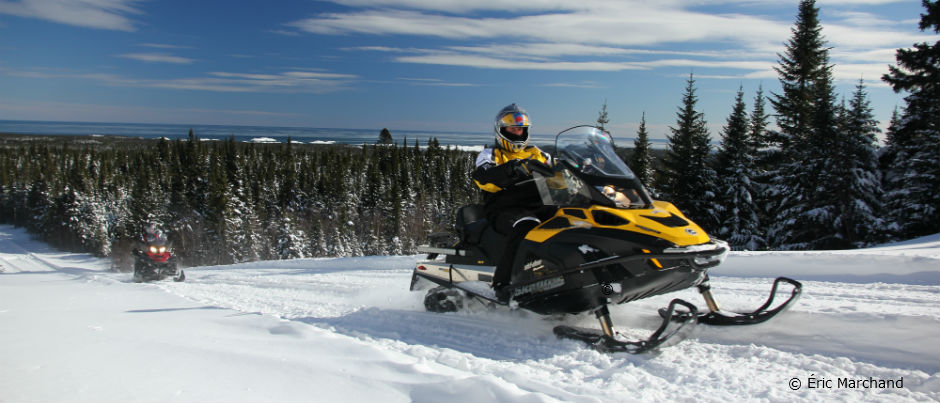 Snowmobilers enjoy the stretch of Trans-Quebec trail #3 between Rivière-Pentecôte and Sept-Îles because it offers several sections that are especially straight and wide, sometimes reaching up to 26 feet in width!
5. Eager for adventure? Try off-trail riding!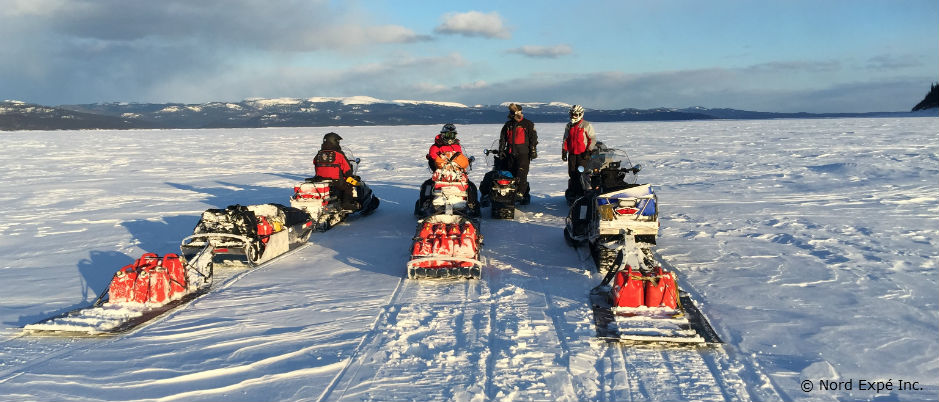 Experienced snowmobilers looking for a unique adventure will be interested in off-trail expeditions in the Far North. The immense and wild territory of Côte-Nord is an ideal destination for such trips. Riders must, however, be accompanied by an experienced expedition guide because it can be risky to venture into such territory. Expedition suppliers are well organized and know the area and its possible dangers. They will also manage all lodging, food and, in some cases, equipment details. Their guides are also trained in first aid and wilderness survival.
One area worth exploring is the Caniapiscau sector, which includes the mining towns of Fermont and Schefferville and offers excellent snow conditions until mid-April. This journey will take you through a boreal forest crisscrossed by rushing rivers where you may spot caribou and ptarmigan (which resemble partridges). Who knows? You may even get a chance to admire the aurora borealis, a dazzling natural light show!
Expeditions generally depart from Baie-Comeau or Port-Cartier and follow the Caribou Trail to Fermont. It is not recommended to ride this trail without a guide, as it is neither marked nor surfaced and conditions can be dangerous.
If you are interested in this kind of trip, I invite you to contact Nord Expe, which offers expeditions in the area.
6. Discovering the Lower North Shore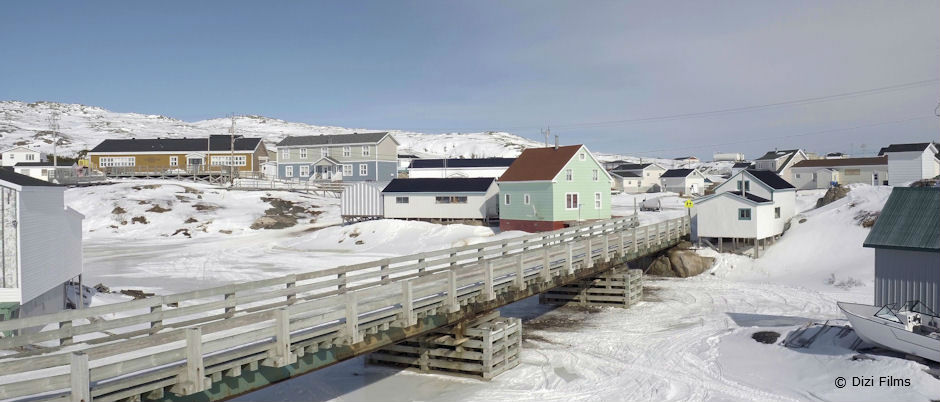 Winter is the perfect time to explore the Lower North Shore as the snowmobile trail maintained by Transports Québec is the only land route in this region. (During the rest of the year, the only way to travel between Kegaska and Blanc Sablon is by boat or plane.) Along this marked trail, you will discover charming English, French and Aboriginal villages. This area is recommended for experienced and self-sufficient snowmobilers only; guided expeditions are also available, with Voyages CoSte for example.
I strongly recommend that you consult the Côte-Nord trail maps online or order the print versions. It will be much easier for you to pinpoint the spots mentioned here and plan your trip! Want to know more? Visit the Snowmobiling page on our website.
Thank you to Robin Lévesque of Club de motoneigistes Odanak inc. and Pierre Challier of Nord Expe for their great recommandations!
If you liked this article, you might also like...