The

Québec maritime Blog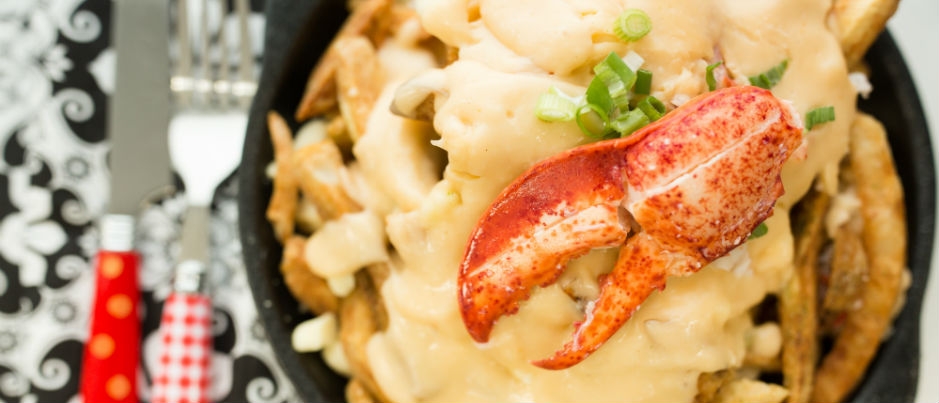 LA Cantine, Îles de la Madeleine
Meggy Turbide
12 Roadside Snack Bars to Try in Eastern Québec
Great Road-Trip Stops in the Maritime Regions of Québec!
The maritime regions of Québec are dotted with roadside snack bars (or canteens, as they are often called in this province). Each establishment has its own particular history, and each offers a unique menu, often featuring local specialties such as poutine and seafood dishes. Here are 12 that make great road-trip stops!
Bas-Saint-Laurent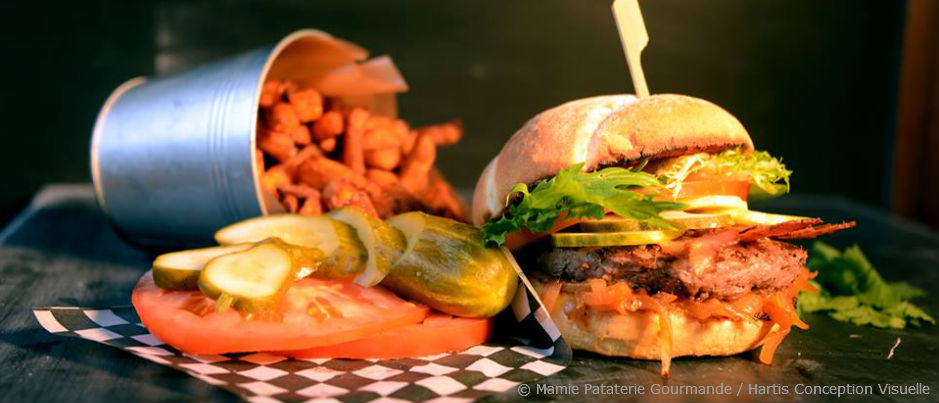 If you happen to be travelling through the charming village of Kamouraska, be sure to stop at Grand'Ourse! This snack bar offers a first-class menu that will appeal to both vegetarians and carnivores. Try the sturgeon or bison burger or a poutine with shredded duck. Yum!
Casse-Croûte La Licorne, in Rivière-du-Loup, is the perfect spot to savour a traditional poutine. Their speciality, though, is the La Licorne burger: a double cheeseburger with a generous portion of their secret orange sauce poured over it! It's so good you'll want to lick your fingers—though it's definitely easier to eat with a knife and fork!
Further east on Route 132, Casse-Croûte LILO, on the outskirts of Saint-Fabien, is renowned for its delicious fried clams. You can eat on site or take your food to go, but why not drive a little further to Fabien-sur-Mer or Parc national du Bic and savour your meal along the water!
Gaspésie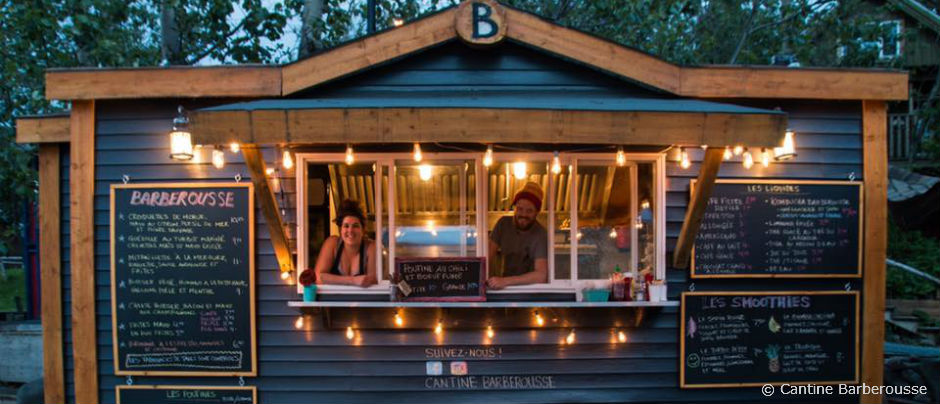 Cantine Barberousse, which is on the site of the Sea Shack in Sainte-Anne-des-Monts, is a snack bar that focuses on the flavours of Gaspésie. The menu features several different types of fish from the region. To see some of the colourful dishes they offer, take a look at their Instagram photos!
Step back in time at Casse-Croûte Chez Cathy, in Rivière-au-Renard, where you can enjoy a retro experience: the food is delivered to your car, 50s drive-in style! Not only is the service very friendly, but the poutine (with homemade sauce) and lobster sandwiches are excellent!
In the Chaleur Bay area, be sure to stop in at Mam'zelle Maria, where you can enjoy a delicious pizza, lobster guédille (roll) or poutine. There's also a dairy bar on site, so you can finish off your meal with a vanilla soft-serve ice cream dipped in dark chocolate or maple white chocolate!
Côte-Nord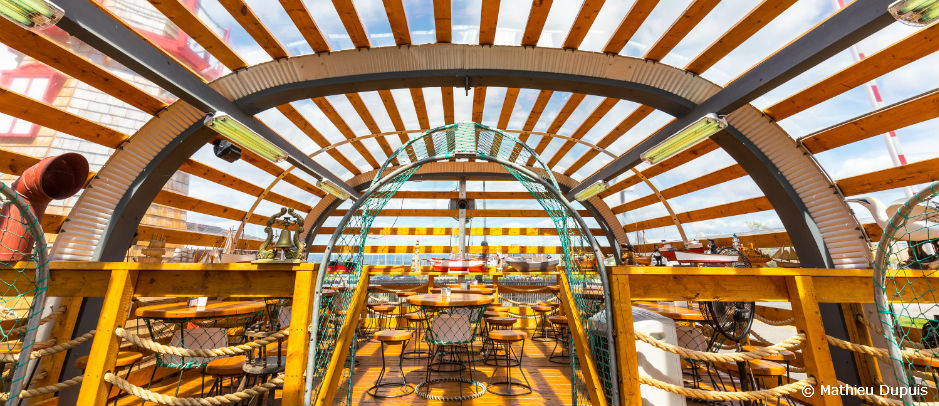 Set up in an old bread delivery truck on Route 138 in Tadoussac, Casse-Croûte Le Connaisseur is well worth a visit. The varied menu features some of the best crispy fries in the province! A dairy bar is located right next door, if you have any room left for dessert!
For an unusual experience, head to Casse-Croûte du Pêcheur, in Sept-Îles, where you can eat inside a giant lobster trap overlooking Sept-Îles Bay! As you might imagine, the menu features mainly fish and seafood dishes, including seafood chowder, shrimp rolls, crab club sandwiches and more.
In Longue-Pointe-de-Mingan, Cantine Chez Nat will serve you with a smile! This snack bar/food truck's specialty is crab, a regional delicacy. Don't miss the Chez Marina dairy bar next door, where you can enjoy frozen desserts made with local berries (including cloudberries, blueberries, raspberries and strawberries).
Îles de la Madeleine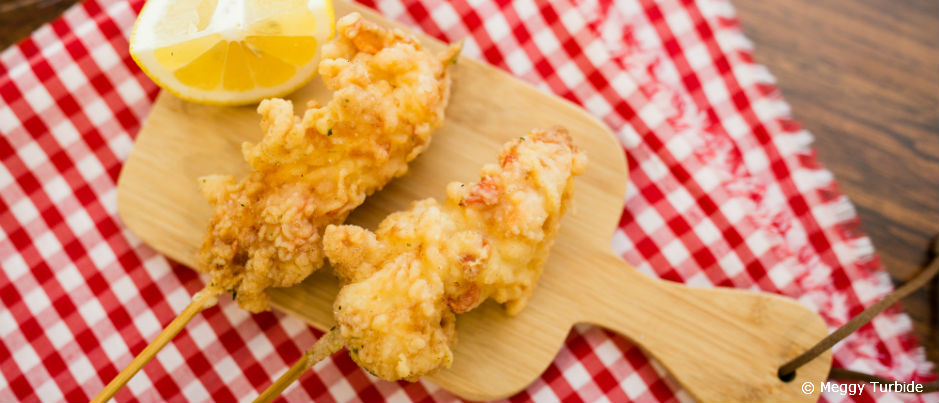 LA renaissance, located in L'Étang-du-Nord, is a fish company with several different components. Discover LA Cantine, a snack bar that claims to serve the best lobster poutine in the world! Their many seafood dishes (including the famous lobster tail in the tempura) are perfect to eat on the beach. Before you leave, stop in the LA Pêcherie fish shop to purchase fresh seafood and local products.
Still in L'Étang-du-Nord, you won't want to miss Au P'tit Capitaine, a snack bar with a retro feel that offers favourites from bigger brother Bistro du Capitaine as well as fast-food classics. Enjoy their seafood dishes or famous smoked meat sandwiches!
In Fatima, within walking distance of the beach, the Au Coin du Sanglier boar farm has a snack bar that features their own boar meat. Try it in a burger, on a pizza or in a hot dog! You can also buy fresh meat at the meat counter.

For more suggestions, consult the tourist guides for our regions or inquire in local tourism information bureaus. The locals will also be happy to recommend their favourite spots to you!
There are so many other roadside snack bars that could be added to this list! What are some of your favourites in our regions?
If you liked this article, you might also like...