The

Québec maritime Blog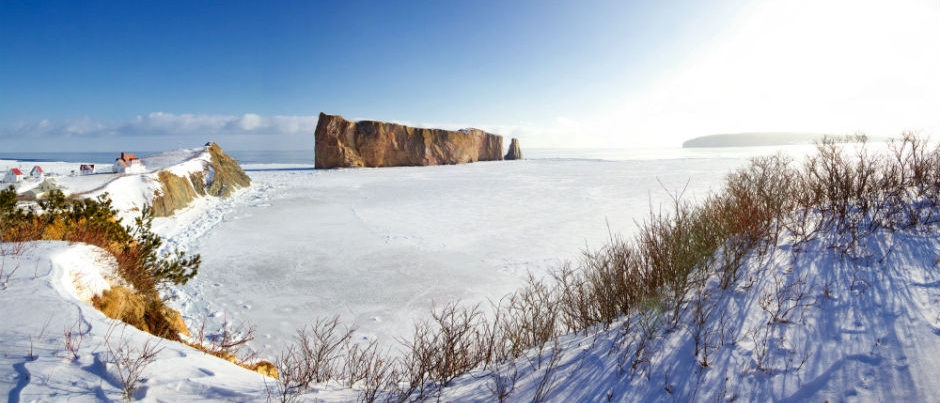 Percé Rock trapped in ice
Studio du Ruisseau
3 Good Reasons to Visit Gaspésie in the Winter
Winter transforms the landscapes of Gaspésie, much to the delight of outdoor lovers. The St. Lawrence freezes solid in places, the mountains are covered in snow, and Percé Rock is trapped in ice. But don't worry, the colder temperatures have no impact on the warm welcome you can expect to receive in this region! Are you thinking of visiting Gaspésie during your next winter vacation? Here are three good reasons to do so!
1. To hike in the Chic-Chocs… or zip down them!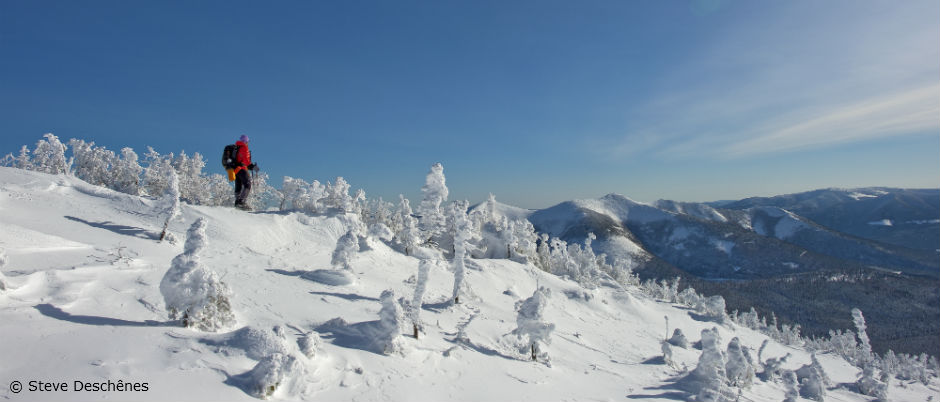 The Chic-Choc Mountains, which are dominated by 25 summits over 1000 metres (3300 feet) high, are a popular destination among winter sports enthusiasts. Parc national de la Gaspésie offers you the opportunity to enjoy many winter activities, including backcountry skiing (short excursions or overnight stays), cross-country skiing, Hok skiing, alpine touring and snowboarding. In the evening, enjoy a good meal and well-deserved rest in the comfort of the Gîte du Mont-Albert hotel. Another option is a stay at the Auberge de montagne des Chic-Chocs, a unique mountain lodge perched at 615 metres (2020 feet) in altitude in the Matane Wildlife Reserve. Inside, the Lodge offers 18 rooms as well as common areas where you can relax and interact with other guests. Outside, you have access to a 60-km2 (23-sq.-mi.) natural playground where you can enjoy snowshoeing, Hok skiing, alpine touring and splitboarding. Keep your eyes peeled—there are 33 moose per 10 km2 (6-sq.-mi.) in this area!
2. To explore the region by snowmobile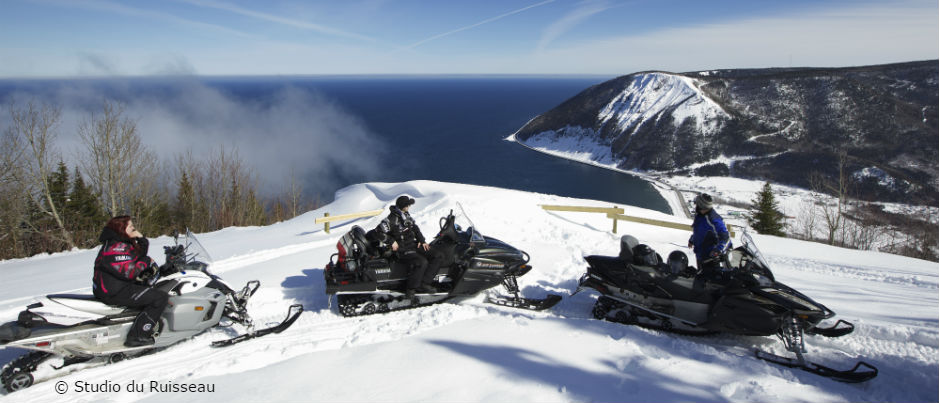 With over 3000 km (1900 mi.) of snowmobile trails, Gaspésie is a true paradise for snowmobilers. Lots of snow, excellent trail conditions and the many loop ride options are only some of the reasons this region is such a popular snowmobile destination. Imagine riding along the sea, alongside the mountains of Gaspésie and through the Matapédia Valley, admiring stunning panoramic views of the St. Lawrence, Percé Rock and Chaleur Bay, and then boarding the ferry to Côte-Nord with your snowmobile… Doesn't this sound like a great way to spend your winter vacation? Order your trail map now so you can start planning your snowmobile expedition in Gaspésie!
3. To cross the peninsula in six days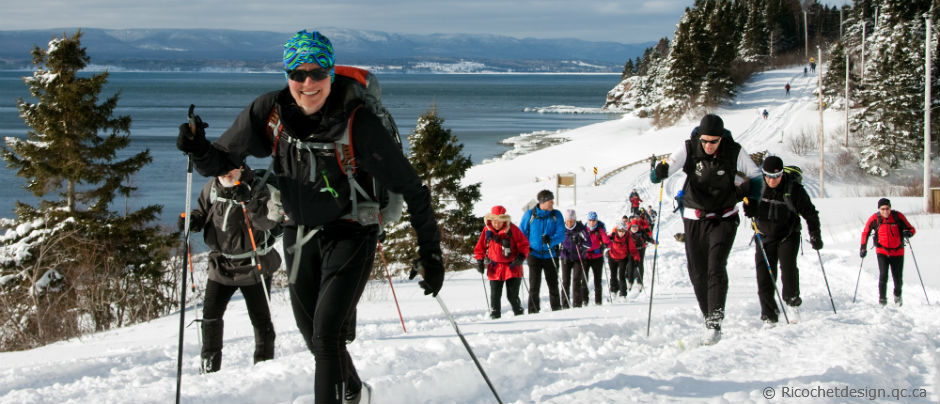 Are you a cross-country skiing or snowshoeing enthusiast? The TDLG on Skis (which also includes snowshoeing) is for you! Every winter, this all-inclusive sports vacation brings together cross-country skiers and snowshoers of all levels from all over the world to travel from Matane to Gaspé in a festive atmosphere. Are you up for 200 km (120 mi.) of cross-country skiing or 90 km (55 mi.) of snowshoeing in six days? This adventure is also a fun opportunity to meet interesting people! Register for the next edition and in the meantime, read about Anne Pélouas's experience of this event.
So, are you looking forward to spending your next winter vacation in Gaspésie? Start planning your stay today!
If you liked this article, you might also like...