The

Québec maritime Blog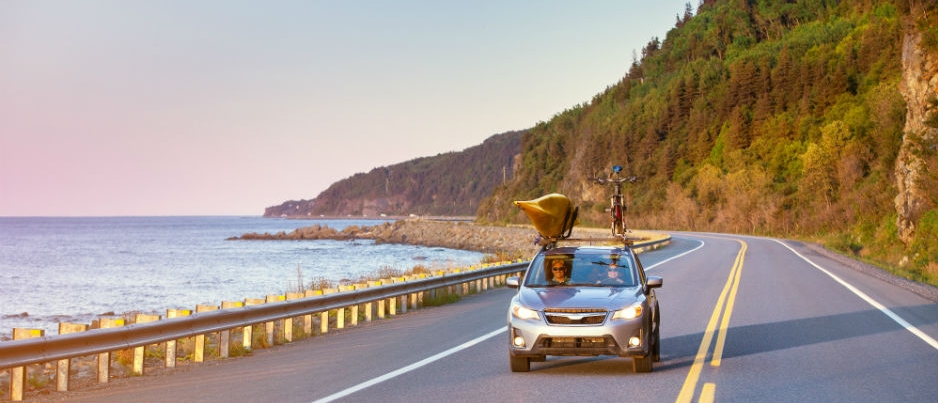 Haute-Gaspésie area
Roger St-Laurent/Tourisme Gaspésie
5 Good Reasons to Visit Haute-Gaspésie
Located on the north side of the Gaspé Peninsula, the Haute-Gaspésie area is a popular destination for nature lovers. Bordered by the sea on one side and the highest peaks of Québec on the other, the area's 130 km (80 mi.) of shoreline are dotted with charming coastal villages offering warm hospitality. Here are five good reasons to visit Haute-Gaspésie.
1. Drive between sea and mountains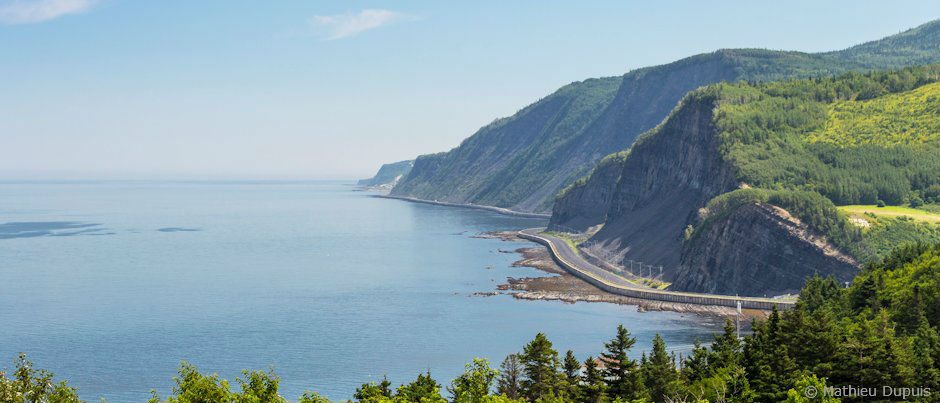 Driving along Route 132, in Haute-Gaspésie, is an experience you'll never forget! It's easy to see why this road trip is so popular: in several spots, the road is flanked by the St. Lawrence on one side and the mountains on the other, which makes for spectacular views! To really soak up the scenery, stop in the many roadside rest areas along the way.
2. Admire the La Martre Lighthouse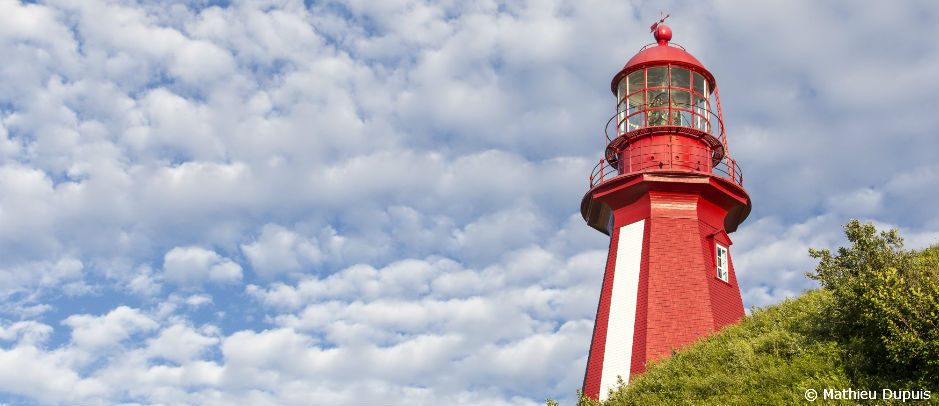 Located a stone's throw from Route 132, the La Martre Lighthouse is hard to miss! Its octagonal wooden structure and bright red colour will inspire you to stop and take photos. Don't miss the guided tour to learn all about the history of this sentinel of the sea as well as how the light rotates using the original timing system. You'll also be fascinated by the permanent exhibition in an adjacent building, which chronicles the development and evolution of lighthouse lanterns from 1700 to today.
3. Discover unusual marine species from the St. Lawrence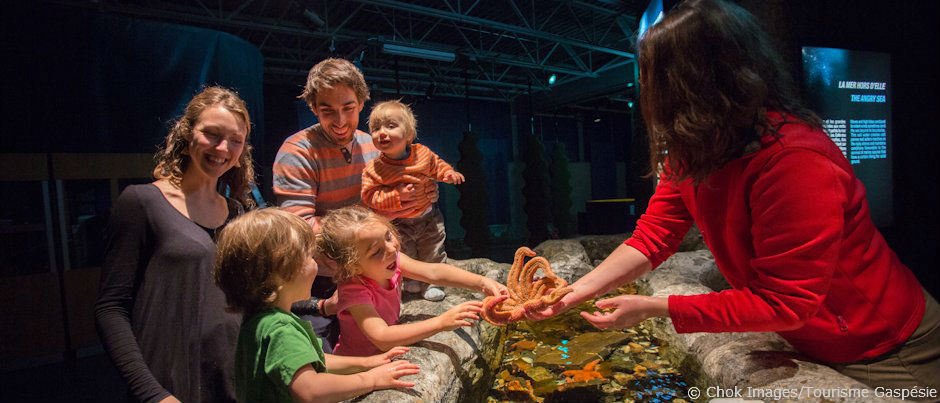 The St. Lawrence Estuary is home to many animal and plant species that are relatively unknown. In Sainte-Anne-des-Monts, visit Exploramer, where you can learn more about life in the St. Lawrence. Handle rock crabs, starfish and sea urchins in the touch pools and learn many of the secrets of Québec's underwater world from the centre's exhibitions or during sea activities. Did you know that many of these marine species are edible? Try them during the "Dare to Taste" activity, which features products certified by Smarter Seafood, a program that promotes sustainable development and the protection of biodiversity. This tasty activity is good for the environment!
4. Explore the Chic-Choc Mountains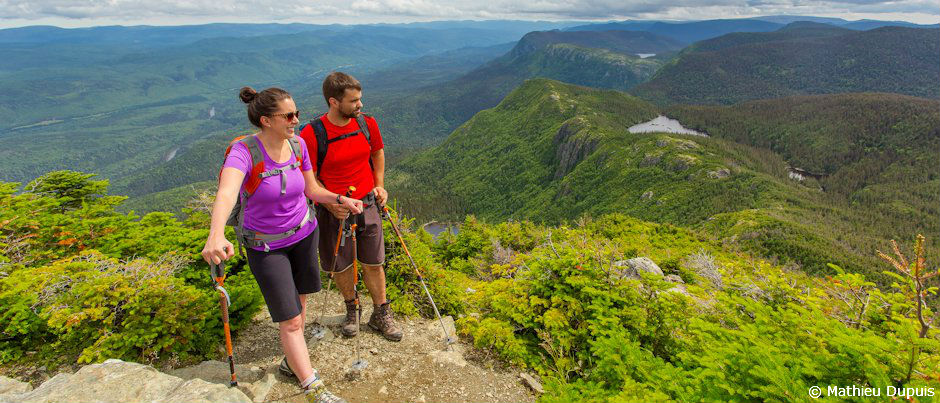 The name Chic-Choc comes from the word sigsôg in the Mi'gmaq language, which means "impenetrable barrier." The Chic-Choc mountain range, which includes 25 peaks over 1000 metres (3300 feet) high, is 95 km (60 mi.) long and 10 km (6 mi.) wide, making it an ideal setting for outdoor adventure! These mountains are a favourite destination for hikers, who can enjoy hundreds of kilometres of trails in Parc national de la Gaspésie. There are many peaks to explore: Mt. Jacques-Cartier (the highest!), Mt. Albert, Mt. Logan, Mt. Xalibu and Mt. Richardson are only a few of your options! After a long day of hiking, enjoy a good night's rest in a tent, glamping unit, cabin or the renowned Gîte du Mont-Albert hotel. If you'd prefer an all-inclusive package that combines outdoor activities and 4-star accommodations, opt for a stay at the Auberge de montagne des Chic-Chocs, a mountain lodge perched 615 metres (2020 feet) above sea level. If you're interested in trekking for several days, you can take on the International Appalachian Trail, which crosses part of the Chic-Chocs. (Several packages are available.) Are you ready to hit the trails?
5. Observe wildlife in its natural habitat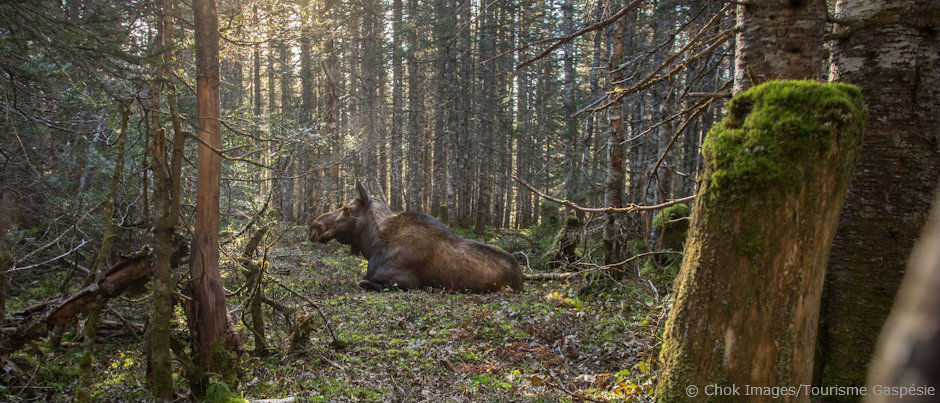 During a hike in the Chic-Chocs, you're very likely to encounter local wildlife. In addition to small mammals and various species of birds, wouldn't you like to see a black bear or moose? The Réserve faunique de Matane offers interpretive activities during which you can observe these two species in complete safety. And if you climb to the top of Mt. Jacques-Cartier in Parc national de la Gaspésie, you may encounter caribou from the only herd south of the St. Lawrence! Whatever species you encounter, make sure you remain calm and stay on the trail. This way you can ensure your own safety and avoid damaging the environment while enjoying a moment of harmony with nature.
So, what do you think? Which of these attractions will you visit in Haute-Gaspésie during your road trip along the Bas-Saint-Laurent – Gaspésie Tour?
If you liked this article, you might also like...