The

Québec maritime Blog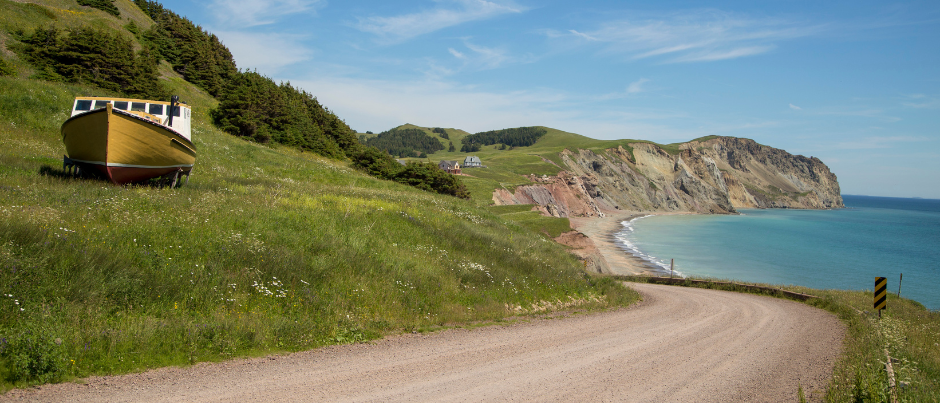 Îles de la Madeleine
Paddle Tales
3 Road Trips to Discover the Regions of Eastern Québec
Looking for ideas for your next vacation? Discover three road trip itineraries in Eastern Québec: the Bas-Saint-Laurent – Gaspésie Tour, the Whale Route (in Côte-Nord) and a tour of the Îles de la Madeleine. Be inspired by our videos and make these dream road trips happen!
The Bas-Saint-Laurent – Gaspésie Tour is a 10-day scenic drive that covers 1270 km (790 mi.). This very popular road trip begins and ends in the Kamouraska area, in Bas-Saint-Laurent, and will take you on a loop drive around the Gaspé Peninsula on Route 132. Along the way, you can visit seven national parks (where you can admire local plants and wildlife), see several lighthouses (including the tallest in Canada), discover the history and vast cultural mosaic of these two regions, and contemplate legendary Percé Rock at the tip of the peninsula. As you drive, you'll quickly realize that one of the main features of this trip is that you'll spend most of it with the St. Lawrence on one side and the mountains on the other, which makes for stunning scenery!
The Whale Route is a 13-day trip in Côte-Nord that covers 1730 km (1075 mi.) and includes four days by boat. This itinerary is aptly named since you'll have many opportunities to observe up to 13 species of whales along the way, both at sea and from the shore. This journey begins in Tadoussac, one of the best places in the world to observe marine mammals, and follows Route 138 all the way to Kegaska. From there, you can hop on the Bella Desgagnés, a supply ship that will take you from village to village all the way to Blanc-Sablon. During your trip, you can soak up all the beauty of the Côte-Nord region: wide-open spaces, the majestic boreal forest, long beaches (where you can go for strolls) as well as unusual landscapes such as the Saguenay Fjord and the Mingan Archipelago. In addition to whale watching, you can enjoy many other activities during this trip, including visiting national parks, sea kayaking, boat or Zodiac excursions, discovering Innu culture and more! Since this is a round-trip itinerary, you'll have the opportunity to try out different activities as you retrace your steps back to the starting point of this journey.
This tour around the Îles de la Madeleine takes seven days and is a little different from the previous road trips. Since the main road that crosses the archipelago is only 85 km (55 mi.) long, it makes more sense to select a home base in the region and then explore the archipelago from island to island. During your stay, you can enjoy the warm hospitality of the Islanders, take part in a multitude of sea activities, savour local flavours, and discover local history and culture by visiting places such as the La Grave heritage site. Want to stay in an exotic destination in the province of Québec? The Îles de la Madeleine offer you a complete change of pace as well as exceptional scenery!
If you're looking for more inspiration for your next vacation, take a look at all our road trip ideas. You're bound to find something that appeals to you. Happy travels!
If you liked this article, you might also like...