The

Québec maritime Blog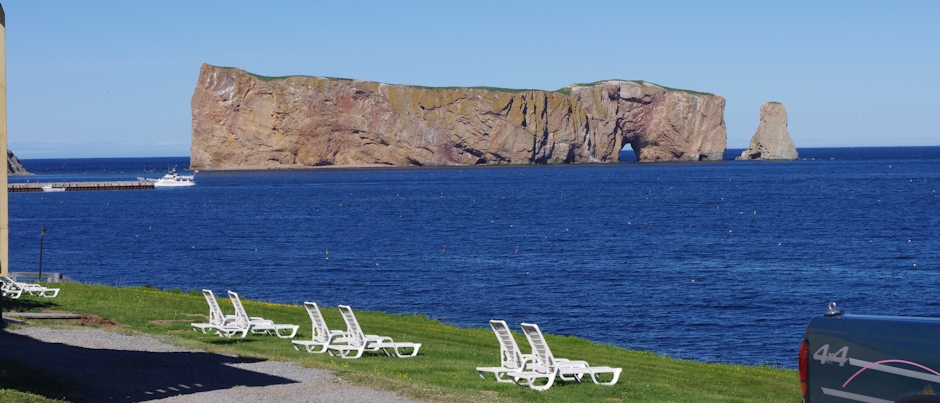 Percé Rock
Le Québec maritime
48 Hours… in Percé
Percé is a fascinating town. "It's a place that was once inhabited by the gods," as Jean-Louis Lebreux, director of the Musée Le Chafaud, likes to say. Its main attraction is of course famous Percé Rock, a landmark that's 400 million years old, a "pierced rock" with only one arch left since the other one collapsed on June 17, 1845. Cathedral, ghost ship, sculpture… These terms barely do justice to the majesty of this monument. Although this giant has feet of clay (tonnes of sedimentary rock collapse every year due to erosion), your first sight of this huge rock formation will take your breath away.
Other than this 5-star attraction, there are many other things to see in the Percé region, which is actually a dozen villages spread along 60 kilometres (40 miles) of coastline. Discover culinary, cultural, historic and natural attractions, including Mt. Sainte-Anne, which dominates the picturesque village of Percé and its imposing sandstone church (with no steeple!), not to mention Bonaventure Island, home to thousands of northern gannets and a must-see for adventurers in search of fresh air. You can easily spend several days exploring this region surrounded by breathtaking countryside and a few steps from the sea.
Day 1 (AM): Percé art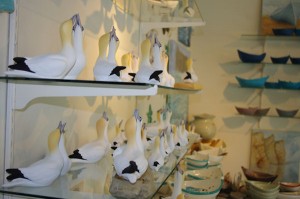 Each of Marie-Josée Tommi's ceramic gannets is painted by hand
© Le Québec maritime
There's no better way to discover a place than through the eyes of its artists. And in this respect, Percé has lots to offer. The artistic vocation of this region is well established—Percé has been inspiring local and visiting painters, writers and musicians for decades. For example, André Breton, who wrote the Surrealist Manifesto, visited Percé in summer 1944.
The Artist and Artisan Studio Tour is a great way to discover the colours of Percé. Visit fifteen studios and art galleries spread out along Route 132, from the Malbaie Barachois to L'Anse-à-Beaufils, home of La Vieille Usine. A cultural centre devoted to promoting the arts, this former fish-processing plant is located in a bucolic setting with fishing boats anchored nearby.
Day 1 (PM): Percé history
History buffs are also in for a treat. One of the symbols of Gaspésie's past is the Magasin Général Historique Authentique 1928, a former general store in L'Anse-à-Beaufils, where storytellers dressed in period costume welcome visitors. One of them, Rémi Cloutier, who is also the manager of this authentic building, will happily share the history of what was a centre for bartering (consumer goods were acquired in exchange for fish) in the early 20th century. Owned at the time by Robin, Jones and Whitman, originally from Jersey, the store now overflows with treasures of all kinds, as well as anecdotes and stories!
Percé's historical walking tour, which includes period photos and unexpected stories, is another way to immerse yourself in local history as you explore the town. From May to November, three different segments of the tour lasting 45 to 120 minutes are available: they will plunge you into the fascinating history of this area. You can either purchase the audio guide version or download a free condensed PDF version.
Day 2 (all day): Bonaventure Island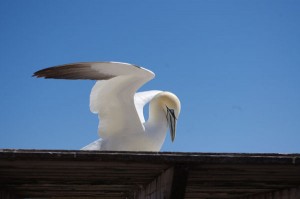 Northern gannet perched on a shelter near the observation site
© Le Québec maritime
A long long time ago, Mt. Joli (which is on the mainland and is known for its charming white houses with red roofs), Parc national de l'Île-Bonaventure-et-du-Rocher-Percé were connected. Today, the only way to get to the island is by boat. Two companies, Croisières Julien Cloutier and Les Bateliers de Percé, will take you to explore it after a sea excursion around Percé Rock and the island. Guides are on hand to introduce you to the many features of these two jewels of nature.
Managed by the SÉPAQ, Parc national de l'Île-Bonaventure-et-du-Rocher-Percé offers activities and services focused on local history, geology, flora, fauna and ornithology.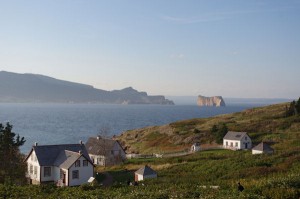 Historical buildings on Bonaventure Island © Le Québec maritime
Four hiking trails suitable for all levels (about 15 km / 9 mi.total) lead to the most accessible northern gannet colony in the world (and the largest in North America)—depending on the year, between 90,000 and 120,000 of these astonishing birds nest on the island.
The island's architectural heritage, which is protected by a conservation program, is also worth exploring. A historic trail, along Chemin du Roy, reminds visitors that nearly 200 people (35 families) lived on this island when the population was at its peak in 1831.

Stay a while…
There's no question that all this activity will build an appetite. Gourmets, particularly seafood lovers, will want to visit the La Maison du Pêcheur, one of Québec's many fine seafood restaurants. This is great opportunity to enjoy a culinary adventure in a maritime decor.
Prolong your stay in picture-perfect Percé by spending the night in one of its many hotels, motels or inns such as Riôtel Percé, Le Mirage, Le Panorama or Auberge Les Trois Soeurs. You can also camp at Camping de la Baie-de-Percé. All offer stunning views of Percé Rock. The scenery surrounding Auberge et Golf Fort-Prével is just as beautiful. This resort in Saint-Georges-de-Malbaie, in the Percé region, has much to offer, including a golf course overlooking the sea.
For more information:
Percé Tourism Welcome Bureau
142, route 132 Percé, (Québec) G0C 2L0
Telephone: 418-782-5448 or 1-855-782-5448
www.perce.info/en
If you liked this article, you might also like...