The

Québec maritime Blog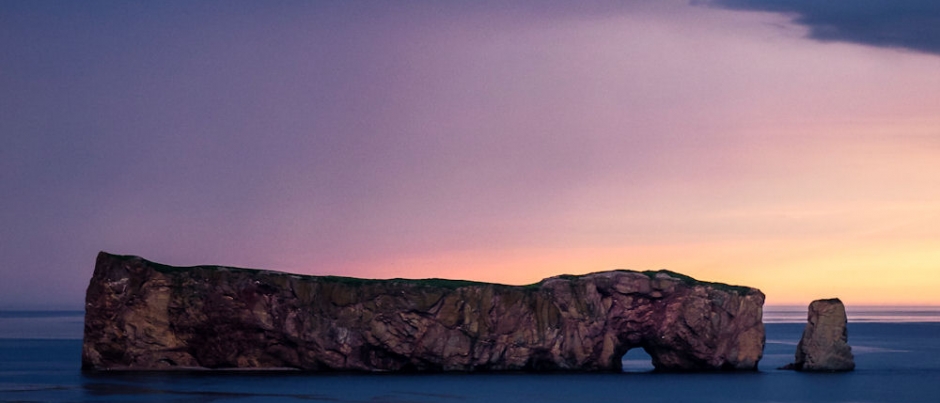 Percé Rock
Laurent Silvani/Ville de Percé
7 Good Reasons to Visit Percé
A very popular vacation destination for over a century, highly valued by artists and boasting a rich and fascinating history, Percé enjoys an excellent reputation. Here are seven good reasons to visit the area and marvel at the beautiful scenery.
1. Admire Percé Rock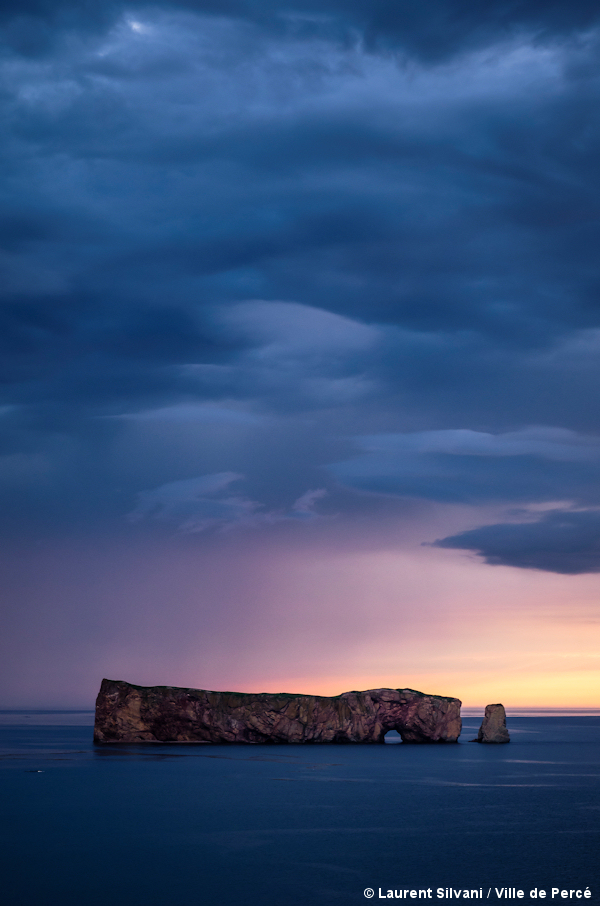 A landmark for early explorers and sailors, a long-time inspiration for many artists and an iconic symbol of the whole Gaspésie region, Percé Rock has amazed people for centuries. From the sea, the town of Percé, the top of Mt. Sainte-Anne or Bonaventure Island, take the time to observe this colossus anchored in the sea, admire its shape and details and let yourself be carried away, if only for a few minutes, by the fabulous images it brings to mind.
2. Photograph the world's most accessible northern gannet colony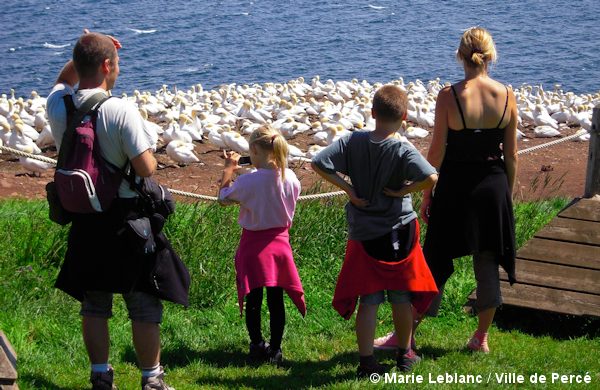 Where can you find the world's most accessible and North America's largest northern gannet colony? On Bonaventure Island, off Percé. Visit the island to encounter these amazing birds or go on a cruise to observe them in flight and nesting in the island's high cliffs. Whether you are on land or at sea, don't forget to take your camera with you and take advantage of being so close to them to take amazing pictures.
3. Shop for unique souvenirs in craft stores and art galleries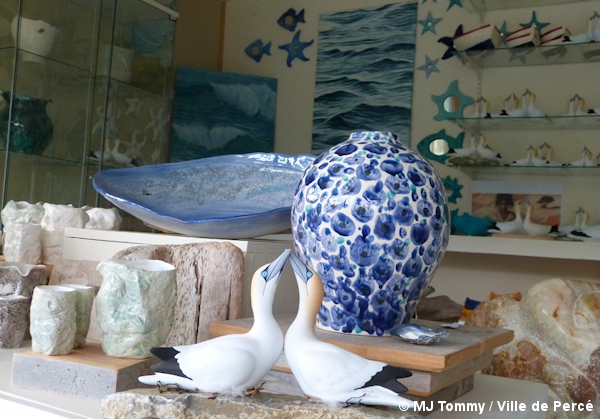 Percé has a very lively community of painters, sculptors, jewellers and other artisans. This is why you'll find so many art galleries along Route 132, which runs through the town, including those of well-known artists such as Mylène Henry, Wazo and Marie-Josée Tommi. Take the time to stop in a few of them to appreciate the work of local artists and bring home a collector's piece that will forever remind you of your visit to Percé.
4. Enjoy a whale-watching cruise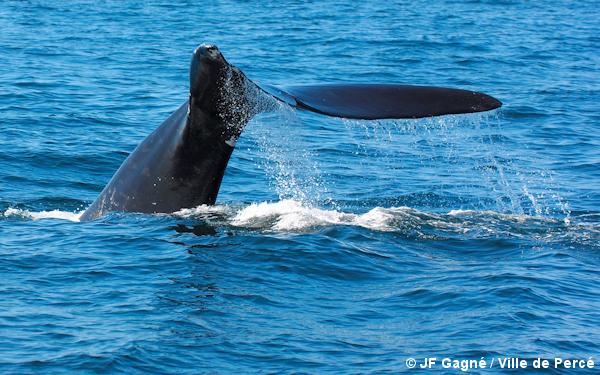 Fin whales, minke whales, humpbacks, blue whales, common porpoises, white-sided dolphins as well seals live in the waters off Percé. Embark on a cruise with Croisières Julien Cloutier to discover these impressive marine mammals, see them up close and learn more about their habitat, migratory patterns and behaviours through the explanations provided by interpretive guides.
5. Savour a seafood meal while admiring a view of Percé Bay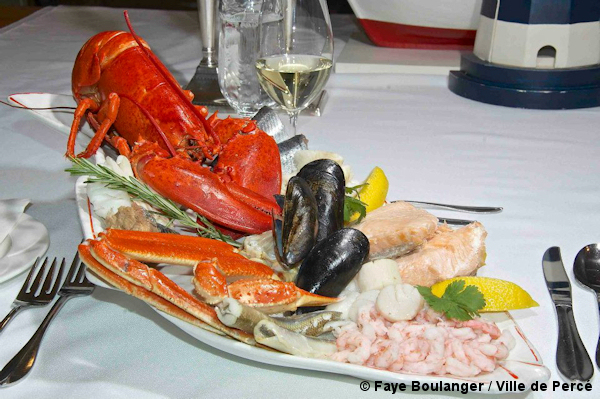 Fishing remains an important activity in the Percé area. The La Maison du Pêcheur restaurant, located steps away from the wharf, offers exceptional food featuring seafood and other local products as well as spectacular views of Percé Bay. Enjoy front-row seats to colourful sunsets over the sea while savouring an exquisite meal.
6. Dip your feet in the water and try out water sports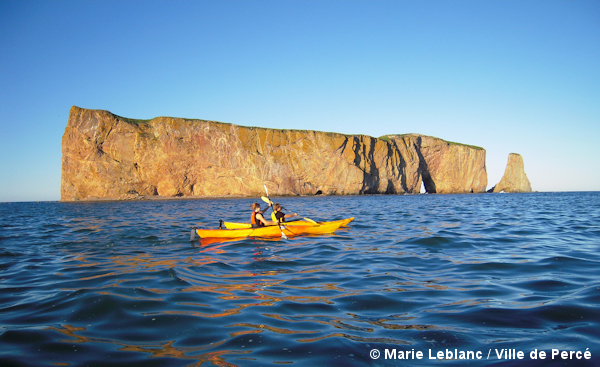 Get inspired by the sea! The Percé yacht club (Club nautique de Percé) offers sea kayaking along the Percé shoreline in collaboration with Avolo Plein Air. Watch seabirds and marine mammals up close and admire stunning Percé Rock from another angle during a guided excursion. If you catch the kayaking bug, you can also take advantage of your stay to get certified training. And if you are curious about life underwater, you should know that Percé Bay is one of Québec's most beautiful diving sites. The yacht club offers courses and excursions for divers of all levels.
7. Climb mountains to see the town from another angle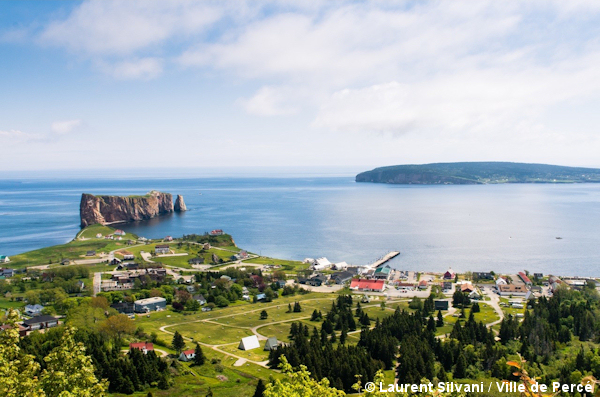 Although the Percé area is mostly sea-oriented, you'll find a great network of hiking trails in the surrounding mountains. The Percé UNESCO Global Geopark gives you access to a network of 18 km (11 mi.) of trails as well as 26 geosites and several lookouts, including a glass platform suspended 200 metres (660 feet) above the ground. Put on your hiking shoes and head out to admire the many lookouts over the town and sea. Go all the way to the crevasse, a 60-metre (200-foot) deep crack in the rock located near the top of Mt. Blanc. From there, look north: on a clear day, you'll see the mountains of Forillon on the horizon.
If you liked this article, you might also like...