The

Québec maritime Blog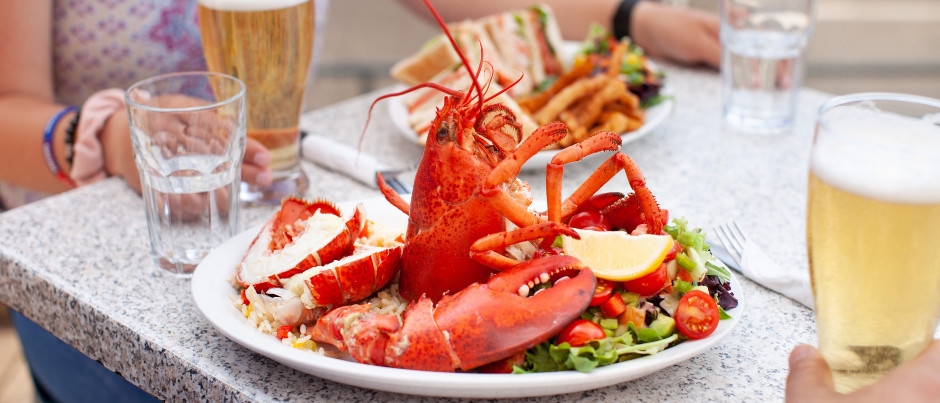 La Maison du Pêcheur, Percé, Gaspésie
Roger St-Laurent/Tourisme Gaspésie
Savour the Unique Flavours of Gaspésie
Between sea breezes and wild forests, remote mountains and lively fishing harbours, cultivated fields and colourful villages, Gaspésie is home to a wide variety of landscapes that provide a wide range of locally grown and locally produced food. Bordered by the St. Lawrence to the north and Chaleur Bay to the south, the Gaspé Peninsula is a territory to be explored by taking the time to appreciate the many foodie delights and attractions on offer.
The sea: A feast for the eyes and palate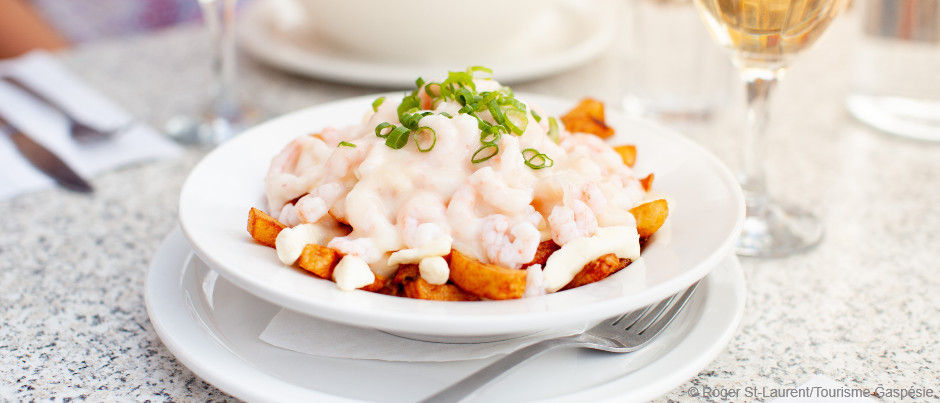 In Gaspésie, you can soak up the beauty of the region's maritime scenery all day long, as well as savour the flavours of the sea in myriad ways. Lobster, crab and northern shrimp are delicious in guédilles (rolls), which are available in snack bars throughout the region. Smoked fish is a great addition to a picnic and can also be served as an appetizer or used to garnish pasta, pizza or other dishes. Many different types of fish, seafood and algae are also found on the menus of local restaurants, where you can savour memorable flavours while admiring views of the sea.
During your visit to the Gaspé Peninsula, look for the Smarter Seafood logo (a blue fork), which is displayed in many of the region's fish markets and restaurants. It designates establishments that offer at least two marine species found on the list of species to be promoted during the current year. This list is an eco-guide to edible marine species that are present in sufficient quantities in the St. Lawrence, are relatively unknown to consumers and are fished using techniques that don't disturb the seabed. Smarter Seafood is an initiative of Exploramer, a science museum in Sainte-Anne-des-Monts that is worth visiting! While you're there, be sure to participate in a sea excursion to learn more about fishing and in the "Dare to Taste!" activity.
Berries
In the Chaleur Bay area, Ferme Bourdages Tradition is a farm specializing in strawberries, which you can pick in season. Whatever time of year you visit, you'll be able to purchase a range of delicious strawberry products, including classics such as pies and jams, as well as the farm's homemade strawberry wines and liqueurs. The farm also makes a delicious rhubarb wine! In the Matapédia Valley, La Vallée de la Framboise (which is also a raspberry economuseum) also offers pick-your-own, as well as farm tours and a fine selection of raspberry wines and liqueurs.
Edible flowers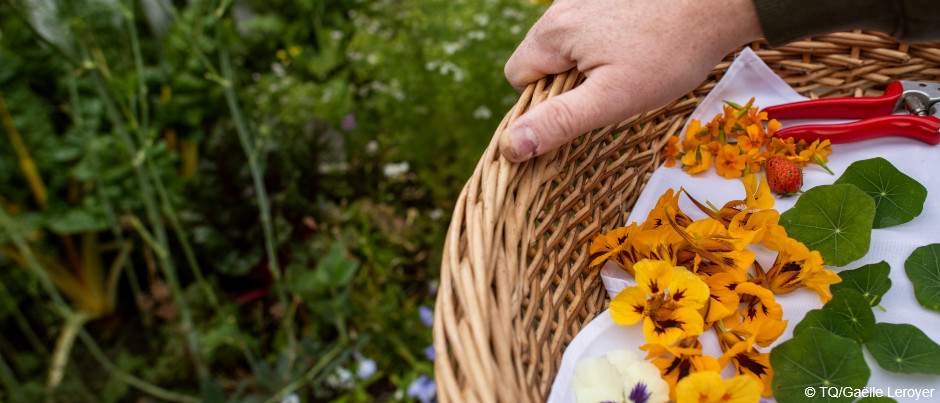 At the gateway to Gaspésie, be sure to visit the Reford Gardens, a must-see attraction. Stroll through the enchanting gardens, stop to greet the small herd of "lambmowers," admire the impressive variety of edible flowers and then savour some of them in one of the gardens' restaurants—this is a lovely way to spend a day in the great outdoors! While in Métis-sur-Mer, you'll also want to visit the Atelier Culinaire Pierre-Olivier Ferry, the latest gourmet project of former long-time Reford Gardens chef Pierre-Olivier Ferry, who now offers gelato made with local flavours and much more.
Forest flavours
In addition to maple sugar bushes, the forests of Gaspésie abound in edible species such as wild mushrooms. Boletes, porcini mushrooms, chanterelles, armillaria, milk-caps and more… there are so many flavours, colours and scents to discover! Gaspésie Sauvage / Wild Gaspé, in Douglastown, offers a wide range of mushrooms and other woodland flavours.
Thirsty?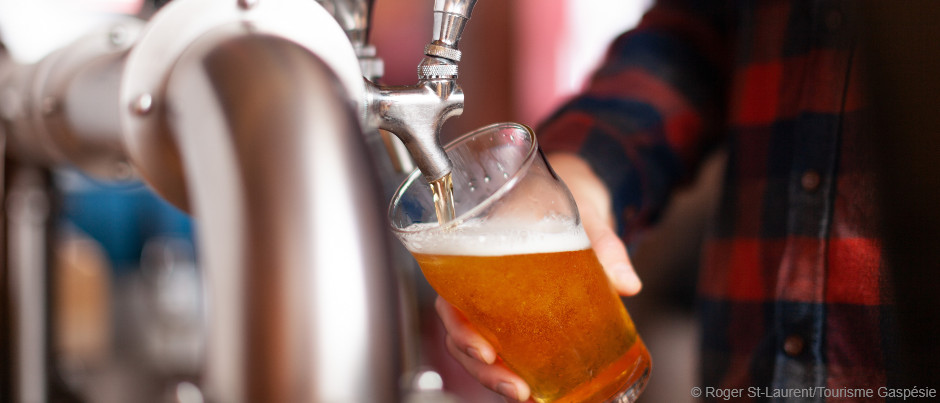 In addition to the strawberry, rhubarb and raspberry wines mentioned above, Gaspésie offers many other delicious locally made alcoholic beverages. The O'Dwyer micro-distillery produces La Radoune, a gin made with four local wild mushrooms. Take a look at the Beer Route for an itinerary that will take you from one microbrewery to another as you tour the peninsula. You'll be surprised by how many there are to visit! If you're looking for something non-alcoholic, the Brûlerie du Quai, an artisan coffee roaster in Carleton-sur-Mer, is a popular stop for coffee and chocolate lovers.
Markets, festivals and restaurants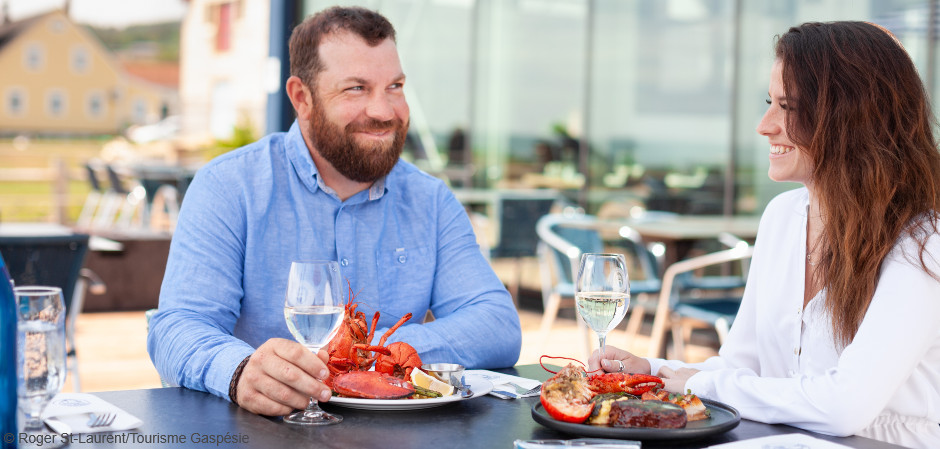 During your visit to Gaspésie, you'll want to stop in the region's public markets, enjoy the various lively festivals that take place throughout the year, and savour local specialties in restaurants that will leave you with tasty and unforgettable memories! Treat yourself to a delicious meal in the restaurant in the Gîte du Mont-Albert hotel or at La Maison du Pêcheur, La Broue dans l'Toupet, Cargo, Paqbo and many others! Visit the Gaspésie Gourmande website (in French only) for more information.
If you liked this article, you might also like...