The

Québec maritime Blog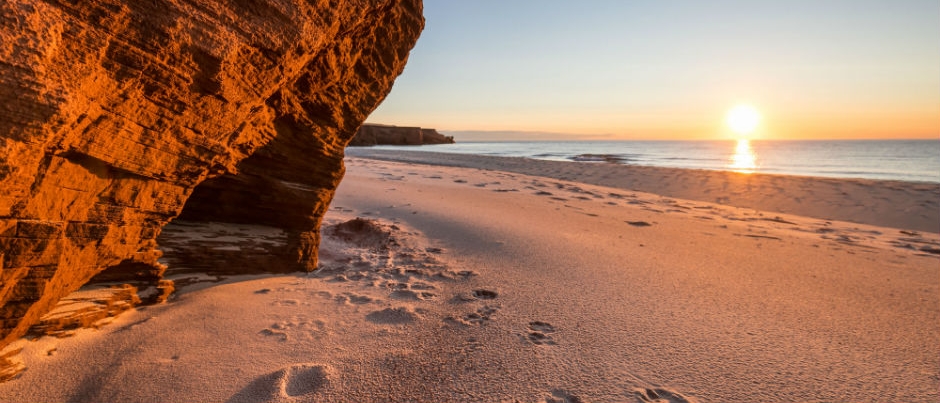 Pointe-aux-Loups Beach, Îles de la Madeleine
Mathieu Dupuis
20 Beaches to Visit in Eastern Québec
Beaches are synonymous with summer vacation! Eastern Quebec is home to many superb seaside spots where you can bask in the sun, have fun or simply relax. Here are 20 beaches for you to discover, depending on your itinerary and what you're looking for.
Bas-Saint-Laurent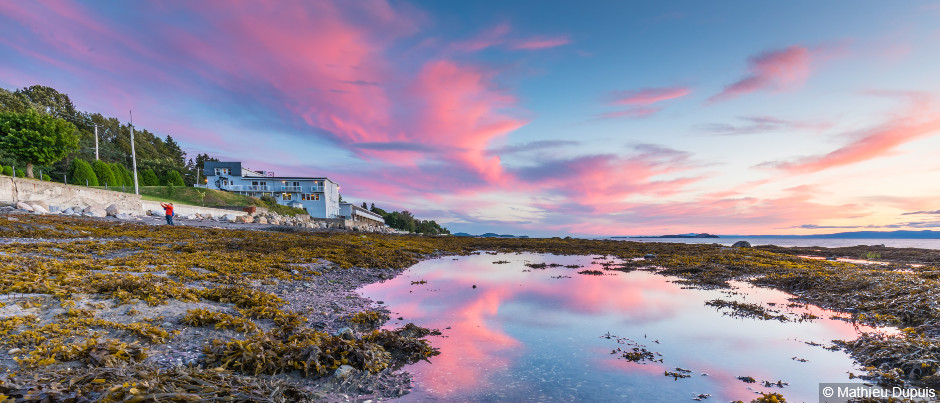 The Bas-Saint-Laurent region borders the St. Lawrence Estuary and is home to many beautiful pebble beaches as well as a few sandy ones. Be sure to stop at the beach in Notre-Dame-du-Portage, located at the municipal wharf, to swim and enjoy the sea air. If you're there at the end of the day, you could be in for a spectacular sunset!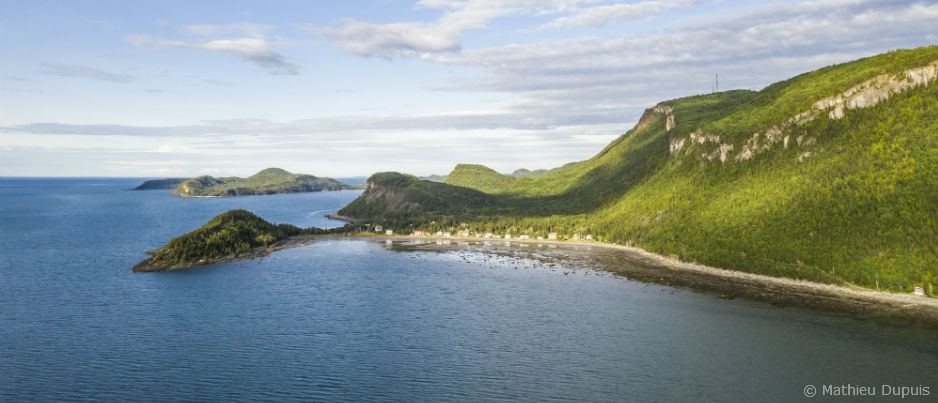 A few kilometres before reaching downtown Rimouski, you'll see the mountains and islands of Parc national du Bic. This coastal park protects several coves and bays that are worth exploring, including Baie du Ha! Ha! and Anse à l'Orignal (Moose Cove), where you may spot harbour seals basking in the sun.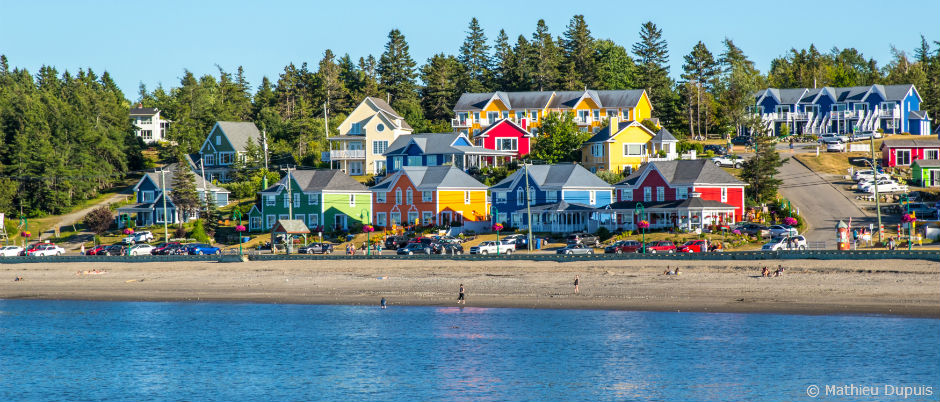 Anse-aux-Coques Beach in Sainte-Luce is a tourist favourite. There's no shortage of fun things to do here: stroll along the boardwalk, browse the small shops and enjoy various events, including a sandcastle contest and a sculpture symposium. The colourful houses in the area as well as the sea kayaks and kiteboards on the water add to the liveliness of the landscape!
Gaspésie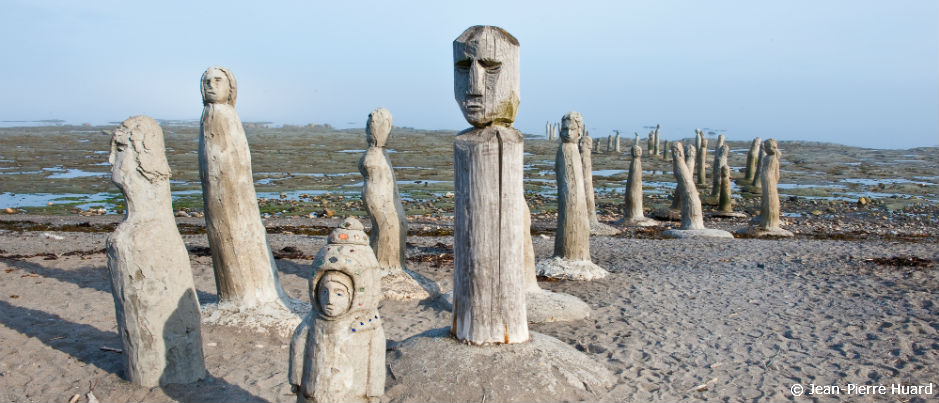 Located at the gateway to the Gaspé Peninsula, the beach in Sainte-Flavie is a great place to enjoy the sun! You can access it via the Place Clément-Chouinard boardwalk, which will also take you to the municipal wharf, where you can chat with fishermen and sometimes even attend musical performances. A little further east, the Centre d'Art Marcel Gagnon presents a unique large-scale art project, Le Grand Rassemblement (The Grand Gathering): a collection of about 120 figures made of concrete and wood that emerge from the St. Lawrence. A must-see!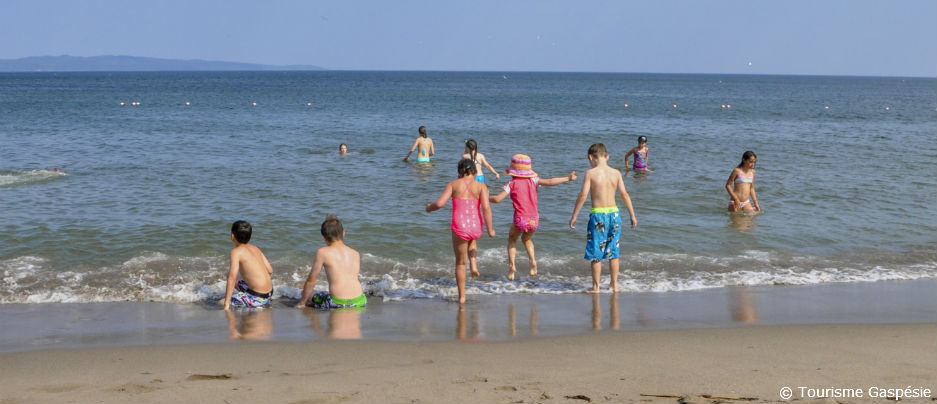 The tip of the peninsula also offers beautiful seaside areas, including Haldimand Beach in Gaspé, which looks out over Cap-aux-Os and Forillon National Park. Whether you want to go for a stroll, swim, relax or birdwatch, you'll enjoy the time you spend on this long and wide sandy beach.
Known for its turquoise waters that stand out against the blue of the sea, Coin-du-Banc Beach, in Percé, is a peaceful site. With the sound of the waves in the background, you can admire impressive red and grey cliffs and have fun beachcombing for treasures such as sand dollars and agates.
It's impossible to talk about beaches in the maritime regions of Québec without mentioning Chaleur Bay, which has been recognized as one of the most beautiful bays in the world! Several beaches along the bay are worth visiting, including Paspébiac Beach, which features a boardwalk that runs along the sandy and pebbly shore. You may also spot fishermen at work here. In Carleton-sur-Mer, the municipal beach bustles with activity, which isn't surprising since there's a sailing school on site where you can also rent sea kayaks and paddle boards. About 20 km (12 mi.) further west, the beach at Miguasha exudes a mythical atmosphere steeped in history thanks to the nearby cliffs in Parc national de Miguasha, which contain fossils from the Devonian Period. While you're there, be sure to also visit the park!
Côte-Nord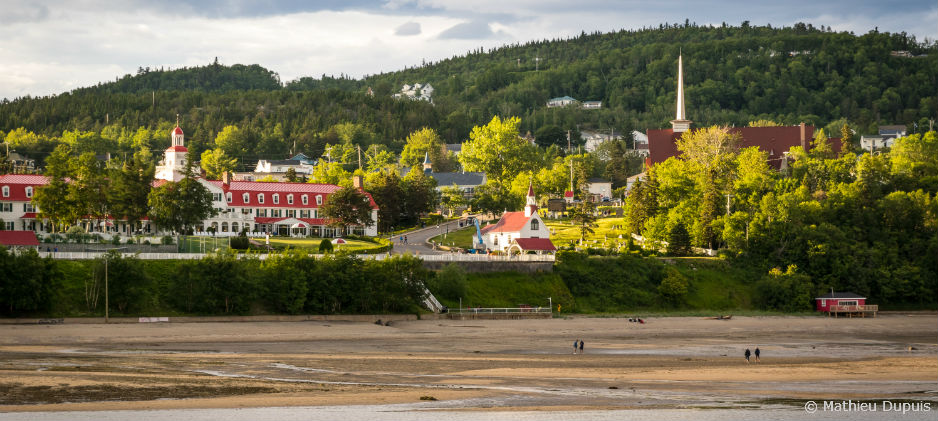 With sailboats bobbing on majestic Tadoussac Bay (another member of the select Most Beautiful Bays in the World Club) and a lovely boardwalk leading to friendly shops, the beach in Tadoussac is picture perfect. Take the time to pause and admire the view!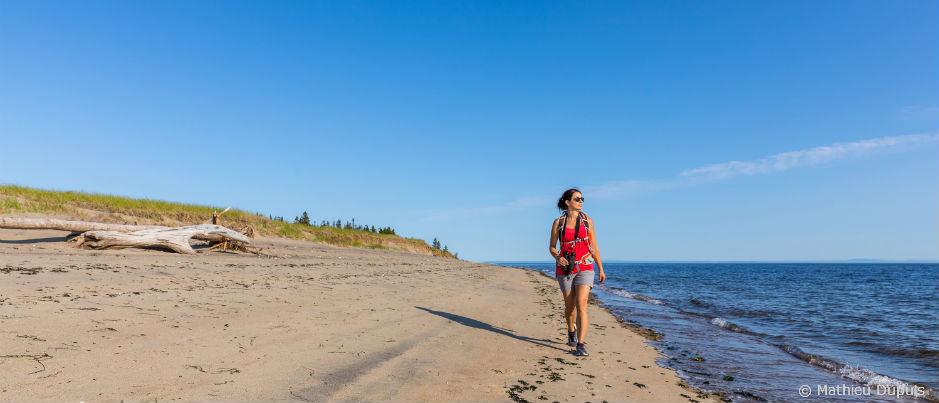 Parc Nature de Pointe-aux-Outardes, near Baie-Comeau, is home to nine different ecosystems, including a superb beach. Find shells or bits of sea pottery from old Pointe-aux-Outardes houses or boats that shipwrecked in the area. If you're passing through at the end of July, be sure to go to the Kite Fest, a family festival celebrating the wind!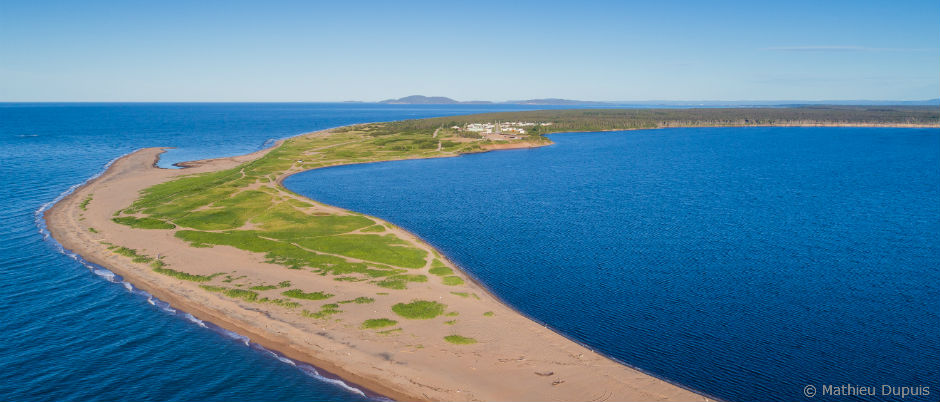 The Port-Cartier and Sept-Îles areas are also known for their fine-sand beaches. Two favourites are the Pointe-aux-Anglais and Pointe de Moisie beaches, where you can go hiking or birdwatching, among other things. The tranquility and beauty of these areas is sure to enchant you.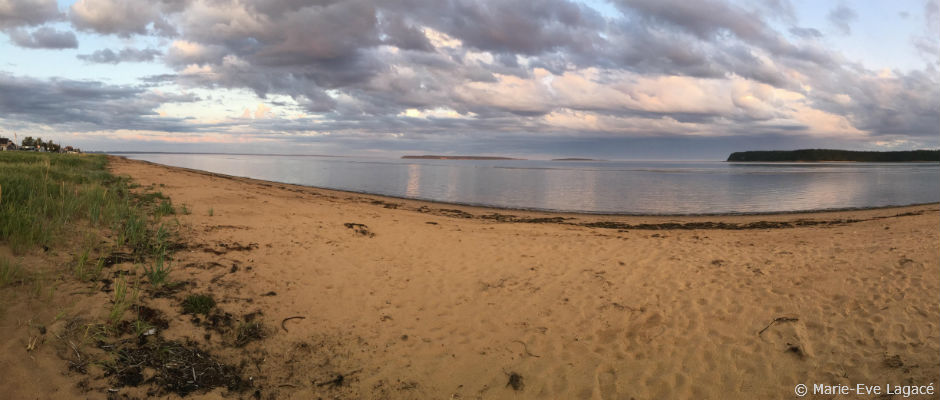 Once you're in Havre-Saint-Pierre, the sandy beach is only a few steps away. You'll appreciate its proximity to the village as well as the view of the islands that are part of the Mingan Archipelago National Park Reserve. Keep your eyes peeled and you may spot a whale emerging from the water!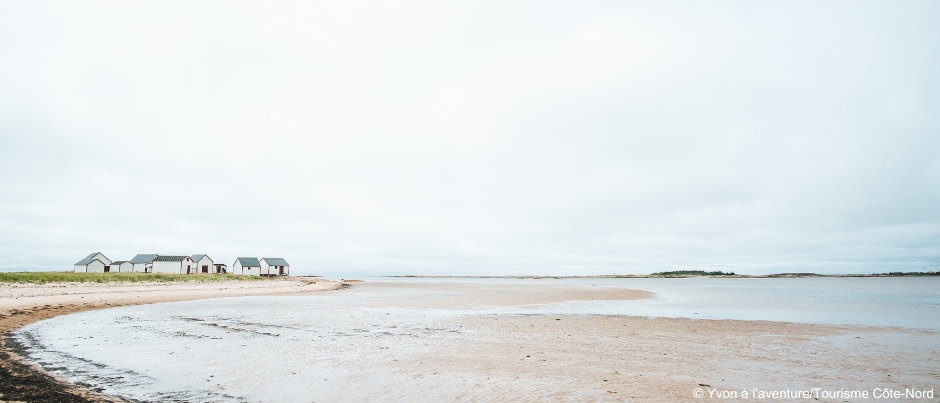 Natashquan is another place to visit for a peaceful haven by the water's edge. The beach is about 7 km (4 mi.) wide and offers opportunities for great photos and discoveries. Follow the boardwalk to Les Galets, a heritage site made up of small red and white buildings that were once used to salt and store cod.
Îles de la Madeleine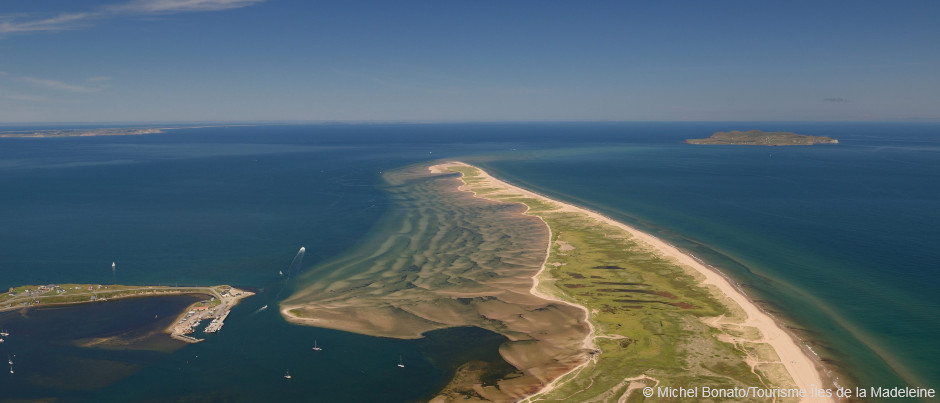 Offering over 300 km (190 mi.) of beaches, the Îles de la Madeleine are a paradise destination in the middle of the Gulf of St. Lawrence. One of the Islands' most famous beaches is Sandy Hook (also known as Du Havre or Harbour Beach), where a sandcastle contest is held every year in early August. Be sure to hike to the tip of the hook (Le Bout du Banc), where you can admire an incredible view of Entry Island.
De la Martinique Beach is perfect for swimming with young children or for learning wind sports! Try kitesurfing or windsurfing in the shallow waters with the Aérosport team. This is also one of two sites where this company offers kite buggying, an exhilarating activity that involves travelling at high speed in a light, purpose-built vehicle powered by a traction kite. Keep an eye out for sand dollars on this beach!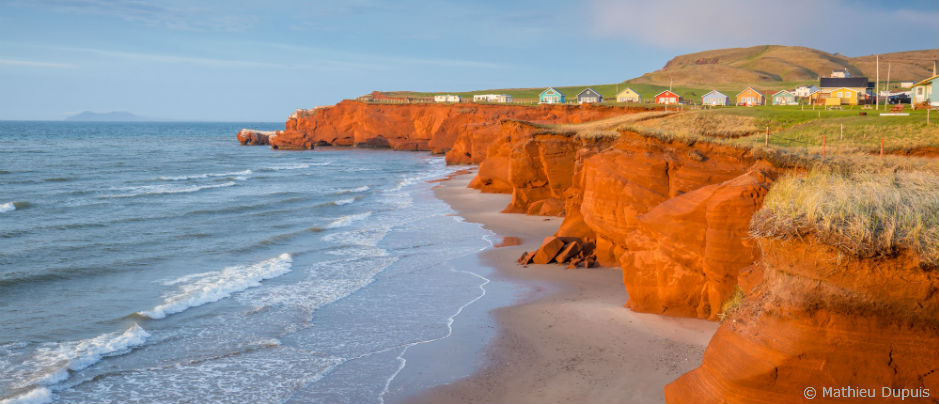 One of the best places to explore the caves and red cliffs of the archipelago on foot at low tide is Dune du Sud (South Dune) Beach. This area is protected from the wind, making it a great place to enjoy long walks. Note that this beach may be quite busy during high season.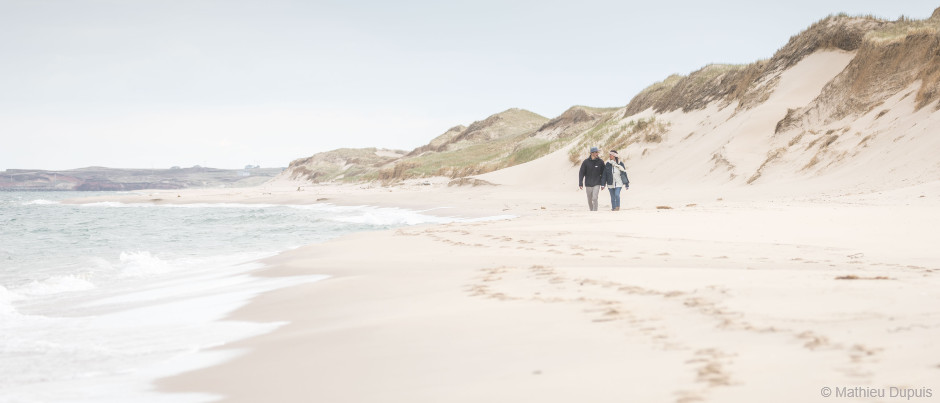 Pointe-aux-Loups Beach is considered one of the most beautiful on the Islands. It also boasts the warmest waters of the archipelago! However, swimming in this area can be dangerous because of strong currents, especially during high tide or high winds.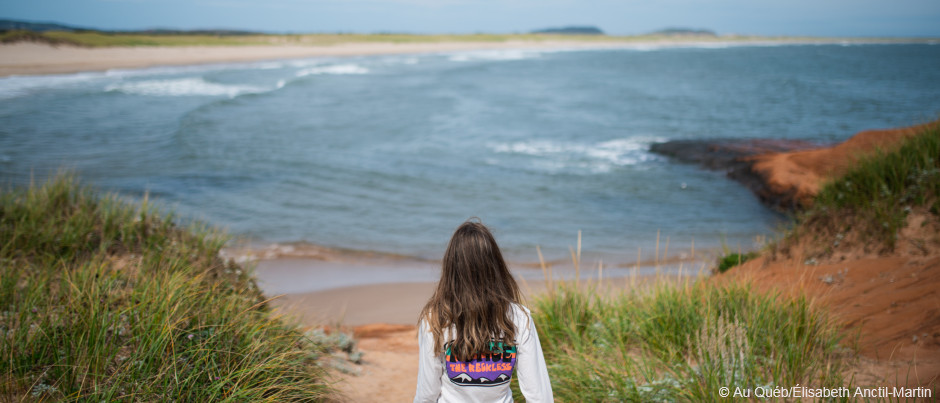 Would you like to see seals playing in the water? You can sometimes spot them at the tip of Old Harry Beach (also known as Grande Échouerie Beach). Much like Pointe-aux-Loups, this beach is long and the water temperature is pleasant, but you must be careful because the sea can be quite rough during high winds.
As you can see, each of these beaches has distinctive features… but one thing unites them all: they are great places to relax and unwind as you experience unforgettable vacation moments in the maritime regions of Québec. Time to head to the beach!
If you liked this article, you might also like...