The

Québec maritime Blog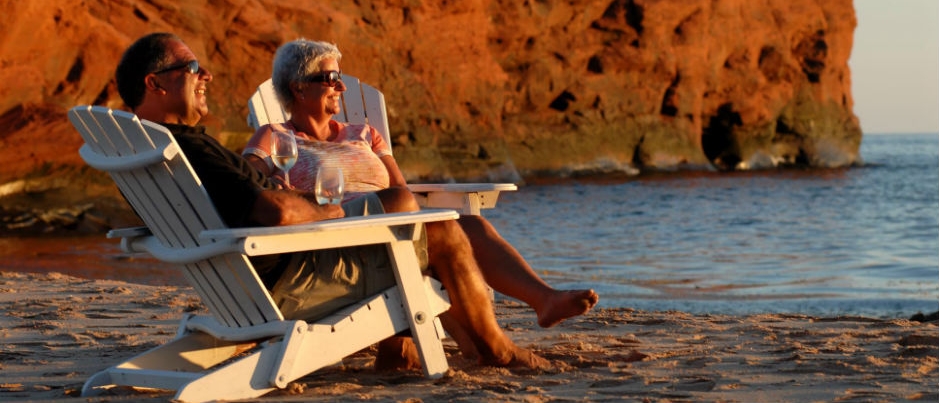 Each of these beaches has its own special charm
Michel Bonato/Tourisme Îles de la Madeleine
Îles de la Madeleine Beaches: Our Top 6 Choices
Îles de la Madeleine offers you more than 300 km of beaches, many of them several kilometers long! This popular destination is also well known for its sandcastle contest, an annual summer tradition that dates back more than 25 years.
One key feature that sets apart the Magdalen beaches is the sand's golden-blond colour – a fine-grain variety resulting mostly from erosion of the red sandstone cliffs. When immersed in the salt water, the quartz is stripped entirely of its iron oxide film, the source of its red colour, and brought in by longshore currents that deposit it near the islands.
In mid-August, the water temperature reaches 18 degrees Celsius (64°F), and can pass the 20°C (68°F) mark in the area's lagoons and bays. So the water is great for swimming until late September! You should, however, pay close attention to the sea currents. On extremely windy days, a sheltered beach with a lifeguard is preferable – even if you're a very strong swimmer!
Each of these beaches has its own special charm. Here are some of our favourites!
Havre-Aubert Beach – Havre Aubert Island
This beach is the site of the famous sandcastle contest. You can also walk as far as Bout du Banc point, to enjoy a magnificent view of Entry Island. Plan for three hours to complete the round trip and take in the view!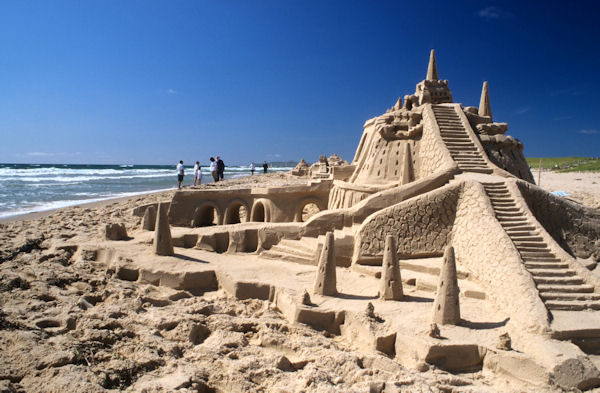 The famous sandcastle competition at Havre Aubert Beach © Michel Bonato
De l'Ouest (west) Beach – Havre Aubert Island
This is the place to go horseback riding or admire the most beautiful sunsets on the Islands. Swimming until dusk is sometimes an option – but watch out for strong currents!
De la Martinique Beach – Cap aux Meules Island
What makes this beach particularly appealing is the opportunity to collect shells and sand dollars at low tide. The sand dollar, a small creature related to the sea urchin, is protected by a round, flat shell featuring a star and holes arranged in a radial pattern. While the sand dollar is alive, its shell is purple-grey in colour; however, the ones found on the shore are bleached by the sun. By the way, the name "sand dollar" is a reference to the creature's resemblance to an old coin!
Dune du Sud (south dune) Beach – Havre aux Maisons Island
The water lapping on this shore is calmer, and the beach itself has been set up with picnic tables and washrooms. One side is sheltered by red cliffs featuring caves that can be explored at low tide. The beach ends at Dune du Sud – an extremely long formation where visitors can hike for hours on end.
Dune du Nord (north dune) Beach and Pointe-aux-Loups Beach – Pointe aux Loups Island
The beaches on either side of this island rank among the most beautiful on the Magdalens, and are highly popular with both tourists and Madelinots. The currents are very strong, however – avoid swimming at high tide or when the winds are strong.
Grande Échouerie Beach – Grosse Île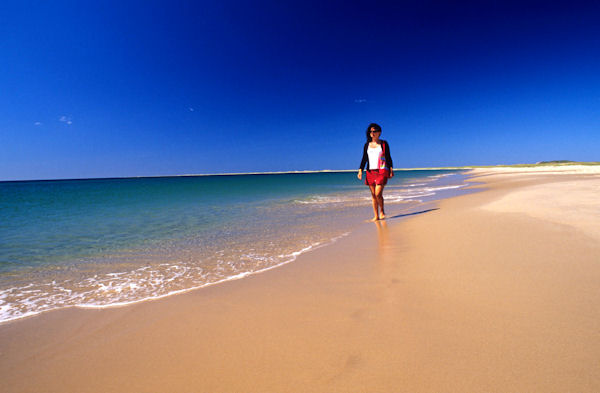 Grande Échouerie Beach
© Michel Bonato
Visitors walking along this immense beach will sometimes discern seals offshore. This site offers a range of amenities: parking, showers, washrooms, picnic tables and play areas for children. Although the water is warmest in this area, be careful: When the winds are high, the sea starts to churn and the currents become dangerous.
Get your sunscreen and swimsuit, and bring along a good book… Come soak up some rays on the beaches of Îles de la Madeleine this summer!
If you liked this article, you might also like...