The

Québec maritime Blog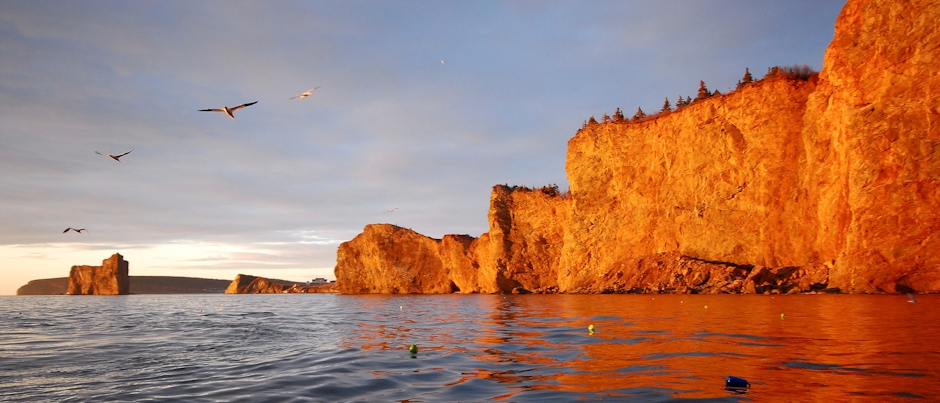 Bird Watching in Gaspésie
Are you fascinated by birds? Are you an avid ornithologist who never leaves home without your gear in the hopes of observing spectacular and rare bird species? Are you new to this activity and want to discover the joys of bird watching during your trip to Gaspésie? If you've answered yes to one of these questions, this blog post is for you! Home to more than 350 bird species, the Gaspésie region offers many rich and varied environments in to watch birds in all their glory. Here are the main ones.
Réserve faunique de Matane
A large protected area of the Gaspesian forest, the Réserve faunique de Matane showcases a wild environment that's ideal for bird watching. The network of over 100 km (60 mi.) of trails in this wildlife reserve will take you up mountains, down deep valleys and along beautiful waterways, all of which are exceptional natural habitats for some 150 bird species. Among others, you may spot golden eagles, pileated woodpeckers, ruffed grouse, spruce grouse, osprey and bald eagles.
Parc national de la Gaspésie
Parc national de la Gaspésie has a characteristic that's of particular interest to bird watchers. It's possible to see, within a relatively short distance, several species whose habitats are generally very far from one another, because of significant variations in the vegetation and climate conditions from high summits to deep valleys. Roughly 150 bird species are found in the park, including white-throated sparrows, horned larks, harlequin ducks, Bicknell's thrushes and golden eagles. Depending on which trail you hike on, you may be lucky enough to catch glimpses of black-backed woodpeckers or three-toed woodpeckers.
Area between Rivière-à-Claude and Gros-Morne
Route 132 in Haute-Gaspésie will take you through breathtaking scenery, along spectacular high cliffs and picturesque coves. Several roadside rest areas are prime bird-watching sites. Particularly during migration periods, you can spot American scoters, surf scoters, white-winged scoters, red-breasted mergansers and common goldeneyes. Keep your eyes peeled in coves: long-legged bird species may stop there, including some that are rare in this region. And if you drive by between the months of May and July, make sure to stop in Gros-Morne to watch the many black guillemots nesting on the cape.
Forillon National Park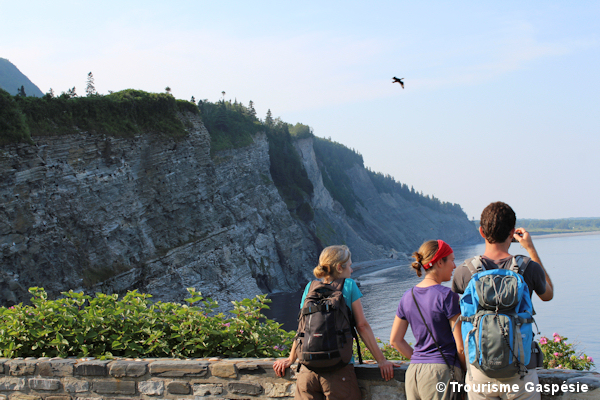 In addition to being one of the best-known sights in Forillon National Park, the high rocky cliffs at the tip of the peninsula, particularly at Cap Bon-Ami, are excellent nesting areas for many seabird species, including black-legged kittiwakes, razorbills, common murres, black guillemots and double-crested cormorants. On the other side of the cape, Gaspé Bay is an important wintering area for long-tailed ducks and Barrow's goldeneyes. During your hikes in wooded areas, you're also likely to encounter several species of sparrows, warblers, jays, woodpeckers and thrushes. In short, the park offers many bird-watching opportunities, whether you prefer aquatic or forest species!
Malbaie Barachois (Coin-du-Banc Beach)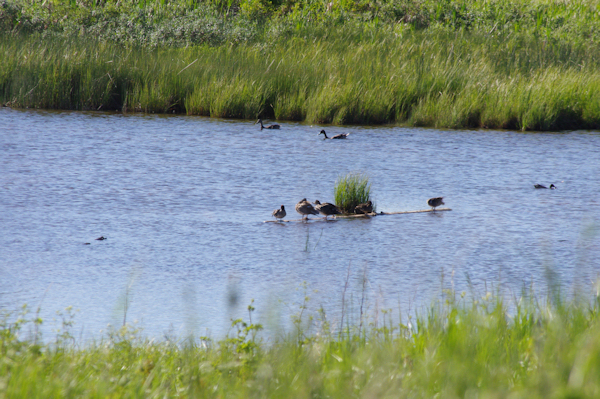 Do you know what a barachois is? It's a long sandbar formed by tides and river currents, which creates lagoons and marshes that are perfect habitats for aquatic bird species. The Malbaie Barachois, located between Gaspé and Percé, is no exception: over 200 bird species call it home. In the spring, various species of geese and ducks, as well as American bitterns, frequent this spot. In the summer, you can observe many different shorebird species here as well as great blue herons. Two threatened species also take advantage of the area's optimal conditions as a nesting area: yellow rails and Nelson's sparrows.
Parc national de l'Île-Bonaventure-et-du-Rocher-Percé
When you think about birds and Gaspésie, the first thing that probably comes to mind is northern gannets. And rightly so: the colony of 110,000 birds on Bonaventure Island is the second largest and the most easily accessible in the world. You can observe these beautiful birds between April and October after a short hike to their nesting area. You can also admire the colony from a completely different angle during a boat excursion around the island. You may even catch a glimpse of the Atlantic puffins that nest in the crevices of the high cliffs (keep your eyes peeled—they're tiny!). Common murres, razorbills and harlequin ducks can also be seen in the park, as well as great cormorants, although these are most likely spotted along the walls of Percé Rock.
Grand Pabos Bay
If you keep driving on Route 132 from Percé, you'll get to Grand Pabos Bay, just outside Chandler. Go for a short hike along the bay in Parc du Bourg de Pabos to observe several aquatic bird species during the summer, including great blue herons, black-crowned night herons, dabbling ducks, soras and shorebirds, as well as various forest species venturing closer to the sea.
Port-Daniel Bay
Located in a beautiful bay halfway between Chandler and Paspébiac, the town of Port-Daniel is a popular tourist destination and home to a great variety of bird species. At any time of the year, you can observe gulls gathering on the shore along Route 132, sometimes in impressive numbers. Stop near the train station: the best observation site is directly across from it. This area is also a migratory stopover in the spring and fall for a few rare species, including black-headed gulls and little gulls. Moreover, harlequin ducks are regularly seen in the area, near the lighthouse point.

Whether you're a novice or experienced bird watcher, don't forget to bring your binoculars and a bird identification guide to make the most of your bird sightings in Gaspésie, at these sites or elsewhere on the peninsula. Take a look at our "Bird Watching in Gaspésie" road trip for a more comprehensive list of the region's bird-watching sites. And above all, keep your eyes peeled so you won't miss any of Mother Nature's most beautiful displays!
If you liked this article, you might also like...