The

Québec maritime Blog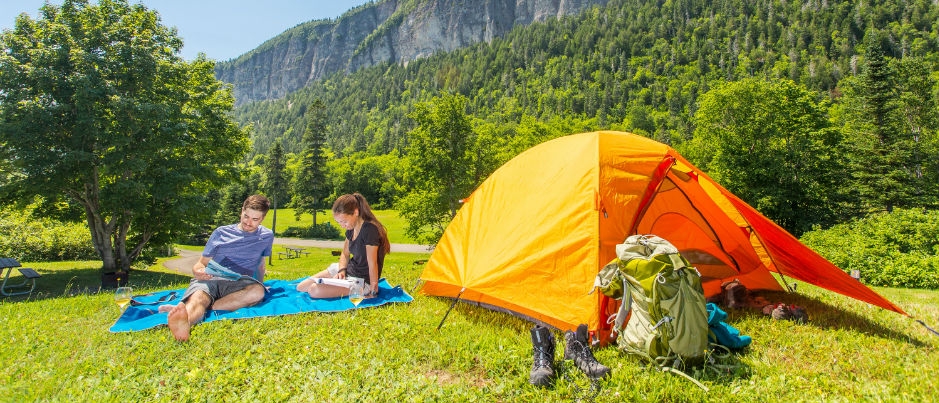 Camping in Forillon National Park
Mathieu Dupuis/Le Québec maritime
Campgrounds in Our National Parks: The Best Spots
The maritime regions of Québec boast several national parks whose visit would not be complete without a camping night (or a few nights). These parks have a great variety of campgrounds appealing to people travelling in RVs, those who prefer to sleep in a tent in the backcountry and everyone in between. Here are some suggestions.
Côte-Nord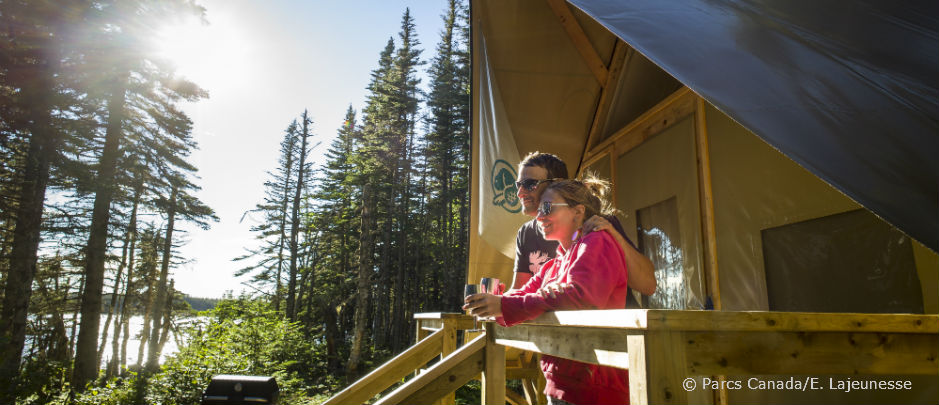 Combining truly out-of-this-world geological formations and a unique wildlife, Mingan Archipelago National Park Reserve includes a thousand islands and islets, in the eastern section of the North Shore. Six of these islands have rustic campsites that assure you a total change of scenery. If your camping gear is limited or if you prefer to travel light, you will be happy to know that oTENTik tents give you the opportunity to enjoy the islands' serenity as well. By the way, if you can synchronize your stay with the peak period of the Perseids meteor shower in August, it's pure magic!
Anticosti Island, right in the middle of the Gulf of St. Lawrence, has a great little campground too. Nestled on the north side of the island, near Pointe-Carleton, it overlooks one of the many shipwrecks along the shoreline – the Wilcox – from which it takes its name. The twenty sites are for tents only and campers have access to a comfort station equipped with showers.
West of the Côte-Nord region, Parc national du Fjord-du-Saguenay has set up rustic camping platforms on both sides of the spectacular Saguenay Fjord. These are accessible for backpacking and kayak-camping trips and provide you with amazingly quiet settings and breathtaking viewpoints, especially at sunrise and sunset. There are also campgrounds with services and ready-to-camp tents in the Baie-Éternité and Baie-Sainte-Marguerite areas.
Bas Saint-Laurent
With its beautiful landscape of capes and coves, Parc national du Bic has some 190 campsites in total. Rioux campground sits in the middle of the park, within a pleasant walking distance to several points of interest. That way, you will be in the centre of it all at daytime, while experiencing very quiet surroundings when the night comes. The park can accommodate all types of camping equipment and some ready-to-camp tents are available. Rivière-du-Sud-Ouest campground, larger, is located at the eastern entrance of the park along Highway 132, and La Coulée campground, accessible by foot, bike or sea kayak, is tucked along the shoreline, just below Champlain Peak, the park's highest point.
Grand-Lac-Touladi campground in Parc national du Lac-Témiscouata offers you a great opportunity to fully enjoy the wonderful natural settings of Notre-Dame Mountains. Located in the park's historic centre, near the Garden of Memories archaeological site, it is right on the beautiful lake which it takes its name from, making it an ideal spot for canoeing. You can find all the services you need on-site, including a small convenience store. Just like Anse-à-William campground, closer to Lake Témiscouata, it can accommodate RVs, trailers and tents alike. If you prefer ready-to-camp tents, some are available at Anse-à-William and Grands-Pins campgrounds.
Gaspésie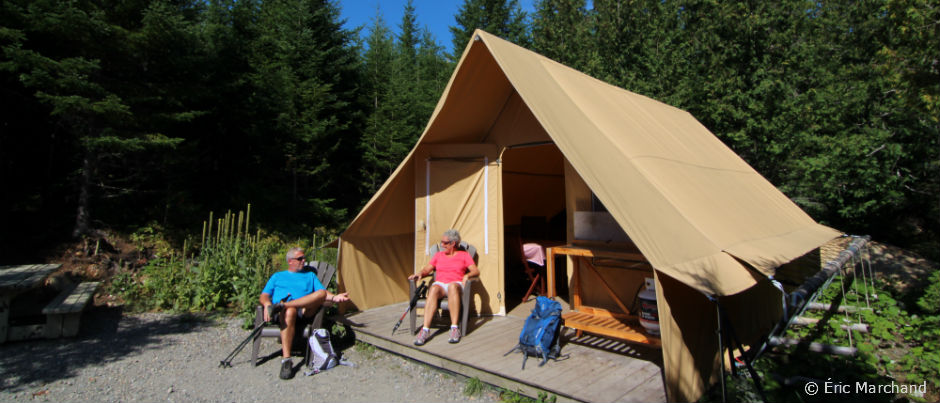 In Parc national de la Gaspésie, De la Rivière campground lies by the Mont Albert trailhead. Sleep to the sound of the Sainte-Anne River that flows close by in a dense and quiet forest, while being relatively close to the services of the Discovery and Visitors Centre. In the evening, you can go for a stroll in a magnificent cedar grove along the river. There are three other campgrounds in the park – Mont Albert (with ready-to-camp tents available), Mont Jacques-Cartier and Lac Cascapédia, as well as several platforms for backpacking trips.
At the tip of the Gaspé Peninsula, in Forillon National Park, Cap-Bon-Ami campground overlooks the Gulf of St. Lawrence and gives you a unique point of view on the breathtaking cliffs of the cape. It sits right below the impressive rock face of Mont Saint-Alban. This one can only accommodate tents, but users of all types of camping equipment can choose between the two other campgrounds: Des-Rosiers campground, also in the North area, and Petit-Gaspé campground in the South area, which also offers several oTENTik tents. Backcountry enthusiasts rejoice: rustic camping platforms are set up along International Appalachian Trail (IAT) which ends at Cap Gaspé, in the park.
Experience one night – or even more – in the great natural environments of the national parks spread out in the maritime regions of Québec. And don't forget to book ahead to secure your spot! Happy camping!
If you liked this article, you might also like...