The

Québec maritime Blog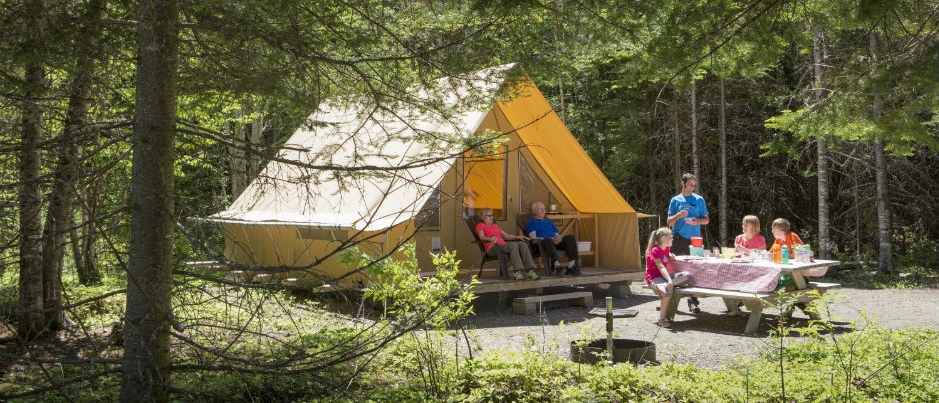 Staying Overnight in a National Park: A Unique Outdoor Experience
Holidays and the outdoors go hand in hand. And national parks usually rank high on the list of must-see destinations for nature enthusiasts. To make the most of a national park visit, it's always great to stay overnight. The national parks in the maritime regions of Québec offer several accommodation options to meet a vast array of tastes and budgets. Here are a few.
Camping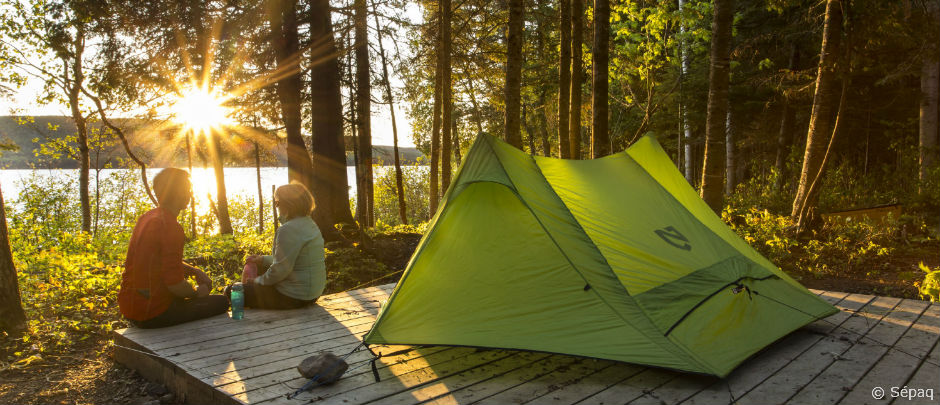 Camping is undoubtedly one of the most popular outdoor activities, and the national parks in our regions boast several campgrounds located in a variety of environments.
You can find beautiful campgrounds in the Bas-Saint-Laurent region, near the St. Lawrence in Parc national du Bic, as well as in the lovely forest of the Notre-Dame Mountains, just a few steps away from spectacular Lake Témiscouata in Parc national du Lac-Témiscouata.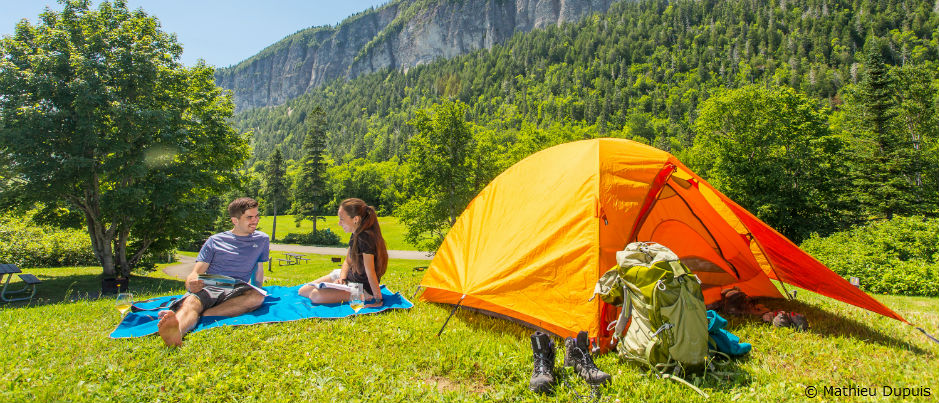 In the Gaspésie region, you can pitch your tent in the wonderful mountainous landscape of Parc national de la Gaspésie, and at the very tip of the Gaspé Peninsula in Forillon National Park.
In the Côte-Nord region, camp along the shores of the Saguenay Fjord, in Parc national du Fjord-du-Saguenay, or in the quietness typical of island environments, in Parc national d'Anticosti and the Mingan Archipelago National Park Reserve.
Glamping
Glamping ("ready-to-camp") options are increasingly popular. This term includes various types of accommodations that allow you to spend the night in the outdoors, without the need of carrying (or buying) all the required camping gear.
There are oTENTik tents in Forillon National Park and the Mingan Archipelago National Park Reserve. A cross between a tent and a rustic cabin, these are equipped with three beds and can accommodate up to six people. You have two packages to choose from: equipped, where you have to bring only your sleeping bag, your pillow and your food; and basic, where you must bring your stove, cooler and dishes also.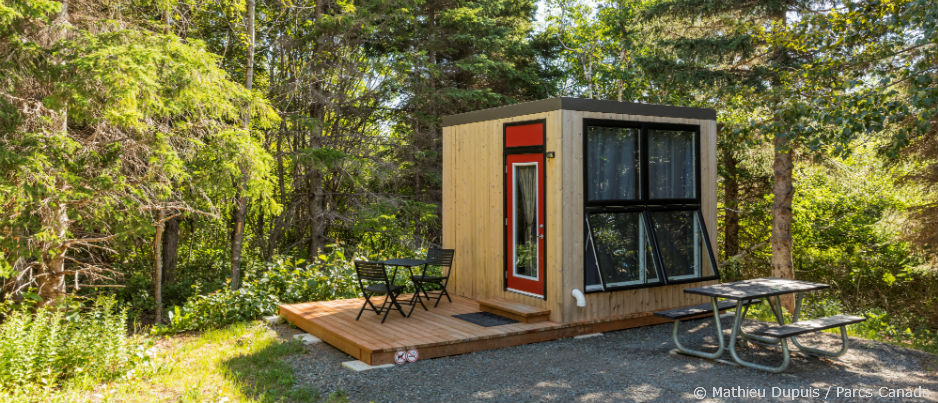 Forillon National Park also has a micrOcube, in the Desrosiers Campground. It's a solid structure with a cubic shape and contemporary look that can accommodate two people.
The Étoile ready-to-camp unit is also made up of a cubic wood structure, but it's covered with canvas. With three double-size beds, it has room for up to six people. You will most certainly appreciate its covered balcony, especially when the rain comes. There are 10 Étoile units in Parc national de la Gaspésie and Parc national du Bic. In addition, these two parks, as well as Parc national du Lac-Témiscouata, have several traditional ready-to-camp sites, each equipped with two double-size beds, cookware and a heater.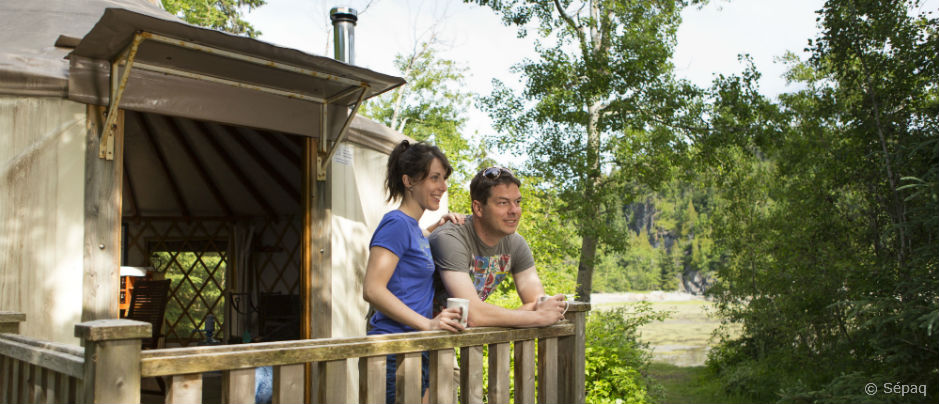 Would you like to stay in a yurt? It's possible in Parc national du Bic, where you can find 11 of these tents that were traditionally used by nomadic peoples of Central Asia. Their round shape creates a warm atmosphere, while their skylight allows you to watch the stars sheltered from the elements.
Cabins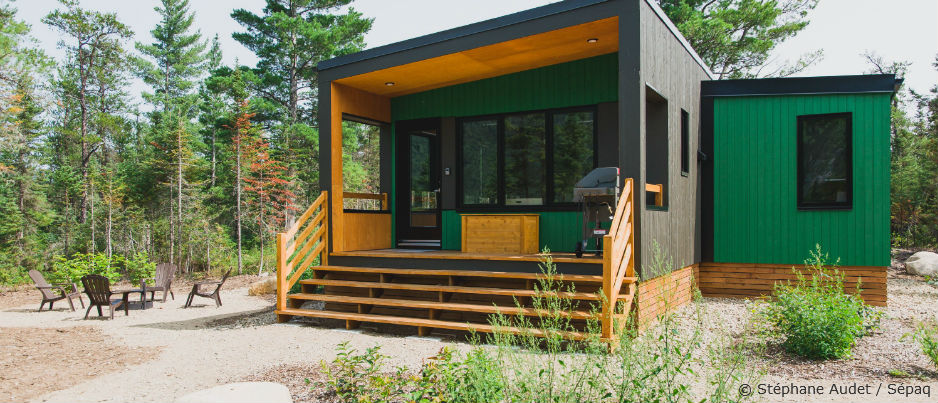 Parc national du Bic is now offering two new types of cabins: Écho and EXP. With their modern architecture and large windows, these will make you feel as if you're sleeping outdoors. All the amenities are included – except bedding – and the woodstove helps to create a nice and warm atmosphere on cool autumn nights.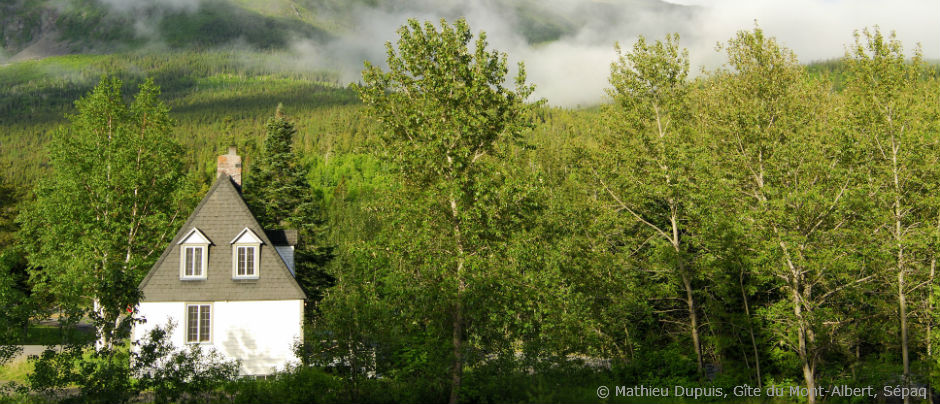 If you prefer more traditional cabins, you will appreciate those located near the Gîte du Mont-Albert hotel, in Parc national de la Gaspésie. These can accommodate between four and eight people each, and five similar units are conveniently settled along the Sainte-Anne River, in the same area. Four other units are set a few steps from Lake Cascapédia for a very relaxing stay. Finally, winter lovers will be delighted with the cabins in the secluded Petit-Saut area, which can be reached after 4 km (2.5 mi.) of skiing or snowshoeing.
If you're looking for an unrestricted view on the sea and absolute tranquility, the cabins in Parc national d'Anticosti are where you want to stay. These can be booked only within packages that include the flight to the island and a vehicle rental, so you can explore as you wish the beauties of this unique environment.
Lodges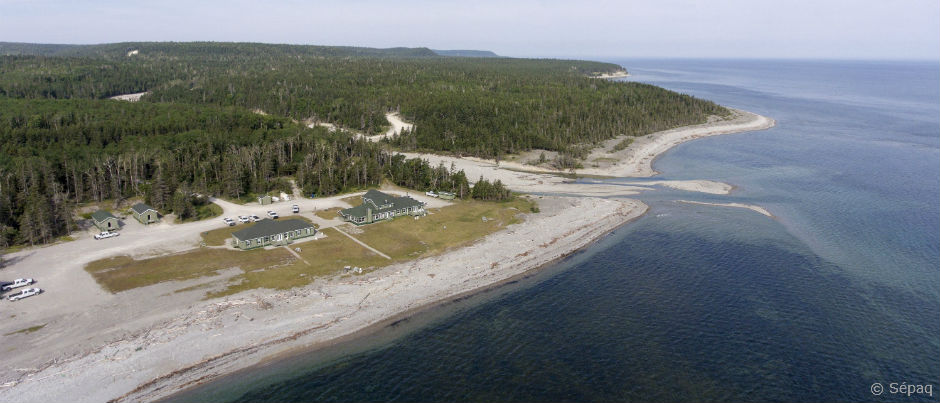 The idea of a package on Anticosti island sounds good to you, but you prefer the cozy comfort of a lodge? You will love Auberge McDonald, settled right by the sea, at the mouth of the McDonald River, in a larger-than-life setting. Meals are included in the package; all you need to bring is your wine.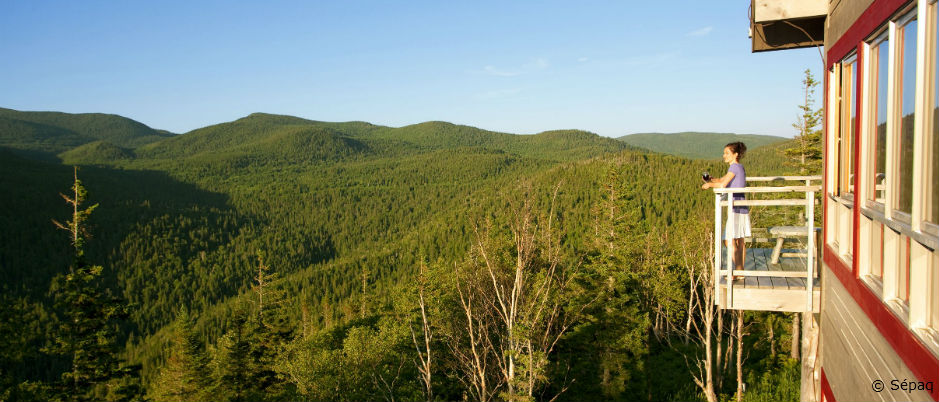 Perched at an altitude of 615 metres (2020 feet), in the heart of Réserve faunique de Matane, in Gaspésie, the Auberge de montagne des Chic-Chocs combines 4-star comfort with a warm atmosphere, tasty gourmet cuisine and an outstanding environment for outdoor activities. It's accessible in the summer for hiking and mountain biking enthusiasts and in the winter for a great snowshoeing or ski touring experience. The package includes the services of an experienced guide so that you can make the most of the terrain around the lodge.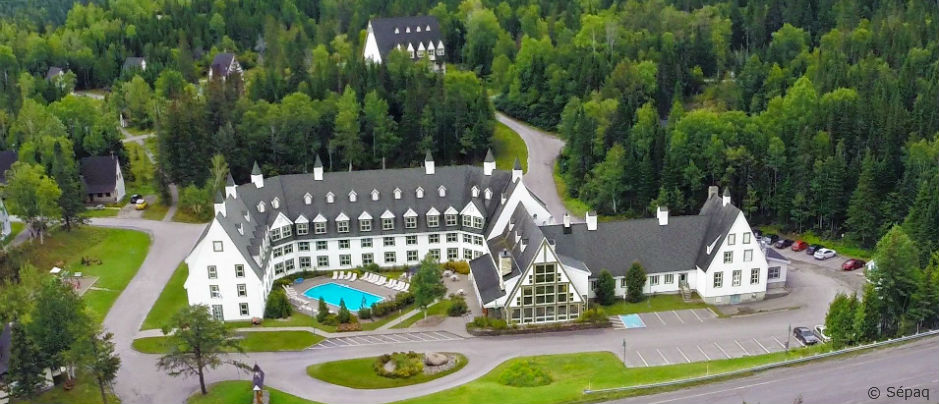 Finally, the Gîte du Mont-Albert is a prime lodging option if you're looking for an exceptional comfort. The 4-star hotel is at the heart of Parc national de la Gaspésie, giving you access to an natural playground that's perfect for a variety of outdoor activities. In the evening, you can recollect the highlights of your day with your friends in the casual atmosphere of the pub or in front of a refined meal at the hotel's renowned restaurant.

Has this blog post piqued your curiosity? Visit our website for more details, including the contact information to book your accommodations in one of our national parks. Our exceptional nature is all yours to discover!
If you liked this article, you might also like...