The

Québec maritime Blog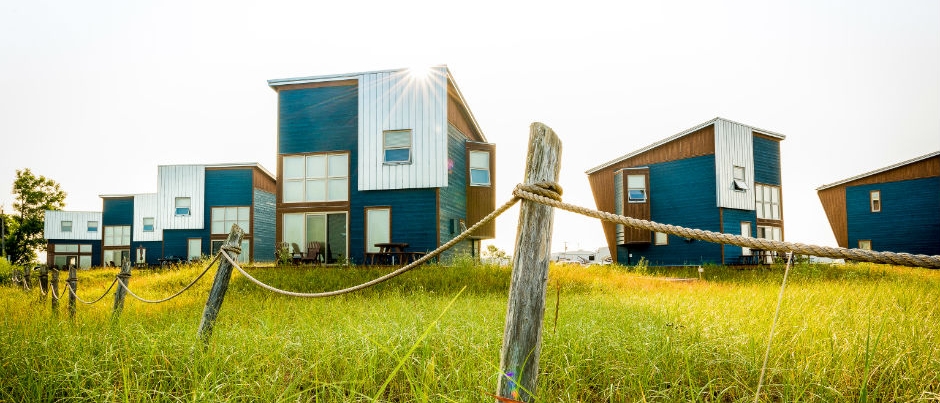 Jérôme Landry/Bioparc de la Gaspésie
Stay in a Cottage in the Maritime Regions of Québec
So Many Options to Choose From!
Are you planning a visit to Bas-Saint-Laurent, Gaspésie, Côte-Nord or the Îles de la Madeleine and looking for cozy and comfortable accommodations? Choose a cottage, chalet or cabin as your home base! Here are some of your options for places to stay while you explore our regions during your next vacation.
Cottages in the woods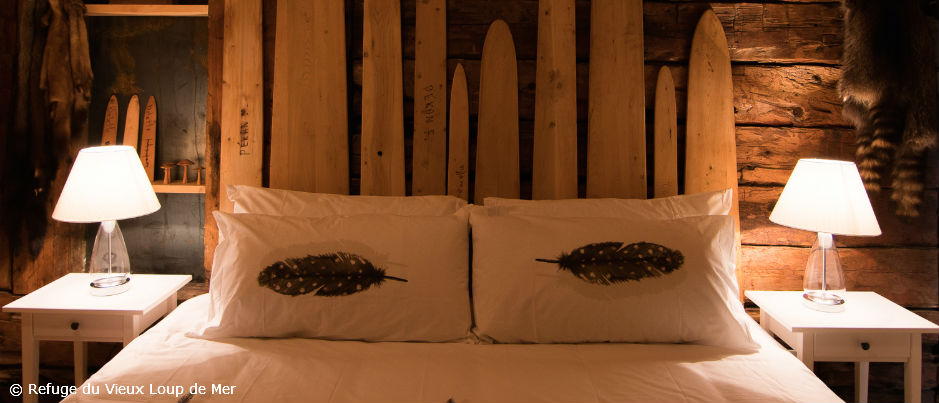 Near Parc national du Bic, in Bas-Saint-Laurent, Vieux Loup de Mer – Chalets Hôteliers offers 13 restored wooden chalets that maintain the character, warmth and charm of traditional Québec dwellings. As a bonus, each offers a view of the St. Lawrence!
Further east, in Saint-Gabriel-de-Rimouski, Domaine Valga offers 3 log cabins that can accommodate up to 11 people. Enjoy a stay at the heart of an old-growth maple grove with access to hiking trails and even treetop trekking!
Griffon Aventure, in Gaspésie, invites you to unwind in one of 7 rustic cottages where you can relax and eat along the seaside. Built mainly with recycled materials, each cottage is unique—one is even a converted fishing boat! A daily shuttle can take you to Forillon National Park and Gaspé, so you can explore the surrounding area.
In Côte-Nord, you can stay in one of the 11 cottages available at Domaine des Dunes in Tadoussac. Shaded by birch trees, each cottage can comfortably accommodate 2 to 6 people. Enjoy treetop trekking on site or set off to discover the treasures in the village.
Located on the edge of the Manicouagan Reservoir in Côte-Nord, Station Uapishka offers a complete change of scenery in the Uapishka (Groulx) Mountains. This establishment offers four cabins, each with an Innu name, to meet your needs!
Cottages along the water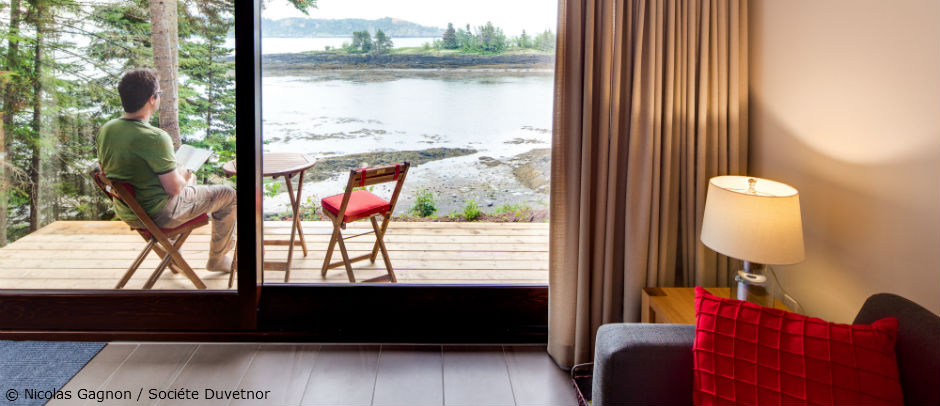 Enjoy a dream vacation on an island! Stay on Île aux Lièvres (Hare Island) in Bas-Saint-Laurent, in one of the 6 seaside cottages offered by Société Duvetnor. Modern and bright, each can accommodate 2 to 6 people. Explore the island's hiking trails (45 km / 30 mi. in all) and enjoy watching the many seabirds that make their home here.
Would you like to stay in a tiny house? Head to Domaine Floravie, near Parc national du Bic, where you can stay in a "tiny house"-style eco-friendly chalet by the sea! The 7 wooden 20-foot by 10-foot mobile chalets offer comfort and coziness for up to 4 people each. You can also rent the "Le Pensoir" chalet or the "L'Ancestrale" house, each of which can accommodate up to 6 people.
Does the idea of staying at the edge of the world appeal to you? Why not enjoy a getaway in a Chalets du Bout du Monde cottage (literally "cottages at Land's End")! Located on the waterfront overlooking the Saint-Jean Estuary in Gaspé, each of the 8 cottages exhibits the works of a local artist. Kayaks and bikes are also provided at no extra charge.
For a comfortable stay and an opportunity to commune with nature, the Nautika Chalets offer Scandinavian-style accommodations perched on the top of a cliff, with magnificent views of Gaspé Bay. Each chalet can accommodate up to 6 people in complete comfort and will allow you to appreciate the calm of this area, fabulous sunrises over the Gulf of St. Lawrence and, if you're lucky, the blows of the whales in the background.
Although the Bioparc de la Gaspésie is primarily known as a wildlife park (home to about 40 animal species indigenous to Gaspésie in environments that resemble their natural habitats), this site also offers 9 cottages on a beach on Chaleur Bay. With views of the sea, lots of bright space and plenty of comfort, the Bioparc cottages are relaxing and rejuvenating places to stay.
Cottages in a resort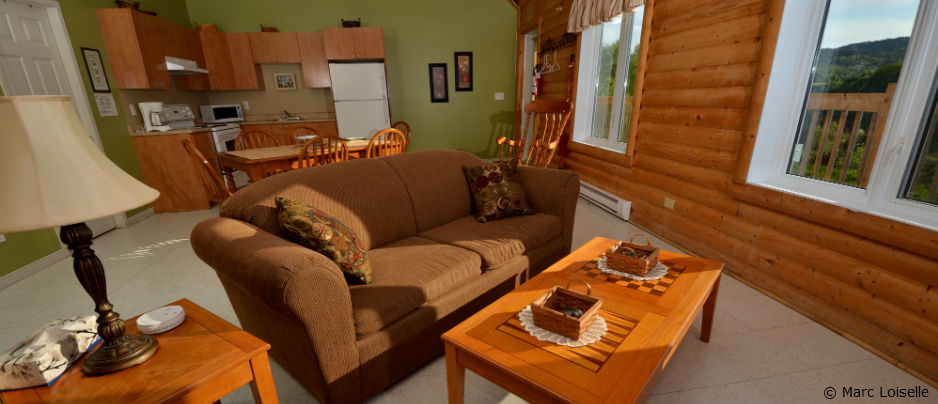 Near Tadoussac, in Côte-Nord, the Ferme 5 Étoiles holiday resort offers two different types of cottages. You can soak up the beauty of the Saguenay Fjord by opting for a cottage with a view of this majestic waterway, or, if you're an animal lover, you may want to stay in one of the cottages directly on site, so you can easily interact with the farm's animals (moose, wolves, bison, deer and more). A wide variety of outdoor activities are also offered on site.
Cottages in a national park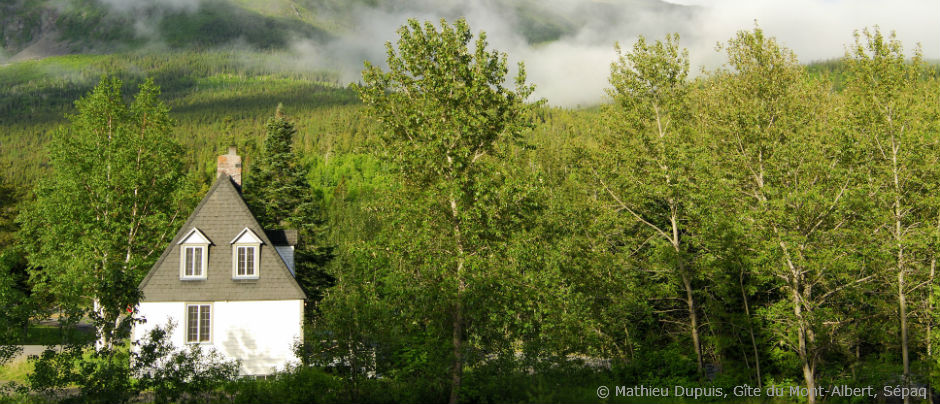 Some of the SÉPAQ national parks are now offering a new type of lodging called EXP cabins, for an unforgettable EXPerience! In our regions, these cabins are available in Parc national du Bic in Bas-Saint-Laurent. Their unique design features large windows, which will give you the impression that you're sleeping outdoors!
In Parc national de la Gaspésie, you can choose from 31 cabins in various sectors of the park. Those near the Gîte du Mont-Albert hotel will charm you with their picturesque coziness, while those along the Sainte-Anne River or Lake Cascapédia will appeal if you enjoy being near water. Whichever cabin you choose, you'll have access to an immense natural playground in this park!
At the gateway to Côte-Nord, Parc national du Fjord-du-Saguenay offers 5 charming cabins in the Baie-Éternité sector, all of which are fully equipped and accessible by car. Whether you're travelling as a family or with friends, you'll enjoy discovering the park's stunning landscapes via the many hiking trails.
Are you planning a trip to Parc national d'Anticosti? The park's 30 cabins are located by the sea or a river and include all the amenities you'll need for a comfortable stay. Don't be surprised if you encounter white-tailed deer on the island: 115,000 of them live on Anticosti!
Cottages in a wildlife reserve
Nature lovers will be delighted by a stay in the Matane, Port-Cartier–Sept-Îles, Port-Daniel, Rimouski or Chic-Chocs wildlife reserve. All offer fully equipped cabins surrounded by stunning scenery featuring mountains, lakes and forests. In addition, you can enjoy many outdoor activities in these reserves, including cycling, canoeing, kayaking, hiking, wildlife observation and more.
And more!
The Îles de la Madeleine archipelago also offers a wide selection of cottages to choose from. Visit the Tourisme Îles de la Madeleine website to find one that will suit your needs for your next vacation on the Islands!
Are you feeling a bit overwhelmed by all these options? Keep in mind that wherever you stay you're bound to enjoy an unforgettable experience surrounded by exceptional scenery!
If you liked this article, you might also like...