Home »
Blog »
Craig Nicholson: The Intrepid Snowmobiler's Favourite Spots in the Maritime Regions of Québec
The

Québec maritime Blog
Craig Nicholson: The Intrepid Snowmobiler's Favourite Spots in the Maritime Regions of Québec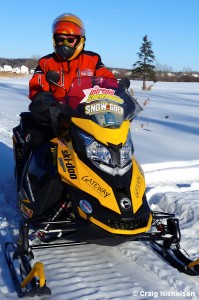 Freelance journalist Craig Nicholson, also known as "The Intrepid Snowmobiler," specializes in motorized recreational activities and is a well-known snowmobiling expert and authority. As an avid snowmobiler, he logs up to 15,000 kilometres (10,000 miles) on the snow each winter. Over the last 15 years, he has visited the maritime regions of Québec many times, which makes him a fitting ambassador for our regions. His tour book, Canada's Best Snowmobiling: The Ultimate Ride Guide, chronicles his adventures. He can also be followed on social media and via his blog, www.intrepidsnowmobiler.com. He graciously agreed to answer our questions.
Le Québec maritime (LQM): You've been familiar with the maritime regions of Québec for some time now. Tell us about your first trip here. Where did you travel?
Craig Nicholson (CN): My first tour in the maritime regions of Québec was in 1999 when we rode in Gaspésie. My "Take Five" article about that trip appeared in Snow Goer Canada in 2000.
LQM: Since you've had the opportunity to ride in our three regions (Bas-Saint-Laurent, Gaspésie and Côte-Nord), can you tell us how they compare to each other?
CN: They are three very different experiences. Côte-Nord is a remarkable linear ride along the north shore of the St. Lawrence on some great logging roads, while Bas-Saint-Laurent offers a variety of interesting trails and loops through both lowlands and highlands. Gaspésie is perhaps Canada's most iconic snowmobiler tour andoffers some of the best scenery going in a large loop. But they share the common traits of warm hospitality, reliable snow and smooth trails!
LQM: Can you tell us what attracts snowmobilers to long treks like the ones we offer? Is it the trails, the scenery, the distance? Does anything else come to mind?
CN: Certainly trails, scenery and distance are part of it, but there's also the challenge, adventure and bragging rights of going places that others only dream of.
Bas-Saint-Laurent & Gaspésie
LQM: Last year, you rode the trails of Bas-Saint-Laurent and part of Gaspésie (and wrote about that trip here). What did you enjoy about that trek? Any favourite spots? Surprises?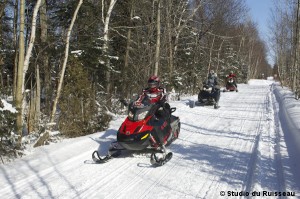 Snowmobile trails of Bas-Saint-Laurent
CN: I liked the combination of being able to ride the Bas-Saint-Laurent loops as day rides from one hotel, and then saddle bagging for several days through the mountains and the Matapédia Valley. Doing day rides from one staging hotel adds a different flavour to the tour because you don't have to pack up and carry everything with you each day. Also you have the flexibility to choose different routes and how long you ride each day when you don't have to worry about finding a new place to stay each night.
I was also surprised by the mountain views along regional trail #587N.
LQM: You've referred to Gaspésie as "heaven on earth." What makes this region so amazing and why does it often appear on snowmobilers' bucket lists?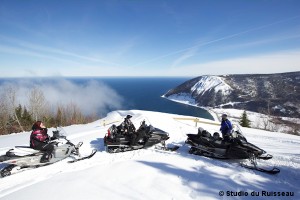 The amazing view on top of Mont-Saint-Pierre in Gaspésie
CN: The name itself, the Bas-Saint-Laurent – Gaspésie Snowmobile Tour, is iconic, and the tour offers a wide variety of riding on different kinds of trails and terrain. It's also a feeling of riding to a point where you can't go any farther because you've reached the ocean. Overall, the Gaspésie ride encapsulates everything that's best about a snowmobile tour.
LQM: Any favourite spots in Gaspésie?
CN: It's all pretty amazing, but I always tell snowmobilers not to miss the interior trails #595 and #597, plus the trail from Relais La Cache to Murdochville is awesome!
LQM: What would you recommend to someone who has limited time and can't ride the whole Gaspésie loop?
CN: Ride the Matapédia Valley and the trails between Mont-Joli and Pointe-à-la-Croix and Matane.
Côte-Nord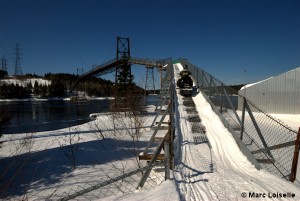 The highest snowmobile bridge in the world in Baie-Comeau, Côte-Nord
LQM: You're preparing a trip to Côte-Nord, which will take you as far as Sept-Îles. What are you most looking forward to?
CN: Views of the St. Lawrence, the world's highest snowmobile bridge in Baie-Comeau and riding some of the local loops.
LQM: So you've heard of the bridge! Do you think it's something special that snowmobilers should see?
CN: It's a fantastic sight with a spectacular view that every snowmobiler will love.
LQM: Does the opportunity to cross from one shore to the other on the ferry with your snowmobile appeal to snowmobilers like yourself? Why?
CN: Although we won't be taking advantage of these crossings on this trip, I have used the ferries previously and they're handy, easy and a very enjoyable experience for snowmobilers.
The maritime regions of Québec
LQM: How do the maritime regions of Québec compare to other snowmobiling destinations in Canada and the US?
CN: They have plenty to offer snowmobilers, including some outstanding off-trail powder riding in the Chic-Choc Mountains. Few other destinations can offer three such diverse regions as Bas-Saint-Laurent, Gaspésie and Côte-Nord.
LQM: What would you say to avid snowmobilers who are hesitant about visiting the maritime regions of Québec because they are so far from home?
CN: I would tell them that these regions are easily accessible by major highways and well worth the extra driving time because they're so special.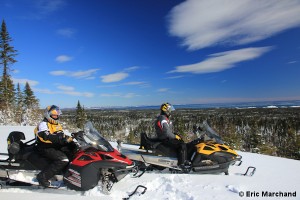 Snowmobiling in Côte-Nord – Duplessis
LQM: How many klicks do you recommend per day for people planning a trip in the maritime regions of Québec?
CN: This is tough to answer because it all depends on the experience level of the riders. Suffice it to say that if your goal is to rack up big miles, you can easily do that. But if you're looking for a more leisurely ride with plenty of trail options, interesting things to see and unique places to visit, you can also find that.
LQM: Can you give us one last piece of advice for snowmobilers contemplating a trip in the maritime regions of Québec?
CN: Don't try to do it all at once. These regions are so big you'll have to come back again.
LQM: Thank you, Craig, for being such a great ambassador for our regions!
If you liked this article, you might also like...