The

Québec maritime Blog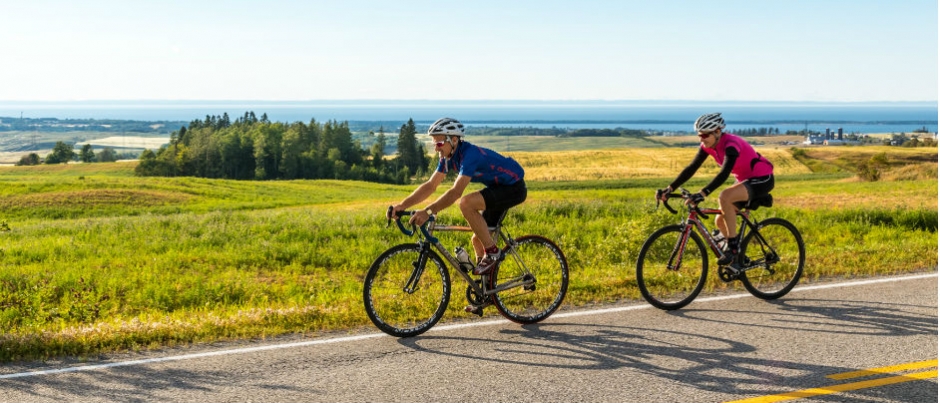 All Kinds of Cycling in the Maritime Regions of Québec
By the seaside, in the forest and across the mountains, the scenery of Eastern Québec takes on a whole new dimension while riding a bike. A perfect way of travelling for anyone looking for freedom, exploration and challenges, cycling can be enjoyed year-round in the maritime regions of Québec. Here are some of the cycling options in our regions, whether you prefer bicycle touring, road cycling, mountain biking or fatbiking.
Bicycle touring
Are you considering a bicycle tour for a couple of days or several weeks? Well, there are numerous itineraries possible on the Route Verte cycling trail in the four maritime regions of Québec. In Côte-Nord, the Route Verte follows disused road sections, well-designed bike paths and the shoulder of Route 138. On the south shore of the St. Lawrence, the Route Verte parallels Route 132 and takes you, among other places, along the Basque seashore, through the Matapédia Valley as well as through many picturesque villages in Bas-Saint-Laurent and Gaspésie. The four ferry services linking the two shores give you even more options. In addition, some of the lodging establishments along the Route Verte hold Vélo Québec's Bienvenue cyclistes! certification, meaning they provide special services to touring cyclists.
Also part of the Route Verte network, the Petit Témis Interprovincial Linear Park is a bikeway following an old railway between Rivière-du-Loup and Edmundston, New Brunswick, which will take you through the beautiful Témiscouata area and along the majestic lake of the same name. Some primitive campsites are set up directly along the bikeway. It's even possible to reach Parc national du Lac-Témiscouata – and enjoy the park's beautiful paved roads and bike paths – by taking the water shuttle linking the park and Cabano or the ferry linking Saint-Juste-du-Lac and Notre-Dame-du-Lac.
Road cycling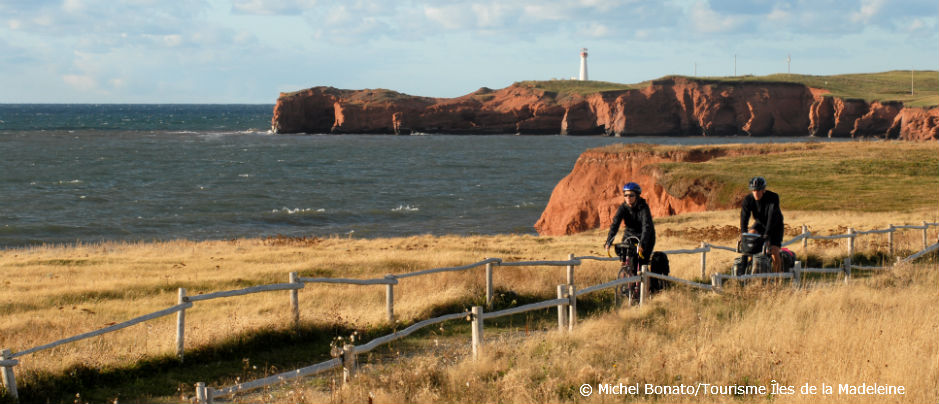 Did you know that the Route Verte cycling trail also extends to the Îles de la Madeleine? CTMA Cruises proposes bike routes for day trips on and off the Route Verte so you can explore this unique archipelago at your own pace. The routes take you through one of the only spruce forests on the Islands and offer some of the best viewpoints to admire the sea, watch breathtaking sunsets and enjoy the Islands' legendary beaches.
The hilly roads of Bas-Saint-Laurent present a very interesting challenge to sport cyclists. The blog post, "Top 6 Bike Routes in Bas-Saint-Laurent," is a great starting point for planning your trip. In addition, the Route des Monts Notre-Dame, a 160-km (100-mi.) road stretching between Sainte-Luce and Dégelis, offers amazing scenery and demanding climbs. Consider yourself warned! :)
In Gaspésie, Forillon National Park offers options for road cyclists of all levels. Routes 132 and 197 in and around the park form a loop of roughly 70 km (40 mi.) with several nice long climbs, for a vertical gain of just over 1000 metres (3280 feet).
Mountain biking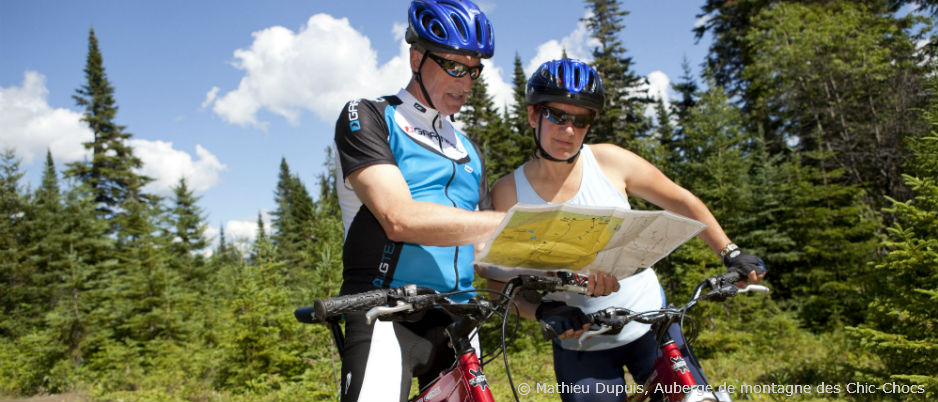 Forillon National Park also has something to offer to mountain bike enthusiasts. The Les Lacs trail, rated difficult, is a must for even the most experienced cyclists. The park also has several gravel trails perfectly suited to hybrid bikes, including the La Vallée and Le Portage trails, which cross the park between L'Anse-au-Griffon and Penouille.
Located at the heart of the Gaspé Peninsula, the Auberge de montagne des Chic-Chocs gives you access to some 200 km (125 mi.) of forest roads and trails in a beautiful mountainous environment. Strenuous and hilly, these routes are better suited for intermediate to advanced thrill-seeking cyclists.
In Côte-Nord, the Centre de Plein Air du Lac des Rapides is the starting point of a vast network of mountain bike trails that take you through a typical Côte-Nord forest.
Fatbiking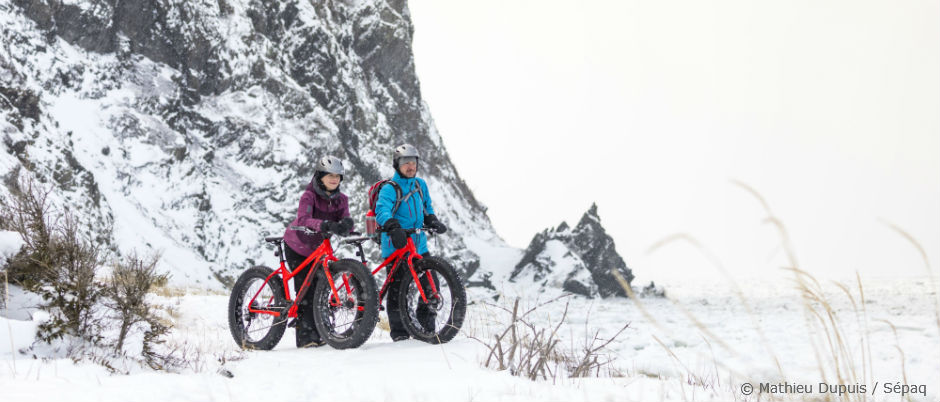 Fatbiking is quickly gaining popularity in our regions. Parc national du Bic offers 15 km (9 mi.) of dedicated fatbiking trails. You can even rent a fatbike on site to try out this fun activity, which is bound to give you a different outlook on Québec winters. If you happen to be in Forestville (Côte-Nord) in February, note that the Boréal Loppet has added fatbike races to its popular cross-country skiing event.

In addition to all of the above, many municipalities throughout our regions have established bike path networks for you to safely explore on two wheels. While you're here, make sure you plan to go cycling on our roads, bike paths and bike trails!
If you liked this article, you might also like...