The

Québec maritime Blog
Kamouraska, Bas-Saint-Laurent
Nicolas Gagnon/Tourisme Bas-Saint-Laurent
Top 6 Bike Routes in Bas-Saint-Laurent
Along the St. Lawrence River, through the Notre-Dame Mountains, right by majestic lakes or in picturesque rural landscapes, the Bas-Saint-Laurent region is a perfect destination to explore on a bicycle. It also boasts several services for cyclists: long stretches of Québec's Route Verte cycling trail, Bienvenue cyclistes! accommodations, as well as numerous bike-friendly rest areas and attractions. Here are six routes for you to discover the region at a slower pace.
Circuit des Églantiers | 40 km (25 mi.)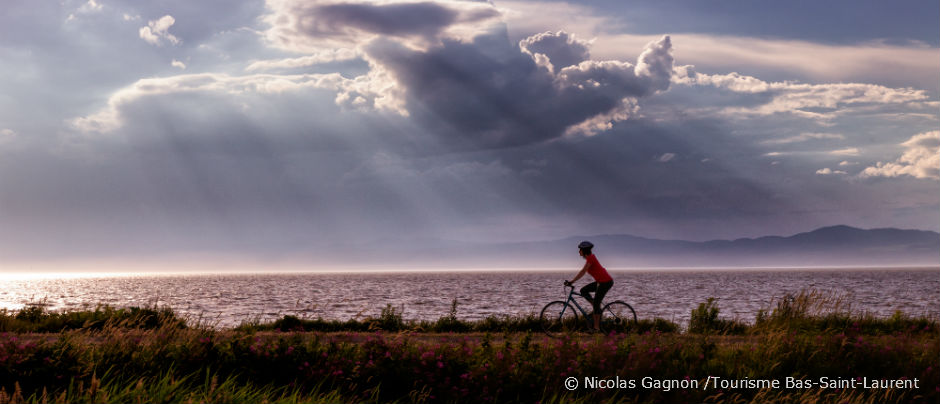 From the heart of the lovely village of Kamouraska, this option takes you on Route 132, lined with beautiful ancestral houses between the church and Cap Blanc, at the west end of the village, before going down to the river level through fields. The route then heads south towards Saint-Philippe-de-Néri and Saint-Pascal, and eventually makes its way back to the river, going through Saint-Germain and skirting around several monadnocks, rocky hills typical of the Kamouraska lowlands creating its unique scenery. Other loops are possible, including back-and-forth trips between Kamouraska and Rivière-du-Loup (78 km / 48 mi.), or between Kamouraska and La Pocatière (62 km / 38 mi.).
Petit Témis Interprovincial Linear Park | 74 km (46 mi.)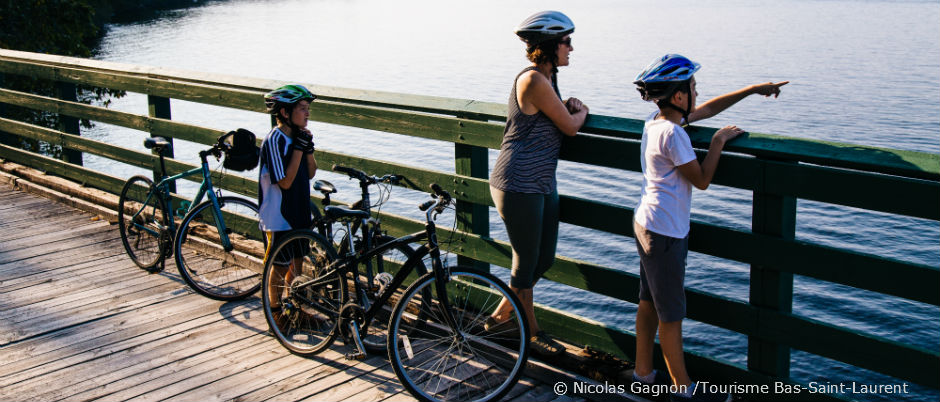 Here is an interesting option for those who don't always appreciate to share the road with motorized vehicles. The Petit Témis Interprovincial Linear Park follows an old railroad track starting in Rivière-du-Loup and crossing the Témiscouata region, all the way to New Brunswick. In the town of Témiscouata-sur-le-Lac, you can hop on a ferry to Parc national du Lac-Témiscouata, on the other side of the lake (24-km / 15-mi. loop). From there, a bike path follows the lake shore southward to Saint-Juste-du-Lac, where another ferry takes you back to Notre-Dame-du-Lac. If you have a little more time, various camping options are possible, including three primitive campgrounds scattered along the bike path and the national park's campgrounds.
Circuit Terre et Mer | 58 km (36 mi.)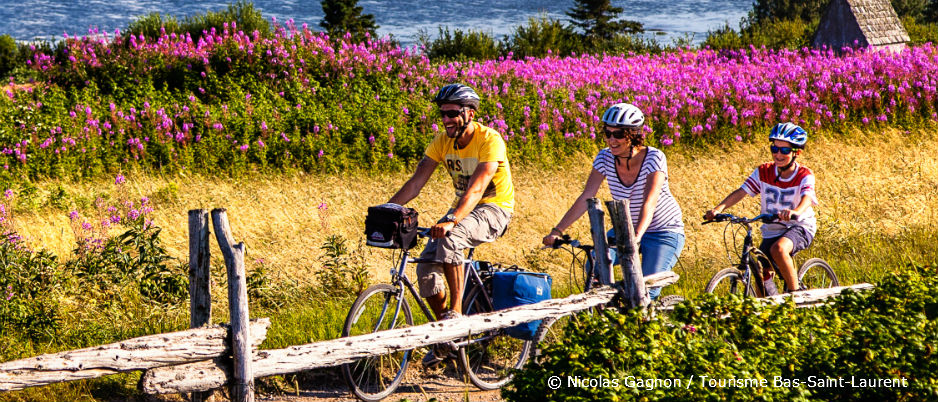 This route unveils two distinct sides of the Bas-Saint-Laurent region: maritime and rural. Leaving the town of Trois-Pistoles westward on Route 132, it crosses a plateau before going down to sea level along L'Isle-Verte Cove. After a short ferry ride, you can set foot (and wheels) on Île Verte (Green Island), and ride its quiet roads from tip to tip. Back on the "continent", a steady climb takes you to 2e rang (rural road), a slightly hilly road with very little traffic, a true pleasure to ride! At the end of 2e rang East, go straight on the unpaved bike path ahead at the T-junction. Zigzagging through fields and wooded areas, the path drops abruptly to Trois-Pistoles River (a good test for your brakes). Turn left on Rue Du Sault to get to the village of Rivière-Trois-Pistoles (which is part of the municipality of Notre-Dame-des-Neiges), and ride under Route 132, to Rue de la Grève which has a great surprise in store for you: a disarming tranquility right on the St. Lawrence River. A bike path with some steep sections links Rue de la Grève and Chemin de la Plage which takes you back to Trois-Pistoles, by way of the municipal campground.
Grand Circuit Maritime | 61.5 km (38 mi.)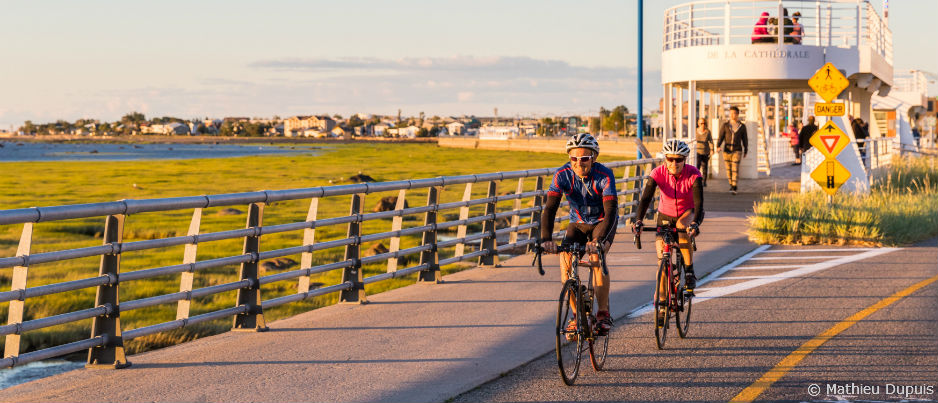 Here's a true classic with the local cycling community. From downtown Rimouski, follow the bike path along the St. Lawrence River eastward. The route rides alternately on paved bike paths and small roads and streets following the curves of the shore, going through Pointe-au-Père Maritime Historic Site, with many access points to beaches. Take a break in the picturesque village of Sainte-Luce to have a snack or to stretch your legs on the seawall along the beach before getting back on the saddle all the way to Sainte-Flavie, known as the gateway to the Gaspésie region. From there, climb the hill towards Mont-Joli and then, right after the roundabout, head west on Chemin Perreault, a lovely quiet road through farms and fields. A long and steady climbing false flat takes you to Saint-Anaclet-de-Lessard, where Rue de la Gare heads north to the St. Lawrence River. Take the bike path and Rue du Fleuve all the way to Rimouski.
You still have some energy (or an extra day) left? Ride the loop to Saint-Valérien and Saint-Fabien (69 km / 43 mi.). Beware: there are some serious climbs!
Circuit de la Route des Frontières | 118 km (73 mi.)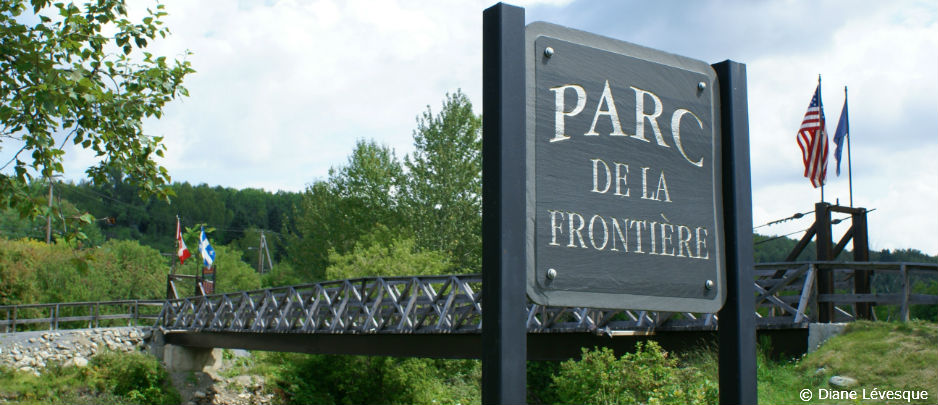 Let yourself be charmed by the natural, historic and cultural richness of this route! From the beach in Pohénégamook, take Chemin de la Tête-du-Lac to Route 289. From there, navigation couldn't be easier since you simply follow Route 289 to New Brunswick, starting along the west side of Lake Pohénégamook, then along the border with Maine to Saint-Marc-du-Lac-Long. The hilly road has some amazing viewpoints on the forested hills of the area, while the villages along the way offer several options for you to refuel along the way.
Circuit cylosportif | 55 km (34 mi.)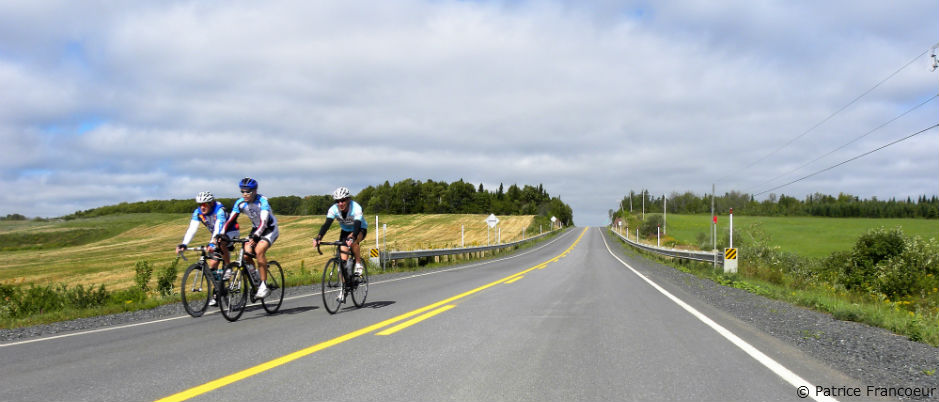 This is a tough one! It includes several climbs that will challenge even the strongest cyclists. Because it follows small roads parallel to the Trans-Canada Highway (Highway 85), traffic is light and pavement has been redone recently for the most part of this route during the highway improvement project. Some 55 km (34 mi.) long, it boasts a vertical gain of 750 metres (2460 feet). And even if it's a perfect training ground, take the time to appreciate the several vistas on Lake Témiscouata!
And it's just a sample of the many possible bike routes in the Bas-Saint-Laurent region! Get on your bike and head for adventure!
Click here to see the Official Bike Map of the Bas-Saint-Laurent region.
If you liked this article, you might also like...