Home »
Blog »
En Route to Discovery: 6 Wildlife Observation Activities to Add to Your Road Trip Itinerary
The

Québec maritime Blog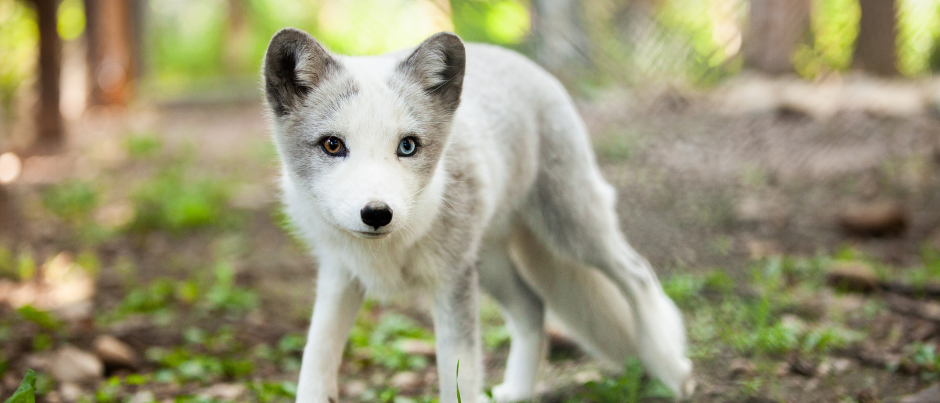 Bioparc de la Gaspésie
R. St-Laurent
En Route to Discovery: 6 Wildlife Observation Activities to Add to Your Road Trip Itinerary
The maritime regions of Québec are home to many wildlife species that can easily be observed during guided excursions or outdoor activities on your own. Are you a wildlife enthusiast planning a vacation in Eastern Québec? Be sure to add these six observation activities to your road trip itinerary!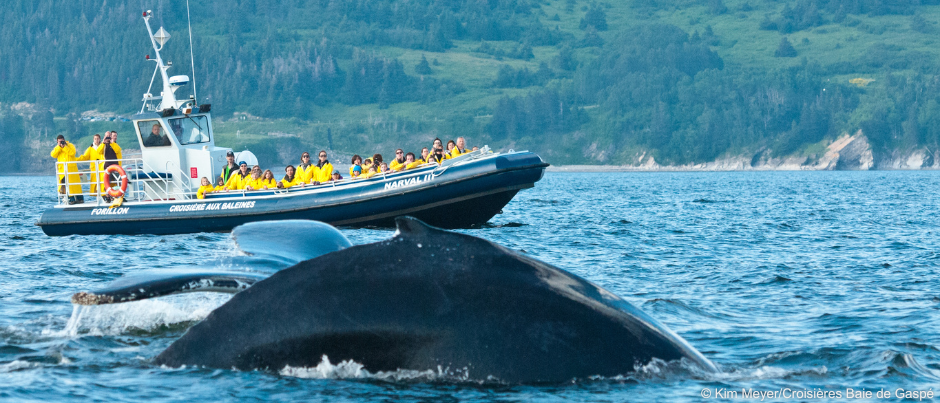 A glimpse of what awaits you
Board one of two sightseeing boats with Croisières Baie de Gaspé for an unforgettable whale-watching cruise in the Gulf of St. Lawrence! Accompanied by an experienced interpreter guide, you may be able to observe up to six species of whales, including humpbacks and blue whales, during this 2.5-hour excursion. You can also choose which type of experience will suit you best: aboard the Narval III, which can accommodate 47 passengers, or the brand-new Rocher Le Vieux, which seats 12. You can also charter the Rocher Le Vieux for a private excursion with a captain/guide (subject to availability, of course). Please note that, for safety reasons, children under 12 are not permitted on this vessel.
Where to go
Departures are from the Grande-Grave wharf in Forillon National Park (Gaspésie).
When to go
Cruises are available from June to October, but for a more intimate experience with the whales, we recommend you go during the off-season, in June, September or October.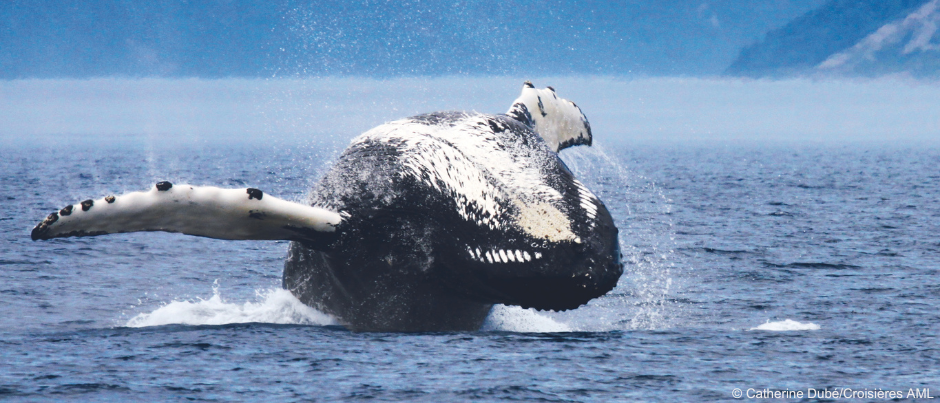 A glimpse of what awaits you
Croisières AML offers excursions in the heart of the Saguenay–St. Lawrence Marine Park, the only marine protected area in Québec and the best whale-watching site in the world! Aboard a safe Zodiac or comfortable sightseeing boat specifically designed for whale watching, you'll have the opportunity to admire up to 13 species of marine mammals, including humpbacks, fin whales and harbour porpoises. During the excursion, a naturalist guide will share interesting information about these giants of the sea and other marine life found in the St. Lawrence. Several types of sea excursions are available, depending on how much time you have and the type of experience you wish to enjoy. Inquire for more information.
Where to go
These excursions depart from Tadoussac (Côte-Nord).
When to go
Croisières AML offers excursions from May to October.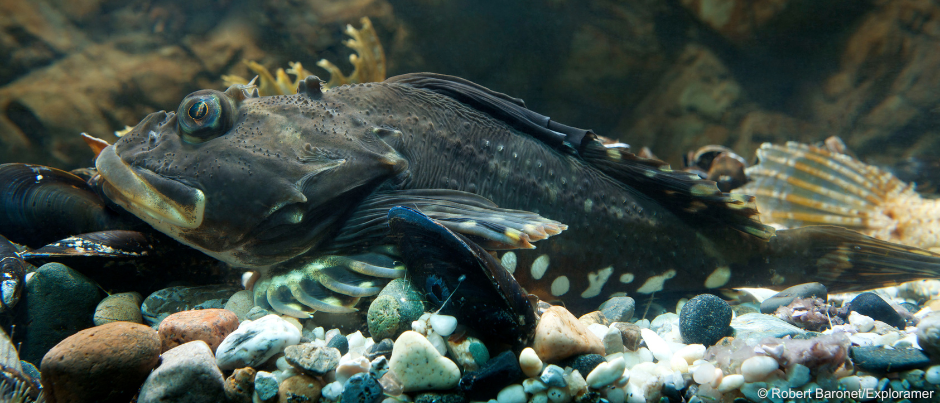 A glimpse of what awaits you
A wide variety of activities are offered at Exploramer, a science museum showcasing the marine environment of the St. Lawrence. Discover many species of fish and other living organisms in the aquariums and touch pools. Then, satisfy your curiosity by visiting the museum's various exhibitions and participating in a fish-harvesting activity during which you'll examine the species caught in a fyke net near the shore. You can also board the C-E Marin Exploramer for a science-themed excursion at sea! Want to contemplate one of the most beautiful sunsets in the world? Exploramer offers sea excursions at the end of the day during which you can take in this breathtaking show! By the way, the site is currently expanding. New installations will soon be inaugurated, including a pavilion that will showcase the sharks of the St. Lawrence. Until then, the work should not affect your visit.
Where to go
The museum is located along the wharf in Sainte-Anne-des-Monts (Gaspésie).
When to go
Exploramer is open from early June to early October. To avoid the crowds and enjoy a more leisurely visit, we recommend you go in June or September.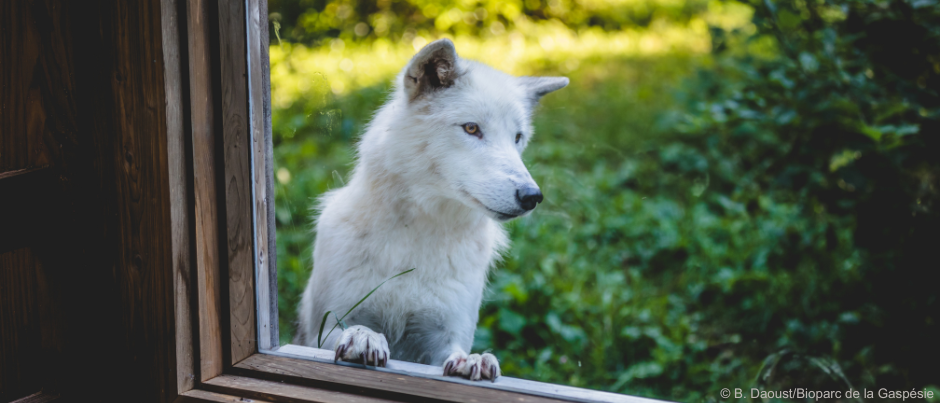 A glimpse of what awaits you
A visit to this wildlife park will give you the opportunity to admire about 40 animal species indigenous to Québec in a setting that resembles their natural habitat. Follow a trail through various ecosystems to see harbour seals, Canada lynx, raccoons and black bears. For an immersive and unusual experience, be sure to participate in the "Overnight with the Wolves" activity. Accompanied by a naturalist guide, you'll spend the night in a trapper's cabin during which you can listen to the calls of the wolves and coyotes at dusk! This package also includes a supper featuring local flavours, close-up observations of wolves, multisensory discovery activities, a morning safari and breakfast.
Where to go
The wildlife park is located in Bonaventure (Gaspésie).
When to go
The Bioparc is open from early June to Canadian Thanksgiving in early October. If you'd like to visit when the park is less crowded, we recommend you go in June or in the early fall.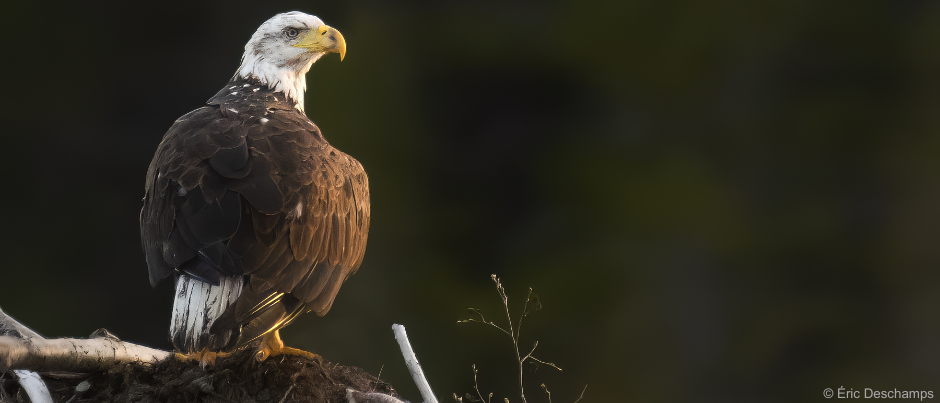 A glimpse of what awaits you
Parc national du Lac-Témiscouata is an ideal environment for bald eagles, which are the park's animal emblem. Canada's largest birds of prey, bald eagles can be spotted in the park's highest treetops or flying over Lake Touladi or Lake Témiscouata. Keep your eyes on the sky during your visit and you may spot one of these amazing birds, which have a wingspan of up to 2 metres (6 feet)! To learn more, participate in the interpretive activity offered by a park warden in the Garden of Memories. This is your chance to get answers to all your questions about these birds!
Where to go
The park is located in the Témiscouata area (Bas-Saint-Laurent) and is accessible from three different sectors: Saint-Michel-du-Squatec, Dégelis and Saint-Juste-du-Lac (via a ferry).
When to go
Although the park is open year-round, most services are available from mid-May to mid-October.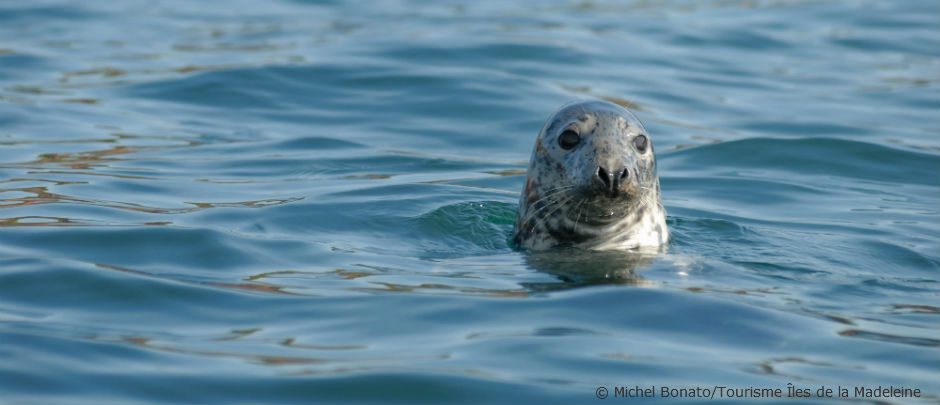 A glimpse of what awaits you
You can observe up to four species of seals in the Îles de la Madeleine: grey seals, which have long muzzles and are dark grey; harbour seals, which are smaller and paler; harp seals, which have silvery grey bodies with dark markings, and hooded seals, which have an elastic nasal cavity, or hood, located at the top of their heads. You may spot seals during outdoor activities such as sea excursions or walks on the beach. To learn more, visit the Seal Interpretation Centre, where various exhibitions and screenings will provide you with a wealth of information about these fascinating marine mammals.
Where to go
You are most likely to see seals on Grande Échouerie Beach in Grosse-Île or Dune-du-Sud Beach in Grande-Entrée (Îles de la Madeleine). The Seal Interpretation Centre is also located in Grande-Entrée.
When to go
Visit in the summer if you want to see harbour or grey seals. If you prefer to travel during the off-season, you'll want to visit in early or late summer to see them. You'll have to plan a trip in the winter to observe harp or hooded seals!
Are you ready to hit the road in our regions? Visit our Whale and Wildlife Watching page to find out more about the wildlife species you may encounter during your road trip!
If you liked this article, you might also like...