The

Québec maritime Blog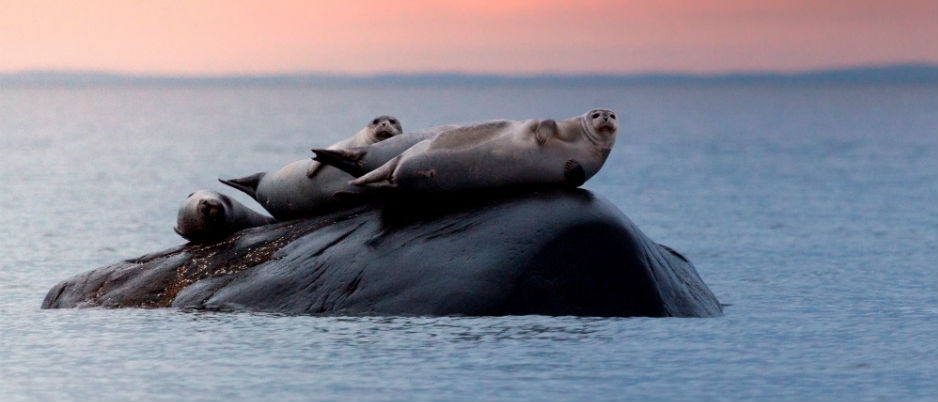 Seals
Jean-Christophe Lemay
Wildlife Watching: 7 Fun Outing Ideas!
Info and Tips to Help You Make the Most of Your Vacation
Are you planning a vacation in the maritime regions of Québec and would like to encounter wildlife? Take a look at these outing ideas! Our tips will help you make the most of your vacation in our regions.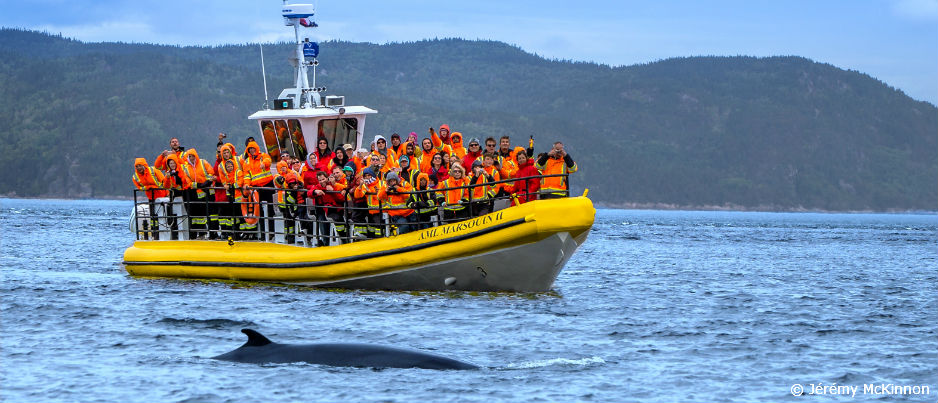 What: A 2h to 3h whale-watching cruise in the Saguenay–St. Lawrence Marine Park
Where: Cruises depart from Rivière-du-Loup (Bas-Saint-Laurent) and Tadoussac (Côte-Nord).
The best time to visit: May to October. Although whales can be observed year-round in the St. Lawrence, it's more common to see them from late June to mid-October.
Helpful tip: Before booking your cruise, consider what kind of experience you'd like to have. Are you looking for a thrilling adventure? Would you prefer more comfort in a larger vessel with panoramic windows? Whether you opt for a cruise aboard a Zodiac or sightseeing boat, an interpreter guide will accompany you, and great care will be taken to ensure your safety while minimizing the impact on marine mammals.
Bonus: Croisières AML will take you to a captivating place: the Saguenay–St. Lawrence Marine Park. Considered the best whale-watching site in the world, this protected environment is an exciting place to visit. Since the St. Lawrence is such a rich feeding ground for marine mammals in the park, you're very likely to see whales coming to the surface to feed and putting on a memorable show!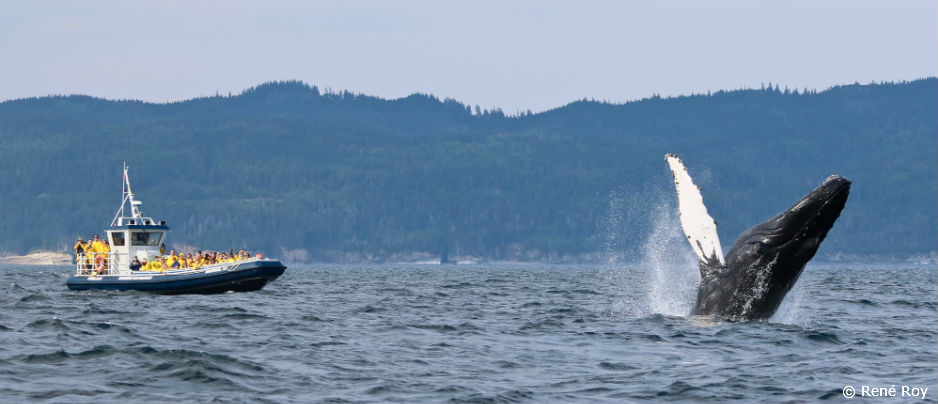 What: A 2h30 whale-watching cruise in the waters of Gaspé Bay and the Gulf of St. Lawrence
Where: Cruises depart from the Grande-Grave wharf, in Forillon National Park in Gaspé (Gaspésie).
The best time to visit: Early June to mid-October, which is the best time of year to observe marine mammals in the Gulf of St. Lawrence
Helpful tip: During your sea excursion aboard the Narval III, pay attention to what the interpreter guide is sharing with you. He or she will impart a wealth of fascinating information about the whales you may encounter, including blue whales, the largest animals on earth! As this cruise is intended to be an intimate experience, with a maximum of 47 passengers, don't hesitate to ask questions and, above all, keep a watchful eye on the surrounding waves!
Bonus: In addition to seeing marine mammals, you'll be immersed in spectacular scenery during this cruise! Gaspé Bay and the Gulf of St. Lawrence border Forillon National Park, where you can admire the impressive and steep cliffs at Cap Gaspé. Soak up the natural wonders that unfold before your eyes, breathe in the salty sea air and listen to the cries of seabirds. This adventure at sea will awaken all your senses!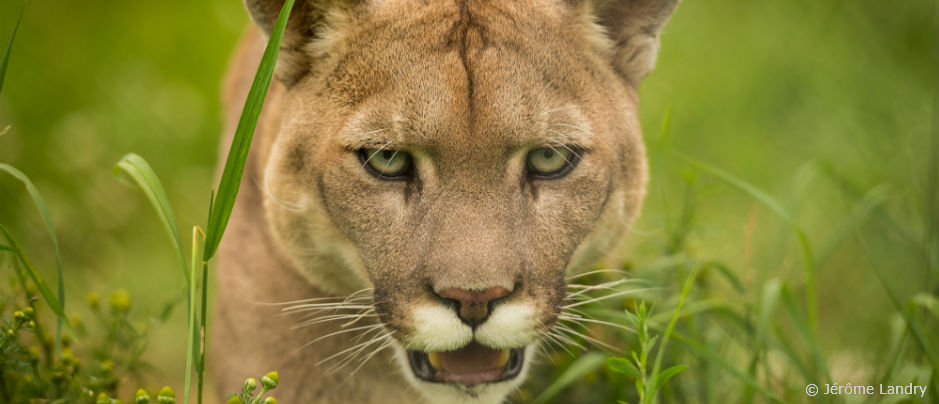 What: A wildlife park that is home to about 40 species of animals indigenous to Québec in a setting that resembles their natural habitat
Where: Bonaventure, in the Chaleur Bay area (Gaspésie)
The best time to visit: Early June to mid-October
Helpful tip: Time your visit to coincide with animal care. This will increase your chances of seeing species that are sometimes timid, in addition to giving you the opportunity to watch the animals eat. Listen to what the naturalist guides have to say and learn about the feeding habits and behaviours of the park's inhabitants.
Bonus: You can sleep with the wolves in the Bioparc! This adventure includes spending the night in a prospector's tent, accompanied by naturalist guides. After a guided tour of the site, sit around a campfire sharing stories and listening to wolves and coyotes howl at the moon. If you'd prefer cosier accommodations, you can also rent a comfortable cottage by the sea.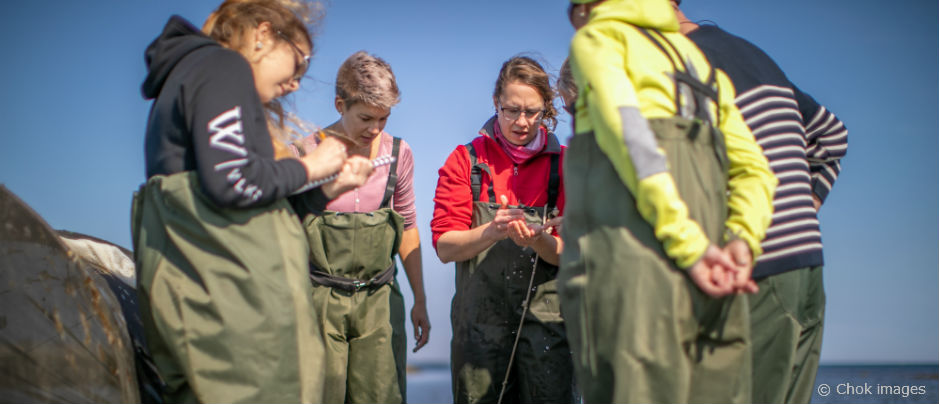 What: A museum that gives you a close-up look at underwater life in the St. Lawrence through interactive and multisensory activities
Where: Sainte-Anne-des-Monts (Gaspésie)
The best time to visit: Early June to early October
Helpful tip: Participate in a guided tour of the aquarium to learn many fascinating details about the biodiversity of the St. Lawrence. Naturalist guides will be happy to answer all your questions. You can also dip your fingers in the touch pools to handle several species of invertebrates, including sea urchins and sea cucumbers.
Bonus: If you'd like to try something hands on, participate in the fish-harvesting activity. Put on a pair of waders and accompany your guide to check out the various species caught in a fyke net along the shore. This large fish trap keeps the marine species it catches alive and allows them to be observed. Find out when this activity is offered, as it takes place at low tide only.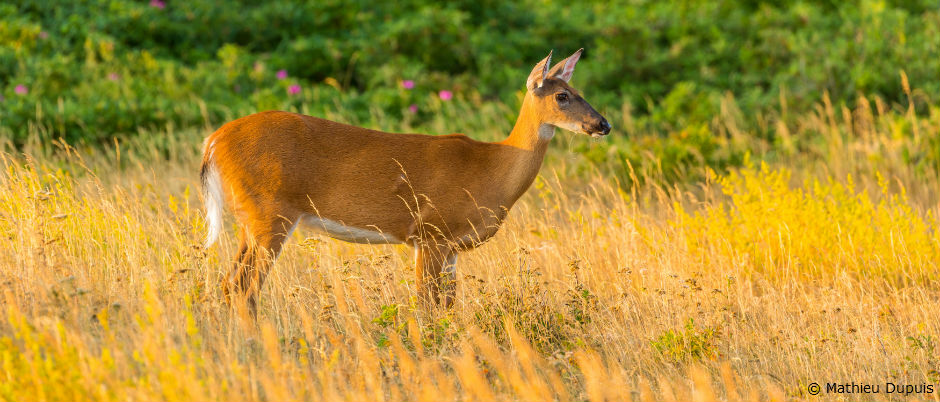 What: A Québec park that protects many ecosystems you can discover by visiting its islands, bays and mountains
Where: Le Bic sector, 20 km (12 mi.) from downtown Rimouski (Bas-Saint-Laurent)
The best time to visit: The park is open every day of the year! If you're a birdwatcher, you'll particularly want to visit in the spring.
Helpful tip: The park is a prime spot to watch birds of prey during their spring migration. Observe thousands of birds from the Raoul-Roy lookout and admire a magnificent view of the St. Lawrence. In the summer, a park warden awaits you at Pointe-aux-Eiders with telescopes and binoculars so you can observe eiders and other species of seabirds.
Bonus: Visit the park to learn more about grey and harbour seals (the park's animal emblem). In the Pointe aux Épinettes and Anse aux Bouleaux-Ouest sectors, park wardens will help you identify these two species and understand their behaviours. In addition, keep your eyes peeled in wooded areas, as you may spot white-tailed deer nibbling on leaves or ferns nearby!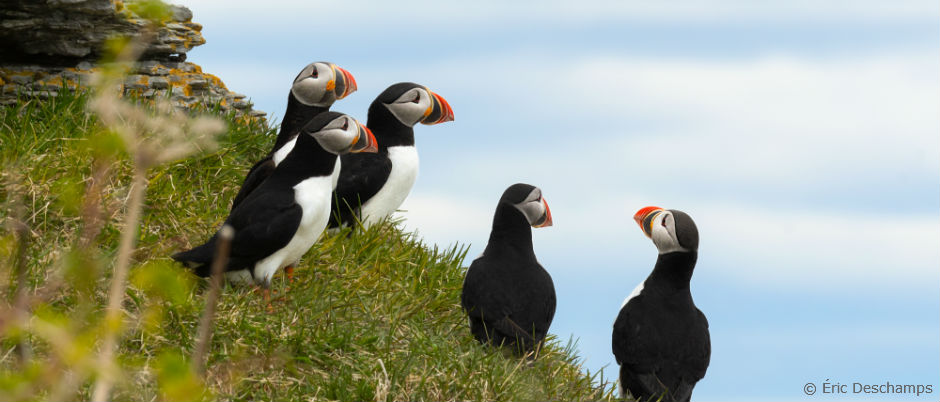 What: A richly biodiverse national park reserve made up of about 40 limestone islands and over a thousand granitic islands and islets
Where: Several private companies recognized by Parks Canada offer sea excursions to the islands of the archipelago, with departures from Longue-Pointe-de-Mingan and Havre-Saint-Pierre (Côte-Nord).
The best time to visit: June to September
Helpful tip: Take advantage of your visit to go on a sea excursion to Île aux Perroquets (Parrot Island), where hundreds of Atlantic puffins await you! You'll enjoy watching these curious birds, which are nicknamed "sea parrots" or "clowns of the sea." At high tide, they feed fish to their young nesting in crevices in the island's cliffs. In the same family as penguins, Atlantic puffins will amuse you with their loping gait and clumsy takeoffs and landings.
Bonus: To extend your adventure on this tiny island, spend the night in a comfortable room in the lightkeeper's house! Learn more about the history of the light station, communications and the islanders' way of life as you enjoy watching Atlantic puffins and razorbills.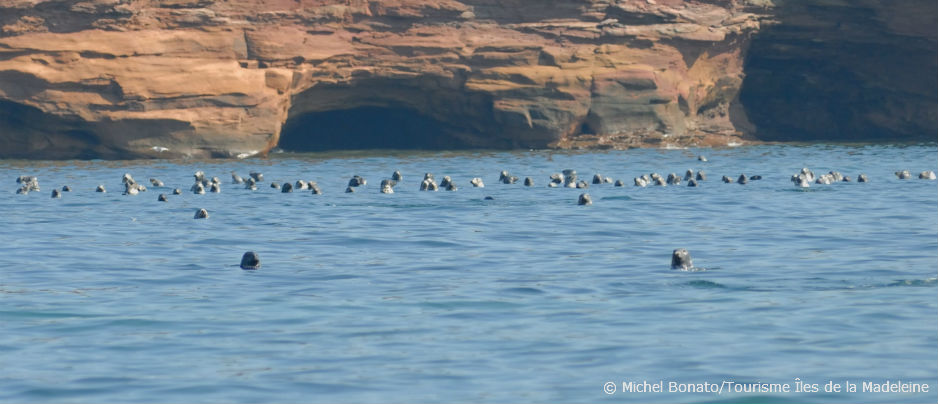 What: The opportunity to observe four different species of seals on the Îles de la Madeleine archipelago
Where: Seals are most frequently seen at the end of Grande Échouerie Beach (also known as Old Harry Beach) in Grosse-Île, on Le Corps-Mort (Deadman's Island), and at the end of Dune du Sud (South Dune) Beach, just across from the Grande-Entrée fishing harbour.
The best time to visit: Grey and harbour seals can be seen in the summer, while harp and hooded seals are more common in the winter.
Helpful tip: There are many opportunities to see playful seals on the Islands. Combine the experience with an activity you enjoy, such as going for a stroll along a beach, sea kayaking, sailing, boating or Zodiac excursions. Various local companies can direct you to the most likely places to see seals, depending on the tides.
Bonus: Complete your immersion into the world of seals by visiting the Seal Interpretation Centre in Grande-Entrée. Tour the exhibition and watch a film about seals to better understand the behaviour of these animals and learn about their role in local history.

Are you eager to encounter wildlife in the maritime regions of Québec? Visit our Whale and Wildlife Watching page for even more inspiring outing ideas!
If you liked this article, you might also like...