The

Québec maritime Blog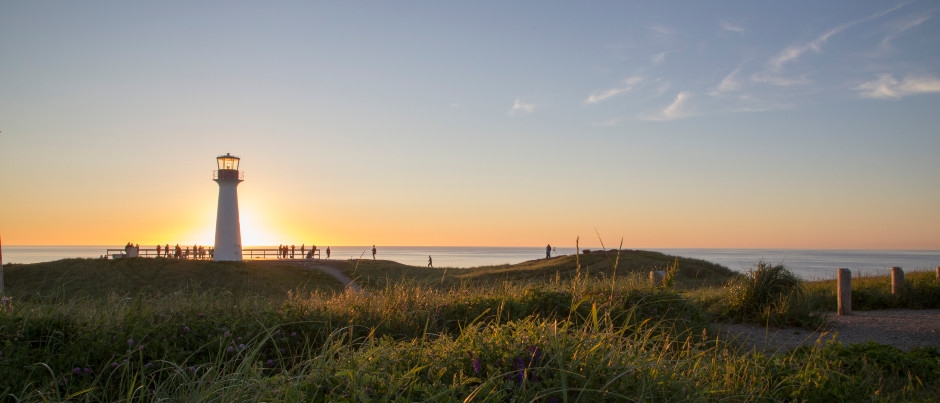 Explore the Îles de la Madeleine by Bus
Follow the Guide!
As a tour guide, it's always exciting to be assigned a tour in the United States, Western Canada, Europe, the Caribbean, etc. No matter the destination, we're always happy to set off on an adventure with a group of fellow travellers! For me, this is especially true when I'm given the opportunity to guide a group here in Québec. There are so many beautiful places to discover and explore in this province, including the regions by the sea such as the Îles de la Madeleine.
Being assigned to the Islands is therefore pure pleasure! It feels like going on vacation instead of going to work. Tours of the archipelago focus on the region's beautiful scenery, the warm hospitality of the locals as well as the delicious fish and seafood available throughout the Islands… As you explore one postcard-worthy landscape after another, you can take the time to soak up the Îles de la Madeleine with all your senses!
A unique destination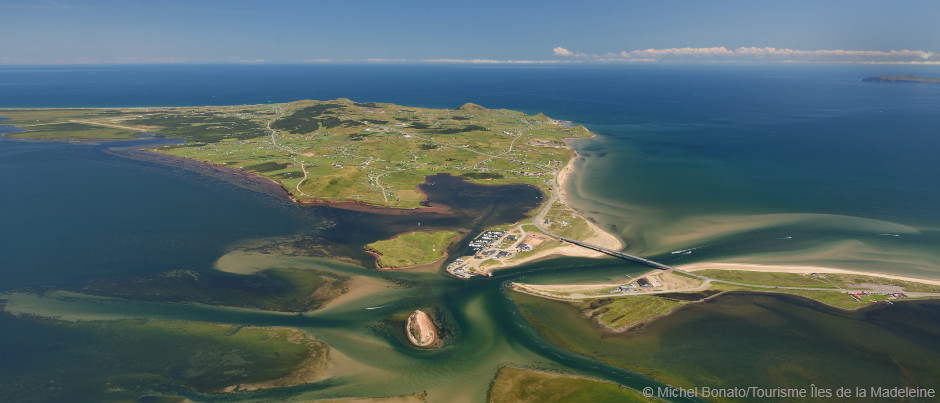 Attracted by the uniqueness of this destination, tourists from all over the world want to visit the Îles de la Madeleine, an archipelago in the middle of the Gulf of St. Lawrence that can be reached via a five-hour ferry ride from Prince Edward Island. (You can also fly there.) Seven of the archipelago's islands are inhabited, six of which are connected by narrow sand dunes and Route 199, which is about 85 km (50 mi.) long. As you travel along this road, you'll come across several communities with intriguing names: Cap-aux-Meules, L'Étang-du-Nord, Fatima, Havre-Aubert, Havre-aux-Maisons, etc. About 12,000 Islanders live in this region, 85% of whom are of Acadian origin and most of whom speak French. The Islands are also home to a small English-speaking community that's mainly concentrated on Entry Island.
Do you dream of visiting this beautiful part of Québec but hesitate to organize a trip on your own? Many travel companies will make it easy for you by taking care of all the details, starting with safe and relaxing transportation by luxury coach. On the way to and from the ferry, your guide will tell you all about the regions of Québec and the Maritime provinces you're travelling through. Instead of a long and boring drive (over 1220 km or 760 mi. from Montréal to Souris, PEI), you can enjoy an educational and restful ride!
A tour in good company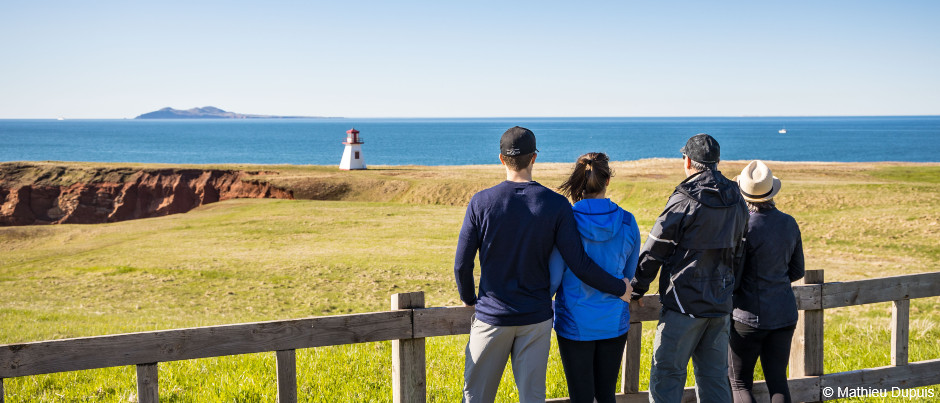 Your guide will accompany you as you visit the archipelago, providing a friendly, reassuring and helpful presence. An experienced local guide will also join your group as soon as the ship docks. The bus and driver will make the crossing too and provide transportation on the Islands, which means you won't have to worry about renting a car to get around. Tours and activities are planned to make the most of your stay, and you'll be given free time to explore on your own and enjoy the slower pace of the Islands. Accommodations and restaurants will also be booked for you, so you can enjoy the best the archipelago has to offer and savour local delicacies!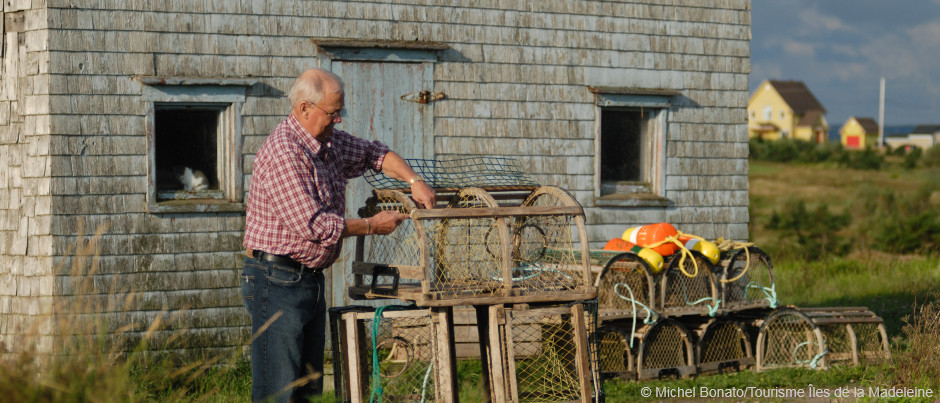 As you drive through magnificent seascapes between scheduled visits, your guide from the Islands will share stories and tell you about local history. You'll learn all about the origins of the Islanders and their way of life, with all the advantages and small pleasures that living on an island entails daily.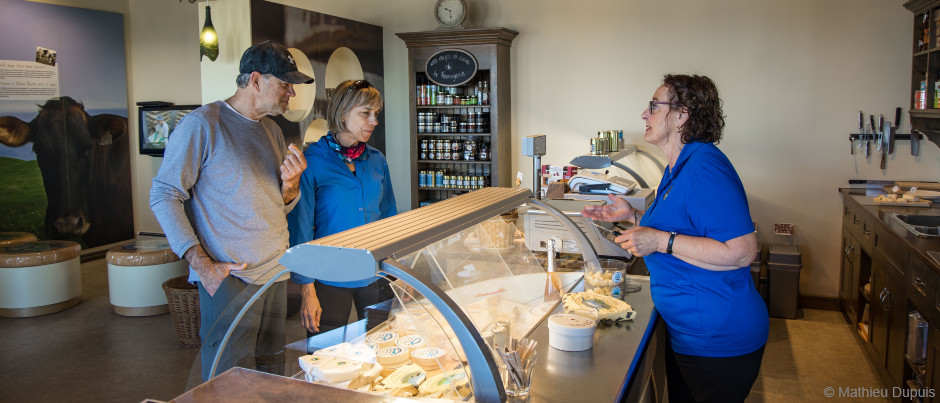 Since the main tours and activities will have been booked in advance, you'll receive an exclusive and personalized welcome at the Fumoir d'Antan smokehouse, the Fromagerie Pied-de-Vent cheese factory and various other museums and interpretation centres. You can also visit the À l'Abri de la Tempête microbrewery or the Le Barbocheux winery (where you can taste bagasse, a traditional fruit wine). At each location, you can enjoy tours given by people who know how to communicate their passion!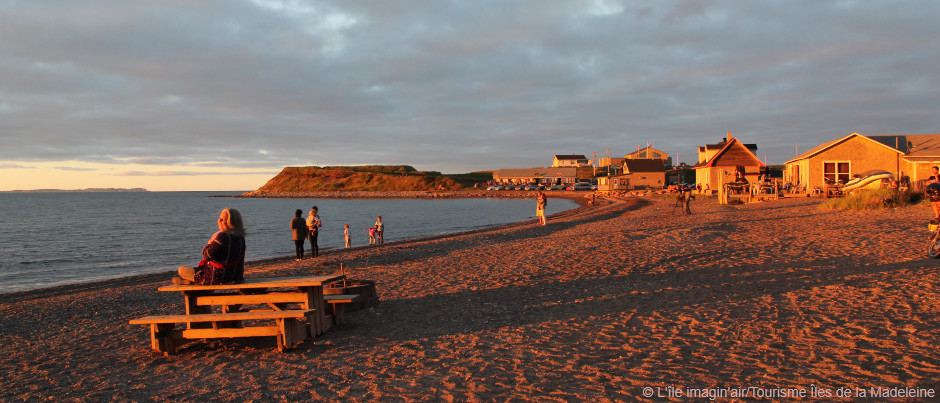 The bus tour will also make several stops at breathtaking sites where you're bound to feel inspired by the colours of the scenery: the blue of the sea, the red sandstone cliffs and the golden sand along 300 km (190 mi.) of beaches. You'll also have the opportunity to go for strolls along the shore. Free time at the La Grave heritage site on Havre Aubert Island is always at the top of my list—this natural harbour is where the Acadians first settled and was once a fishing hub. Now it's home to craft boutiques, cafés, restaurants and performance venues. You can also visit the Dune du Sud Beach to admire the water and breathe in the salty sea air.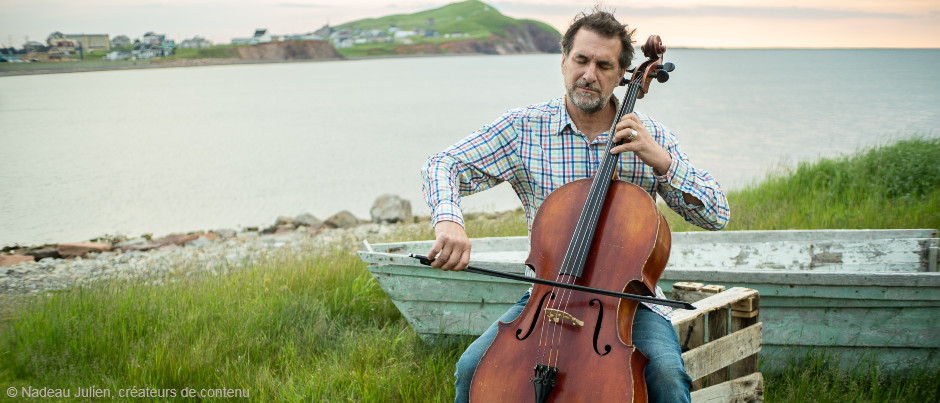 In the evening, after dinner, you can contemplate a sunset from the beach near your hotel or go see a show featuring local talent. You can also ask for recommendations for where to go for a drink and listen to live music.
Throughout your trip, both of your guides as well as the bus driver will be on hand to make sure your stay is one to remember… as you take the time to experience the Islands like the locals.
The joys of guiding groups on the Islands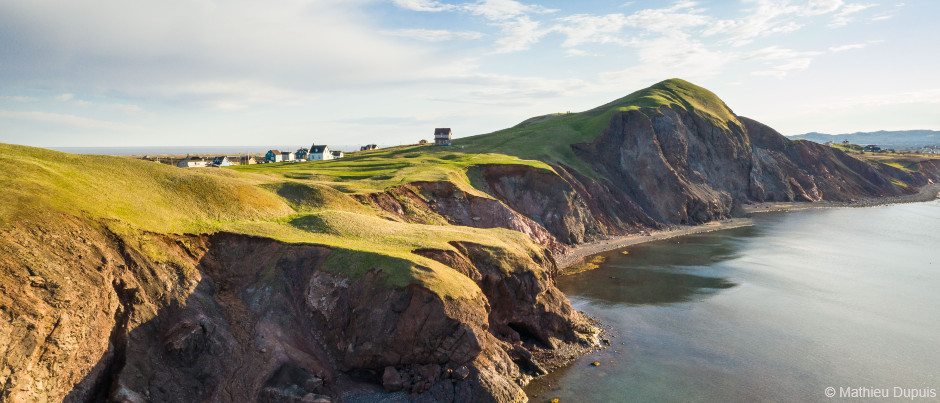 Accompanying tour groups on the archipelago is always a pleasure. I'm so happy when clients who've had this trip in mind for a long time are finally able to realize their dreams. They also get the opportunity to bond with other tour participants. Many of them tell me that they enjoy group tours because they're hassle-free: everything is planned out in advance to make your trip as easy and pleasant as possible—and you're also given plenty of free time.
Personally, I really enjoy guiding groups at this destination. The tours' pace is adapted to the environment and the Islanders' way of life. You can enjoy everything there is to see and do without feeling rushed. I can't think of a better place to accompany a tour group!
Soon, people will be back on the road after having put their travel plans on hold for over a year. Tour guides like me are also very eager to pack our bags and start travelling the world again!
I've got my fingers crossed that my next assignment is on the Islands!
If you liked this article, you might also like...