The

Québec maritime Blog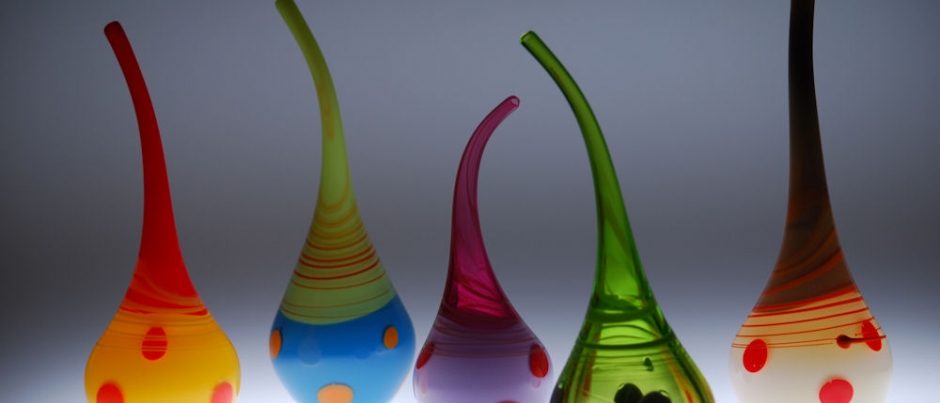 Portrait of an Artist: Sophie Bourgeois
Sophie Bourgeois was born on the Îles de la Madeleine. After studying art for a few years in Québec City and Halifax, she returned to the Islands in 1997. For the past 16 years, she has worked with glass in several forms: blown glass, figured glass and lampworked glass. You can meet her and watch her at work in her studio at Verrerie La Méduse. You won't be able to resist the urge to take some of her beautiful work home with you!
Le Québec maritime: Why did you choose to return to the Îles de la Madeleine after you finished your studies?
Sophie Bourgeois: Well, as they say, "You can take the girl out of the Islands, but you can't take the Islands out of the girl!" It was really important to me to return to my little corner of paradise and settle here to raise a family.
LQM: What are your sources of inspiration in the region?
SB: Nature, but especially the colours of nature: the blues of the sea, the reds of the cliffs, the pinks and oranges of the sunsets…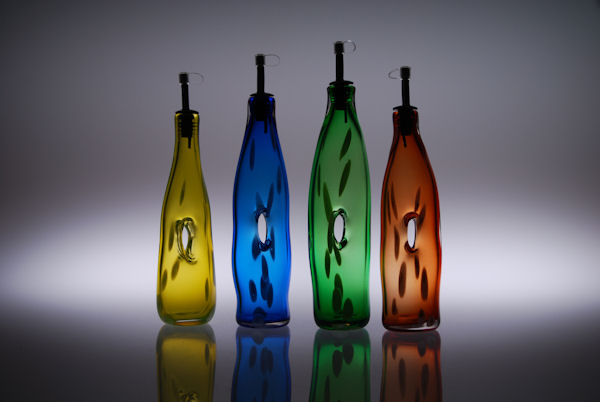 Oil and vinegar bottlesPhoto credit: Verrerie La Méduse
LQM: What do you like the most about opening your doors to tourists?
SB: It's such a pleasure to introduce people to our work. Working with glass is a bit unusual: it's very hot work and the glass must be moulded and shaped quite rapidly. People are always a bit surprised and amazed when they watch all the steps involved in creating a glass piece.
LQM: Name three of your favourite locations in the region and tell us why they are your favourites.
SB:
1. La Côte in L'Étang-du-Nord, which is a great place to go for a walk at sunset.
2. The endless beaches, where you can breathe in the sea air and get a taste of freedom.
3. La Grave, which is fun to explore and where you'll meet friendly people.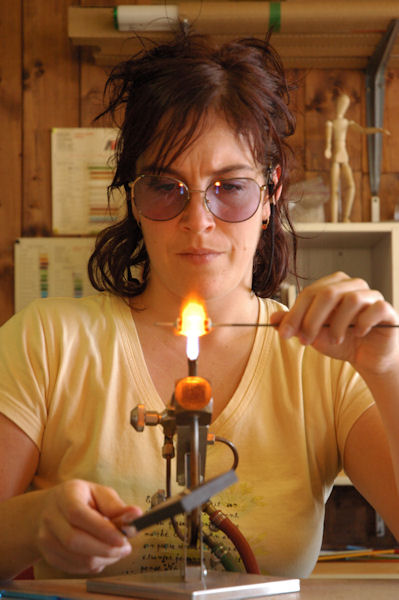 Sophie Bourgeois in the creation process
Photo credit: Verrerie La Méduse
LQM: Do you prefer the land or the sea?
SB: The sea, the horizon, the infinite sky…
LQM: Sunrise or sunset?
SB: Sunsets have the best colours!
LQM: Winter or summer?
SB: Summer, which is so full of life, warmth and colour!
LQM: What is your guilty pleasure?
SB: Great food! I love to eat and there's so much good food to discover and savour on the Islands: cheese, lobster, smoked scallops, coffee… not to mention delicious craft beer!
Visit Sophie Bourgeois at Verrerie La Méduse, which is open year-round:
638, route 199
Havre-aux-Maisons, Îles de la Madeleine (Québec) Canada
G4T 5A8

If you liked this article, you might also like...