The

Québec maritime Blog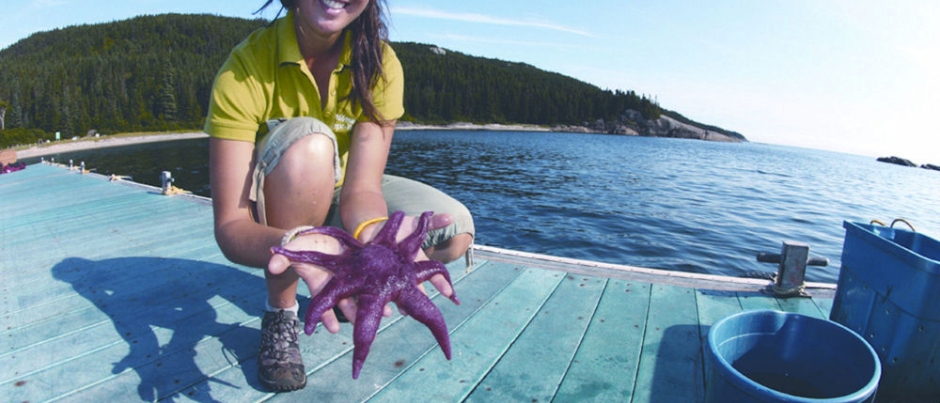 Gabrielle Leblanc: Coming Home… to the Sea!
Gabrielle Leblanc was born in Sept-Îles in the Côte-Nord – Duplessis region. She left the region at age 17 to study and has come back to work for Tourisme Sept-Îles for the past four summers. Several things draw her back to Sept-Îles:family, friends, outdoor activities and also the sea! "The beach is one of my favourite places and I miss it when I'm living elsewhere," she said. Another big draw is her work as a naturalist guide on Grande Basque Island, one of the seven islands in the Sept-Îles Archipelago.
Le Québec maritime (LQM): Tell us about your work in the Sept-Îles Archipelago.
Gabrielle Leblanc (GL): My work is so exciting! Every morning, I take the boat to a large island, Grande Basque, which has been developed for hiking, picnicking and camping. With the help of a great team, I welcome visitors from all over Québec and elsewhere. I introduce them to the natural world that surrounds us during guided hikes through the forest as well as to the marine environment using a tank that is filled with marine organisms we fish on a nearly daily basis. I also regularly inspect our 11 kilometres (7 miles) of trails to make sure they are well maintained. This means I get to soak up the island's beautiful scenery!
LQM: What do you enjoy most about meeting and interacting with tourists?
GL: I really enjoy meeting new people and chatting with them. Being in contact with tourists gives me the opportunity to learn about other places, different lifestyles and different ways of thinking about the world. I also enjoy telling people about our beautiful region. It's a very enriching experience!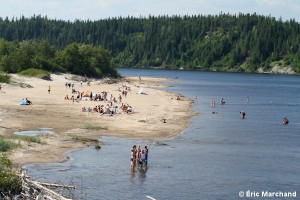 The beach of Moisie River
LQM: Do you have a special place in your region where you go to relax?
GL: There are several!
The beach, where I can walk and meditate for miles. I also run on the beach, swim and surf.
The forest, with its easy trails.
And obviously, Grande Basque Island, where I work. Even after four years, I'm still awestruck. The island has spectacular scenery; you can see whales and other marine animals every day, not to mention amazing flora and beautiful surrounding colours…
LQM: Name another person involved in the tourism industry from your region or another maritime region of Québec that you admire and tell us why.
GL: Last summer, I discovered SurfShack, a surf shop and school. It was a revelation! I admire the passion of Frédéric Dumoulin, the owner, who started this business on his own in 2012 and has since introduced this amazing sport to many people. I became a fan when I was down south, but when I found out I could surf so close to home, I bought the equipment with my brother, and we go surfing as often as possible. I talk about this sport a lot and hope that there will be more and more surfers in Côte-Nord.
LQM: Name three of your favourite locations in the region that you would recommend to tourists and tell us why.
GL: As I mentioned before, it would be the three spots I go to relax: the beach, the forest and Grande Basque Island. If you love the outdoors, you'll love these places!
LQM: Do you prefer the land or the sea?
GL: The sea for sure!
LQM: Sunrise or sunset?
GL: Sunset… No need to interrupt my sleep to enjoy it!
LQM: Winter or summer?
GL: I've always said that if I could, I'd live in a place where it's always summer… So, summer!
LQM: What is your guilty pleasure?
GL: This will sound cliché, but it's sweets! I'm especially keen on anything made with chocolate. I like going into La Trésorerie because they sell chocolates made by master chocolatier Christophe Morel.
LQM: Since your work involves introducing people to the ecosystem of the St. Lawrence, what marine organism fascinates you so much that you particularly enjoy telling visitors to Grande Basque about it?
GL: Whales are fascinating. You never know when you'll see one—it's always a surprise! And when they emerge, you only see parts of them, which makes them even more mysterious. I'll never stop being amazed by whales, that's for sure!
LQM: Name another maritime region of Québec that you love and tell us why.
GL: I remember visiting Rimouski, in the Bas-Saint-Laurent region, when I was younger. I very much enjoyed my time in this town on the St. Lawrence River. I thought it was charming and welcoming. In fact, I sometimes think about going back as a tourist, to see if it's as beautiful as I remember it.
On your next trip to Côte-Nord – Duplessis, plan an excursion to Grande Basque Island. Who knows, you may even run into Gabrielle!
If you liked this article, you might also like...