The

Québec maritime Blog
Percé Rock in the fall
Claude Bouchard
Get Ready for Fall, the Most Colourful Season in the Maritime Regions of Québec
September and October are particularly good months to visit the maritime regions of Québec. As the weather gets cooler, fall leaves turn the mountains yellow and orange, and the mudflats go from green to golden, contrasting with the emerald colour of the sea.
Outdoor activities
Cycling in La Pocatière
© Pilar Macias/Tourisme Bas-Saint-Laurent
Cooler temperatures are ideal for enjoying outdoor activities such as cycling, hiking and rock climbing. Cyclists will want to ride the Route Verte cycling trail in the Kamouraska region or the roads of the Îles de la Madeleine. Hikers can explore the International Appalachian Trail and the Carleton-Maria hiking trails in Gaspésie or, for something completely different, the Sept-Îles Archipelago in Côte-Nord – Duplessis. Rock climbers can admire unique views of the surrounding scenery by climbing at the SEBKA riverside park in Bas-Saint-Laurent.
Photo safaris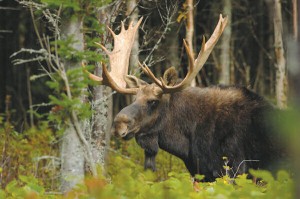 A moose in its natural habitat
© Steve Deschênes/Sépaq
The scenery found in national parks is particularly beautiful at this time of year. It is also still possible to observe several wildlife species such as moose, caribou and birds. Don't forget your camera! You may even be lucky enough to see a flock of snow geese heading south for the winter.
Seasonal flavours
Fall is also harvest time. Many communities have public farmers' markets where local food producers offer you the freshest of produce. Come and chat with them and taste their products. Public markets can be found in the following towns: La Pocatière, Trois-Pistoles, Rimouski, Saint-Flavie, Amqui, Nouvelle, New Richmond and Sept-Îles.
Don't hesitate to visit the maritime regions of Québec in the fall and take advantage of the beautiful weather before the snow comes!
If you liked this article, you might also like...