The

Québec maritime Blog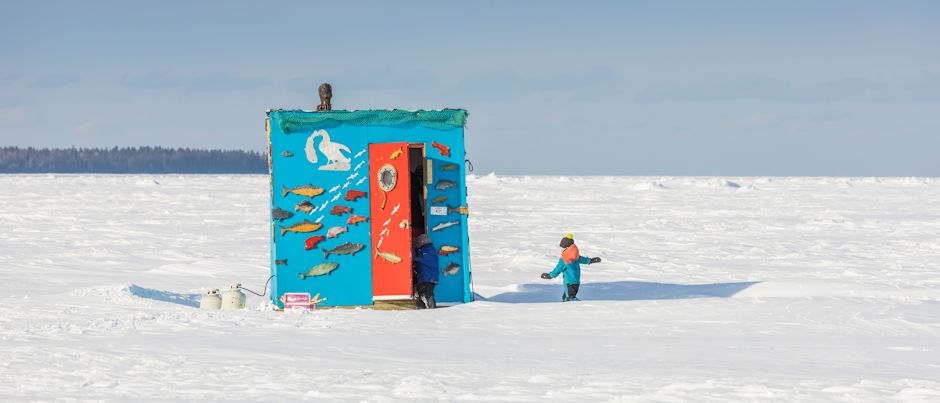 Ice fishing in Rimouski, Bas-Saint-Laurent.
Mathieu Dupuis
Ice Fishing in Eastern Québec: Fun and Fresh Fish Guaranteed!
As you can imagine, there are lots of fun activities you can enjoy in the winter in the maritime regions of Québec! However, there is one in particular that will bring the whole family together, give you a window into another world, and, with a bit of luck, contribute to a unique and flavourful dinner… Discover the joys of ice fishing in amazing frozen environments!
Origins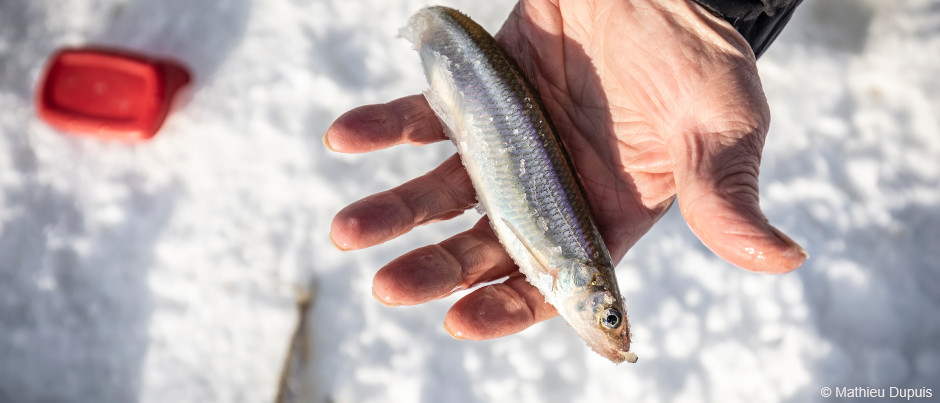 For the First Nations peoples in our regions, ice fishing was a means of subsistence during the harsh winter months. Over time, they developed great technical and ecological knowledge with respect to this activity. By the way, do you know what happens in lakes in the winter? The surface water freezes, so the fish gather near the bottom, where the temperature is not as cold and they can find food. Some enter a low-energy state while others remain active—the latter are the ones you'll try to catch!
According to oral history, Europeans were first taught how to ice fish by Indigenous people near Trois-Rivières in 1635. This knowledge was also transmitted in our regions, in places where Europeans and First Nations people lived together. Today, ice fishing remains an iconic winter activity in Québec, with popular sites, fun events and lots of avid anglers.
Staying safe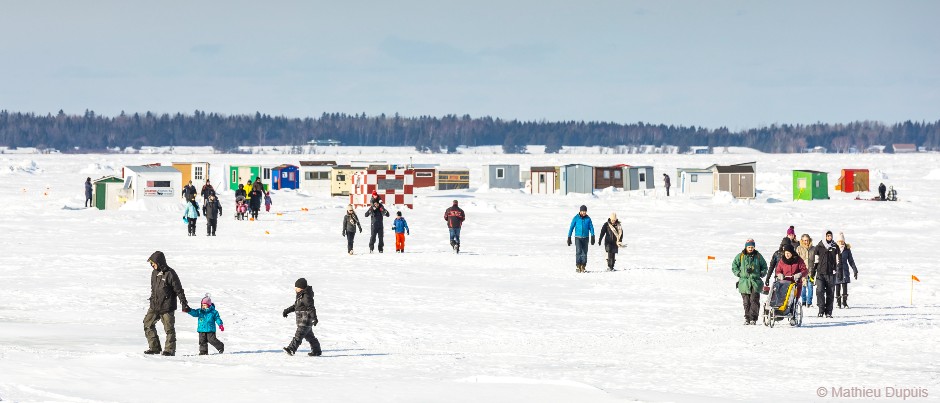 You can usually go ice fishing between December and March, depending on the thickness of the ice. Keep in mind that a minimum of 10 cm (4 in.) is required to support a person's weight. Before stepping onto a frozen body of water, be sure to identify places where water may be flowing under the ice (such as around river mouths): the ice here will be less solid and therefore more dangerous.
Where to go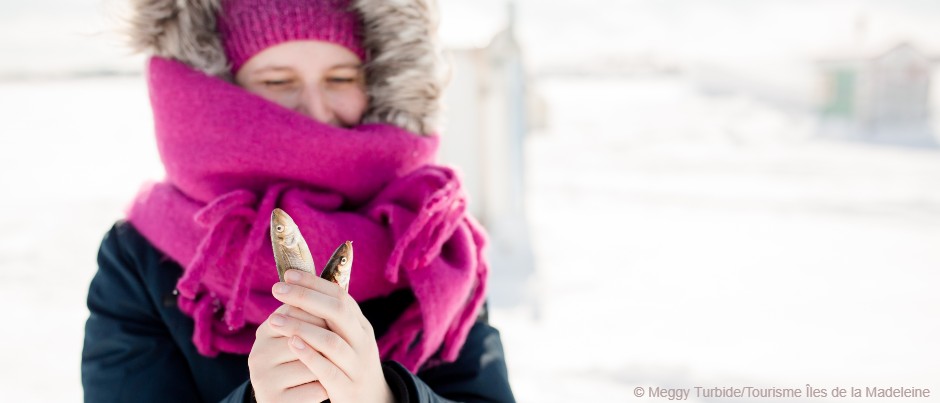 Eastern Québec is home to a multitude of enchanting sites where you can go ice fishing during the cold season! In Bas-Saint-Laurent, you can observe ice fishers on Rimouski Bay as well as in and around L'Isle-Verte, Témiscouata-sur-le-Lac and Saint-Cyprien. Inquire about renting a cabin in this region with fishing gear included. On the other side of the St. Lawrence, in Côte-Nord, the guides at the Ferme 5 Étoiles holiday resort will be happy to teach you the basics of ice fishing on the farm's small lake. And in the Îles de la Madeleine, a cluster of small colourful cabins (reminiscent of the region's colourful houses) pops up in L'Étang-du-Nord. Whether you participate in a supervised ice-fishing activity or simply go out to meet and chat with ice fishers, you're sure to enjoy yourself!
Gear and species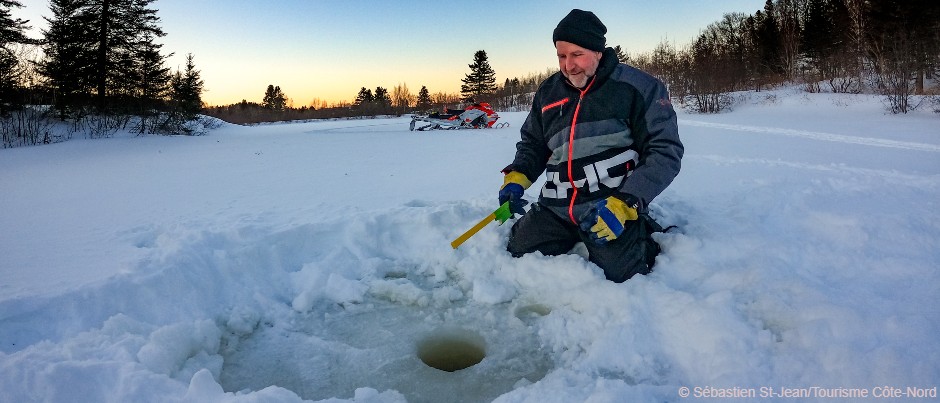 Not sure what kind of gear you need to go ice fishing? The essentials are a manual ice auger (a tool that looks like a giant corkscrew used to bore holes in the ice), an ice scoop (used to remove slush over the hole), a rod and reel combo designed for ice fishing or a tip-up (to avoid wrist strain) and finally lures adapted to the species you're trying to catch. But don't worry! You don't actually need to invest in any gear at all, since it'll be included in introductory activities and ice-fishing packages that include accommodations.