The

Québec maritime Blog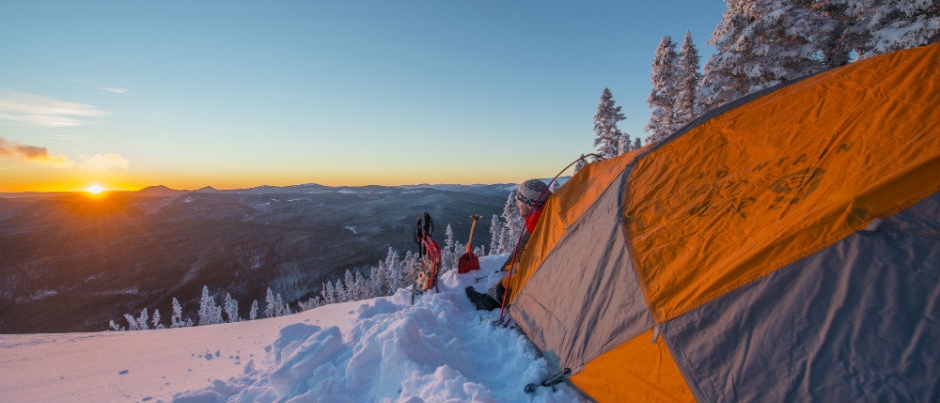 Winter camping in Parc national de la Gaspésie
Steve Deschênes/Tourisme Gaspésie
Unusual Accommodations: Experience Winter in Québec in a Different Way
Winter is a beautiful time of year to visit the province of Québec—and there are many ways for you to make the most of this season! To add a touch of magic to your winter adventures, have you considered staying in unusual accommodations in the maritime regions of Québec? Here are some lodging options that will add another dimension to your trip!
Yurts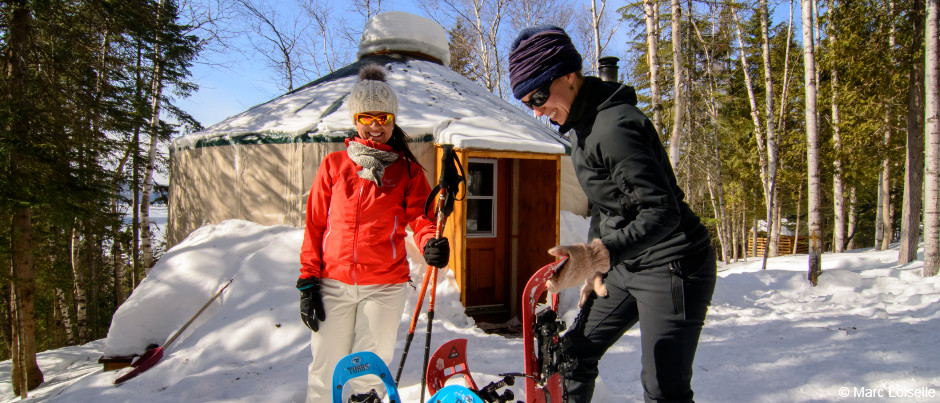 Have you ever spent the night in a yurt? These round tents traditionally built by nomads in Central Asia combine charm with rustic simplicity and are increasingly popular in our regions. In Côte-Nord, the Ferme 5 Étoiles holiday resort offers yurts equipped with a woodstove to keep you warm as well as a camping stove, comfortable beds, cozy sleeping bags and a wooden floor. Watch the stars at night through the skylight and soak up the beauty of the majestic Saguenay Fjord right from your front porch! While you're at it, why not combine a stay in a yurt with a multi-day skiing or snowshoeing trip?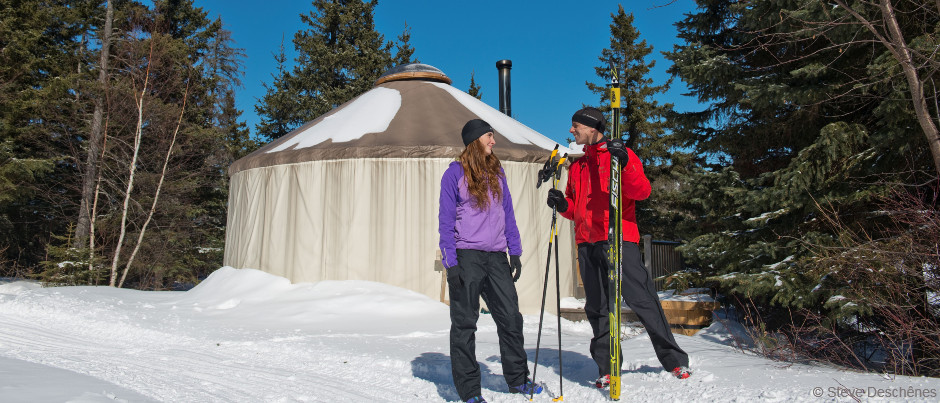 Yurts are also available in Parc national du Bic, in the Bas-Saint-Laurent region. Located in the peaceful Île-aux-Amours sector, they provide a perfect base camp while you explore the park on skis or snowshoes. Discover the park's unique coastal landscapes of coves and capes and make your way to the top of Pic Champlain to admire an amazing view of the St. Lawrence. (You're also likely to encounter a few white-tailed deer along the way.) As you arrive back from your day of exploring, you can warm up and relax by the woodstove in your yurt!
Winter camping
Would you like to rough it a little more? Winter camping is another option in Parc national du Bic. Pitch your tent in the Porc-Épic sector, right near a multipurpose trail, and enjoy the peacefulness of winter nights.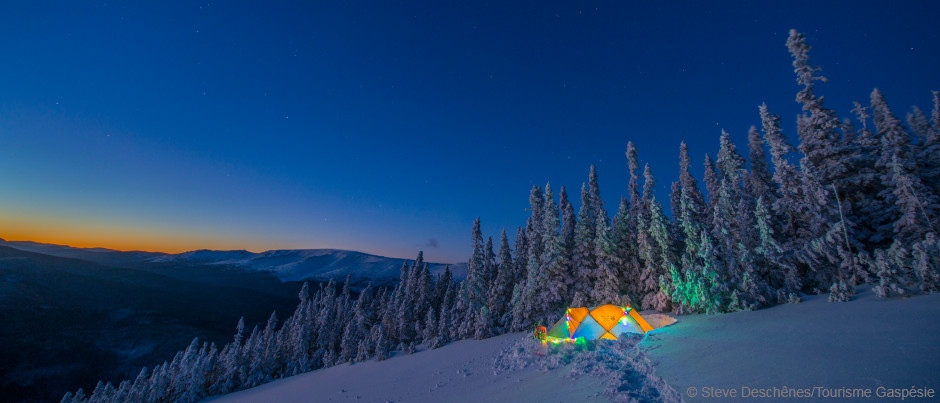 You can also try out winter camping in Parc national de la Gaspésie. The sites are located in the Mont-Albert campground, where you'll have access to washroom facilities (including showers)—this is the perfect place to try winter camping for the first time. In the morning, you can set off to explore the park on the ski or snowshoe trails that cross this sector.
Huts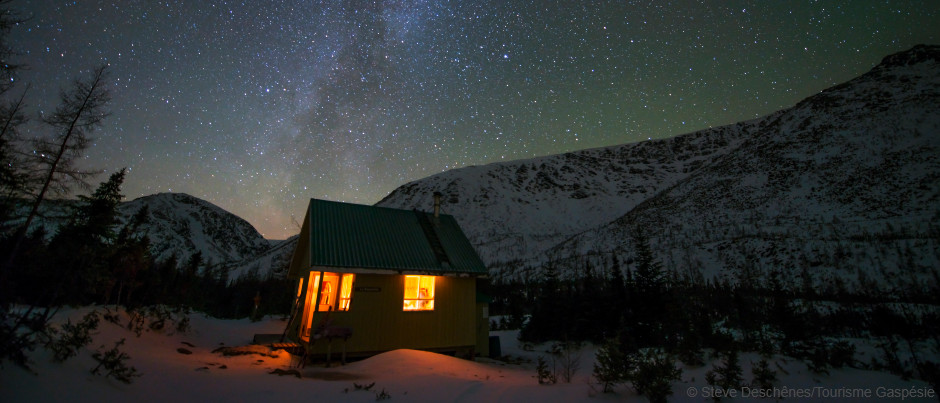 Parc national de la Gaspésie also offers a network of huts that are available in the winter. Seven more modern huts are located at the entrance to the Mont-Albert campground; equipped with electricity, they are grouped around the washroom facilities mentioned above, about 50 metres (160 feet) from the parking lot. Eleven other more rustic huts, equipped with a woodstove, are spread throughout the park. All of them are accessible on skis, and some on snowshoes. You can use one of them as your home base to explore the surrounding area or stay in several during a multi-day snowshoeing trip through the park's magnificent mountain and forest scenery. At the tip of the Gaspé Peninsula, Forillon National Park and its partner Griffon Aventure offer a fully self-reliant adventure for experienced outdoor enthusiasts. Explore the park on cross-country skis or snowshoes and spend the night in a tiny house in the Cap-Bon-Ami campground. These units are equipped with electric heating and everything you need to prepare meals, but no running water or bathroom. Dry toilets are available nearby.
Chalets, cottages, cabins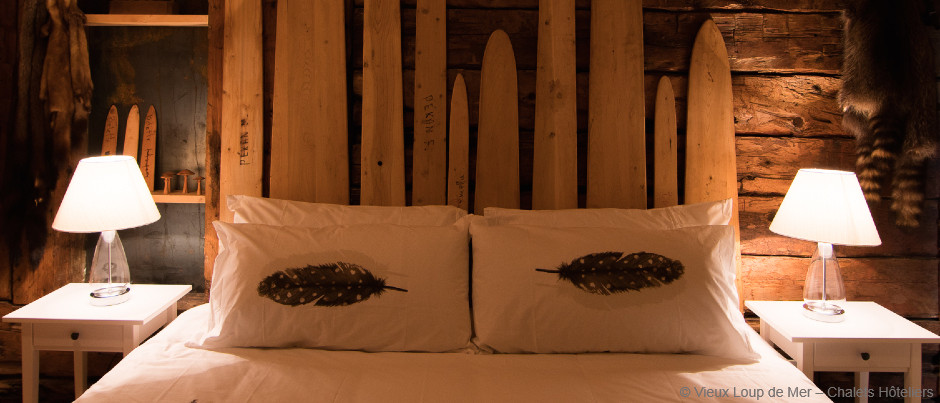 Chalets, cottages and cabins may seem more traditional, but there's nothing ordinary about a cozy escapade in one of these lodging units in Eastern Québec in the winter! In addition to national parks, several other establishments in our regions offer this type of accommodations. In Bas-Saint-Laurent, near Parc national du Bic, Vieux Loup de Mer – Chalets Hôteliers provides comfortable accommodations in restored wooden chalets that were once traditional Québec dwellings. At Domaine Valga in Saint-Gabriel-de-Rimouski, you'll find another type of traditional buildings: log cabins! Located at the heart of an old-growth maple grove, these cabins are an ideal home base for excursions in nature… and if you're feeling adventurous, you can even try out treetop trekking on site!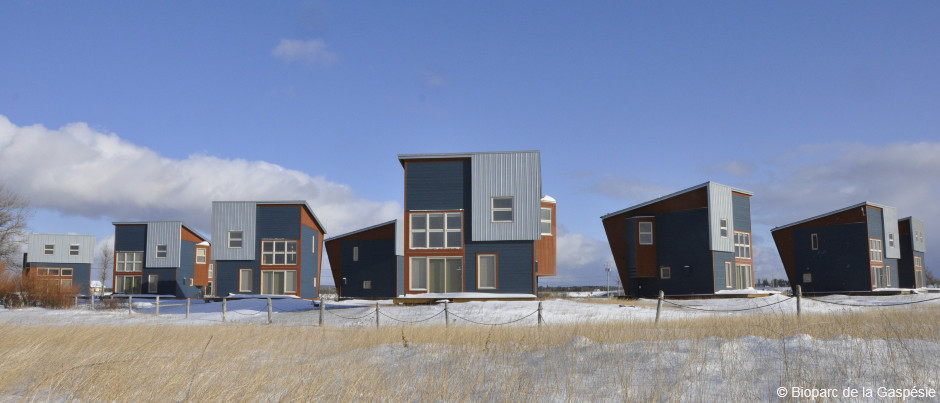 In Gaspésie, in the Matapédia Valley (a magnificent area to explore in the winter), Auberge La Coulée Douce offers modern cottages that are specifically designed to be family-friendly. Families will also enjoy the unique architecture of the cottages offered at the Bioparc de la Gaspésie, a wildlife park in Bonaventure. Imagine the view you'll get to admire from the two-storey windows overlooking frozen Chaleur Bay! If you're visiting the tip of the Gaspé Peninsula, there are two spots to consider: Nautika Chalets offer Scandinavian-style accommodations in modern and very comfortable units with amazing views of Gaspé Bay and Forillon National Park; about 20 km (12 mi.) east of there, the Chalets du Bout du Monde cottages overlook the mouth of the Saint-Jean River, where this waterway meets the sea. Snowshoes are provided on site for you to explore the surrounding area. In addition, in Sainte-Anne-des-Monts, in Haute-Gaspésie, Panora offers high-end winter accommodations in comfortable lodges. These modern and unique units include a private hot tub, drying area, fondue pot and more!
In Côte-Nord, you can also enjoy great moments with loved ones at the Ferme 5 Étoiles holiday resort, which offers several well-equipped cottages to choose from. Many are surrounded by nature—you can soak up the tranquility of the area as you admire views of the Saguenay Fjord. If you're feeling adventurous and would like to discover the Uapishka (Groulx) Mountains further north, you'll want to stay in one of the "tiny house"-style glamping units or larger cabins offered by the Uapishka Station. These cozy units are great places to hang out in the evening to talk about your adventures of the day and figure out what's coming next!
As you can see, we offer a wide range of lodging options to suit your most adventurous winter travel plans! Come and experience winter in the maritime regions of Québec: stay in unusual accommodations and enjoy a truly unforgettable adventure!
If you liked this article, you might also like...