The

Québec maritime Blog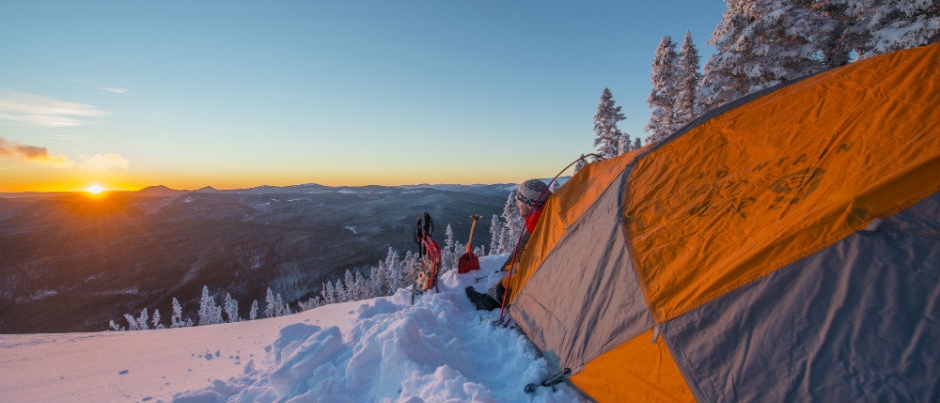 Winter camping in Parc national de la Gaspésie
Steve Deschênes/Tourisme Gaspésie
Unusual Accommodations: Experience Winter in Québec in a Different Way
Winter is a beautiful time to visit the maritime regions of Québec and there are many ways for you to make the most of it! To add a touch of magic to your winter trip, have you ever considered any unusual lodging options? Here are some types of accommodations that promise to give another dimension to your trip.
Yurts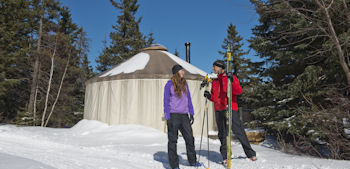 Yurt in Parc national du Bic© Steve Deschênes/Tourisme Gaspésie
Have you ever spent the night in a yurt? These round-shaped tents, traditionally built by the people of Central Asia and combining charm and rustic simplicity, are getting more and more popular around here. In the Côte-Nord region, the Ferme 5 Étoiles holiday resort has yurts equipped with a wood stove to keep it nice and warm and a camping-style cooking stove, as well as comfortable beds and cosy sleeping bags. They also have a wooden floor and a skylight for you to watch the stars during the night. You can appreciate the stunning scenery of the Saguenay Fjord right from the front porch; what more can you ask for? And by the way, it's also possible to stay in a yurt as part of a multi-day skiing or snowshoeing trip.
You will also find yurts at Parc national du Bic, in the Bas-Saint-Laurent region. Located in the quiet Île-aux-Amours area, they can serve as the perfect base camp to visit the park on skis or snowshoes. Explore the coastal landscapes, going around the coves and climbing up the capes, or make your way to the top of Pic Champlain for an amazing view of the St. Lawrence River (and you will most likely catch a glimpse of a few white-tailed deer along the way). Back from your day outside, you can relax by the wood stove in your yurt.
Winter camping
You would like to rough it a little more? Winter camping is another option for you at Parc national du Bic. The campsites are in the Porc-Épic area, right by a multipurpose trail. Pitch your tent on the snow and enjoy the peacefulness of winter nights.
Winter camping is also possible in Parc national de la Gaspésie. The sites of Mont-Albert campground are all yours, and you have access to washroom facilities including showers, a perfect set-up to try out winter camping for the first time. When the morning comes, start your tour on skis or snowshoes on the trails that cross the campground.
Huts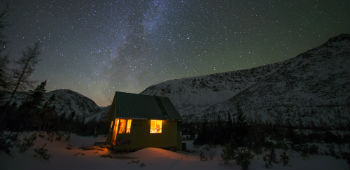 Hut in Parc national de la Gaspésie© Steve Deschênes/Tourisme Gaspésie
Parc national de la Gaspésie also boasts a great hut network. There are seven modern huts at the entrance of Mont-Albert campground, equipped with electricity, grouped around a building featuring washroom facilities (the same one we mentioned earlier) and located some 50 metres from the parking lot. Ten other huts, more rustic but also equipped with the classic wood stove, are spread out throughout the park. All of them are accessible on skis, and some on snowshoes. You can use one of them as your base to explore the surroundings or you can do a multi-day hut-to-hut trip through the park's magnificent mountain and forest scenery.
You see, we have lodging options to match your most adventurous projects. Experience winter in the maritime regions of Québec: stay in one of the various types of unusual accommodations and bring home lasting memories!