The

Québec maritime Blog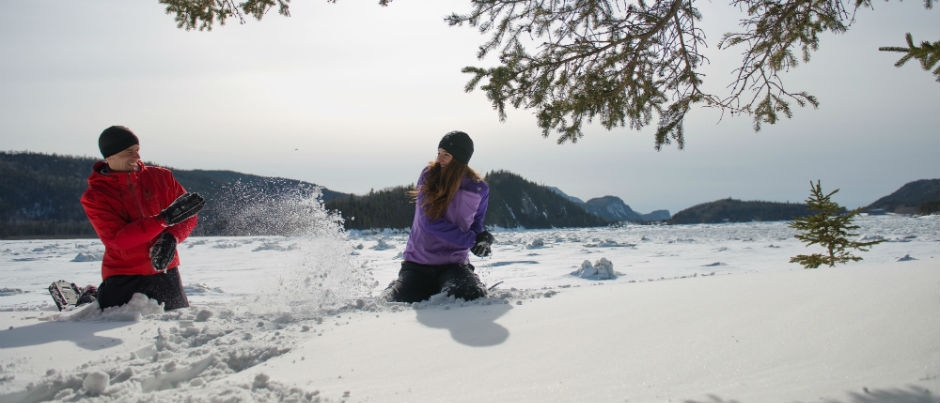 Have fun playing in the snow!
Steve Deschênes
Discover Unusual Winter Activities in the Maritime Regions of Québec
Winter is a big deal in Québec. While we might be tempted to use the cold weather as an excuse to stay indoors, there are actually lots of fun things to do outside, including many activities that are quite unusual.
In addition to skiing, snowshoeing and snowboarding, several other outdoor activities make the most of the magic and wonder of winter. Our regions offer something for everyone, so here are a few unusual activities and events you might want to try out. Which of them makes you look forward to winter this year?
Dogsledding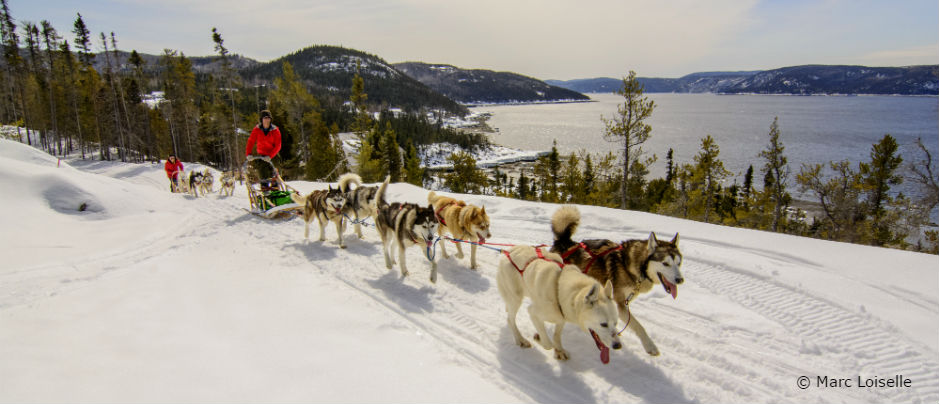 What could be more authentic than gliding through the forests of Québec pulled by magnificent sled dogs? This activity will delight visitors of all ages and, in my opinion, is one of the best ways to admire our winter scenery!
At the Ferme 5 Étoiles in Côte-Nord, you can learn to drive your own dogsled team while exploring the trails overlooking the Saguenay Fjord. How's that for an ideal setting for adventure? An experienced guide will teach you the basics of dogsledding and help you perfect your mushing techniques.
In the heart of the forest of Gaspésie, Dog Sledding Gaspésie invites you to try out this activity on groomed dogsledding trails. You will be immersed in beautiful scenery and can admire breathtaking views of Lake Matapédia and the surrounding mountains. Take advantage of the introductory package—you can even participate in harnessing and feeding the dogs!
You will certainly be impressed by the dogs' energy and spirit, as well as touched by their infectious enthusiasm. Who knows, you might discover you have hidden talents as a musher!
Ice fishing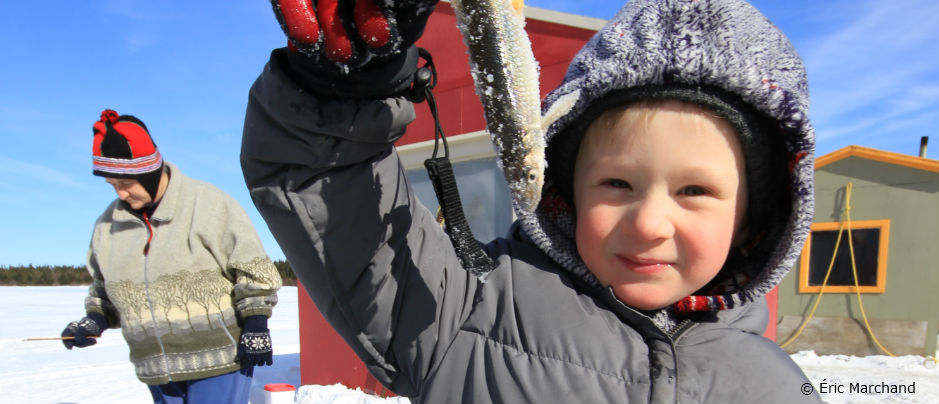 When you think about ice fishing, what probably comes to mind is a little village of huts on the ice. What's on offer at Ferme 5 Étoiles, however, is closer to the original tradition, which means the activity takes place entirely outdoors. You'll be provided with all the gear you need, and your guide will help you drill a hole in the ice.
Treetop trekking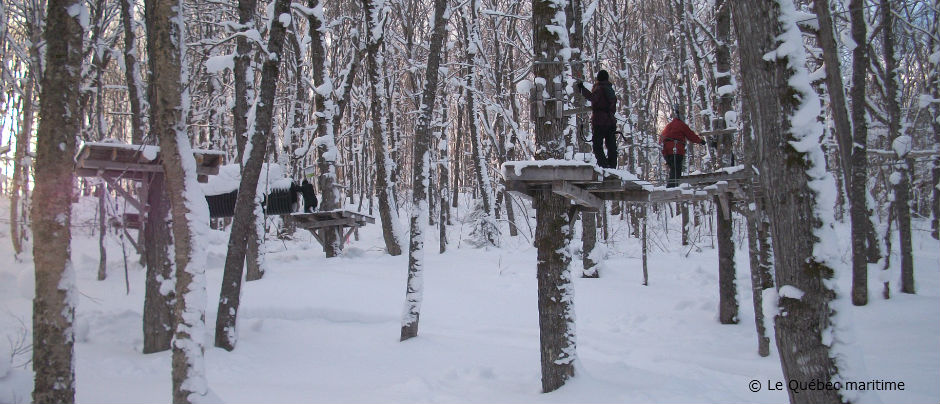 Want to try something truly unusual this winter? Unleash your inner adventurer by enjoying a treetop escapade in an aerial adventure park. What does this entail? Safely attached to a harness, you will make your way through an obstacle course in the trees, which will draw upon both your physical agility and your problem-solving skills. Whether you're walking along a high wire, climbing nets or ziplining above the snowy ground, this is bound to be an exhilarating experience!
Not only will you be physically challenged, but you can also enjoy watching others as they make their way through the obstacle course alongside you. You're in for some laughs as you cheer each other on! You'll also have the opportunity to admire winter scenery as you've never seen it before—from the treetops!
Does this sound like something you'd like to try? Head to Domaine Valga, in Bas-Saint-Laurent, which offers several treetop challenges in the Forêt de Maître Corbeau adventure park, suitable for beginners as well as those who are more experienced.
Special events
TDLG on Skis and Snowshoes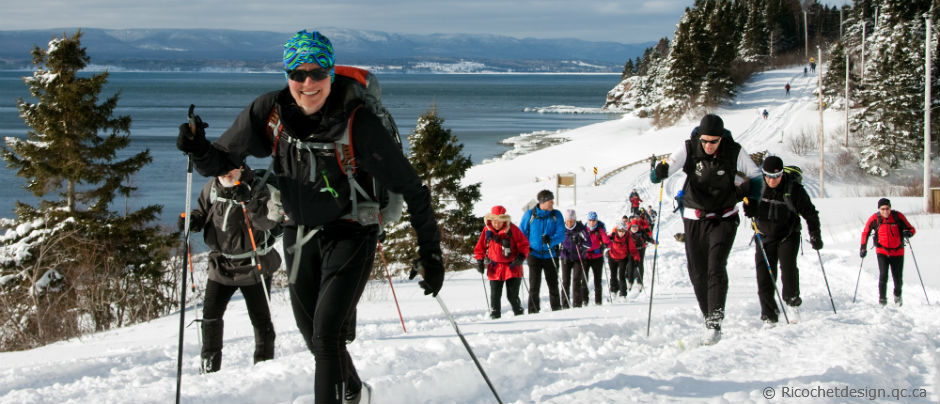 Does a vacation that involves stunning scenery and physical challenge sounds perfect to you? TDLG on Skis and Snowshoes is a six-day event that involves 200-km (120-mi.) of cross-country skiing or 90-km (55-mi.) of snowshoeing in the mountains, along the coast and through the open countryside in Gaspésie. This event, which takes place in late February, includes evening activities, dinners featuring regional flavours and the legendary hospitality of the locals. It's a sports and cultural experience that will leave you with unforgettable memories.
Enjoy a unique winter vacation in an environment that will enchant you on many levels!
Boréal Loppet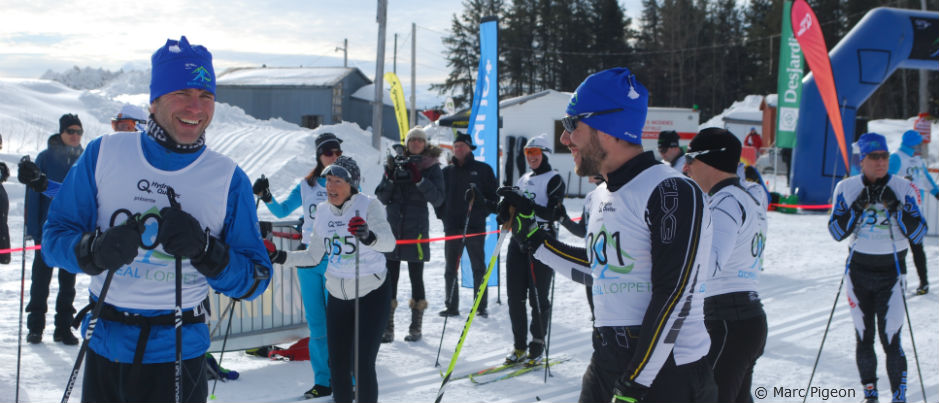 Another February event that is popular with cross-country skiers is the Boréal Loppet, which takes place every year in Forestville, in Côte-Nord. Elite skiers race on a scenic 48-km (30-mi.) course. The amateur part of the event features 32-km (20-mi.), 16-km (10-mi.), 10-km (6-mi.) and 7-km (4-mi.) races, as well as shorter races for children. Cross-country ski enthusiasts of all ages can take part in this fun event!
The Boréal Loppet also includes a fat-bike race, an activity that keeps gaining in popularity in this region.
Festival des Hivernants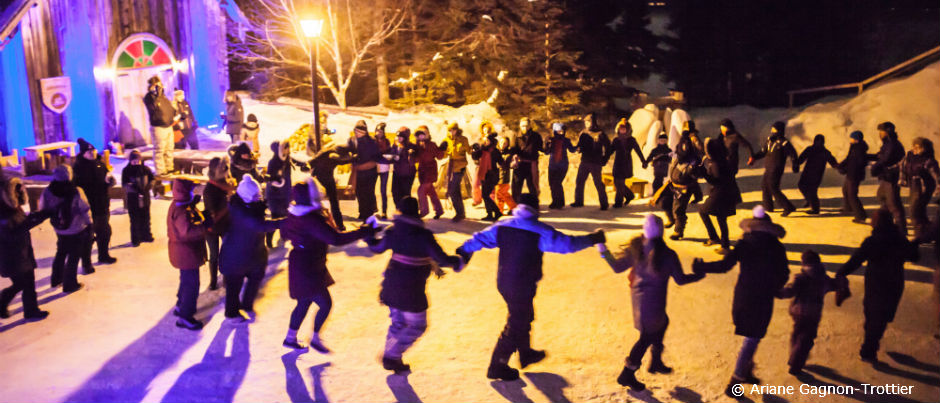 If you happen to be in Sept-Îles, in Côte-Nord, in March, don't miss the Festival des Hivernants! Regardless of how cold it may be outside, this festival will keep you warm with a combination of outdoor fun and cultural discovery. Experience the joys of winters past and present through a varied program focused on the hivernants. But who were the hivernants (winterers), you ask? This was the name given to those who spent the winter at the Old Trading Post. Many of the festival activities will take place at this historical interpretation site that presents daily life in a 19th-century fur-trading post. Come and discover the lives of the hivernants during this fun festival!
If traditional winter activities are more your speed, I invite you to read our blog post about downhill skiing and snowboarding. You may also be interested in seal watching in the Îles de la Madeleine.
With all these options, you'll have a tough time convincing me that you're not looking forward to winter! What are you waiting for? Dress up warmly and come and discover Québec's winter wonderland!
If you liked this article, you might also like...