The

Québec maritime Blog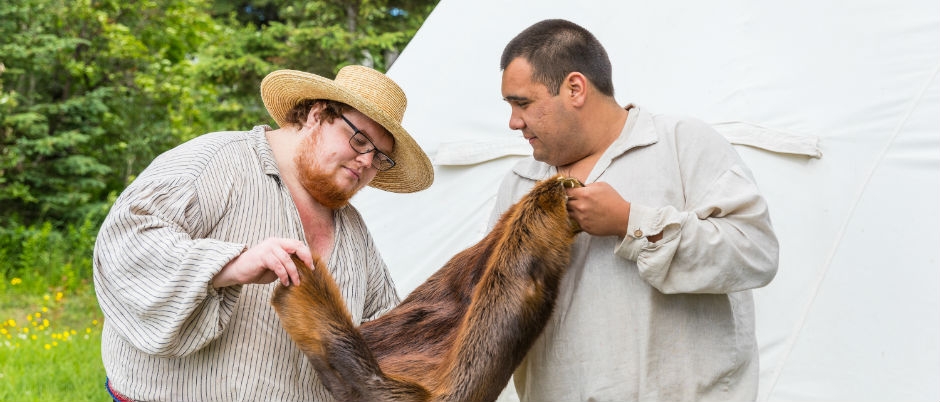 Vieux-Poste de Sept-Îles
Mathieu Dupuis
In the Footsteps of the First Nations Peoples in Eastern Québec
First Nations peoples are the first known inhabitants of the maritime regions of Québec. While visiting our regions, you'll have many opportunities to learn more about their rich heritage and vibrant cultures. Participate in interpretive activities to find out more about the history, traditions and ways of life of these communities.
Bas-Saint-Laurent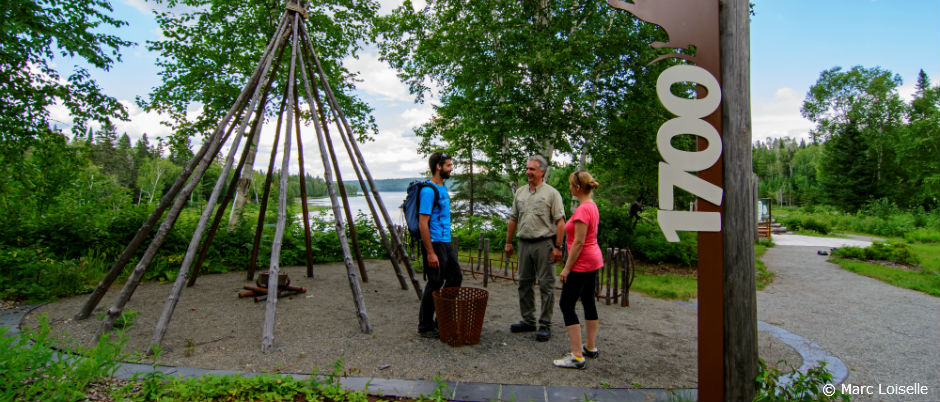 The Bas-Saint-Laurent region has been marked by the presence of the Wolastoqiyik (Maliseet) people. To learn more about their culture, visit Parc national du Lac-Témiscouata, where you can go on an excursion aboard a rabaska (a traditional Wolastoqey canoe), learn about plants and handle a spear! Join an archaeologist during an actual dig or learn how to make stone tools. In the evening, sit comfortably around the fire to listen to mysterious local legends.
You can also visit Parc national du Bic, where many vestiges confirm the presence of early Indigenous people in this area. Follow the archaeological trail to learn more through interpretive panels and a research site. In the evening, you can enjoy listening to stories and legends told by colourful characters.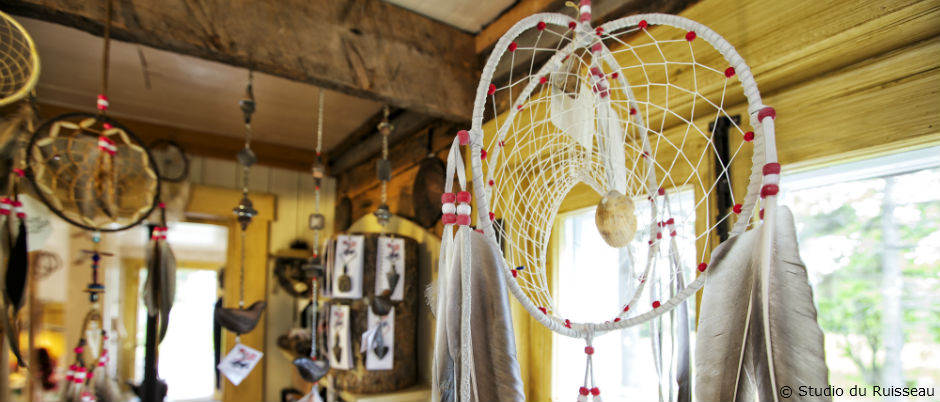 Cacouna is home to the only Wolastoqey community in Québec. Although the reserve is no longer permanently inhabited, you can stop in at the Maison Denis-Launière, which houses an interpretation centre as well as the Matuweskewin art boutique, where you can pick up unique handicrafts made by members of the Wolastoqiyik Wahsipekuk First Nation.
Gaspésie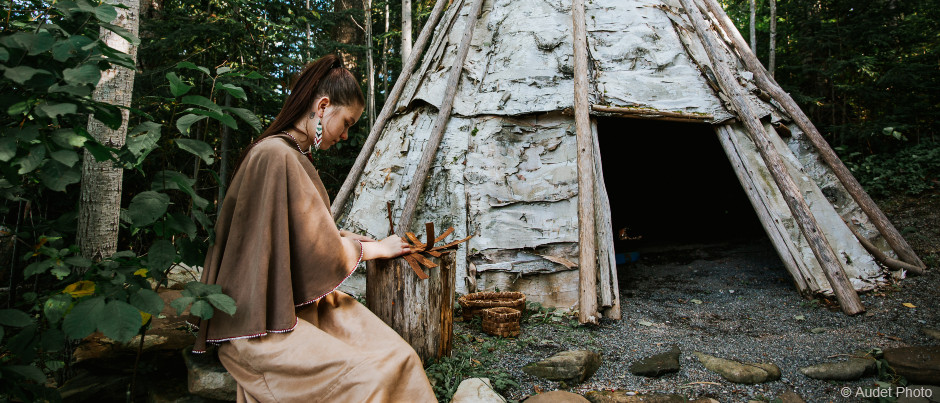 Gaspésie is home to the Mi'gmaq. Immerse yourself in their culture by visiting the Micmac Interpretation Site of Gespeg in Gaspé. As you walk through the reconstructed 17th-century traditional village and summer camp, you'll learn all about this people of the sea. Accompanied by a guide, discover wigwams, fire rings and hunting traps. Learn more about the influence of the Mi'gmaq during their first encounters with Europeans. You can also enjoy demonstrations and tastings.
The Percé UNESCO Global Geopark offers a very special hiking experience along trails whose names have been translated into the Mi'gmaq language (as have the names of the geopark's geosites). Will you explore the gmtn sè-dan awti (Mont Sainte-Anne path) or the sewis gatoq awti'j (Crevasse trail)? Will you admire the gundew belchè g (Percé Rock) or the gesg ma pigigwa'tege nibukt (Magic Forest)?
Côte-Nord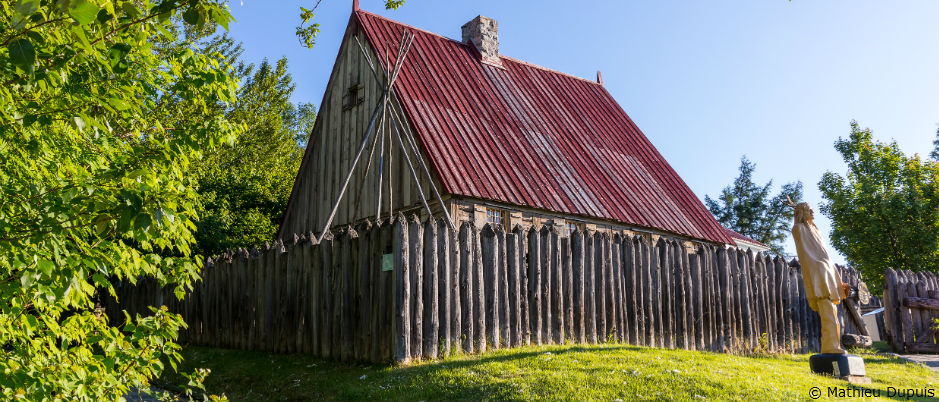 The vast territory of Côte-Nord offers many opportunities to discover Innu culture. In Tadoussac, you can visit the Chauvin Trading Post, a replica of New France's first fur-trading post. Tour the exhibition to learn more about first contacts between Europeans and First Nations people in 1600. A few kilometres away, in Les Bergeronnes, the Centre Archéo-Topo presents 9000 years of history through archaeology. On the agenda: hikes with an archaeological twist, workshops (including beading, making dream catchers, etc.), talks and more. Further east, enjoy a warm welcome in the community of Essipit by staying in the Natakam Condos, which offer magnificent views of the St. Lawrence. Accompanied by experienced guides, set off to encounter black bears, which are considered sacred in Innu culture, or enjoy a Zodiac excursion to observe the majestic whales.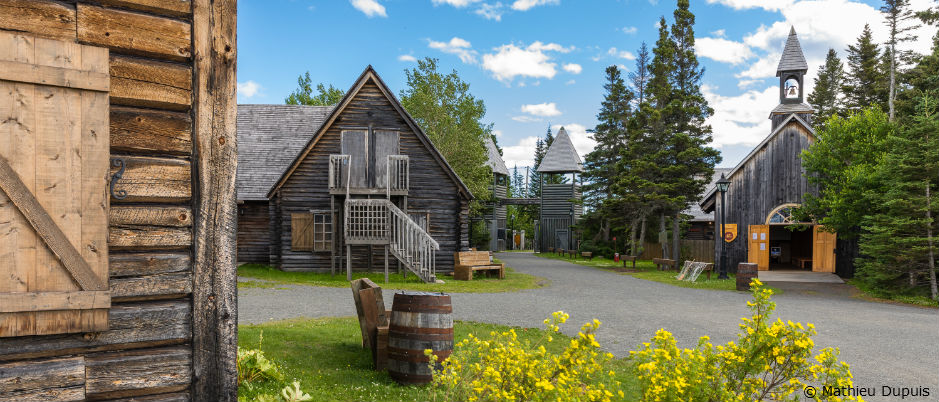 Step back in time to the 19th century by visiting the Vieux-Poste de Sept-Îles, an old trading post. This interpretation site presents daily life in a fur-trading post where the Innu and Europeans met. See the trading counter, an Innu encampment and interactive exhibitions. Immerse yourself in this era by interacting with guides in period costume!
In the Havre-Saint-Pierre area, visit the Maison de la Culture Innue (Innu Cultural Centre), where you can learn about this rich culture through an exhibition that explains the way of life of the Ekuanitshit community. Be sure to stop in the Nukum shop (Nukum means "grandma") for souvenirs made by people from the community: moccasins, jewellery, clothes, handmade soaps and more!
Are you ready to discover the fascinating worlds of the First Nations peoples in our regions? Start planning your trip today!
Some of these activities may not be available in English. Please enquire before you visit these sites.
If you liked this article, you might also like...