The

Québec maritime Blog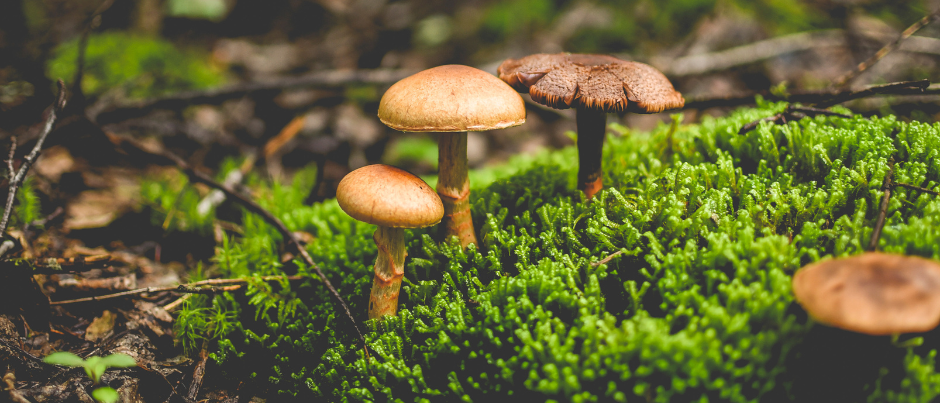 Kamouraska, Bas-Saint-Laurent
JHA Photographie/MRC de Kamouraska
Kamouraska: A Must-See Mushroom Tourism Destination!
More and more travellers are looking for meaningful travel experiences, contact with nature and local communities, a better understanding of the forest and the opportunity to enjoy gourmet delights. The Kamouraska area, in Bas-Saint-Laurent, is a mushroom tourism destination that will meet these travel objectives with a distinctive offer showcasing forest mushrooms!
The best time of year for mushroom tourism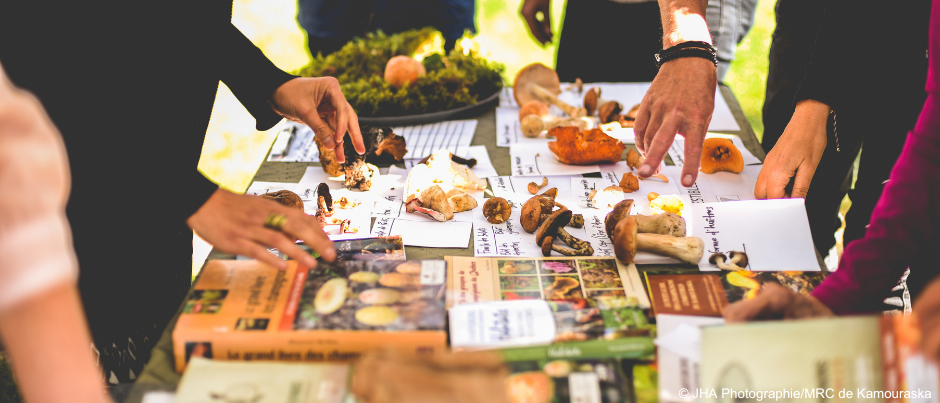 To experience mushroom season to the fullest, you'll want to plan your visit to Kamouraska in the fall. In particular, September is the best time of year for mushroom tourism since it's Mushroom Month (in French only), which involves a program of activities that will introduce you to mushrooms in a variety of ways.
You can enjoy gourmet menus (or simpler dishes like tacos, poutine or puff pastries made with mushrooms), discovery experiences in the forest or at museums, events, mushroom art and more. Not only is it the peak season for wild mushroom picking, but it's also a time of year that offers milder weather and beautiful coastal and forest landscapes. A mushroom tourism passport (in French only) is available that's both a discovery tour and a contest.
Kamouraska's forest mushroom festival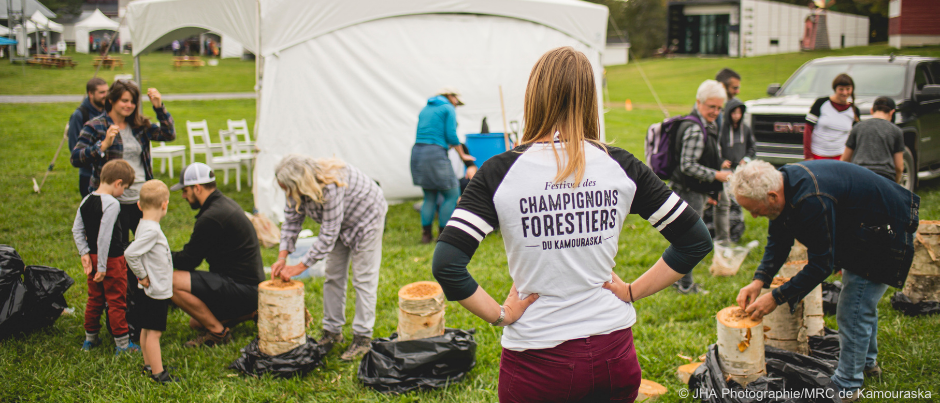 The forest mushroom festival in Kamouraska is the high point of mushroom season. During the three days of festivities, you can visit a mushroom market, learn about mushroom cultivation and take part in forest discovery workshops as well as a contest for the largest lobster mushroom (an iconic species in Québec!). You'll also be able to attend talks, training sessions given by experts, evening shows and more. And since gourmet cuisine is showcased during this event, you'll be able to enjoy culinary demonstrations, themed meals, food stands, tastings, niche products and more. Packages including accommodations are available on site. You won't want to miss this event that won an Excellence tourism award in 2022!
Forest experiences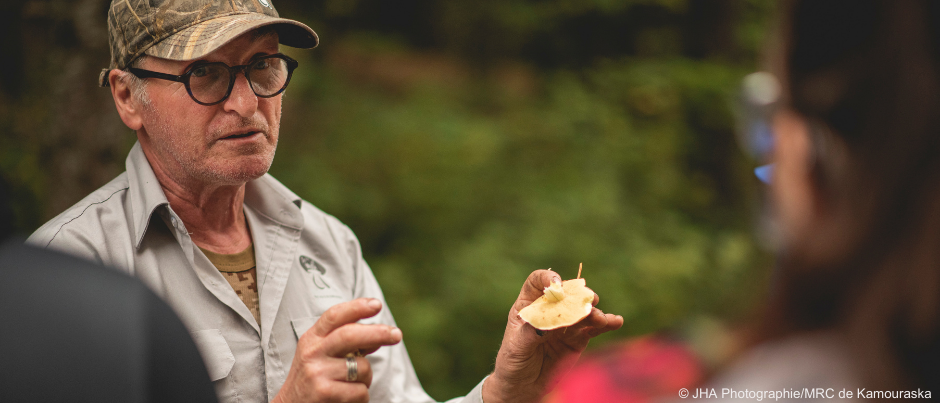 Guided mushroom discovery activities in the forest are among the most popular mushroom tourism activities on offer. In particular, you'll be charmed by Jean Marcon, a charismatic and friendly interpreter guide who is also the owner of La Vie est Mush. Follow him on a guided outing lasting a few hours in an area featuring extraordinary forest and mushroom sites.
Combining adventure tourism and a gourmet experience, the Mycomigrateur package offered by Côté Est is unique in Québec. This one-day excursion allows a small group of adventurers to set off from the village of Kamouraska and ascend into the high country to discover a number of attractions. Chef Kim Côté will be your guide, introducing you to this territory and the mushrooms that grow there as well as cooking edible forest products for you while you're in the forest.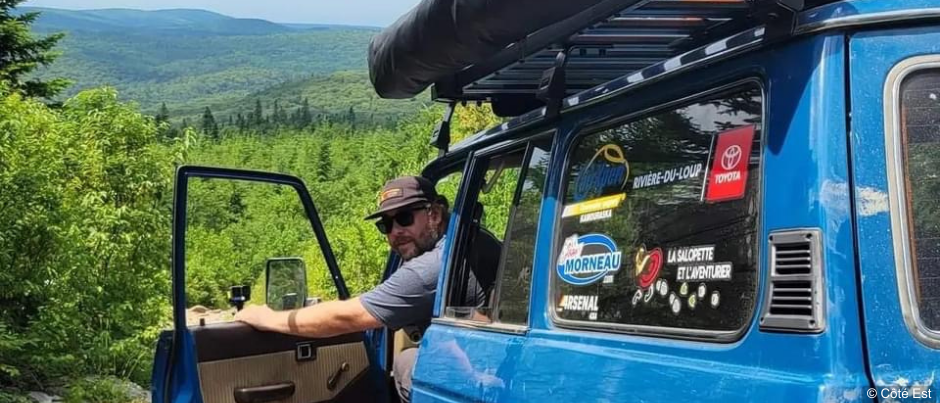 Keep in mind that using the services of professionals ensures the protection of natural resources, ecosystems and private property. However, you can also explore mushroom trails on your own, for example at the Pourvoirie des Trois-Lacs outfitter, on the Les Sentiers Ixworth trails and at the Ferme Fibres et compagnie alpaca farm.
Other must-see attractions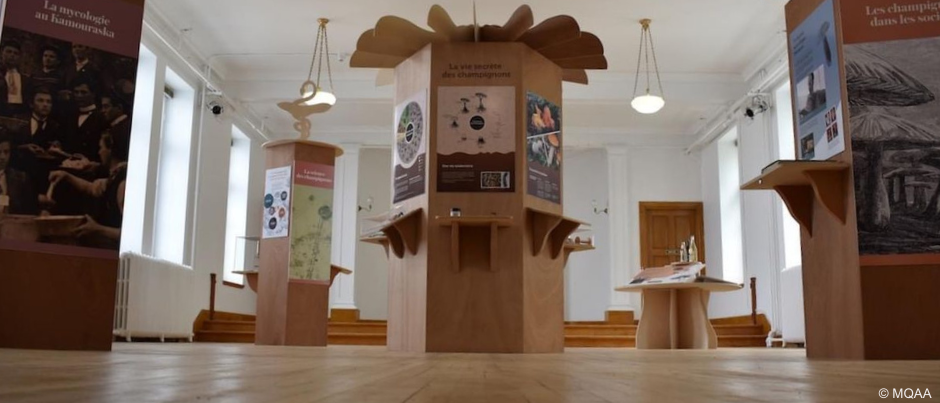 Mushroom tourism also gives you the opportunity to expand your knowledge and soak up natural beauty. The Musée québécois de l'agriculture et de l'alimentation (a food and agriculture museum) presents the Mycelium exhibition, which is a great way to learn more about the extraordinary living beings that are mushrooms. This is a must-see activity, rain or shine! (Note that this exhibition is in French only.)
You can also tour a mushroom farm to learn more about mushroom cultivation!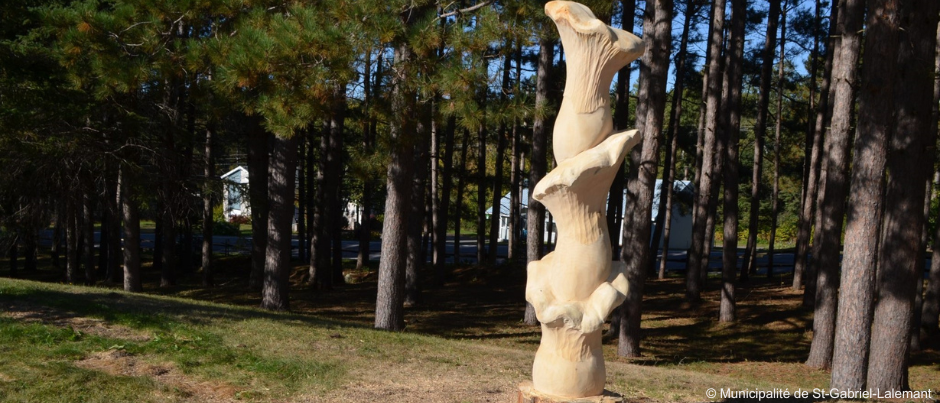 The seven high-country villages in the Kamouraska area (Saint-Onésime-d'Ixworth, Saint-Gabriel-Lalemant, Mont-Carmel, Saint-Bruno-de-Kamouraska, Sainte-Hélène-de-Kamouraska, Saint-Joseph-de-Kamouraska and Saint-Alexandre-de-Kamouraska) are all mushroom tourism destinations. Go on a tour of this network (in French only) and discover a variety of artistic and playful works featuring mushrooms. It's the perfect way to discover the area's authentic charm and exceptional landscapes.
Mushroom products worth discovering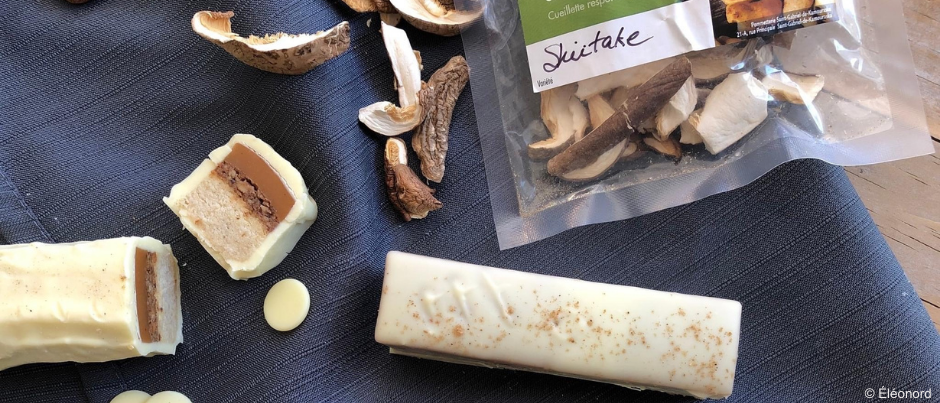 In addition to the fresh mushrooms you'll find in public markets and gourmet stores, many local mushroom producers and artisans offer unique food products made with mushrooms (in French only).
Foodies will want to discover lobster mushroom cheese made at the Le Mouton Blanc cheese factory, mushroom desserts and snacks at Éléonord, lobster mushroom pork sausages made by Porc O'Rye, dry sausages made by Fou du Cochon, forest mushroom arancini at Côté Est, umami powder made by Les Simples, medicinal mushrooms from Atomic Nature, garum made by Champignons des Méandres and more. Be sure to purchase some of these delicacies to take home with you and share a little of Kamouraska's mushroom delights with your loved ones!
The Kamouraska area obviously offers a wide variety of mushroom tourism experiences.* Whether you're a mushroom lover or simply curious and wanting to try something new, you can't go wrong with mushroom tourism in Kamouraska! It's an innovative way to discover what Eastern Québec has to offer!
*Please note that these experiences may be available in French only. You may want to inquire directly from the company involved if you don't speak or understand French.
If you liked this article, you might also like...