The

Québec maritime Blog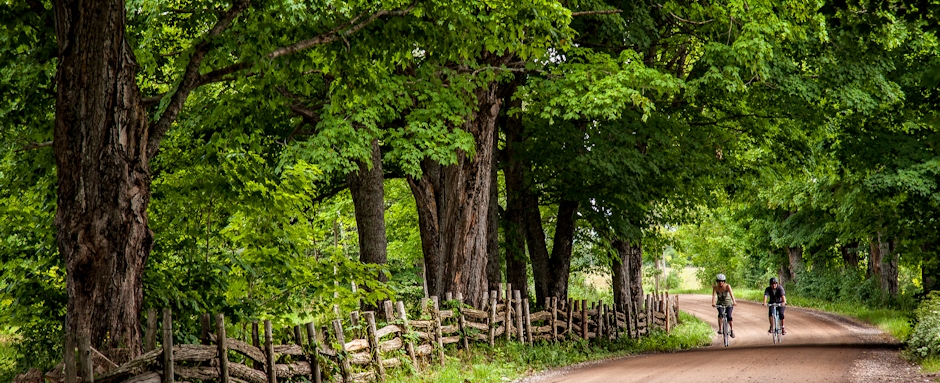 Biking in Bas-Saint-Laurent
Nicolas Gagnon / Tourisme Bas-Saint-Laurent
Everything You Need to Know to Plan a Trip to Bas-Saint-Laurent
Bas-Saint-Laurent is a very diverse region located on the south shore of the St. Lawrence, full of picturesque coastal villages, enchanting islands, historic lighthouses and stunning vantage points—the region is famous for its breathtaking sunsets! Take the time to explore the interior as well, where you will be charmed by rural and forest scenery.
How to get there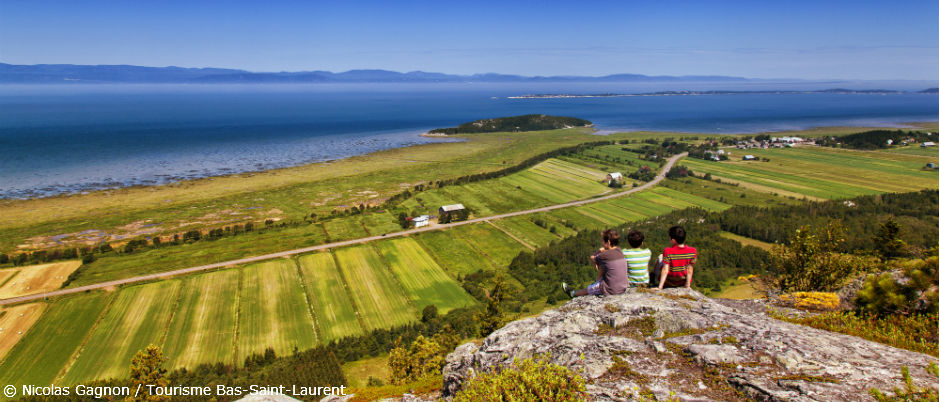 If you're coming from Québec City or Montréal, take Route 132 and follow the Navigators' Route along the south shore of the St. Lawrence from La Pocatière to Saint-Luce, a picturesque village about 20 km (12 mi.) east of Rimouski. Be sure to stop at the many cultural, culinary and maritime attractions that dot this road or even spend a few days in one of the numerous sites along the way, where you can soak up the view and enjoy a variety of activities.
If you're travelling from the Maritimes, follow the Border Route on Route 289, which runs along the border with New Brunswick and Maine from Saint-Jean-de-la-Lande to Saint-André-de-Kamouraska. To guide you, Morris columns in the shape of boundary monuments are located in each municipality along this route. Don't miss this opportunity to discover the many attractions and rich history of these communities.
Motorcyclists will be interested to know that Route 289 is part of a popular motorcycle touring route called Border Route and Lakes, which can be combined with another similar route, Tidal Dykes and Plateaus.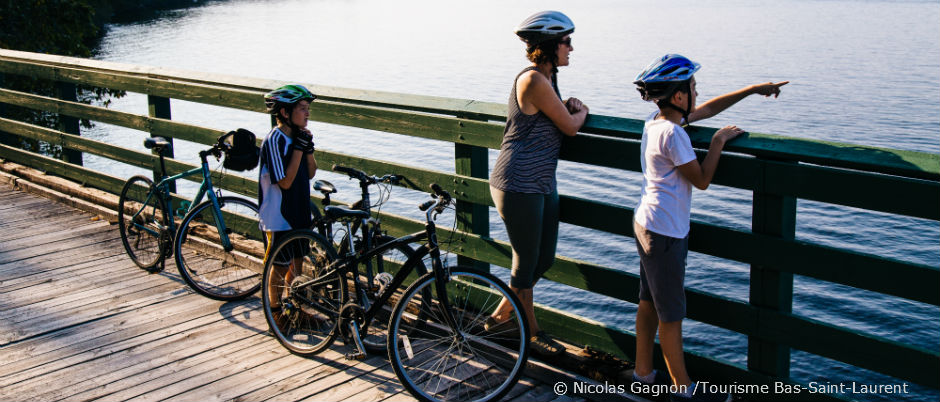 The region is also a favourite destination for cyclists. The Petit Témis Interprovincial Linear Park, which consists of 134 km (83 mi.) of gravel trails reserved for cyclists and hikers, runs along an old railroad bed from Rivière-du-Loup to Edmundston, New Brunswick. It's perfect for cycle touring since campgrounds are located at regular intervals along the trail.
Nature's playground
Bas-Saint-Laurent offers plenty of opportunities for outdoor activities. If you're looking for a multi-activity stay, Domaine Valga offers a network of hiking, cycling and ATV trails, as well as treetop trekking in the Forêt de Maître Corbeau—a thrilling experience for adventurers of all ages. Both sites also offer lodging.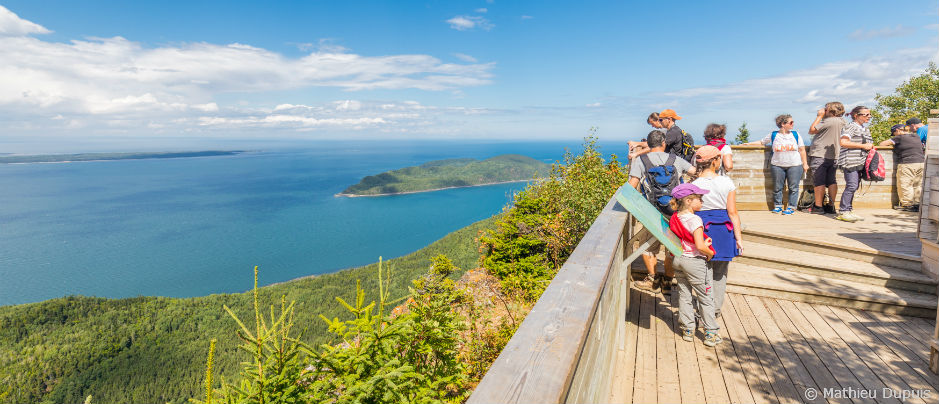 If you enjoy hiking, cycling, sea kayaking or outdoor activities in general, you will be charmed by Parc national du Bic. Come and explore the park's coves, islands and shoreline, on land or at sea. Keep your eyes peeled and you will likely spot harbour seals poking their heads out of the water or sunning themselves on the rocks.
Did you know that one of the largest lakes south of the St. Lawrence is found in Bas-Saint-Laurent? Lake Témiscouata has an area of 67 km2 (29 sq. mi.) and almost half of its banks are within Parc national du Lac-Témiscouata, which protects a representative sample of the natural region of the Notre-Dame Mountains. This is an ideal spot for canoeing and hiking as well as nature observation. The potential of this area was recognized as long ago as the late 1920s by renowned conservationist Grey Owl, who lived there for three years.
Inland near Saint-Narcisse-de-Rimouski, test your mettle on the "Descent to Hell," a 300-step staircase that will take you down to the Rimouski River between steep and narrow rock walls up to 90 metres (295 feet) high at the Canyon des Portes de l'Enfer (Hell's Gate Canyon). You can also admire the impressive canyon from the highest suspended footbridge in Québec, which is 63 metres (207 feet) long.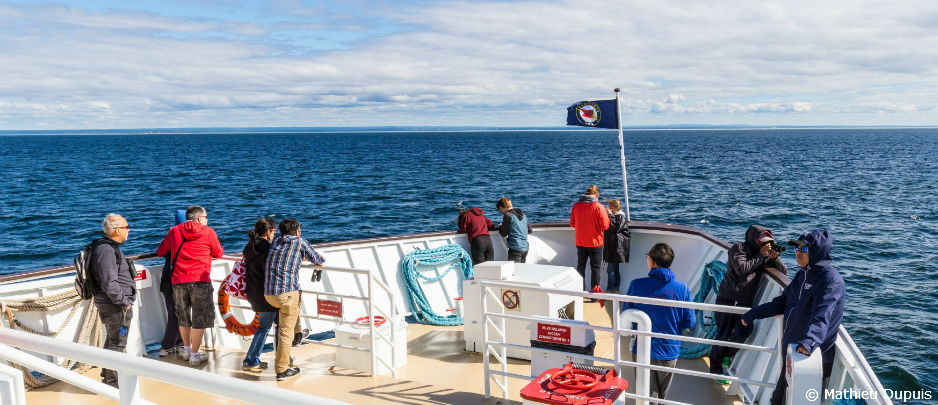 For another type of stunning natural sight, the Saguenay–St. Lawrence Marine Park is one of the best places in the world to observe whales. Come and see them during an excursion with Croisière AML from the comfort of a sightseeing boat. After your cruise, take the time to stop for a picnic at Parc des Chutes (Falls Park), where you can admire a 33-metre (108-foot) waterfall in a magnificent environment within walking distance of downtown Rivière-du-Loup.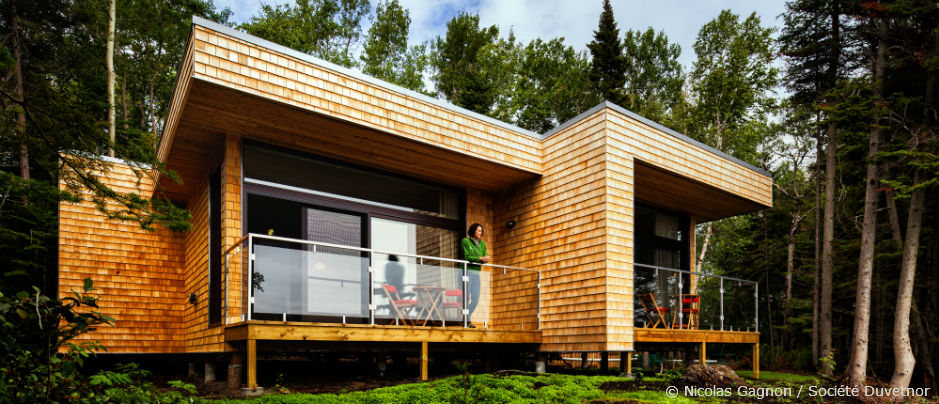 Another interesting whale-watching option is to spend the night in a tent or cottage on Île aux Lièvres (Hare Island), which is owned by Société Duvetnor. You may even wake up to the sound of the whales! You can also enjoy an escapade to Saint-Barnabé Island, where you can camp in complete tranquility after savouring a delicious meal and admiring the sunset, a perfect end to a day on the island.
Bas-Saint-Laurent culture and heritage
Art, culture and history are all very present in Bas-Saint-Laurent.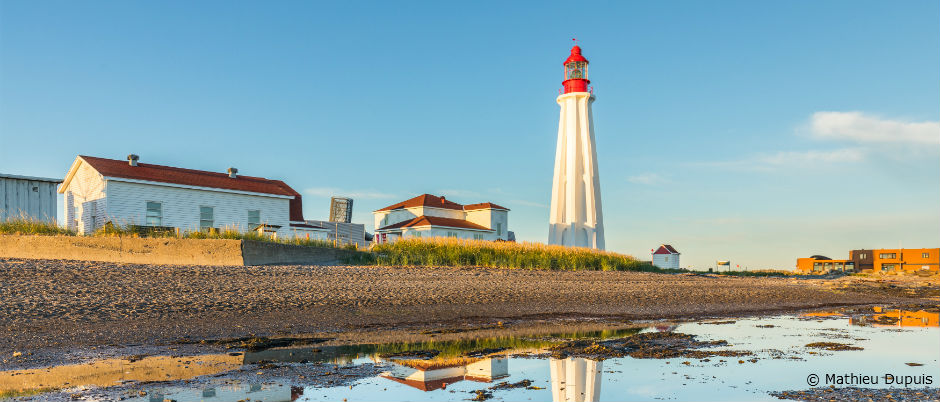 Are you interested in maritime heritage? If so, you'll want to visit the Pointe-au-Père Maritime Historic Site, where you can climb to the top of one of the tallest lighthouse in Canada, built in 1909. After admiring the view, head back down to tour the Onondaga, and find out about the daily lives of the men who lived for months at a time in this 90-metre (300-foot) submarine. End your visit at the Empress of Ireland Museum, where you can learn all about the passenger ship of the same name, from its construction in 1906 to its sinking off Pointe-au-Père in 1914, which killed 1012 people in one of the worst maritime disasters of the early 20th century.
To learn more about regional history or sciences or to admire contemporary art, visit the Musée régional de Rimouski, which is housed in the town's oldest stone church. The museum's exhibits are worthy of the biggest national museums.
Bas-Saint-Laurent is also home to many top-quality theatres and other venues, and regularly hosts cultural events, festivals and other celebrations, including Les Grandes Fêtes TELUS in July, the "Concerts aux Îles du Bic" Chamber Music Festival in August and the Rimouski Festi Jazz International in September, all of which take place in the Rimouski area. Mingle with the crowds and have a good time!
Artisans: Expect the unexpected!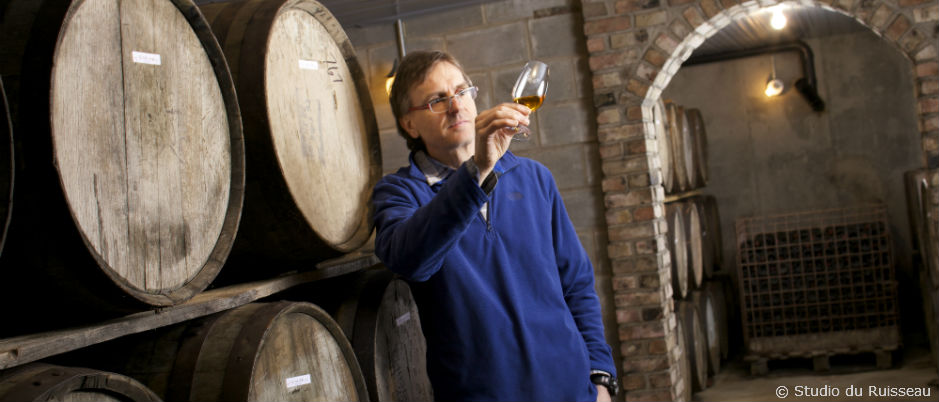 The artisans of Bas-Saint-Laurent are constantly creating new and unique items. For example, one of the region's many maple syrup operations, Domaine Acer, in Auclair, in the Témiscouata region, is producing various alcoholic maple beverages. Be sure to stop in for a visit and try out their fine liqueurs as well as a wide range of other maple syrup products. You can also visit their maple syrup economuseum, where you can learn all about this typical Québec product.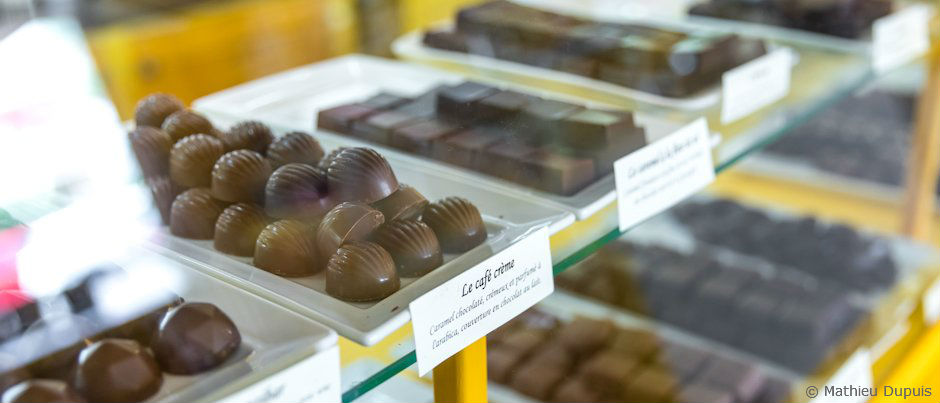 If you have a taste for fine food as well as a sweet tooth, you will be delighted by the selection of chocolates, caramels, spreads, sweets and other delicious treats available at La Fée Gourmande in Kamouraska, not to mention the pastries, artisanal chocolates, breads and sweets available at Pâtisseries et Gourmandises d'Olivier, in Rimouski.
Foodies will be in heaven in Bas-Saint-Laurent since local ingredients and products are featured on the menus found in many of the region's renowned restaurants and dining rooms, including the café-bistro Côté Est in Kamouraska, Auberge du Mange Grenouille in Le Bic, Auberge du Chemin Faisant in Témiscouata-sur-le-Lac and Auberge du Portage in Notre-Dame-du-Portage.
Where to stay in Bas-Saint-Laurent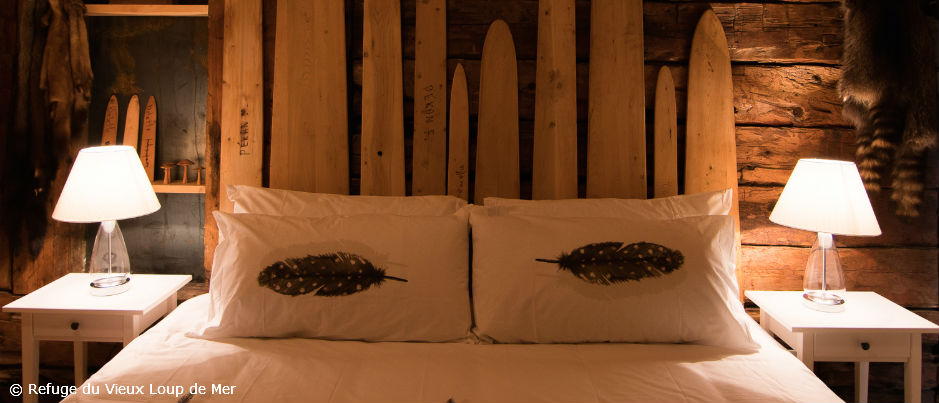 As with everything else, Bas-Saint-Laurent offers a wide variety of lodging options: hotels, inns, camping options (including glamping) in national parks or on uninhabited islands, cottages of all kinds, B&Bs, lightkeeper's houses, yurts and more. Whatever your budget or expectations, you will find what you need, whether you're primarily looking for comfort or adventure. Besides the establishments we spoke of previously, you could plan a stay at the Domaine Floravie, Hotel Rimouski, Motel Bienvenue, Place Lemieux, Camping Rimouski et Motel de l'Anse located in Rimouski, Maisons du Phare de l'île Verte or at Hôtel Universel and Auberge de l'Anse in Rivière-du-Loup. Consult our directory to see some of your options.
Whatever your tastes and interests, you are sure to enjoy an amazing vacation in Bas-Saint-Laurent. Start planning your trip now!
If you liked this article, you might also like...