The

Québec maritime Blog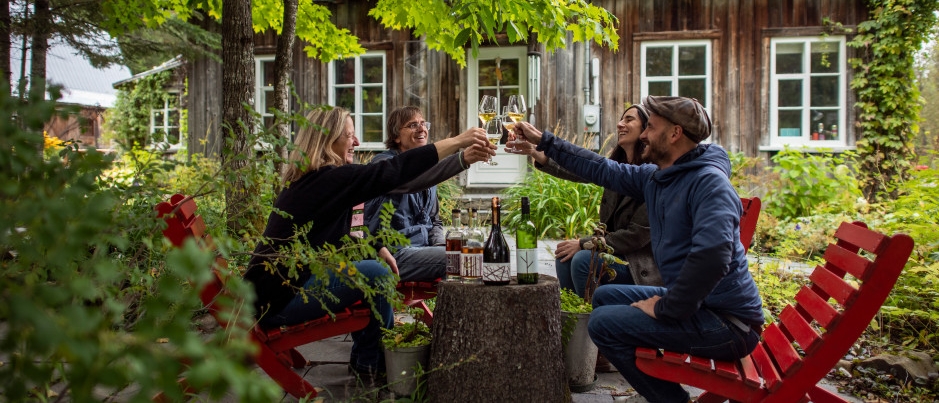 Domaine Acer
TQ/Gaëlle Leroyer
Savour the Unique Flavours of Bas-Saint-Laurent
Bas-Saint-Laurent is a land of fields, valleys, forests and lakes bordered by the majestic St. Lawrence River (from which the region gets its name, which means "Lower St. Lawrence"). The capital of spectacular sunsets, this territory is not only home to beautiful landscapes that will awaken your senses and imagination: its unforgettable flavours are sure to delight your taste buds and create amazing foodie memories.
Sea flavours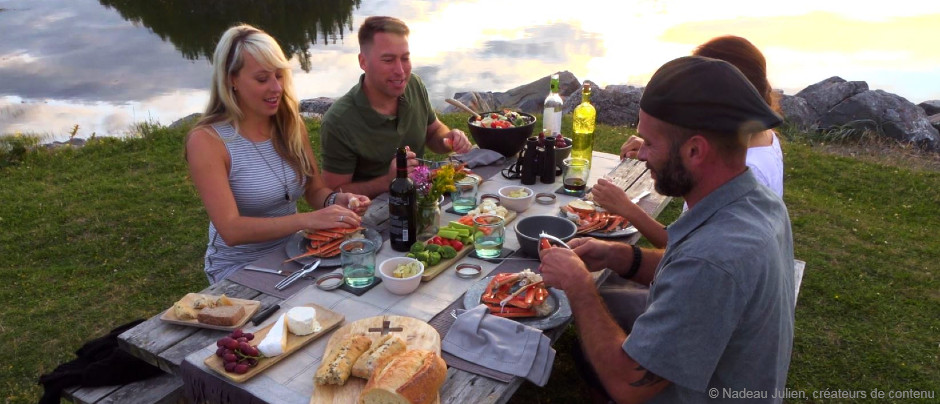 When the sea is at the heart of a landscape, maritime flavours are definitely on the menu! In Bas-Saint-Laurent, you can savour the products of local fisheries (snow crab, sea urchin, etc.), fish smoked in the various smokehouses in the area (eel, trout, sturgeon, etc.), as well as seaweed and coastal plants. Stop at the Jardins de la Mer in Saint-Germain-de-Kamouraska to discover Salicornia (also known as sea asparagus or samphire), sea spinach, sea plantain and other plants that grow on the tidal flats.
Forest flavours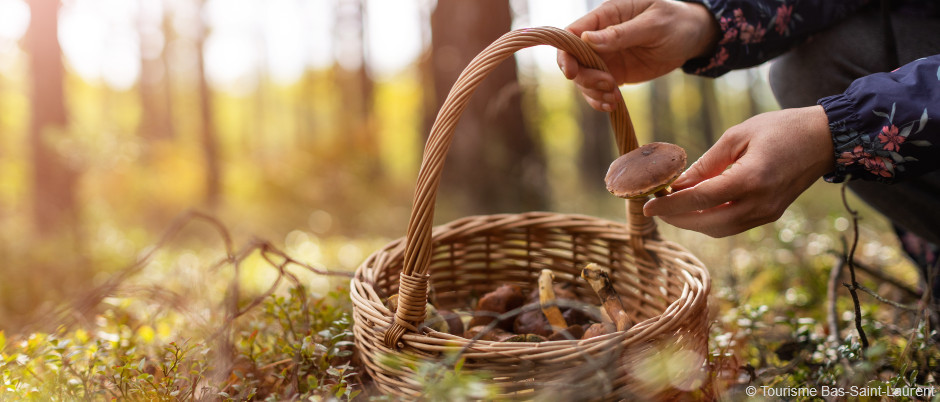 Edible treasures are also hidden in the forests of Bas-Saint-Laurent. Wild harvesting allows you to savour many of these delicacies, including various types of mushrooms. In fact, mushroom tourism is becoming increasingly popular in the Kamouraska area, where you can discover forest mushrooms through activities that introduce visitors to mushroom picking as well as a forest mushroom festival that takes place in the fall.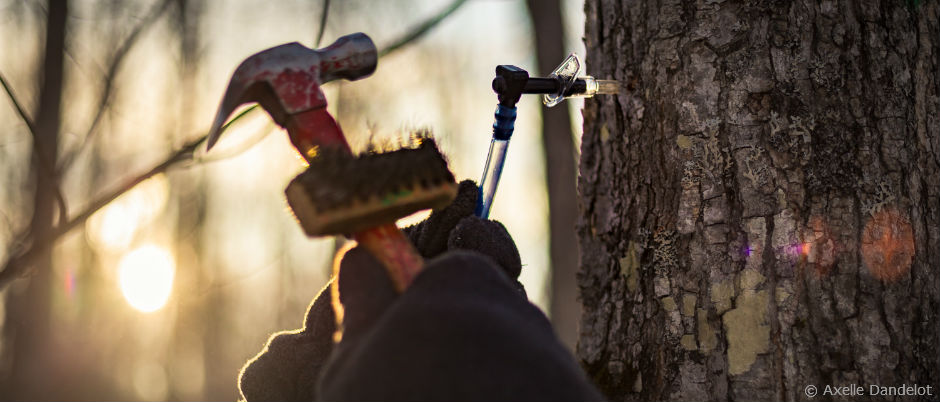 However, mushrooms are far from being the only woodland flavours to be discovered in Bas-Saint-Laurent! The region's maple sugar producers offer fabulous maple products, including maple syrup, sugar and butter as well as alcoholic beverages made from the fermentation of maple sap. Domaine Acer, in Témiscouata, is not only a pioneer in the production of organic maple wines, but is also a maple economuseum, where you can learn about how maple syrup and other maple products are made.
Food artisans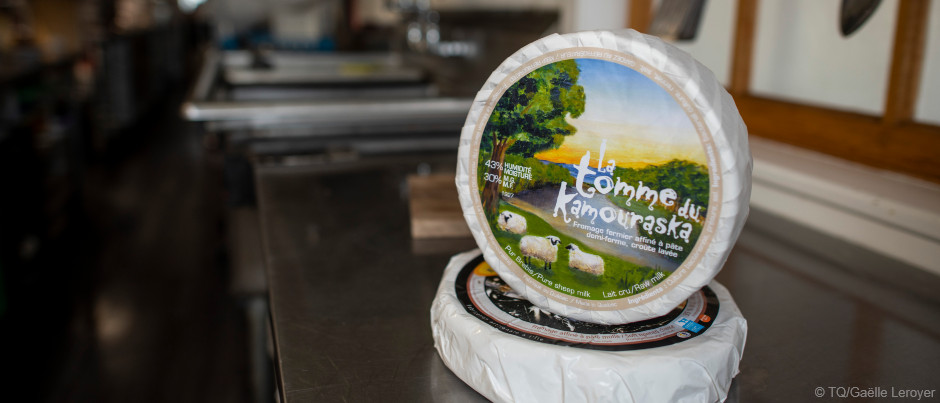 Bas-Saint-Laurent is home to a multitude of food artisans who will delight your palate with the fruits of their labour. If you're a cheese lover, you'll want to visit the region's many cheese artisans, such as Fromagerie Le Mouton Blanc in La Pocatière and La Tête sur le Bio* in Sainte-Luce, which produce cheese made with raw sheep's milk and organic cow's milk respectively, as well as Fromagerie Le Détour in Témiscouata, which makes cheese with cow's, goat's and sheep's milk. If you're a fan of fresh cheese curds, be sure to stop in at Fromagerie des Basques in Trois-Pistoles!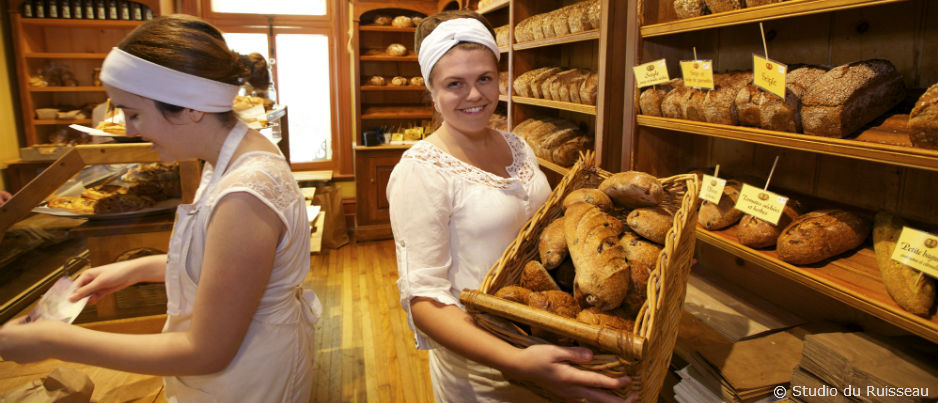 Since bread goes so well with cheese, your next stop should be at Boulangerie Niemand* in Kamouraska, a bakery that blends European traditions with local flavours. And, if you have a sweet tooth, don't miss the delicious chocolates and other sweet treats from La Fée Gourmande, also in Kamouraska, as well as the pastries and other goodies from Pâtisseries & Gourmandises d'Olivier in Rimouski.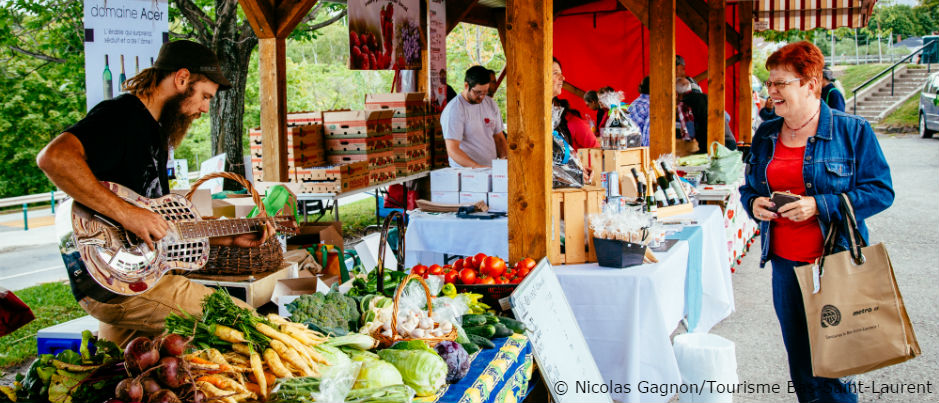 To stock up on tasty local products, visit the public markets in Bas-Saint-Laurent* in the summer. Dozens of farmers and food artisans gather in these markets in a friendly and festive atmosphere.
Thirsty?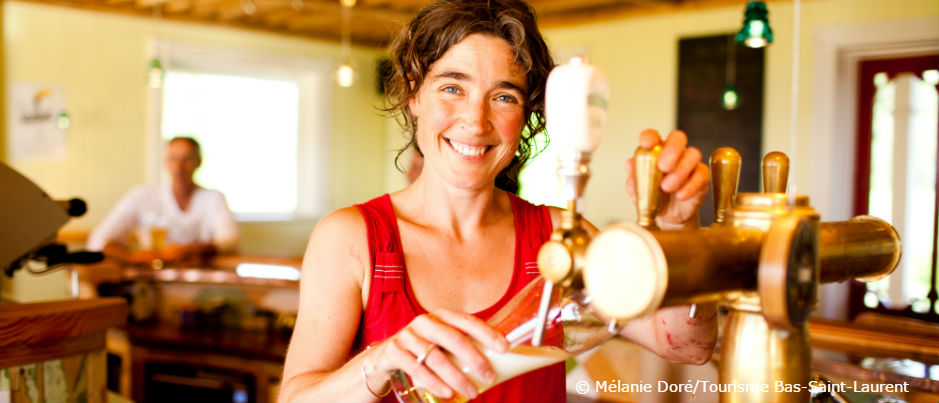 In addition to the alcoholic maple beverages mentioned above, Bas-Saint-Laurent offers many drinks to quench your thirst. You can taste locally made wines (Raku,* Amouraska, etc.), meads (Le Vieux Moulin, Le Château Blanc*) and even a handcrafted gin infused with maritime flavours (Distillerie du St. Laurent). The region is also home to a number of microbreweries, including Tête d'Allumette in Saint-André-de-Kamouraska, Le Secret des Dieux in Témiscouata and Le Bien, le Malt in Rimouski. Hop lovers will want to consult the Beer Route to make new discoveries in Eastern Quebec.
Fine dining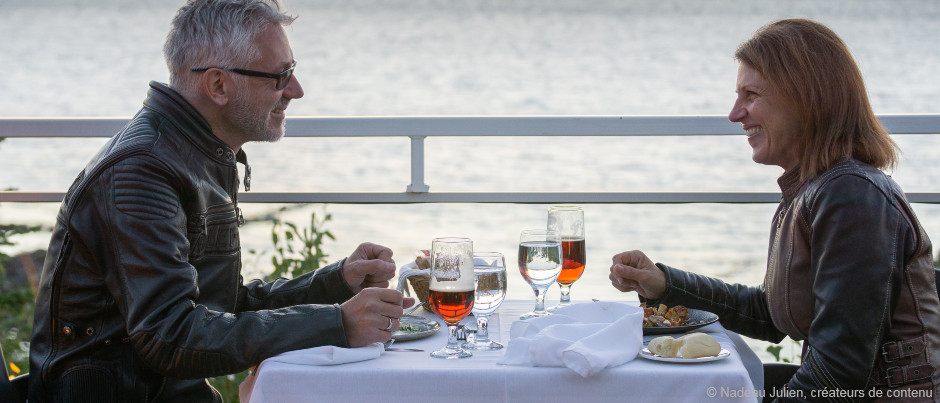 Throughout the Bas-Saint-Laurent region, you'll find many fine dining restaurants where you can enjoy memorable meals in enchanting settings. Chez St-Pierre,* Côté Est and the dining rooms found in Auberge du Chemin Faisant, Auberge du Mange Grenouille and Auberge du Portage are just a few examples of the many options available to you. Follow this link for more suggestions or visit the Tourisme Bas-Saint-Laurent website for more foodie ideas!
*These websites are in French only.
If you liked this article, you might also like...