The

Québec maritime Blog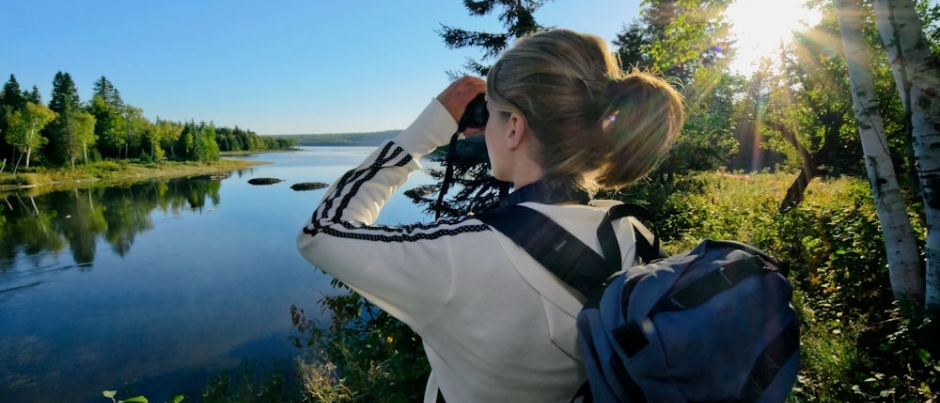 Parc national du Lac-Témiscouata
Marc Loiselle / Sepaq
Parc national du Lac-Témiscouata: Hikes for Everyone
The latest addition to Québec's network of national parks, Parc national du Lac-Témiscouata is hinged around the largest and most majestic lake in the region. With a length of some 39 kilometres, it's the second largest body of water south of the St. Lawrence. The park is run through by the Sentier national, the backbone of its trail network, which offers many interesting options to stretch your legs and appreciate the region's beautiful scenery. Here are some of them.
Montagne du Fourneau – 5.5 km (loop) | 2 hours
No doubt this trail is bound to become the classic hike in this new park! Offering an easy access to all the features and richness of the Notre-Dame Mountains, it will please hikers of all abilities. The trail goes through a forest ecosystem of red and white pines, classified as exceptional by Québec's government, and through mature maple groves. Keep an eye open while you hike; white-tailed deer are commonly seen in the area. Enjoy the unique vistas on LakeTémiscouata on your way up and take a well-deserved rest admiring the beautiful panorama from the belvedere at the top of Montagne du Fourneau.
Rivière-Touladi – 12.4 km (return trip) | 4.5 hours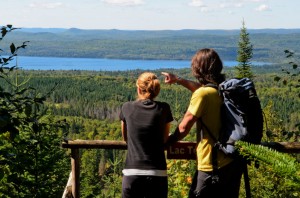 One of the vistas on Lake Témiscouata © Marc Loiselle / Sépaq
This trail is perfect for a nice hike to the peaceful sound of water, in an area rich in history, as shown by the archeological interpretation site on the natives' presence. The Touladi River ranks among the most picturesque rivers in the park. Around every bend, you might have a chance to spot a bald eagle, the park's wildlife symbol and one of the 150 bird species present in the region. Don't hesitate to take a break at one of the many small sandy beaches along the trail or on the beautiful foot bridge on the Rivière Touladi.
Sutherland – 6.4 km (return trip) | 2 hours
The Sutherland Cascades, the destination of this hike, are another gem of the park. Enjoy the rest stops and viewpoints on Lake Rond along the trail and the ease of walking on boardwalks on a total of 180 metres across a lovely marshland. As a bonus, the trail goes through the area where lived Grey Owl, a character larger than life, in the vanguard of the environmental movement.

The park's campground is scheduled to open on June 21, 2013. Located right by the lake, it will be certainly be one of the best location to relax after a full day of hiking. Are you ready to book?
For more information:
If you liked this article, you might also like...