The

Québec maritime Blog
Learn about the Sea Through Interactive Activities
Since I love the sea, I'm always delighted when such a passion is fostered in children, especially my own daughter. It's great to admire the breathtaking scenery that the sea and the St. Lawrence provide for us along the coast, but it's even more fascinating to discover the mysterious world under the water.
Here are three interactive activities for children that focus on the majestic St. Lawrence and that lit up my daughter's eyes when we tried them. These were our favourites, but I didn't know anything about them until we road-tripped in the maritime regions of Québec this summer. I highly recommend all three if you're travelling as a family in Côte-Nord and Gaspésie.
Touch pool on Grande Basque Island, in Sept-Îles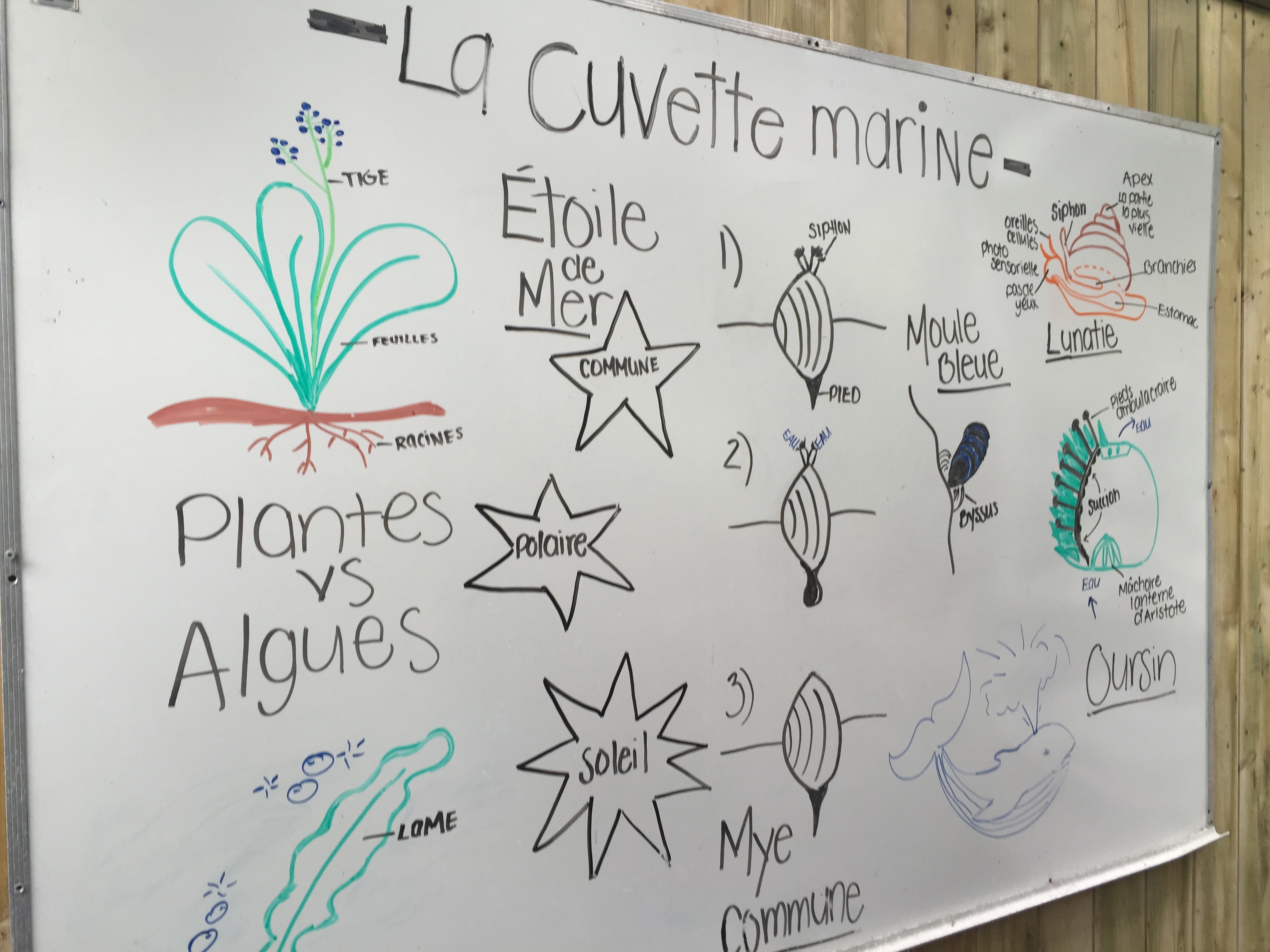 Species found in the touch pool© Marie-Ève Blanchard
Every day in the summer, volunteer divers harvest various live specimens from the bottom of the St. Lawrence, which they share with the naturalist guides on Grande Basque Island in the Sept Îles Archipelago. Visitors can then learn about these marine organisms during touch pool activities. The organisms are kept all day in an aquarium and then released back into the sea.
During the workshop, you will be introduced to the world of starfish, gastropods, crabs and sea cucumbers while being given the opportunity to touch and hold these organisms. Fun for all ages!
Grande Basque Island also offers 12 km (7.5 mi.) of marked trails and a wilderness camping area.
Exploramer: A permanent exhibit, touch pools and activities
As soon as I set foot in the Exploramer science museum in Sainte-Anne-des-Monts, I knew that this centre is a must-see for anyone visiting the Gaspé Peninsula. Two different types of sea excursions are offered during which you can either participate in hauling in crab and whelk traps or become an oceanographer and collect data (salinity, turbidity, acidity, tagging, etc.). This "sea lab" allows visitors to actively participate in studying the marine environment, since the data gathered during the excursion will be compiled by biologists. You can also put on a pair of waders and take advantage of the low tide to investigate what fish and other organisms have been caught in the fyke net along the shore.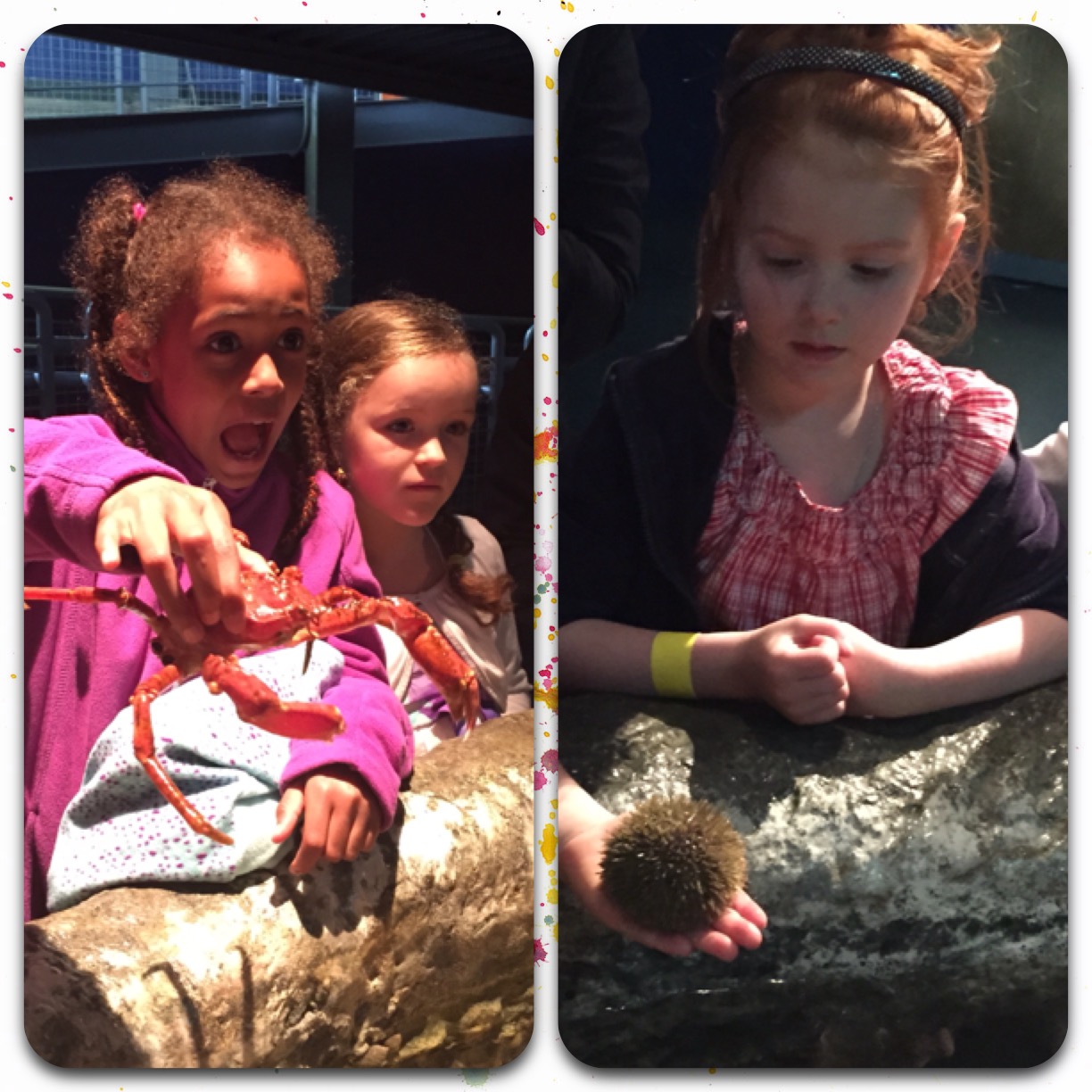 Our daughters enjoying the interpretive activities involving the touch pools at Exploramer© Marie-Ève Blanchard
Exploramer also showcases about 50 species from the Gulf of St. Lawrence in tanks and aquariums, including touch pools, which are a favourite among visitors of all ages. Here are a few interesting facts I learned during my visit (to find out more, you'll just have to stop in and see for yourself!):
Although they move very slowly (about 8 cm or 3 in. per minute), starfish are voracious predators. They feed on whelk and other molluscs by sucking them up with their mouth, which is located at the centre of their lower surface. On the back of a starfish, you may notice a small circle that at first glance seems insignificant. This is actually the starfish's madreporite, a powerful filter that allows entry of seawater into the animal's water vascular system.
Gastropods secrete a type of mucus that prevents them from dehydrating. Moon snails are the largest gastropods. They have a radula, a tongue with teeth that they use to bore holes into the shells of other molluscs. The process is also aided by enzymes that help break down their food.
When faced with danger, sea cucumbers can expel their internal organs to slow down predators and give themselves time to escape. The missing organs are then regenerated.
Regional history activities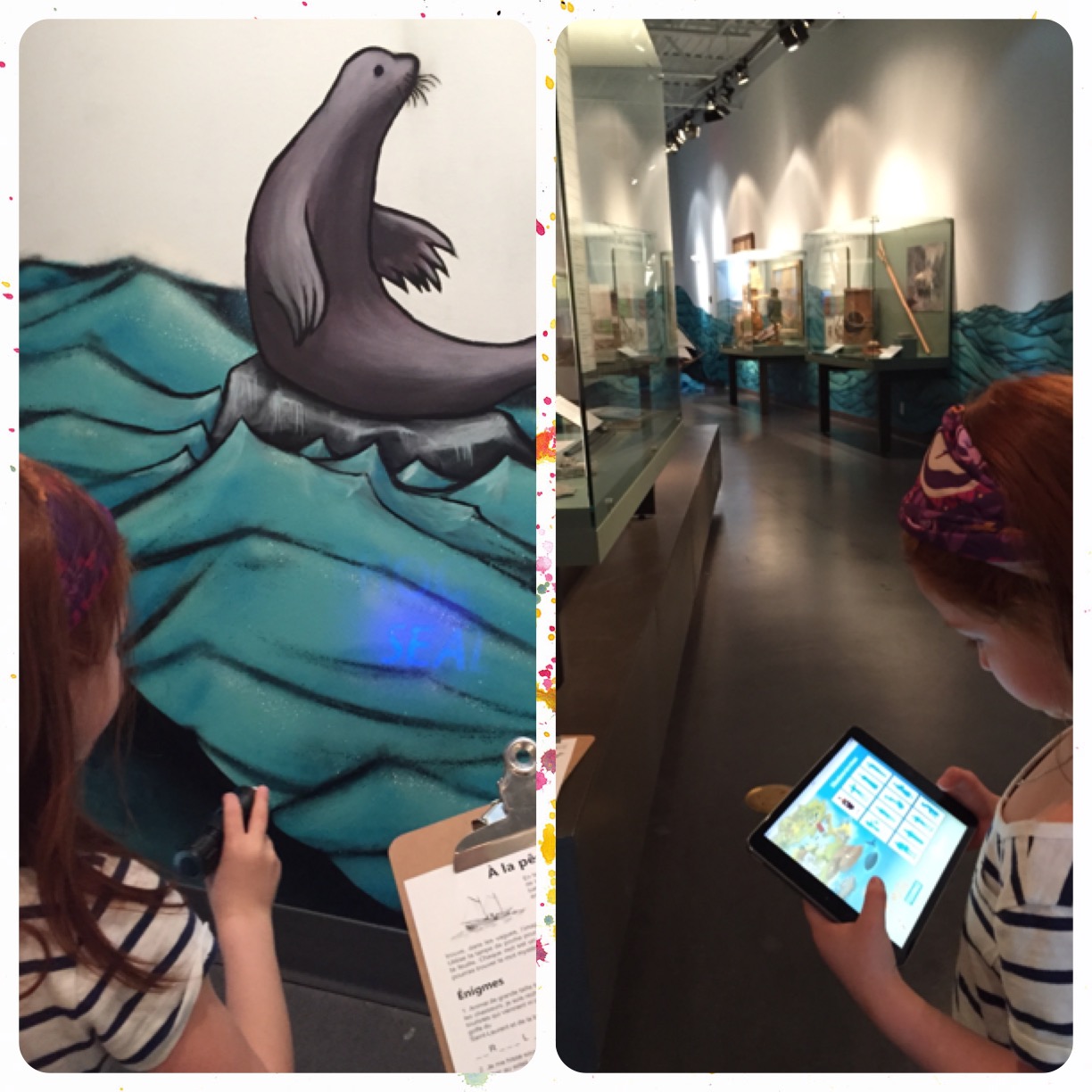 The Fishing for Words activity and the Amuse Personnages app at the Musée de la Gaspésie© Marie-Ève Blanchard
The Musée de la Gaspésie is also another must-see for anyone visiting Gaspé. This regional history museum presents the history and heritage of the Gaspé Peninsula through an archives centre and a permanent exhibit, Gaspésie... A Grand Journey. Not surprisingly, the museum also offers educational activities for kids. Ten mini iPads are available with the Amuse Personnage app (available in French only), which teaches kids about people who contributed to the history of Gaspésie. These include Jacques Cartier, as well as a cod fisherman and a whale hunter, both of whom helped shape the identity of this region. The app asks kids to identify objects and artefacts in the exhibit by associating them with the characters, who are then introduced in more detail.
I also loved the Fishing for Words activity, which takes visitors through the permanent exhibit. A large mural decorates the walls of the exhibit room, illustrating marine animals, shipwrecks, legends and typical local boats. Flashlight in hand, kids can read the clues that will help them discover the mystery word in the waves. It's a fun activity they can enjoy while their parents learn more about the history and culture of Gaspésie.
If you liked this article, you might also like...