The

Québec maritime Blog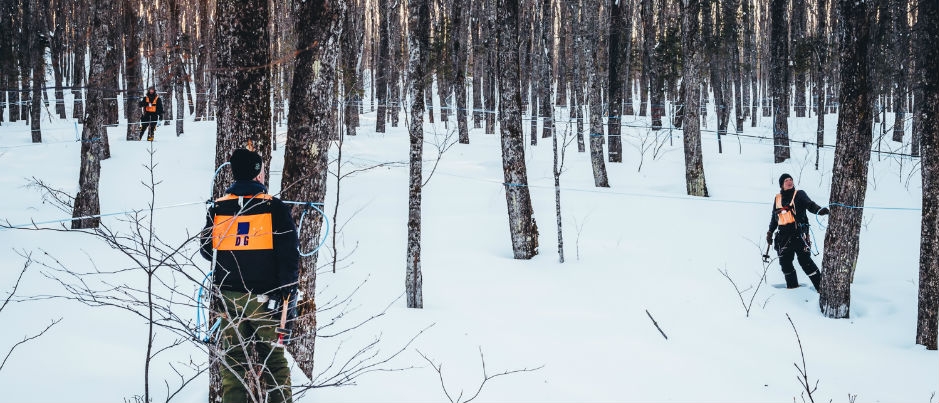 Maple Sugar Season at Domaine Acer
Winter is finally coming to an end: the snow is melting at a fast pace, and the ice in the St. Lawrence is disappearing, to be replaced by blue water. It's warm enough that people are beginning to shed layers of clothing as the trees prepare to bud. Migratory birds are singing their arrival in our regions as the earth awakens and maple sap starts to flow. Spring is in the air... and it's time for a traditional sugaring-off party! Put on a wool sweater and your rain boots and come satisfy your sweet tooth in Bas-Saint-Laurent, the second largest maple syrup region in Québec!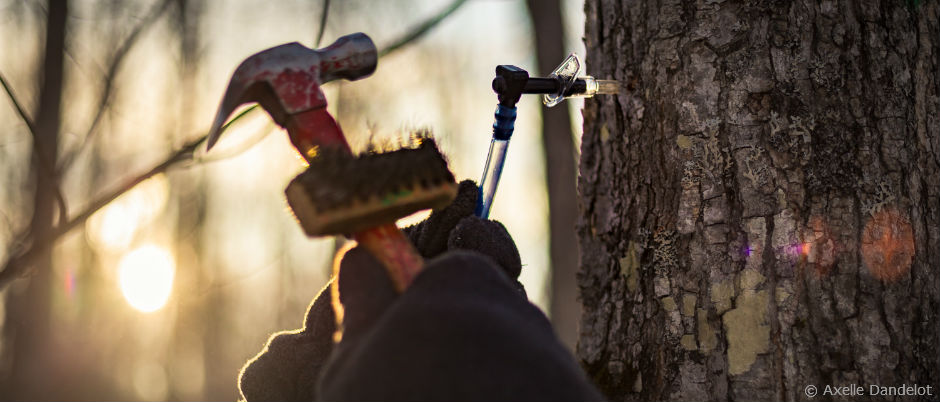 While maple sugar producers tap an average of 6000 trees, those in Bas-Saint-Laurent often have over 20,000 active sugar maples! (This maple species gives the syrup a distinctive flavour.) Over the years, the region has developed extensive maple syrup expertise, thanks in part to new technology and the drive of local entrepreneurs. Often cited as an example of innovation in this field, the Bas-Saint-Laurent region is also characterized by a long maple sugar season, which leads to very good yields.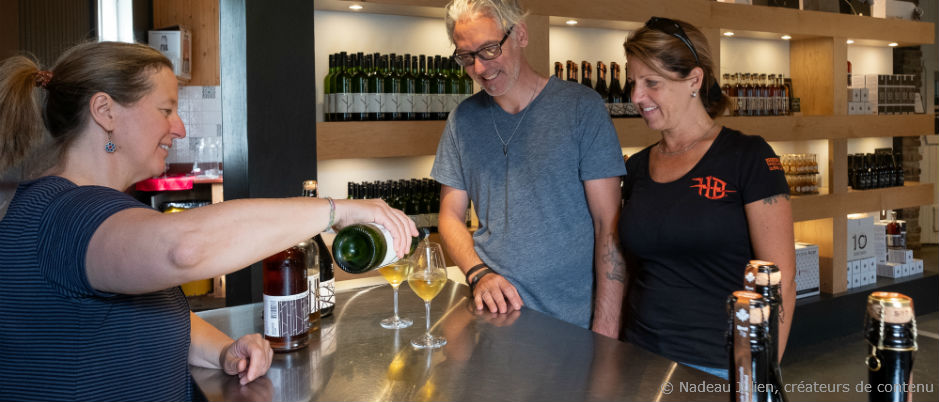 Nathalie Decaigny, co-owner of the Domaine Acer maple economuseum, invites you to Auclair, a village in the Notre-Dame Mountains that offers a breathtaking view of Grand Lac Squatec. An engineer and agronomist by training, Nathalie promotes the delicious maple products created by her business and life partner, Vallier Robert. "Domaine Acer was originally a small maple grove that belonged to Charles-Aimé Robert, Vallier's father. At the time, it only had a few hundred maples and was a small laboratory where Charles-Aimé shared precious moments with his sons, to whom he passed on his creativity and ingenuity," says Nathalie.
Since the maple leaf doesn't falls far from the tree, Vallier followed in his father's footsteps and obtained the first artisan production permit to make alcoholic beverages from maple sap in 1996. Domaine Acer is now renowned for the quality of its products and for its economuseum experience. In recent years, the tours have been completely revamped. "We expanded the boutique, rebranded ourselves and are now certified organic," explains Nathalie.
When you arrive at Domaine Acer, you will be welcomed in a beautiful room where you will learn about the Acer species (maples). You will then tour the sugar shack and find out why maple sap flows, how maple syrup is made and more.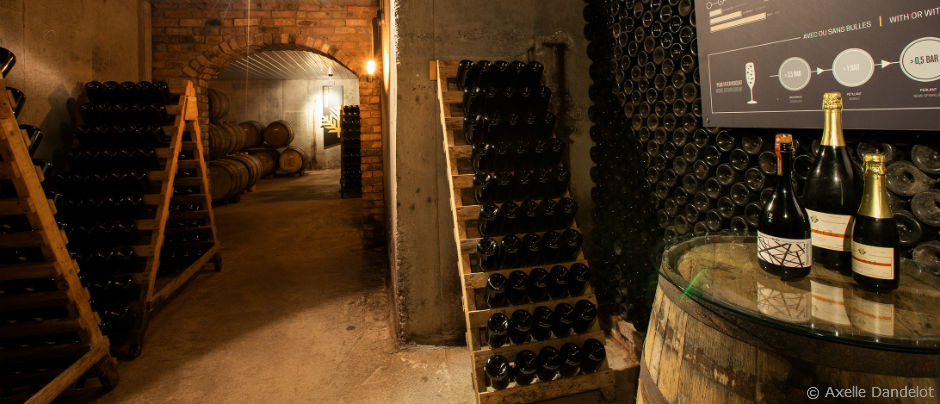 Then you will be taken to the cellars where you will learn about winemaking methods. The tour ends in the boutique, where you can enjoy the maple syrup bar (how could you resist!), purchase maple products (including some made in collaboration with local food artisans such as chocolates, terrines, etc.) and sample delicious alcoholic beverages.
To make your mouth water, Nathalie has paired each of the maple alcoholic beverages made by Domaine Acer with an activity she recommends in the region: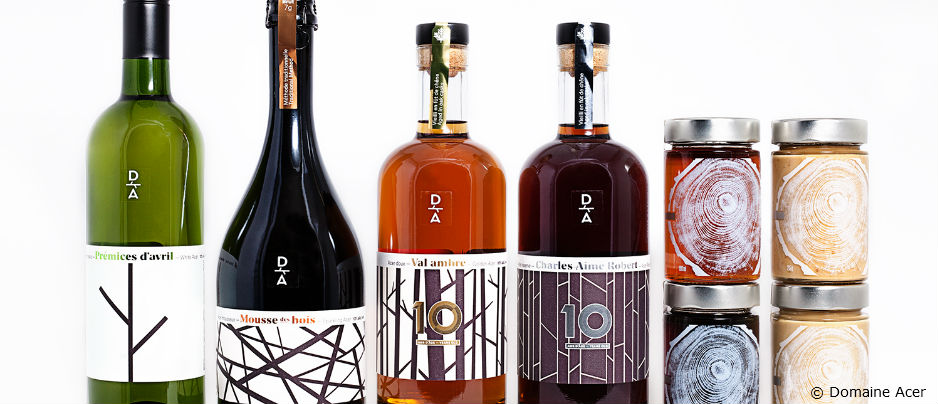 PRÉMICES D'AVRIL | A TRIBUTE TO FISHING SEASON
This white semi-dry wine (12% alcohol) with aromas of white flowers, peaches and pears and a subtle maple finish is the ideal accompaniment for fish and seafood. To delight your taste buds, Nathalie recommends the excellent dining room at Auberge du Chemin Faisant, which hosts a sea festival every May.
MOUSSE DES BOIS | AN OUTDOOR LOVER'S COMPANION
This sparkling wine with lots of personality is made using traditional methods. Floral and brioche notes combine with apple and citrus, with a smooth maple finish. Nathalie recommends you visit Parc national du Lac-Témiscouata, which promotes a flavours tour (Circuit des Saveurs) around this area. During a hike in the park, a picnic lunch of smoked salmon on baguette accompanied by a bottle of this sparkling wine adds another dimension to your visit!
VAL AMBRÉ | PERFECT FOR APRÈS-SKI
This rich and full-bodied maple liqueur is aged for 10 years in oak barrels. It will charm you with warm notes of caramel, butter, nuts, yellow fruit and maple. Nathalie invites you to savour it for spring après-ski. Enjoy it in good company, served with cheeses and terrines.
CHARLES-AIMÉ ROBERT | SPA AND RELAXATION
This is Domaine Acer's signature product, a complex and rich tawny-Porto-style maple liqueur, also aged for 10 years in oak barrels. It is usually served neat and is the perfect accompaniment to a romantic evening. As there are many resorts in the region, it lends itself to being sipped by the fireplace after a session at the spa.
Nathalie and Vallier would like the alcoholic beverages they make from maple sap to be recognized as signature Québec products, in the same way as are Cuban rum and Pineau des Charentes. The couple is also working with two other companies on the Acerum appellation, which would be reserved for spirits made in compliance with the specifications established by the Union of Maple Liqueur Distilleries.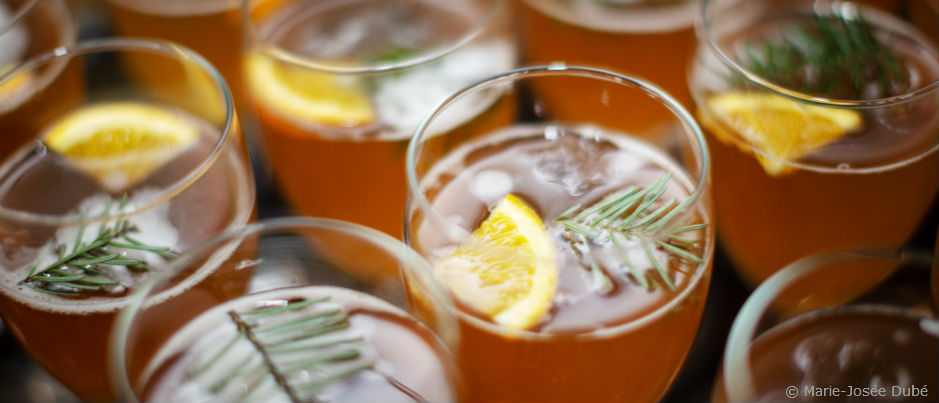 To celebrate the arrival of spring, Nathalie invites you to enjoy her Témis Spritz! To create this recipe, she was inspired by Aperol Spritz, Italy's famous cocktail, which reminds her of the citrus notes that emerge during the ageing process of the Domaine Acer products.
Ingredients
4 oz Mousse des Bois
½ oz Charles-Aimé Robert
½ oz spritz syrup
3-4 drops Sombre & Amer Arbor forest bitters
Serve on the rocks (poured over ice)

Cheers and happy maple sugar season!
If you liked this article, you might also like...