The

Québec maritime Blog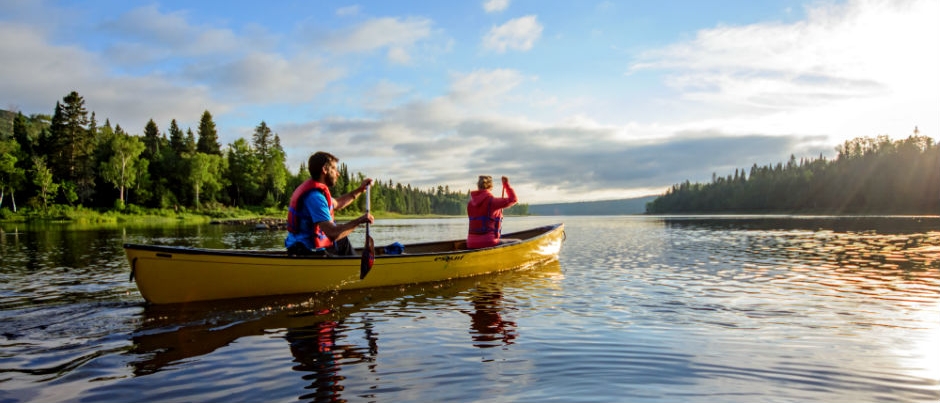 The Témiscouata area is dotted with many beautiful lakes
Marc Loiselle
What to See and Do on Vacation in the Témiscouata Area
Located at the heart of a vast forest full of game in Bas-Saint-Laurent, the Témiscouata area is dotted with many lakes, much to the delight of residents and vacationers alike. These bodies of water draw the eye to the horizon and are a soothing sight. Outdoor recreational centres, marinas and campgrounds are found along the shores of splendid Lake Témiscouata and Lake Pohénégamook as well as on Aigles, Squatec, Touladi and Long lakes. Make the most of what these lakes have to offer!
Wildlife Observation
Bald eagles: A star attraction in Témiscouata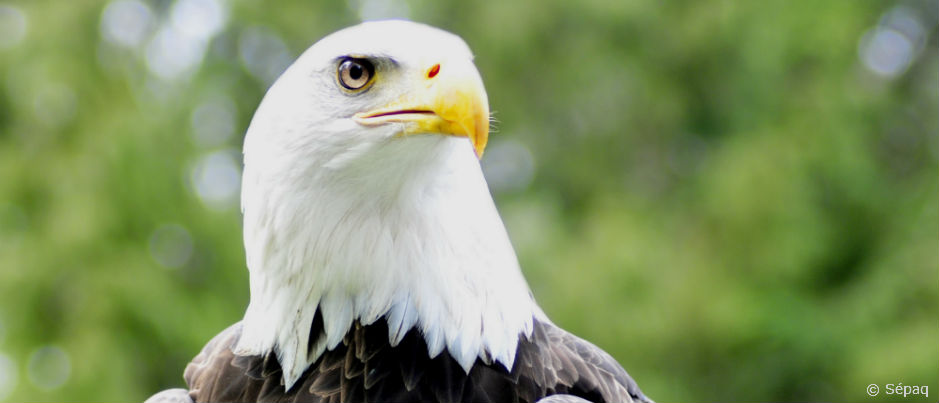 The Touladi River, in Parc national du Lac-Témiscouata, is a white-water river that runs through dense forest all the way to Lake Témiscouata. When canoeing or hiking in the park, keep your eyes peeled: bald eagles make their nests at the mouth of the river.
National Parks and Natural Sites
Parc national du Lac-Témiscouata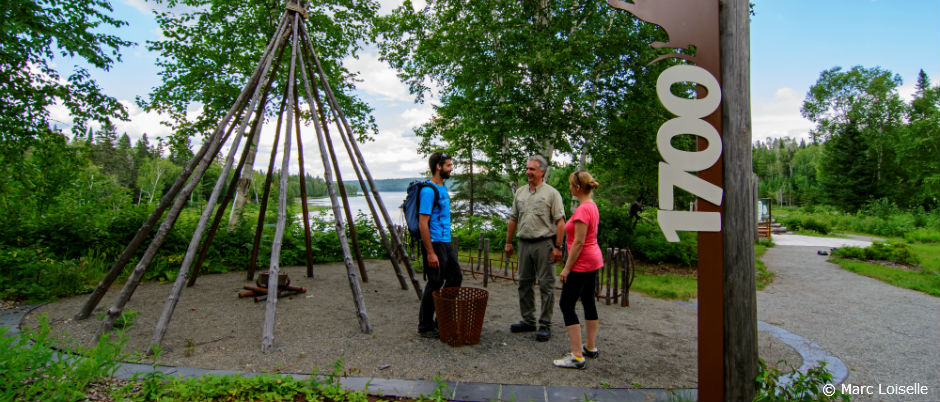 Did you know that Grey Owl, an early environmentalist and controversial figure, travelled up the Touladi River in fall 1928 and lived for some time along the shores of Lac des Bouleaux near Squatec? And did you know that the Wolastoqiyik (Maliseet), who travelled every year from the Bay of Fundy in New Brunswick to the St. Lawrence, would stop at chert quarries near Lake Témiscouata? (Chert is a type of rock that they used to make hunting weapons and domestic tools.) These quarries are now within the park and add to its rich history. The park is also a paradise for hikers, who can explore magnificent landscapes of forests and lakes that stretch as far as the eye can see.
Petit Témis by bike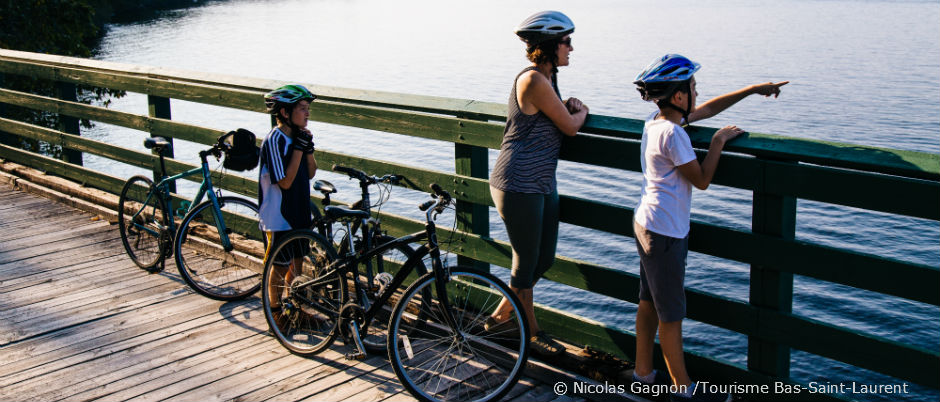 The Petit Témis Trail is a bike trail that runs along an old railway bed from Rivière-du-Loup to Edmundston, New Brunswick. Accessible to all, the 134-km (83-mi.) trail has a maximum variation in elevation of 4%. The most popular segment is between Cabano and Dégelis, as it runs along majestic Lake Témiscouata (and features lots of rest areas). From the Parc national du Lac-Témiscouata side of the lake, you can get to the trail by taking the ferry shuttle from the Anse-à-William Discovery and Visitors Centre (in the Squatec sector of the park) to Cabano or by taking the ferry from Saint-Juste-du-Lac to Notre-Dame-du Lac.
Culture and Discoveries
Maple treats and a guided tour at Domaine Acer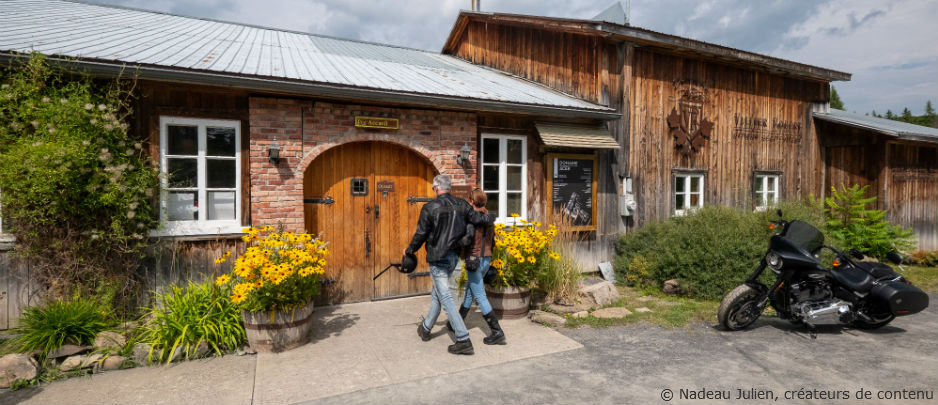 In the hollow of a small valley in Auclair, along a road that's as straight as a die, you will find Domaine Acer, a sugar bush and maple economuseum. In the short period when winter finally retreats, when spring is in the air and streams begin to gurgle, before the buds open and new green leaves burst forth, maple syrup season keeps everyone busy at Domaine Acer. The sap collected from 20,000 maple trees is concentrated and fermented to make unique wines and liqueurs… Val Ambré, Charles-Aimé Robert, Mousse des Bois and Prémices d'Avril are all rich, complex and elegant premium alcoholic beverages. Enjoy!
Fine dining at Auberge du Chemin Faisant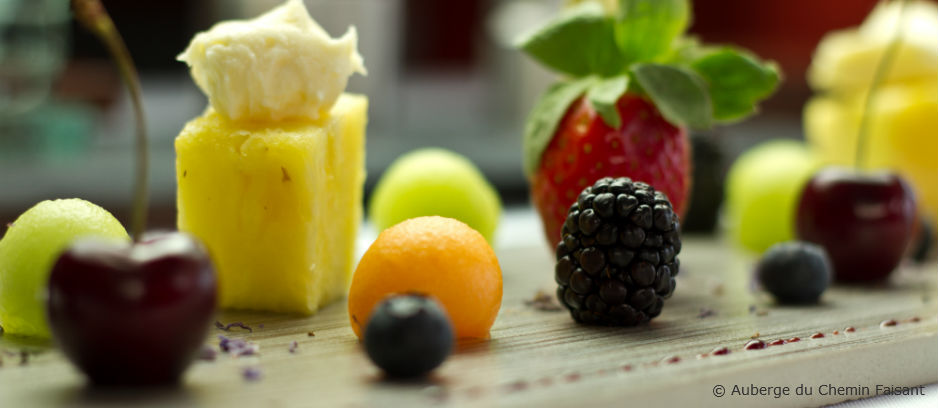 Along the Vieux Chemin in Cabano, Auberge du Chemin Faisant is an exceptional inn specializing in molecular cuisine. A culinary inventor, Hugues concocts dishes that are sometimes lined up on your plate or more often layered. Hostess and sommelier Liette will be happy to suggest white and red wine pairings. To prolong your experience in this historic house, why not stay in one of the inn's six rooms? You will sleep like a baby!
Other tasty discoveries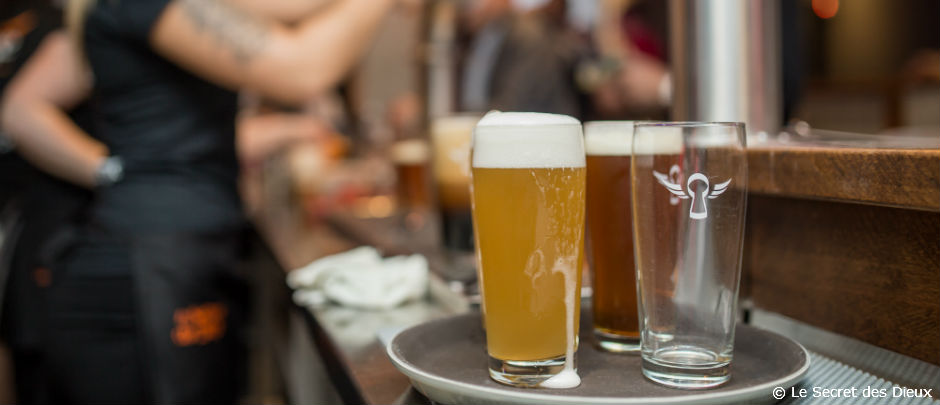 Want to try La Caisse Noire, L'Impardonnable, Happy Town or Blanche aux Framboises? Visit the brand-new Le Secret des Dieux microbrewery in Pohénégamook to sample their products and enjoy their English pub-style restaurant overlooking beautiful Lake Pohénégamook. Next, head to Témiscouata-sur-le-Lac to visit the Fromagerie Le Détour cheese factory, which makes a wide variety of hard, semi-soft, soft and fresh cheeses with goat, cow and sheep milk. Several have received awards and distinctions, including Grey Owl and La Dame du Lac.
To get to the Témiscouata area, take Route 289 towards Pohénégamook, which is also known as the Border Route (Route des Frontières). You can also take Highway 85 towards Témiscouata-sur-le-Lac and New Brunswick. Both roads cut across the Bas-Saint-Laurent region in a southeast direction from Route 132 or Highway 20, which run alongside the St. Lawrence River.
Sports and outdoor lovers, fishing and hunting enthusiasts, farmers who have worked the land for generations and local craftspeople will welcome you with open arms in this region where nature reigns. As you will soon see, the unspoilt beauty of Témiscouata is ideal for relaxing, unwinding and enjoying the fresh air!
If you liked this article, you might also like...