Home »
Blog »
My Trip in Gaspésie: The History of the Peninsula Heads the Bill at Musée de la Gaspésie
The

Québec maritime Blog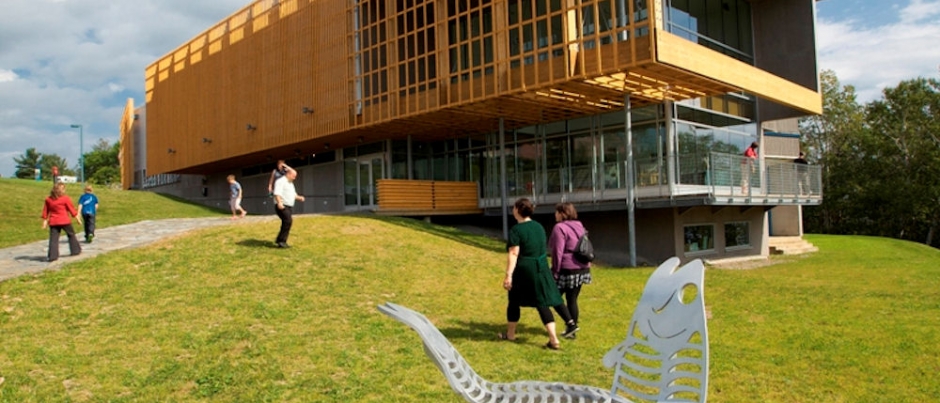 Musée de la Gaspésie
Robert Baronet
My Trip in Gaspésie: The History of the Peninsula Heads the Bill at Musée de la Gaspésie
Hello, my name is Marie-Claude and I've been living in Gaspé for almost 3 years now. Even if I pass by Musée de la Gaspésie almost every day, I had never taken the time to go in. So, writing a post about the museum was a great opportunity to finally experience it. My visit made me realize that the region's history is just about as vast as its territory. As a Gaspesian by adoption, I'm truly fascinated by the richness of my beautiful peninsula. Maybe it's because of the region's old soul that we feel so good here!
The visit
Ambient music sounding like a lullaby sung by the sea, waves drawn on the walls, a fascinating story told along the way… No, I'm not in a wave pool or in some exotic place… I'm in Jean-Louis-Lévesque room at Musée de la Gaspésie, steps away from downtown Gaspé.
The exhibits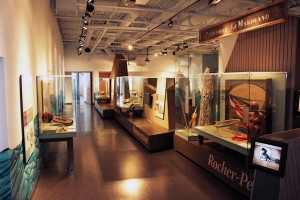 The " Gaspésie… A Grand Journey" Exhibition © Musée de la Gaspésie
On view for over 5 years now and for a few more years, the exhibition "Gaspésie… A Grand Journey" presents the Gaspésie region and the history of its different areas. Through a collection of artifacts dating back 6 000 to 7 000 years found in Haute-Gaspésie, the demystification of whaling along Côte-de-Gaspé, some displays of fossil specimens from Miguasha on Chaleur Bay, and typical Gaspesian songs and sayings, the exhibit tells the secrets and the history of the region.
The Musée de la Gaspésie has also two other rooms displaying seasonal exhibits. You can have a look at the program here.
Some treasures to discover
The Musée de la Gaspésie also has its well-kept secrets. And I had a chance to explore its "Ali Baba's cave" where some 6000 items are stored, from some La Bolduc's accessories to cod-fishers' equipment, and items that belonged to Aboriginal communities. I truly appreciated this privilege, but unfortunately it's not accessible to all.
You can contact the museum about it before your visit, and you might get lucky! My visit ended in the Archives, with its impressive collection of various books and documents on the Gaspé Peninsula that everyone can consult on-site, comfortably seated in front of a large window overlooking Gaspé Bay… where one can only be amazed by the beauty of the scenery.
Now that I've seen all the great things to discover at Musée de la Gaspésie, you can be sure that I will come back! And who knows, maybe I'll see you there.
For more details:
Musée de la Gaspésie
80, boulevard Gaspé
Gaspé (Quebec) Canada
G4X 1A9
Phone: 418-368-1534
www.quebecmaritime.ca/museegaspesie
If you liked this article, you might also like...